Papaya Milkshake recipe is super simple and easy to make and no doubt it's very delicious as well. With this recipe, we may obtain a smooth, silky fiber-rich, irresistible midday energy drink.
Adding ice cubes and topping it with whipped cream is purely optional here. And for the sweetened ripen papaya, avoid adding sugar, if you want to cut down some calories and artificial sugars.
Consuming fresh fruits and vegetables is associated with a reduced risk of many lifestyle diseases. Try include fresh fruits like kiwi, dragon fruit, apple or any other fruit and in any form, maybe raw, juices or smoothies.
Papaya is one of the fruit which is fleshy and a perfect midday drink. They are an adorable bright-colored tropical fruit which is available throughout the year nowadays.
How to eat papaya? well that's the good question. You can slice and consume it as raw, which is the best option.
But what to do, if we want to serve fussy eating children?
Stop worrying,
Serve them as smoothies/ milkshakes, salads, however, they prefer. Can we make a milkshake with papaya? Yes, of course, We can. Ripen papayas are perfect to make a drink.
What to do, if the papayas are not ripened and still firm to touch? roll them in a paper and leave it in the kitchen counter for a couple of days until it reaches the desired condition.
I have added sugar and whipped cream topping as I was serving it for my teen son. But preferably you can substitute sugar, with natural sweetener like honey. And It does taste yummy without whipped cream topping too. So avoid it as well to bring down the calorie intake of papaya milkshake.
How to cut papaya? 1. wash and clean the papayas, 2. Peel them with the help of peeler/knife, 3. cut them into half, 4. remove all the seeds, 5. scrape the hair-like structures in between seeds and the flesh, 6. Cut them into cubes.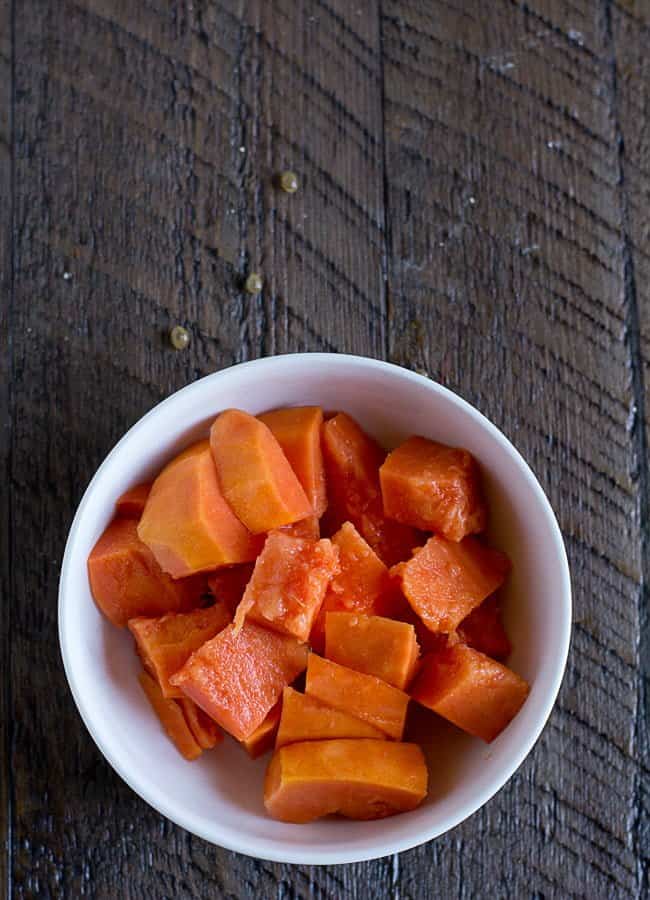 Printable recipe card
Papaya Milkshake Recipe
Papaya Milkshake recipe is super simple and easy to make and delicious. A smooth, silky fiber rich, irresistible mid day drink.
Print
Pin
Rate
Ingredients
1

lb

papaya

2

cups

milk

or as required

5

teaspoon

sugar

2

drops

vanilla extract

optional

2

tablespoon

whipped cream

optional

1

cup

ice cubes

or as required
Instructions
Wash and peel papaya.

Cut them into half.

Remove seeds and the husk.

Cut them into small sized cubes.

In a mixing bowl, add these papaya cubes, milk, sugar and Vanilla extract(optional) Hint: I would like have my drink in its original natural flavor, but I have added extra flavor since I'm serving for my son.

Add these to the blender/mixer, and run it until it forms smooth and silky consistency.

Add milk according the consistency you prefer for the papaya milkshake.

Add ice cubes, and top it with whipped cream.

Serve chilled.
Nutrition
Calories:
294
kcal
|
Carbohydrates:
47
g
|
Protein:
8
g
|
Fat:
9
g
|
Saturated Fat:
5
g
|
Cholesterol:
26
mg
|
Sodium:
123
mg
|
Potassium:
734
mg
|
Fiber:
3
g
|
Sugar:
40
g
|
Vitamin A:
2550
IU
|
Vitamin C:
138.1
mg
|
Calcium:
321
mg
|
Iron:
0.6
mg
Serving Suggestions:
1. Serve chilled and served in tall glasses, makes it looks tempting.
2. For the children, you may drizzle some chocolate or caramel sauce on the top.
3. some chopped walnuts/almonds to make it more wholesome. This will add some texture to the smoothie.
Other fruit drinks,
Tips and Variations:
1. Make sure you remove seeds and the husk(hair-like structure in between the seeds and flesh) of papaya. They have an unpleasant taste, which may spoil the drink.
2. Add Almond milk, if you want to make it vegan way.
3. If the fruit tastes sweet and ripened well, adjust the quantity of sugar we are adding in this recipe.
4. To inherit all the goodness of the fruit, consume papaya milkshake immediately.
Liked our recipe? Follow us on Facebook, Pinterest, Instagram