Ginger and coconut milk-filled persimmon smoothie is a rich and delicious drink. It can transform into a satisfying breakfast or an excellent mid-day snack. This is a gluten-free, dairy-free, vegan refreshment suited for all ages.
A fabulous, energy-boosting persimmon smoothie is necessary to try this fall. The robust blend of coconut milk, ginger, and persimmon will satisfy everyone in the family. Furthermore, You will fall in love with this, even if you are not a smoothie lover.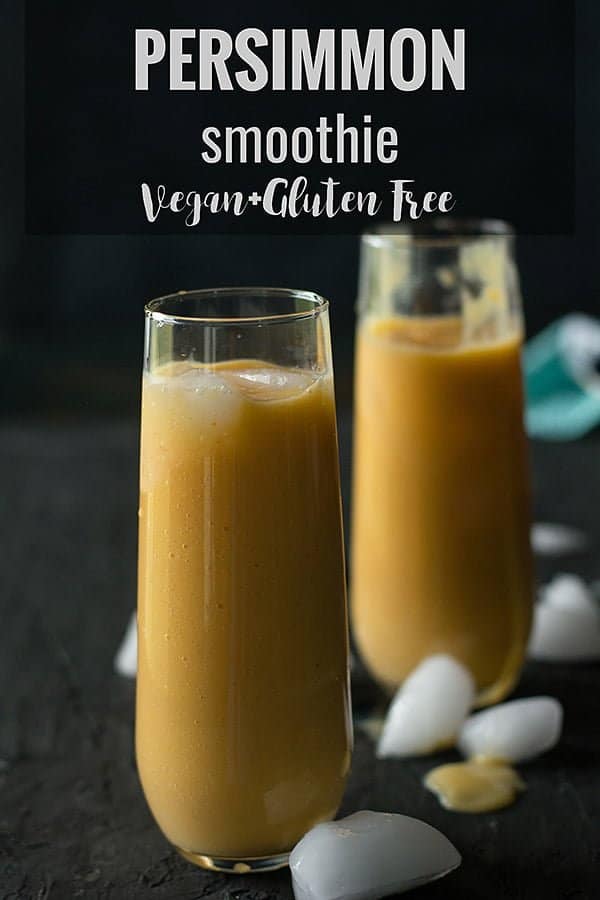 The success of the Mango boba smoothie initiated me to explore the smoothie world to get the best out of it. And this persimmon smoothie is one the find in my delectable search.
If you are looking for other vegan breakfast recipes, look into, a vegan avocado sandwich, and coconut chia pudding.
The persimmon history
Persimmon is a delicious Japanese fruit, also called Fuyu in Japan, and this is Japan's National fruit. Persimmons are native to China, and it is in their culture for thousands of years.
And introduced to the United States in the 18th century. And these are popular here in the United States as well. Though many varieties of persimmon are available here, this fufu is common and most popular here.
I'm seeing some of my neighbors are growing persimmon trees. And the trees look lovely and appealing when they have fruits hanging. They tempt me every time I see them with loads of fruits.
This is one of the primary reasons for getting persimmon from the market and making the persimmon smoothie today. Imagine, how can I ever skip enjoying this fruit in this autumn season?
This is a luscious fruit mostly available in this fall season. It looks similar to tomatoes with a bright orange color. This color and the skin perfectly match the pumpkin, which is also another fall vegetable.
It looks like tomatoes but has got thicker skin. You need to peel it before using them. Though you can eat them as a whole, I would strongly recommend peeling off the skin when making the persimmon smoothie.
The health benefits of Persimmon
As per Healthline, persimmons have a long list of health benefits. It is a good source of thiamin, riboflavin, folate, magnesium, phosphorus, and antioxidants. The top highlighting factor says this is a low-calorie fruit loaded with fibers, which is an excellent advantage for people on weight loss goals.
Most importantly, persimmon is easily customizable. You can snack them as raw, or include them in your cooking or baking. You can use this parmesan fruit in any form. You do not need to wait for the fruit to get ripe; it tastes great, even if it is firm to the touch.
If you do not want to eat them raw or feel lazy like me, eat them. You can make this Persimmon smoothie, a nourishing, easy-to-make breakfast for me.
What is in this Persimmon smoothie
Persimmon. This orange-colored persimmon fruit has thick skin. You can eat the fruit with the skin, but the hard skin may not be suitable for making the smoothie.
The flesh of this fruit is lovely and no extra sugar is necessary. Or you may add natural or regular sugar, depending on your preference.
The milk. The choices are numerous when talking about the liquid portion. You may add orange juice, water yogurt, coconut milk, soy, or almond milk.
However, I would not advise adding regular pasteurized milk to the smoothie. There are some chances of cuddling when regular pasteurized milk is added. Instead, you may add yogurt to make a persimmon smoothie.
Today, I wanted to make this smoothie vegan and more nutritious. And the coconut milk is the first choice as it has medicinal benefits. Not only that, I have added coconut milk because I planned to have a nutritious and creamy smoothie. The creamy coconut milk and the persimmon combine better when they combine.
The sweetener. The fruit is naturally sweet, so it might not need any external sugar added to the Smoothie. But you may add natural sweeteners like honey or refined sugar. I have added a teaspoon of sugar because I ran out of honey in my pantry.
The ginger. Persimmons do not have a strong flavor, and I can go perfectly with any flavoring agent. I have added ginger to enhance the taste of the persimmon smoothie.
Additionally, ginger has an excellent aroma and blends exceptionally well with coconut milk. Ginger is one of my secret ingredients, which I rely on to instantly boost a dish's taste and flavor.
How to cut Persimmon
Chop the top and bottom of the fruit. Then, peel the skin using the peeler. Then, cut them in half. Usually, the matured Persimmon has one stone seed. If they are tender, seeds will be delicate as well.
Proper care should be taken while cutting them in half. If the fruit is tender, the knife slides into the fruit and vice versa.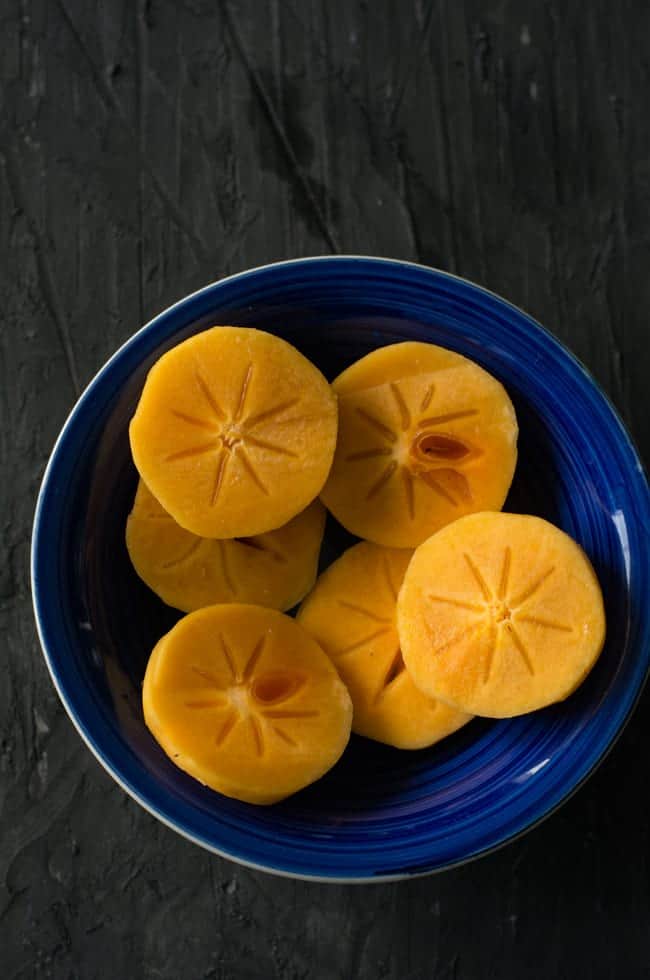 The variations for persimmon smoothie
As I discussed earlier, persimmons do not have a strong flavor or taste. Hence, it is great to bring together with any other flavoring ingredients. And thus, you have tons of choices for seasoning.
The options are, but not limited to,
A quarter teaspoon of ground Cinnamon
A few drops of vanilla extract
Ground Turmeric
Chia seeds to make it a nutritious smoothie.
Chopped nuts for not only the texture but also wholesome.
How to make persimmon smoothie
The preparation and making are simple, like any other smoothie recipe. Put all the ingredients together and pulse the blender for a few minutes until the smoothie reaches a silky texture.
Printable recipe card
Persimmon smoothie
Ginger and coconut milk filled persimmon smoothie is the rich and healthy drink. Can transform into a satisfying breakfast or an excellent midday snack. This is a gluten free, dairy free, vegan refreshment suits for all ages.
Print
Pin
Rate
Instructions
Wash, clean, peel persimmon.

Cut them into slices and remove the seeds.

In a blender, add persimmon chunks, coconut milk, ginger, sugar.

Blend it until it reaches a smooth and silky texture.

Transfer them to tall serving glasses.
Notes
Add ice cubes if you prefer.
If the smoothie is too thick, then you may dilute it with water.
Nutrition
Calories:
233
kcal
|
Carbohydrates:
6
g
|
Protein:
2
g
|
Fat:
24
g
|
Saturated Fat:
21
g
|
Sodium:
14
mg
|
Potassium:
248
mg
|
Sugar:
2
g
|
Vitamin C:
2.5
mg
|
Calcium:
20
mg
|
Iron:
3.7
mg
**Disclaimer: The nutritional information provided is an approximate estimate only.
Liked this recipe? Follow us on Facebook, Pinterest, Instagram.