We serve Pomegranate Raita as a side dish to make any meal grandeur and rich. As it tastes super great with the sweet crunchy bite of pomegranate seeds and with the hint of chili powder.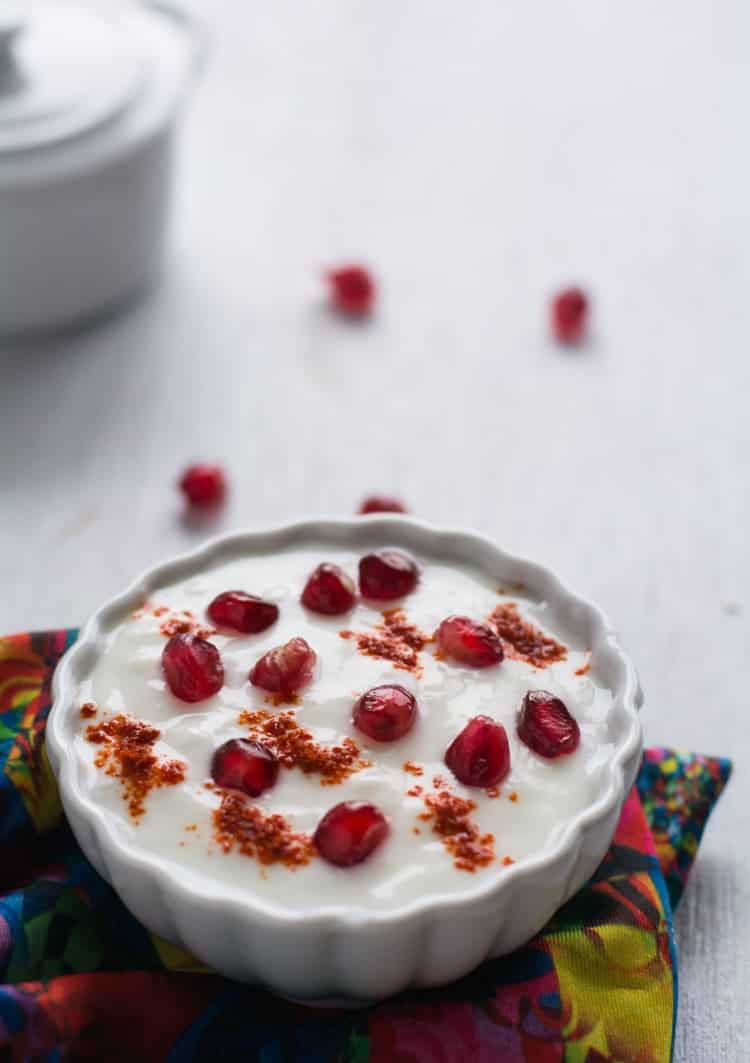 For any fruit raita recipe, I keep as simple as possible to retain the unique flavors of the fruit. Adding spices may taste good, but it loses its individuality.
How to make Pomegranate raita recipe? It's very simple and healthy as well. The creamy curd/yogurt and crunchy pomegranate seeds make it super delicious. Another wow factor of this recipe is this can be served with any spicy rice dishes or any spicy appetizers.
Few tips for making Pomegranate Raita recipe:
We make Pomegranate raita in the spicier way, as the creamy curd and pomegranate balances really well in spicier version.
For a spicier version, we just add chili powder. I really want raita with pomegranate flavor and the taste. So, adding chili powder will enhance the fruit's taste. Personally, I feel adding other spices like cumin powder, black salt, black pepper powder would be overpowering and kills the unique flavor of the fruit. So I keep myself avoiding too many spices.
Now, let's talk how it has to be made. The basic ingredient is curd. Both homemade curd and store-bought curd are good to add. The one and only criteria for the curd is not be too sour.
Freshly made pomegranate raita is always tasted good. So make it just before serving food. If you are planning to make it for parties, deseed the pomegranate in advance and refrigerate it in airtight containers. Combine with curd, chili powder, and salt before serving.
Adding too much of fruit can be healthy, but make it proportionate to the quantity of curd to make it delicious.
Pomegranate raita we make it as a side dish for spicy rice varieties like Veg Biryani, Tomato rice.
If you are planning to make a sweeter version of this recipe, instead of chili powder add sugar and serve.
If you prefer to add more flavors, add roasted cumin powder, chaat masala and black salt.
Pomegranate Raita
Pomegranate Raita made with yogurt / curd, fresh pomegranate arils and chili powder. This recipe is simple and quick to make. This raita tastes ultimately delicious and it is creamy, sweet and also spicy. Perfect to serve as side dish for rice or roti.
Ingredients
1/2

cup

Pomegranate seeds

3/4

cup

Plain yogurt

/Curd

1/2

tsp

Salt

approximately

1/4

tsp

Red Chili powder
Directions
In a serving bowl, combine all the ingredients gently.

For garnishing, pinch of chili powder on the surface.

Serve Pomegranate Raita immediately
Nutrition Facts
Pomegranate Raita
Amount Per Serving
Calories 91
Calories from Fat 27
% Daily Value*
Total Fat 3g 5%
Cholesterol 11mg 4%
Sodium 630mg 26%
Potassium 239mg 7%
Total Carbohydrates 12g 4%
Protein 3g 6%
* Percent Daily Values are based on a 2000 calorie diet.
Do not miss any recipes in the future. Follow us on Facebook, Pinterest, Instagram.