Quinoa upma, the South Indian breakfast is great for fiber-rich mornings. The classic tasting upma made with quinoa, onion, mustard seeds, and ginger. This, not another mushy upma recipe, but delicious, savory, and excellent comfort food that we can make ahead of time.
We can find an infinite number of upma recipes over the internet. Is another upma recipe gets added to the crowd? No, it is definitely not.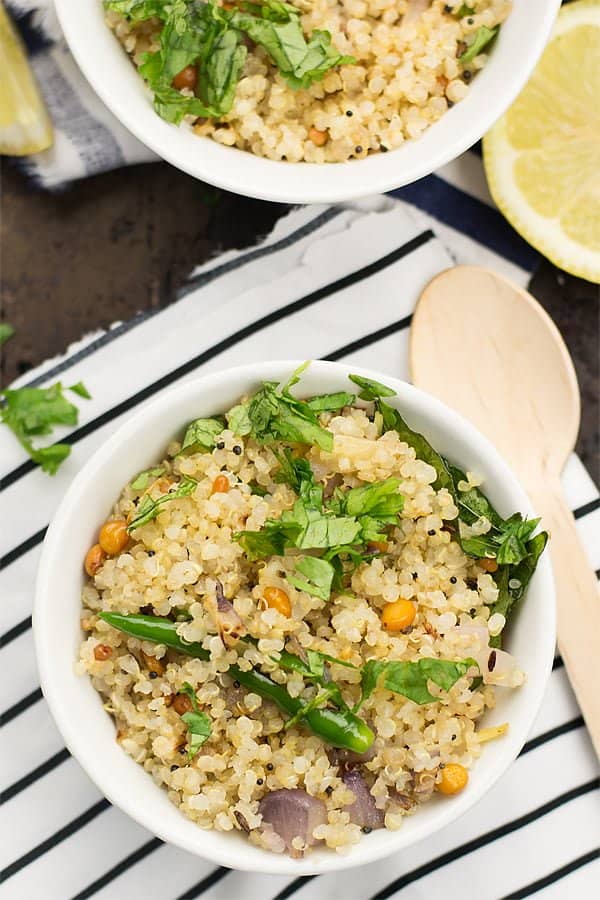 This quinoa upma recipe is an effort to give a contemporary look to the classic upma recipe. By retaining all the beautiful flavors of upma, made with the present-day popular grain called quinoa. Learn how to make South Indian quinoa recipes with pictures and a quick video.
I know many of my friends started incorporating this super grain into their diet already. These days quinoa is becoming popular among the people for its rich fiber and protein content. And because of the fiber, this food gives a full feeling for a longer time.
Are you getting bored by making the same menu again and again? I can feel you, and it is so monotonous and tiresome not only for cooking but for eating as well. Break this boredom with new creative and delicious food.
New creative recipes keep us innovative, adventurous right in our kitchen. Get ready for the enjoyment folks. This quinoa upma recipe is absolutely for you.
I know how hard is to decide the menu for breakfast. As it has to be flavorful and tasty. Most important of all it has to be liked and welcomed by everyone.
This quinoa upma is the adorable solution to all the above obstacles. Try this you will definitely appreciate yourself for sure.
A simple and straight forward recipe that has more potential of customizing and enhancing. You can adjust the ingredients according to your time and availability. We will discuss everything in detail below.
What is quinoa upma?
Upma is the South Indian refers to a simple dish made with very simple ingredients. This dish attributed to a super quick dish. Means upma can be made in no time. When Indian moms left in the kitchen and asked to cook some food within 10 minutes, I guess 70% of them will make upma. And this is how it is common among the Indian families.
Upma is made many key ingredients. And their name changes according to their main ingredient. Like when this dish is made with semolina(Rava) as the main ingredient, it is called as Rava upma(where Rava is the local name for semolina.
Likewise, oats upma, bread upma, poha upma, vermicelli upma are some of the recipes you can find on our website.
Other South Indian breakfast recipes
Quinoa upma addons and variations
Because of its simplicity and the moms make it too often in the home, many-usually the adolescent children literally scream when they offered this. Even myself, I hate it when I was young because we were served with upma as an evening snack for many days. By keeping all the above in mind today, we were making it delectable with rich natural flavors.
If you want to make quinoa upma much more nutritious and colorful, add chopped vegetables like carrot, green bean, green peas, and beetroot.
As a garnish, throw in cilantro or mint leaves at the end. This is a real game-changer makes the dish refreshing.
Add nuts like cashew, almonds to give the upma a face-lift.
Want to add some heat, throw in red chili or green chili. Never add red chili powder, as it spoils the color of the upma.
Add spinach and tomato, to make this upma with the contract color and more nutritious.
These are some interesting choices to start the day without guilt.
Meal prep and storage ideas.
This is the simple dish and known for its quick prepping time. But you can further reduce the cooking time and preparing time by planning well in advance. The following tips can help in achieving the task.
Quinoa takes 20 minutes for cooking. You can cut that down to zero, by making this before the day. The cooked quinoa is good to store in the refrigerator for about three days and for 2 months when kept frozen.
If you a working busy mom, has no time for cooking in the morning, then cook quinoa in a larger quantity. Store them in airtight containers in refrigerator or freeze. Later you can use them in batches.
Pro tips.
Quinoa comes with the natural husk, which may taste bitter at times. So wash and rinse multiple times until clear water is seen. This takes away the bitterness as well.
Soak quinoa for 10 minutes. The soaking part is optional. Personally, I feel this makes the quinoa fluffy.
The Bengal gram added in this quinoa upma recipe gives a crunchy feel, contrast look, and increases the protein slightly. It takes insignificantly longer time to cook when comparing with the co ingredients mustard seeds and the urad dal. So, make sure that it turns golden brown.
Cooking in the medium and low heat enhances all the ingredient's natural flavor and makes the upma delightful.
Other quinoa recipes
How to make Quinoa Upma
Wash and clean quinoa, soaking for 10 minutes.
Heat the pan and add water.
When it is rolling boil stir in quinoa and salt.
When the water starts boiling again, simmer the heat and cook by covering with the lid.
Cook for 20 minutes by stirring them occasionally. Keep an eye in between the cooking time.
Once the quinoa cooked completely, remove it from the heat and keep it aside. You can also check the stage by pressing it between the fingers, if it is mashed up with the pressure, you are good to go, it is completely cooked.
Heat pan, add cooking oil, followed by mustard seeds, cumin seeds, urad dal, Bengal gram.
Fry until mustard seeds splutter and Bengal gram changes its color.
Now add chopped onion, ginger slices, green chili, and curry leaves.
Saute until onion becomes translucence.
Simmer the flame, and add quinoa and salt.
Cook for about 3-5 minutes by stirring them occasionally until all the ingredients are combined together.
Serve hot with pickle or chutney.

Printable recipe card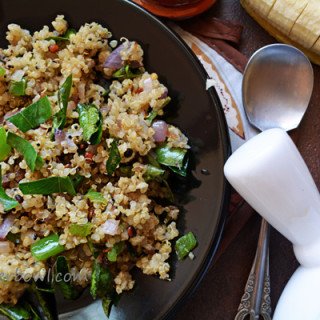 Quinoa upma recipe
Quinoa upma recipe is an easy and delicious South Indian breakfast. This best upma recipe is fiber-rich, flavorful and tasty. Naturally Vegan and vegetarian recipe.
Print
Pin
Rate
Ingredients
For cooking quinoa
1

cup

quinoa

rinsed

2

cup

water
Instructions
For cooking quinoa
Heat a pan and add water and bring it to boil.

Add quinoa and turn to low heat and cover the lid and cook it for 17 minutes. By stirring them occasionally. Keep an eye in between the cooking time.

Once the quinoa cooked completely, keep it aside.
For making the upma
Over medium heat, place a pan. Add vegetable oil, mustard seeds, cumin seeds, urad dal, and Bengal gram.

Wait until mustard seeds splutter.

Then combine chopped onion, ginger slices, curry leaves, and green chili.

Fry them till onion becomes translucence.

In low heat, and add cooked quinoa and salt.

Stir for a minute and serve hot.
Video
Notes
You can also check perfect cooking stage for quinoa by pressing it between the fingers, if it is mashed up with the pressure, you are good to go, it is completely cooked.
Nutrition
Calories:
946
kcal
|
Carbohydrates:
203
g
|
Protein:
23
g
|
Fat:
8
g
|
Sodium:
706
mg
|
Potassium:
1878
mg
|
Fiber:
36
g
|
Sugar:
29
g
|
Vitamin A:
150
IU
|
Vitamin C:
97.1
mg
|
Calcium:
104
mg
|
Iron:
14.5
mg
Serving Suggestions:
1. Serve along with chutney, pickle and even with tomato sauce.
2. I would prefer this dish to be served for breakfast but it can also be a good lunch box recipe.
Tips and Variations for Quinoa Upma:
1. Add chopped carrots, beans, peas or broccoli florets.
2. If you are not available with any of the ingredients, omit them from the list.
Liked this Quinoa Upma recipe? and Do not miss the latest recipes and its tips, Follow us on Facebook, Pinterest, Instagram.