South Indian recipes are usually hot and spicy, the same as this Rasam powder recipe. A key ingredient for making an authentic Tamil side dish called Rasam.
This spice mix is made with black pepper, cumin seeds, coriander seeds, and Toor dal(split pigeon pea). It is very aromatic and tastes delicious when added to the Rasam.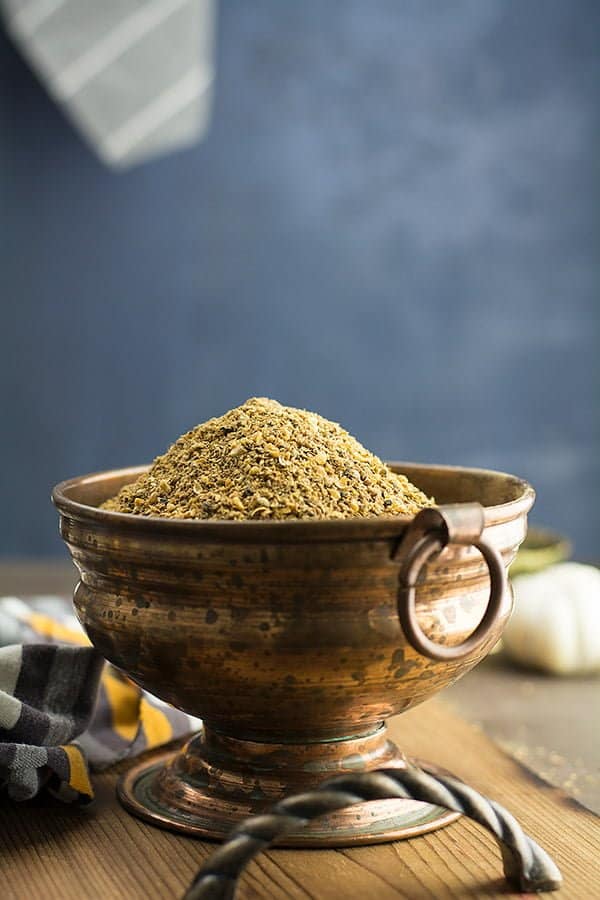 This homemade rasam powder mix is way better than the readymade spices in the stores. More than anything, preparing the spice blend at home gives a soul-satisfying feeling and is accessible.
Learning how to make the essential spice blends at home helps us avoid chemical flavor enhancers or preservatives.
Preparing the rasam powder at home is easier than you thought. Just a few minutes of your time can save you from unwanted chemicals and emulsifiers.
Pennsylvania is marching toward winter, and it's getting colder every day. Wrapping ourselves with fleeces and throws is keeping us warm and cozy. How can an Indian family enjoy this season? It's all by sipping a hot cup of rasam soup.
About this recipe
Enhance every cup of your rasam with this instant rasam powder, with more robust flavors. Every family has its way of preparing this spice blend. And this is our own family's secret, which I wanted to share with you all today.
I have been preparing this mix from the age I can remember. And this is the essential ingredient for any rasam we cook. Whether authentic rasam recipes or unique recipes like pineapple rasam, pepper rasam, and tomato rasam, this would fit anywhere and intensify the Indian dish's aroma and taste.
I'm not a fan of readymade spices, which turn to sawdust after several uses. The store-bought may taste good when you open the packages; after that, it tends to lose its flavor and, thereby, its taste.
This rasam powder recipe will not disappoint you. You have the comfort of adjusting to your spice needs. You know the frequency of cooking rasam at home. So you can adjust the quantity accordingly. Moreover, it is budget-friendly and you know what is in there.
What is rasam?
Rasam is an authentic side dish recipe in South Indian cuisine. Without this dish, the South Indian meal will not be completed. This is a thin, soup-like food that is usually served with rice. Sometimes, it is done as a soup, and elders in our family advise us to drink it after a heavy meal.
In the United States, I have seen many Indian restaurants have rasam on their soup menu. This is sour with the bold flavors of black pepper, garlic, and cumin seeds.
What is rasam powder?
If you have come this far, you might already know this rasam powder is essential for making the Indian delicacy Rasam. It is made with pepper, cumin seeds, and coriander seeds, excellent with the aroma of spices. It clears my throat, and I feel light whenever I feel bloated.
Why you should make it at home?
It is always great when homemade, and it could save some money. Moreover, you feel that you are providing good food for the family. If all these advantages are bundled with effortless, straightforward work, then why not we can make it at home?
Avoid chemicals, preservatives, and food colors.
Very aromatic and delicious.
Complete control over the ingredients.
Easy and straightforward to make.
Save money.
How to make rasam powder?
I wanted to make this recipe simple with easy-to-find ingredients and remain authentic. We will see the elements and their possible substitutions that will not affect the dish's original taste and flavor.
Authentically, the ingredients are sun-dried before grinding. But its sun drying method is not always possible in a state like Pennsylvania, where it would be covered with clouds most of the time. So we have opted for the pan roasting method, which is reliable and relishes great.
The ingredients.
Toor dal. This adds density and a little protein to the dish. Indian stores carry this at approximately $4 for two pounds. This is good enough; you can make dal or lentil curry.
If you are looking into Indian recipes, I would say, it's a good investment. Otherwise, you may skip using it; still, this spice mix will serve the purpose.
Black Pepper. The rasam cannot be made without the black pepper, which originated in South India. I would strongly advise using the whole black pepper, which has an intense flavor that hits your tongue while eating.
Cumin seeds. An excellent flavor enhancer. The other side of the world has used this spice for centuries. You may refer to Healthline for more advantages of using cumin seeds. Most stores carry cumin seeds either in the spices aisle or in the specialty aisle. Online stores are also an excellent place to locate this spice.
Coriander seeds. Another essential ingredient is responsible for the aroma in this mixture. It provides depth for this classic Indian recipe. Never skip this, and you will pat yourself for whipping up a rich and best rasam for which everyone will give their heart.
Optional ingredients. Asafoetida and turmeric powder. The other two unique Indian components that I wanted to mention here. Since this rasam powder recipe is multifunctional, I have not discussed it here.
To make this recipe more adaptable to various dishes, I have not included it here. These two ingredients are already in powder form; you may add these while making rasam or individual recipes.
The directions.
Dry roast. As mentioned, this can be done by sun-drying or pan-roasting. The primary purpose of dry roasting is to remove moisture content to make it more flavorful. We are making today's recipe by roasting it in the pan.
In a pan, put all the ingredients together: coriander seeds, cumin seeds, black pepper, and Toor dal. Dry roast until it changes its color slightly.
Cool. Allow it to cool to room temperature.
Grind. Add the dry roasted ingredients to the blender and grind it to a coarse powder. Ensure not to grind finely; this will destroy the spice's natural flavors.
Store. Transfer it to the airtight container for further use.
How to store?
Transfer the ground mixture to an airtight jar for later use. Narrow-mouthed airtight glassware is advisable for storing the spice mixes. If you have made them in larger quantities, divide and store them in a different container to avoid any loss of aroma in handling the jars.
I usually freeze the spice powder. And transfer to smaller jars to store on the kitchen shelves for a single month of usage. This way, the aroma is preserved for a year-long use.
How to use this Indian spice mix?
Apart from making rasam, you can also use this as spice powder for making any Indian curries. We can use this spice mix whenever a recipe calls for curry powder.
If you are making an Indian-style meal, whether a simple vegetarian curry or meat curry, we can confidently add this spice mix.
This is a great addition when we try to bring Indian flavors to any curry. How to do? Just sprinkle this spice mix before removing it from the heat.
This can also be used as rub while marinating chicken or seafood. This blends well with the meat and is a flavor booster that tingles your sensations.
Other Indian spice blends
Printable recipe card
Rasam powder recipe
Rasam powder recipe is the key ingredient for making an authentic South Indian Rasam. Very aromatic, hot and tastes delicious. This spice mix is made with black pepper, cumin seeds, coriander seeds, and Toor dal(split pigeon pea).
Print
Pin
Rate
Instructions
Over the medium heat, in a pan, add all the ingredients together-toor dal, coriander seeds, black pepper, and cumin seeds.

Dry roast them until it changes its color slightly and starts fragrant.

Allow them to cool to room temperature.

Add it to the blender and grind it to a coarse powder.

Transfer them to an airtight containers.
Notes
Dry roast in the medium flame is the most important factor.
Cooking in the medium flame, makes it long lasting with full of flavors.
Nutrition
Calories:
27
kcal
|
Carbohydrates:
4
g
|
Protein:
1
g
|
Fat:
1
g
|
Saturated Fat:
1
g
|
Sodium:
8
mg
|
Potassium:
70
mg
|
Fiber:
2
g
|
Sugar:
1
g
|
Vitamin A:
32
IU
|
Vitamin C:
1
mg
|
Calcium:
39
mg
|
Iron:
2
mg
**Disclaimer: The nutritional information provided is an approximate estimate only.