Easy rose milk recipe- Learn how to make rose milk at home with rose milk syrup or essence. And, it's a refreshing summer drink. A big mug of Indian-style rose milk is a calming drink in the morning or before bed.
I'm sure after trying this Rose Milk recipe for the first time, you will double up the quantity in the following times.
This Indian-style rose milk looks gorgeous with a vibrant pink color and tastes super delicious.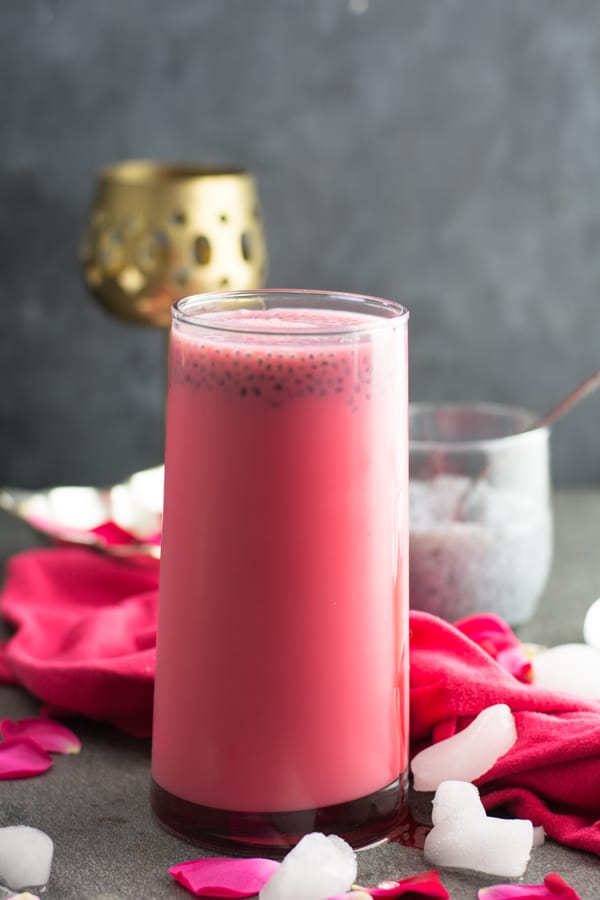 Here you go, an easy make-ahead recipe, with few ingredients ready in a few minutes. we feel it's worth being part of every celebration and festive day.
Not only on special occasions but at times, you deserve a sweet treat for all your hard work. Treat yourself to this delicious drink whenever you need it.
Furthermore, this is one of the most popular Indian drinks for summer.
Every sip of this Indian beverage gives you immense pleasure with the rose flavor. If you are planning to go with a nonalcoholic Indian drink for a party, I would strongly suggest including this summer coolant drink on the menu.
Additionally, this rose milk recipe is exceptional to serve as a welcome drink to the guests. And it might be your favorite party drink recipe yet.
Rose milkshake belongs to the category of both fun-filled and traditional drink. Usually, this drink is prepared with homemade rose syrup, holy basil seeds, and milk.
The basil seeds are known as a body coolant in traditional Indian medicine. This factor alone makes rose milk stand alone as the best summer drink.
Are you looking for other nonalcoholic party drinks? check these
Summer days are invariably hot and we must hydrate ourselves without becoming unhealthy. There are many choices for unhealthy drinks in the market and at home, too.
But choosing and staying with a healthy option is a wise decision.
If you accept the above factor, I know you will already have a list of healthy choices. I believe that you include this rose milk recipe as well.
What is Rose milk?
This is also called the rose milkshake. It is one of the traditional Indian drinks and is famous throughout the country. Usually, this Indian drink is prepared with milk, rose essence, and sugar syrup. The pink color is inviting and makes it a popular drink in India.
This rose milkshake is tasty, light, and easy-drinking and tends to sip away more quickly than you expect.
Homemade vs. store-bought sugar syrup
Homemade rose syrup is exceptional in flavor and taste. But making them at home accompanied with difficulties as well. We need a huge bunch of roses to make a couple of glasses of rose milk. Additionally, the syrup is less colored and will need artificial color to enhance.
I always try and TRY to prepare the syrup at home when roses are in season. But mostly, I fail because I do not want to remove the roses from their plants when they are fresh. Sadly, I cannot gather them when dried, as the strong wind blows them away.
Since this rose milk recipe is ceremonial and not an everyday drink, I made it with store-bought rose syrup. A bottle of ready-made rose syrup can last for up to a year.
There are many rose milk brands available in the market. But always check for the ingredients that they use approved and permitted food color.
How to make rose syrup at home
The rose syrup recipe is for those who want to make it home. And others may skip to the next paragraph.
Bring 1 cup of water and 2 cups of loosely packed dried rose petals to a boil.
Boil for 1 minute and switch off the stove.
Cover it with a lid and set aside for 6 hours. This resting time allows the water to infuse with the essence of the rose.
Strain the liquid.
Make a simple sugar syrup by adding 1 cup of rose water to 1 cup of sugar.
Boil until sugar dissolves. There is no need to check for string consistency.
Allow it to cool.
And mix this rose milk syrup with milk whenever needed. And you pat yourself for making one of the best homemade cool drinks.
How to make Rose milk at home
Milk. This rose milk tastes extremely good with any milk. So, we can use the same milk we regularly use in the kitchen. This option gives us more comfort. Moreover, we need not switch to another high-fat dairy we do not use regularly.
Just wanted to let you know that whole milk keeps the drink more creamy and delicious. But using the other low-fat milk also tastes equally good but only varies in the consistency. This is not a factor for people like me who want to lead a healthy lifestyle.
I usually use 2% low-fat milk and used the same in this recipe.
If you want this rose syrup milkshake recipe vegan, use coconut milk, almond milk, or soy milk. And there is nearly a 100% chance that you will love it.
Rose syrup. You may use the store-bought rose syrup, or you can make it at home. If you have a rose garden, it is time to use them. You can leave the roses to dry in the plant and make this syrup later. You can enjoy seeing the beautiful flowers and still use them to prepare the syrup.
Holy basil seeds. This is called 'sabja seeds' and 'Tulsi seeds' in India. These tiny black seeds are called 'Tukmaria seeds' in Hindi and 'Sabja vidhai' in Tamil. You can get them from online stores or Indian stores. These tiny little seeds resemble sesame seeds in shape and chia seeds in size.
This is often confused with onion seeds/'kalonji.' Onion seeds have a pungent flavor and holy basil seeds have a neutral taste.
The original size is tiny but triples up when soaked in water. It has a tremendous biting texture and is dazzling to get these in every sip.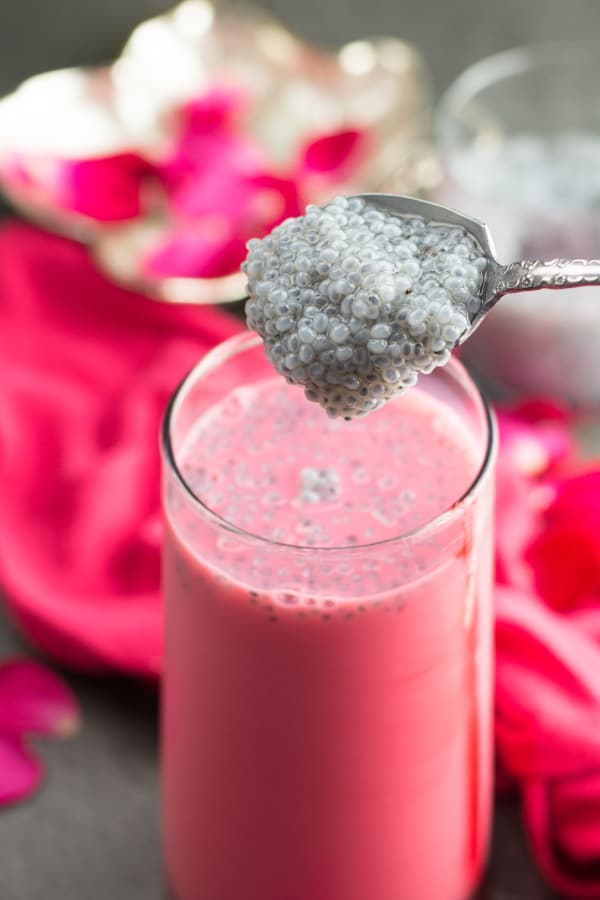 If you are looking for other Milk-based drinks? Check these
Printable recipe card
Rose Milk Recipe
Easy rose milk recipe-Learn how to make rose milk at home with rose milk syrup or rose milk essence. And, it's a refreshing summer drink. A big mug of Indian style rose milk is pleasant to have in the morning or as a calming drink before bed.
Print
Pin
Rate
Ingredients
2

teaspoon

holy basil seeds

/sabja seeds/optional

2

cups

milk

4

tablespoon

rose syrup

1

cup

ice cubes
Instructions
Soak the holy basil seeds in a cup of water seeds for 30 minutes.

In a tall glass combine, milk, rose syrup, soaked holy basil seeds, and ice cubes.

Mix until the syrup blends well with milk.
Notes
Adding sabja seeds aka holy basil seeds is optional. Omit if you do not have it.
To make this drink vegan, substitute milk with vegan-plant based milk like coconut milk, almond milk or soy milk.
Nutrition
Calories:
290
kcal
|
Carbohydrates:
47
g
|
Protein:
8
g
|
Fat:
8
g
|
Saturated Fat:
5
g
|
Cholesterol:
24
mg
|
Sodium:
105
mg
|
Potassium:
322
mg
|
Sugar:
47
g
|
Vitamin A:
395
IU
|
Calcium:
276
mg
**Disclaimer: The nutritional information provided is an approximate estimate only.