How to make crispy Samosas? It is not difficult anymore. This full-proof crispy samosa recipe yields a crisp, soft, and crunchy texture. And great in taste. It is the perfect tea-time snack for the evening and on rainy days.
It can be served as an appetizer at a party and for gatherings. You can freeze the leftovers or make ahead and serve whenever needed.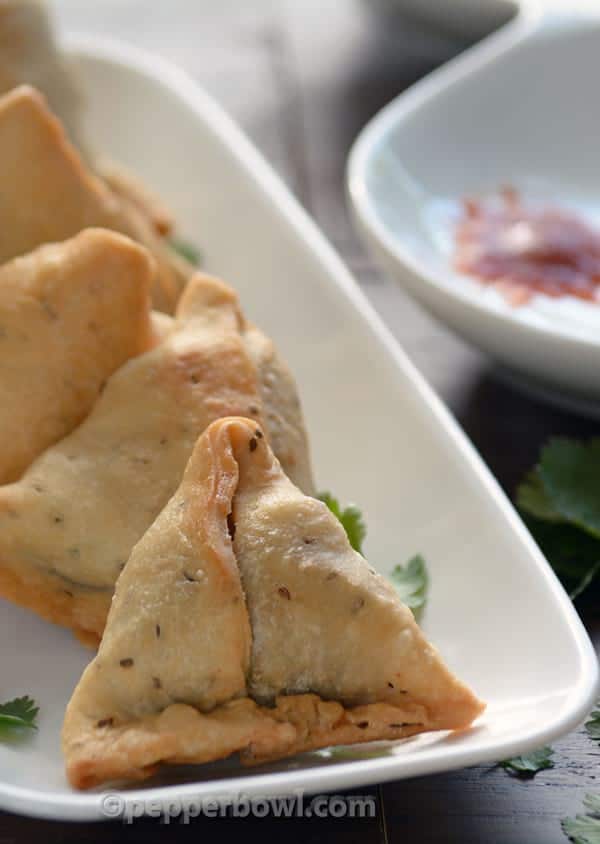 Samosas are liked by everyone, irrespective of their race and country. The world loved and removed the tag 'Indian,' which has been customized to its region. Today's internet world is loaded with tonnes of recipes for samosa.
But crispy, soft, melting-in-the-mouth recipes are scarce. This crispy samosa recipe never disappointed me; it always brings all the smiley faces around me.
The potato filling of this crispy samosa recipe is straightforward and basic. But highly successful. If you wish, you can also alter and customize the filling. The only point to be taken care of is that the filling should be gently smashed to get an even shape of samosas.
How to make samosa dough crispy?
The samosa has to be fried to a golden brown. The main secret of this crispy samosa recipe relies on frying. But it is straightforward if you follow the right direction.
For the first 2 min, fry the samosas on high heat and then reduce the heat between medium and low.
Continue to fry till the sizzling sound vanishes.
The too-high flame may end up in the more complicated or uncooked shell.
The temperature of the oil should be maintained at medium heat.
Do not forget to look into other exciting recipes like Murukku and Plantain Chips.
How to make the best crispy samosa:
The dough
Add maida, cumin seeds, ajwain, salt, and cooking oil in a large mixing bowl.
Combine all the ingredients thoroughly with maida. This is a crucial step to get a crispy, flaky crust. How do we determine if this step has been done correctly? Test it by holding a handful of flour; it has to retain its shape but should collapse when touched gently.
Now add water very little by little to form the smooth dough (It requires significantly less water when compared to a chapati recipe).
The dough should be stiff, like poori dough.
Cover it with an airtight lid.
Allow the dough to rest for at least 30 minutes, and I recommend allowing it to rest for 1 hour.
These are the basic instructions for the crispy samosa recipe.
Potato filling for Samosa:
This is the second step for a crispy samosa recipe.
In the meantime, we can prepare the filling. Boil potatoes and peas.
Heat oil in the pan, add cumin seeds, and crushed coriander seeds. And then potatoes, peas, Chili Powder, coriander powder, turmeric powder.
Cook it until it leaves out the raw flavor, and mash them thoroughly.
Allow to come down to room temperature.
Make it into small balls of equal size.
How to fold samosa wrapper:
The third step is the crispy samosa recipe, which is easy and not as complicated as it looks.
After one hour, the prepared dough will be more soft and pliable.
Divide the dough into equal portions.
Roll out each portion to a thin, flat circle.
Using a knife, divide the flat circle into two equal parts.
And fold it in half again, leaving little space as in the picture.
Brush the sides with water, like in the picture of a crispy samosa recipe.
Fold paste both ends by pressing gently.
Lift it with the hand like a cone. And stuff with prepared potato filling.
Slightly stretch one end of the cone. This makes the cone to stand straight.
Lift the cone and set it to stand by pressing both sides so that they stick together.
Repeat the same process with the remaining dough and filling.
How to fry samosa:
The secret in the crispy samosa recipe relies on frying the samosas perfectly.
Deep fry the samosa, in a high flame for the first 2 min and then medium to slow until the sizzling sound and bubbles vanish in the oil, and the crust becomes crispy and golden brown.
Serve crispy samosa with green chutney and tomato sauce. Having it as a snack with tea time always stands out.
Printable recipe card
Crispy samosa recipe
Crispy samosa recipe step by step pictures? Learn this easy Punjabi style vegetarian recipe with spicy potato filling and crispy crust. Great to be served with chutney or dip. A super perfect tea time snack.
Print
Pin
Rate
Ingredients
For the crust
1

cup

all purpose flour

/ maida

1

teaspoon

carom seeds

/ Ajwain

1

teaspoon

cumin seeds

½

teaspoon

salt

or as required

4

tablespoon

vegetable oil

4

tablespoon

water

(+2 tbsp)
Instructions
For the crust
In a mixing bowl, add all purpose flour, carom seeds, cumin seeds, salt, and vegetable oil

Rub the flour, till the oil blends well with the flour.

Then add water little at a time and make smooth, stiff dough.

Cover the dough with air tight lid. Allow it to rest for one hour.
For the filling
Over medium heat, place a pan. And add vegetable oil, cumin seeds, crushed coriander seeds, boiled potatoes, peas, red chili powder, coriander powder, turmeric powder, and salt.

Next add mashed potatoes and green peas.

Cook until it becomes thick. Allow it to cool to the room temperature.

Then make them into 6 balls.
For making
After one hour, divide the dough into 3 equal portions.

Roll out each portion to a thin, flat circles.

Use knife and divide the flat circle into two equal parts. And fold it like a cone.

Then add each potato ball to the cone and stuff it.

Press and seal the sides.

Repeat the same process with the remaining dough and filling.
For deep frying
Over medium heat, place a deep frying pan. And add vegetable oil.

And heat until medium-hot(to test, drop a tiny bit of dough, the dough should stay at the bottom).

Add the samasos without crowding the pan.

In medium-low heat, deep fry the samosas until the crust becomes crispy.

Serve samosa hot along with ketchup or chutney
Nutrition
Calories:
513
kcal
|
Carbohydrates:
29
g
|
Protein:
5
g
|
Fat:
44
g
|
Saturated Fat:
35
g
|
Sodium:
597
mg
|
Potassium:
122
mg
|
Fiber:
3
g
|
Sugar:
1
g
|
Vitamin A:
339
IU
|
Vitamin C:
7
mg
|
Calcium:
26
mg
|
Iron:
3
mg
**Disclaimer: The nutritional information provided is an approximate estimate only.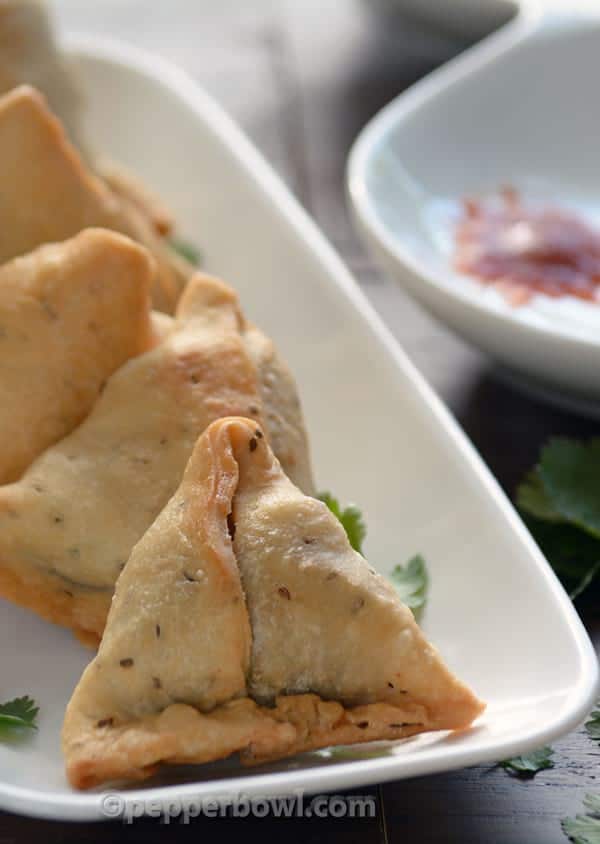 Can samosa be baked?
Yes, the samosas can be baked. Follow the same crispy samosa recipe and bake it at 350°F for 30-45 minutes or until the crust becomes crispy. The result varies only in the texture, but the taste remains the same.
Can samosas be frozen?
Yes, the leftovers can be frozen. For reheating, you may microwave it. Or you may reheat it in an oven.
Can you make crispy samosa in advance?
Yes, it can be made in advance in all the ways. You made it ahead of the dough or the filling. Or you may fry them to 80% and fry the remaining 20% whenever needed. And this is the most reliable crispy samosa recipe to make in advance.
How to make samosas with wheat flour?
Follow the same method and process as a crispy samosa recipe. But substitute maida/all-purpose flour with whole wheat flour. Samosa with the wheat flour patty also tastes good. But the texture and the taste vary compared to the one made with maida.
How to make Samosas without potatoes?
Want to avoid potato filling? Try filling it with vegetables like carrots, paneer, and peas. You may stuff chicken, soya nuggets, or minced meat. You can follow the same crispy samosa recipe for filling. Substitute the potato with paneer, tofu, soy nuggets, chicken, and minced meat. These are just a few ideas for substituting potato filling. But incorporate your ideas.
The side dishes?
The perfect pairs are green chutney, sweet chutney, tamarind chutney, and tomato ketchup.
We hope you got your answers to our question: What is a crispy samosa recipe?
Do not miss any recipes, and Follow us on Facebook, Pinterest, Instagram