Want to know the easy and simple breakfast recipe of South India? Let us talk about Semiya upma recipe / Vermicelli savory pudding. Today I let you know about one of my favorite recipes, that may look complicated to cook, but it is not in reality
This savory vermicelli recipe is very easy to make if the ingredients are handy. We make it with mustard seeds, vermicelli, onion, and curry leaves.
This vermicelli upma is one of the favorite breakfast recipes with vermicelli, which is ready in less than 15 minutes, best to serve for breakfast or as a small snack in between the day.
What is Semiya Upma?
'Semiya' is the Tamil name for Vermicelli and 'Upma' refers to the dish made with tempering mustard seeds. This is the simple delicacy that is made in busy and tight schedules. It is also called as sevai upma.
Semiya Upma Recipe is a breakfast of South Indians. I can call it the Indian version of Noodles or the Indian version of Spaghetti. In South Indian cuisine, we mainly use this for making 'payasam' (pudding).
Making Upma is another form of using it, I can say this as savory pudding. This is the basic recipe; we can do many variations with different vegetables and with different flavors.
Jump to:
About this recipe
This Vermicelli upma would be an excellent substitute if you bored with your regular granola bars, cereals, or any other proper breakfast. It can prepare in minutes and is very light too.
Are you searching for other breakfast recipes? Do check this Lemon Semiya or instant Semiya Idli.
Tips for Making Semiya Upma
Curry leaves, green chilies make this food more authentic and traditional. But if you do not have at home, nothing to worry. This vermicelli upma is more adaptable and customizable. You can make without these base ingredients too.
There are two types of vermicelli available in the market. One is standard, and the other is 'roasted'. If the package has the word roasted, then you are relieved from half of the burden.
Since it is roasted already, you may skip the roasting part and dive straight into the cooking process.
Green chili/serrano pepper boost up the flavor of upma. But in its absence, it can be substituted with red chili. Green pepper or red pepper is also another aromatic replacement.
Skinless black gram is the authentic ingredient in South Indian homes. It is added for its crunchiness and its protein content. In this semiya upma recipe, you may substitute with lentils. But make sure you fry them to cook thoroughly.
There are many varieties in the market, thin, thick, long, short, curly — all of the works excellent in the recipe.
Add vegetables like carrots, green beans, green peas, cauliflower, potato to make it nutritious and colorful.
You can also substitute cooking oil with butter or clarified butter to make splendid or when you are serving for guest.
What is semiya upma water ratio?
The ideal ratio would be 1:1.5, vermicelli, and water. Cook it by covering with the lid in a simmer flame, make the vermicelli upma nonsticky. The more water makes the upma gooey and sticky. The secret is not in the ratio but in the way of cooking.
To get perfect this dish perfect, cook in medium flame, till it is ¾th done. Then cook it further in the slow flame by covering with a lid. The moisture locked inside will take care to cook perfectly.
Serving Suggestion
Semiya upma recipe's side dishes- This is good to serve with coconut chutney, mint chutney for dosa, radish chutney, cabbage chutney, instant tomato chutney, or lemon pickle.
This savory pudding is best to eat for morning or evening breakfast. At times I make it in dinner time, whenever we opt for light and easy to digest food. Add in more vegetables when serving in the evening.
How to make Vermicelli Upma
Chop Onion, slit green chilies, wash curry leaves. Then in a pan, add a teaspoon of cooking oil and vermicelli. In medium flame roast it until it becomes golden brown.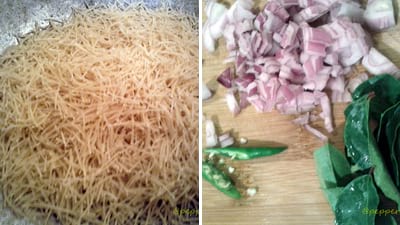 Heat cooking oil in pan followed by mustard seeds, skinless black gram, red chili, green chili. Wait till mustard gets splutter.
Then add onion, and curry leaves and fry them till onion becomes pink and soft, in medium flame.
Then add 1.5 cup water and bring it to the boil. Now add roasted vermicelli, Salt and cook it in medium to slow flame till the water gets evaporated.
Then cook it for another 2-3 min in low flame till the vermicelli cooked completely and not sticky anymore.
Transfer vermicelli upma to the serving bowl and serve.
Printable recipe card
Semiya Upma Recipe
Semiya Upma Recipe is a breakfast of South Indians. One of the easy and simple dish to make under 15 mintues. Best to serve as a breakfast or as a midday snack.
Print
Pin
Rate
Ingredients
For prepping
1

teaspoon

vegetable oil

1

cup

vermicelli

/ semiya
For cooking
2

cups

water

½

teaspoon

salt

or as required
Instructions
For prepping
Over medium heat, place a pan and add vegetable oil and vermicelli.

Dry roast Vermicelli until it becomes golden brown. Remove it from the heat and set aside.
For seasoning
Over medium heat, in a pan add vegetable oil, black mustard seeds, urad dal, red chili, green chili, and curry leaves.

And wait till mustard get splutter.

Then add onion and curry leaves and stir fry them until onion becomes soft and tender.
For cooking
Then add water and bring it to the boil.

Now add roasted vermicelli and salt.

Turn to low heat, and cover it with a lid and cook for 15 minutes or until the water gets evaporated.

Transfer it to the serving bowl and serve with pickles.
Notes
1. Roasting the Vermicelli makes non-stickier and firmer.
2. Add green peas or grated carrot for a variation.
Nutrition
Calories:
523
kcal
|
Carbohydrates:
106
g
|
Protein:
6
g
|
Fat:
7
g
|
Saturated Fat:
5
g
|
Sodium:
887
mg
|
Potassium:
148
mg
|
Fiber:
4
g
|
Sugar:
3
g
|
Vitamin A:
365
IU
|
Vitamin C:
117
mg
|
Calcium:
51
mg
|
Iron:
1
mg
Do not miss latest recipes and its tips, Follow us on Facebook, Pinterest, Instagram