Some party foods may be eye catchy but when comes to the taste, it may not be as expected. But, some food items would be pleasing both eyes and tongue. This delectable Shrimp Appetizer on toothpick is one of its kind. The swirled shrimp around toothpick gives a dramatic twist to the regular recipe.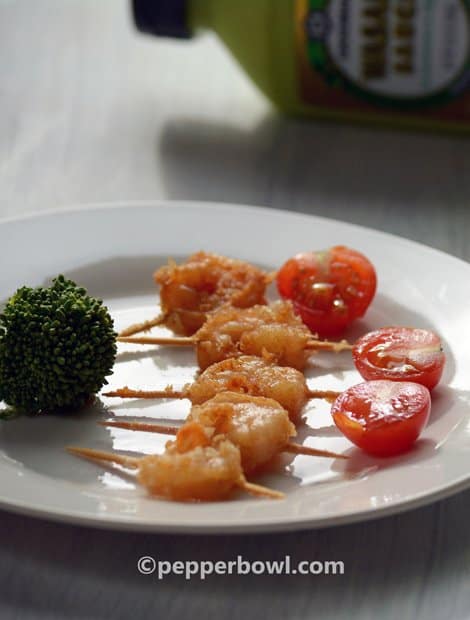 Party or family evening, surprise everyone with super simple and easy to make toothpick shrimp and make every moment unforgettable. This recipe can be set as a basic recipe, add your favorite add-ons and enjoy different flavors each time.
This time we paired this shrimp appetizer on toothpick with a fresh green salad with vinaigrette dressing along with this shrimp appetizer, which made me forget the world around me. This finger food is convenient for serving and eating as well.
If you are searching a centerpiece food for a party table? this easy to pick finger food is perfect in my knowledge. The less preparation and easy to make in large catches are the other positive factors associated in here.
More party-friendly recipes
Tips and Variations for party Shrimp recipe:
Shrimp gets cooked very easily, becomes hard and rubbery in texture when overcooked. So, remove from the heat once it gets completely cooked.
Add paprika, cayenne pepper, cajun seasoning, red pepper flakes for more flavors.
Add grated ginger or grated garlic for a rich taste.
The cornstarch can be substituted with tapioca flour.
Shrimp appetizer on toothpick-directions
Remove head and tail, clean, devein shrimp/prawn. I went in with tailed off, deveined, uncooked shrimps which are available here. Washing with vinegar helps to remove any odor.
Insert a toothpick into all the shrimp individually. Dilute cornflour with ½ a cup of water and add salt. Dip a few toothpicks inserted shrimps into this diluted flour at a time.
Heat oil in a pan. Fry shrimp in medium flame. Shrimps get cooked easily and have a tendency to become rubbery when overcooked. When sizzling sound reduces, means it's the time to pull out from the oil. Do not crowd the pan and fry them in batches.
Test fry a couple of shrimp, in the beginning, to get perfectly cooked shrimps. Remove them from fire and place them in tissue paper to grab the excess oil.
Serve Shrimp as an appetizer, with garden-fresh salad. Hot sauce, soy sauce, the ranch are its best accompaniment.
The recipe FAQ
Can I use the same recipe for making with prawns? Yes of course. Another important question arises here, 'Both Shrimp and Prawn are the same?'. Lookalike prawn and shrimp belong to the same family, they are similar but not the same. They slightly differ in the texture. Overcooking can spoil both prawns and shrimp, but shrimp becomes more rubbery than prawns do. So, care should be taken while dealing with both.
Can I marinate the shrimp? Since we want to keep this shrimp appetizer on toothpick recipe quick and simple, we didn't opt for marination. The batter we are making is good enough for the shrimp more flavorful. But if needed, marinate for 15-30 minutes with the spices.
How to determined cooker or undercooked? The perfectly cooked shrimps are in 'C' shape. Of the shrimps are uncooked is straight. And overcooked shrimp are in 'O' shape
Can I make ahead of time? The batter-coated shrimps are more delicious when made and served hot. But it is better to be served within 2 hours, because the shrimp may losses its crispness after a while.
How to store the leftover? An air-sealed container is the best. Avoid storing in the ziplock bags, as the toothpick may pierce them. Shrimp appetizer on toothpick stays good upto 3 three days when refrigerated and upto 2 months when frozen.
How to reheat? The oven gives the best results out of all other variations. Check this How to reheat is the shrimp, for more detailed care and instructions.
Other shrimp recipes
Printable recipe card
Shrimp Appetizer with toothpick
Shrimp Appetizer with toothpick, Easy Party Food is easy and simple. A perfect appetizer to be as the centerpiece in the dinner table.
Print
Pin
Rate
Ingredients
For prepping
4

tablespoon

cornstarch

¼

teaspoon

salt

or as required

5

tablespoon

water
Instructions
For prepping
In a mixing bowl, add cornstarch, water, and salt.

Insert a toothpick to each of the shrimp in lengthwise. And set aside.
For deep frying
Over medium heat, place a pan and add vegetable oil.

Dip each toothpick inserted shrimps in flour mixer and gently drop it in the oil.

Cook for 5 minutes or until the shrimps are done well.

Transfer to a serving plave and serve wtih spicy sriracha dipping sauyce.
Notes
Washing with vinegar helps to remove any odor.
Fry in batches without crowding.
This is not a kids friendly recipe, so be cautious when the kids are around.
Nutrition
Calories:
307
kcal
|
Carbohydrates:
7
g
|
Protein:
46
g
|
Fat:
9
g
|
Saturated Fat:
1
g
|
Cholesterol:
572
mg
|
Sodium:
1909
mg
|
Potassium:
181
mg
|
Fiber:
1
g
|
Vitamin C:
9
mg
|
Calcium:
329
mg
|
Iron:
5
mg
Do not miss the latest recipes and its tips, Follow us on Facebook, Pinterest, Instagram