This Badusha Recipe yields crispy crust and soft inside delicious sweet which just melts in your mouth. This delicious Indian sweet is perfect for Diwali or any other happy occasion and for the party.
This Badusha recipe is called as balushahi in northern India. This sweet delicacy has been brought to India by the Mughal emperors roughly about 600 years before.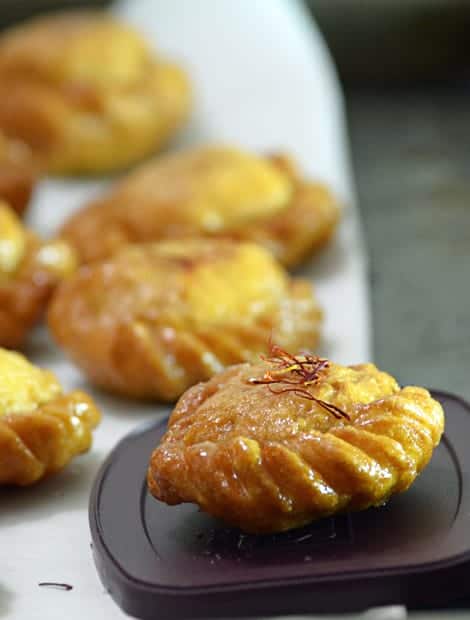 Till now I did not know, why I always like these super delicious Badusha? Is it because of its mild sweetness? for its flaky texture? or for its bubbly look?..I cannot get an opinion.
But one thing I can positively state that it's a bag of bliss is for all the reasons. People who do not have sweet tooth will also love this mildly sweetened badusha.
The Badusha Recipe, holding my memories back to childhood times. It was my aunt's wedding, the cooks were busy making sweets. Ladies were busy seeking tips from the cooks. Children were observing them from the distance.
Everyone busy with their work. And I was excited about its process. The cook was pressing, a small dough blob has appeared between his thumb and index finger, It was such a fascination to me.
My curious eyes might have appealed to him, he called and explained to me how to press to get equal-sized portions. It was a good success for 8 years old. Still, I remember that I was uttering this to everybody.
This incident just flashes my mind whenever I make this dessert. Absolutely sweet memories for me.
Do you love to see other Indian Sweets for Diwali? have a look at these interesting recipes such as Sweet Boli and Motichur Laddoo.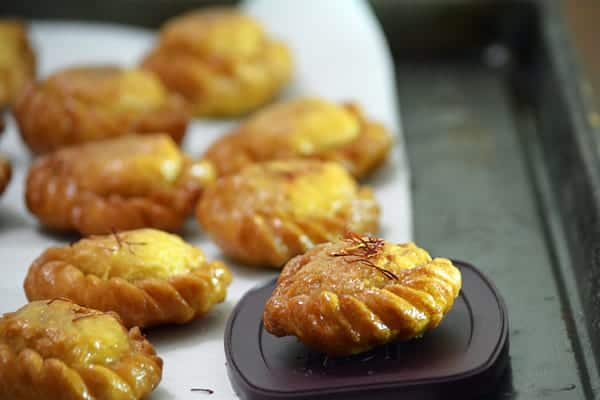 Coming back to this dessert recipe, making outer frill is really the fun part. But badusha can be made even without the frills. But taste and the texture remains the same. And they differ only in appearance. I'm sure you will be liking both these versions.
We generally make this sweet on festive occasions like Diwali and Holi. We do not wait for the festive occasions to come, make it often treat ourselves with this great Indian dessert.
Few tips for Badusha Recipe:
You may also use the Bisquick powder for this badusha recipe. And the proportion would be 2 Cups of Bisquick powder and ¼ cup of curd. And mix it with sufficient water to form a smooth dough.
The processes going to remain the same and this is absolutely easy to prepare. I would expect that you would create this very often in the kitchen.
The very important part of the recipe is frying. Frying in a medium flame and flipping them at regular intervals helps it cook evenly throughout all the sides.
If the temperature of the oil is high then the center part may come out uncooked. The low flame will turn the badusha to absorb more oil and it becomes soggy.
So the right temperature of the oil is very important for perfect Badusha.
A little bit of patience and experience is needed for this frills for this sweet. And these make this sweet look more adorable and tempting.
But you can skip it if you are uncomfortable or if you do not prefer it.
How to make badusha:
Mix Maida, ghee, curd, salt, and baking soda with sufficient water to form a smooth soft, moist dough.
Cover it with a wet kitchen towel and keep it aside for approximately 1 hour. Instead of a wet kitchen towel, you can also use cling wrap to keep it airtight.
Divide it into small equal-sized portions. Roughly, it is between 15-20 balls.
The exterior decorations for Badusha recipe are for appearance only, it does not create any change in the taste or in texture. This is purely optional. You can skip it if you prefer.
To make frills-pat a ball and from its edge, pinch a little, the stretch a little, and fold it, like in this picture.
Complete the entire round with the same action, pinch, stretch and fold method to form a shape like 'Chakra'.
Repeat these task for other balls as well.
Heat enough oil/ghee in a deep pan, and start to fry these in medium flame. Care needs to take while frying, as low flame makes the Badusha more oily and high flame turns center uncooked.
Make sure, you fry them till golden brown and completely cooked center. And this is the critical step in Badusha recipe.

Make sugar syrup till 'one string consistency'. when it reached single string consistency add lemon juice. This process helps the sugar not to get crystallized.
Gently drop all the fried Badusha, a few at a time, and leave it for 4 min till it absorbs the sugar syrup.
Remove it and complete this process for the remaining Badusha too.
Arrange them all in a tray and sprinkle saffron/almond slices. Store in an airtight container.
The Badusha recipe is very straight forward right?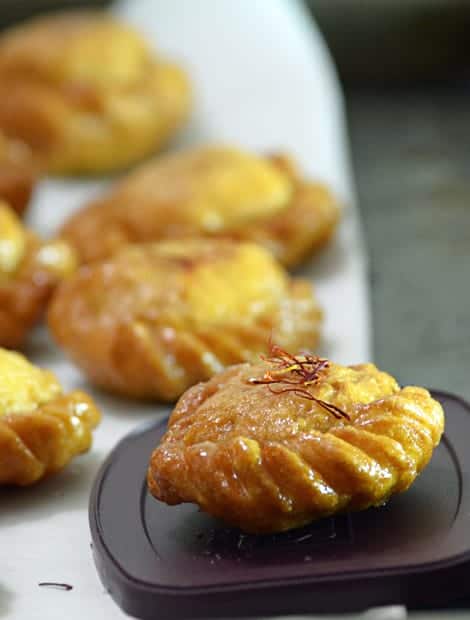 Other desserts you may like,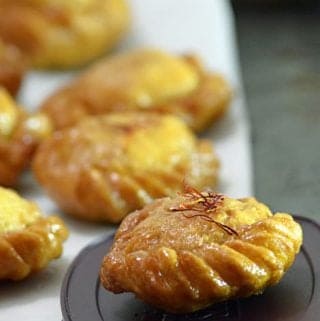 Badusha Recipe
Badusha Recipe yeilds crispy outer and soft inside delicious sweet which just melts in your mouth. Perfect for diwali celebration and party.
Print
Pin
Rate
Ingredients
For the dough:
3

cup

all purpose flour

/ maida

½

cup

yogurt

/ curd

¼

teaspoon

salt

½

cup

unsalted butter

¼

teaspoon

baking soda

½

cup

ice cold water
For the syrup:
2

cup

sugar

1

cup

water

½

teaspoon

lime juice
For the making
2

cups

vegetable oil

/ ghee-for frying

12

strands

saffron

for decorating

2

tablespoon

almond

slices for decorating
Instructions
For the dough
In a mixing bowl, add all purpose flour, yogurt, salt, unsalted butter, and baking soda.

Gently rub the flour for 2 minutes or until the butter incorporated well with the flour.

Then add little water at a time, and gently combine the flour to make dough(use your fingers than the palm-too much of knead make the badhusha hard).

Divide the dough into 16 equal sized balls.

Gently pat a ball in between the palms to make a ½ inch thick circle.

Repeat this process for the remaining balls as well.
For the syrup
Meanwhile, over medium heat, place a sauce pan. Add sugar and water.

Bring it to boil, and cook till 'long one string consistency'.

Add lemon juice. Remove from the heat and combine well.
For the frills(optional)
For frills-pinch a little on the edges and fold it.

Repeat pinch and fold to the entire round.

Do the same for remaining balls. Set aside.
For the making
Over medium heat, in a deep frying pan, add vegetable oil.

When the oil becomes medium-hot add badusha one after the other without crowding the pan.

Fry badusha until becomes golden brown evenly.

Then, soak each batch of fried Badusha in the sugar syrup for roughly about 4 min.

Remove it and complete this process for the remaining batches as well.

Arrange entire badusha in a tray and sprinkle saffron / almond slices.

Serve and store the rest in an airtight container.
Notes
Adding lemon juice is to avoid sugar crystallization.
Nutrition
Calories:
271
kcal
|
Carbohydrates:
44
g
|
Protein:
3
g
|
Fat:
10
g
|
Saturated Fat:
6
g
|
Cholesterol:
16
mg
|
Sodium:
63
mg
|
Potassium:
59
mg
|
Fiber:
1
g
|
Sugar:
25
g
|
Vitamin A:
189
IU
|
Vitamin C:
1
mg
|
Calcium:
19
mg
|
Iron:
1
mg
Serving Suggestions Badusha Recipe:
Serve as dessert. But South Indians, start their meals with sweet. Can also be served along with savory snacks such as mixer, murukku for tea time.
Tips and Variations Softy Badusha Recipe:
Can be prepared without frills, which is much more easier to make.
Loved our delicious Badusha recipe? Follow us on Facebook, Pinterest, Instagram