Fresh strawberry juice recipe in detail-It is always a golden moment to go back to basics. Learn how to make a strawberry juice which is not frilled with fancy ingredients, but with the affordable and easy to find in any store.
Check out-you might have in the kitchen already. Furthermore, this is super easy to make just like counting the numbers.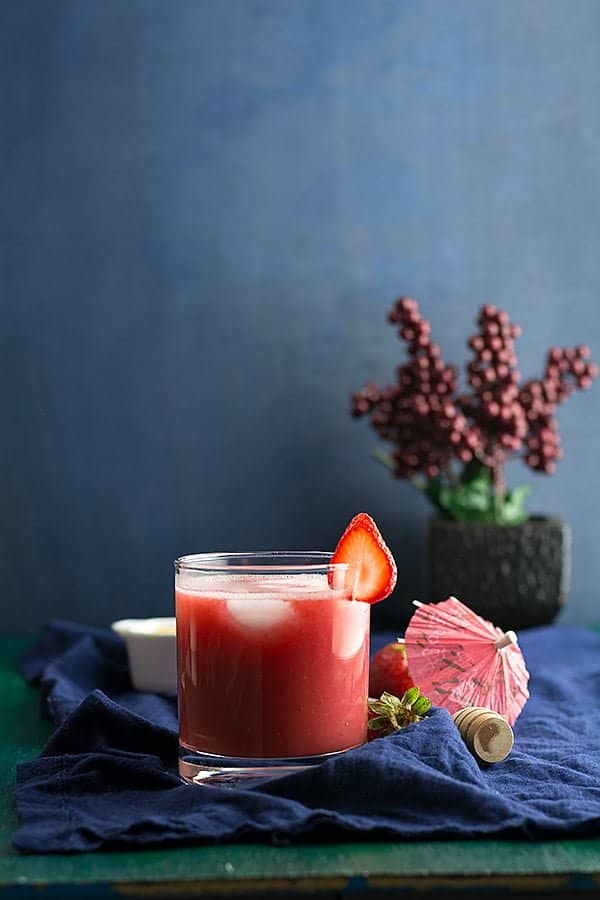 Forget your store-bought strawberry juice that usually made with strawberry concentrate. And make this easy drink at home, when you have strawberry sitting in the counter and waiting for you to consume.
Jump to:
Why this recipe?
Whether you live in Boston or Texas, you might have felt the same after buying a huge lot of strawberry. The color and the look of the strawberry is so inviting that you always buy them unintentionally.
As soon as you see them in the stores or in the farmer's market you grab them the most you could. And it is another story after your visit from the strawberry picking, you always tend to get them more than you actually need.
Recently from our recent farmers market's visit, we left with a huge bag of strawberry. We love them always and had as much as we could. And the fruit was slightly sour, which caused tooth sensitivity.
We could not eat but currently is mid of a hot day, hence it is wise to drink them as fresh strawberry juice with lots of ice. It hydrates our body and also the best nutritious drink for the summer day.
The fruit like strawberry is a wonderful ingredient for the juice with full of flavors and with a bold taste. Every sip will boost your energy and gives you a refreshing feeling.
This healthy juice recipe is actually like drinking the fruit, the healthy replacement of eating the fruit.
This fresh strawberry juice recipe is simple, fantastic that knocks straightly without any fancy frills. So nowadays, it is easy for me to feed our family with fresh fruits-they are fussy eaters.
It is always tough to time to plan for the kids to drink at the party times or on special occasions. The kids drink has to be healthy, looks attractive. This fresh juice recipe fits perfectly in this kind of event.
How to make strawberry juice
There are a couple of ways to make them, using juicer or blender. When using the juicer, the straining part is already done by the machine and it is ready to drink or ready to customize. But when using a blender, you have to manually strain and serve.
Strawberry juice ingredients
Strawberry. It is a fantastic bundle of a sweet and sour taste. It is a great source of Vitamin C, potassium, Maganese and folate. The fruit, juicy strawberry is great for making this juice. It brings bright color and rich taste to the juice. But frozen fruits are also a great option for making when you are planning for a party or on special moments.
Sugar. The batch of strawberry I had now is sour and definitely needed sugar to neutralize the taste. So I have added honey in here. But you may skip using the sugar or use natural sugar like agave nectar or maple syrup.
Salt. A small pinch is way too much for a glass of juice. I strongly recommend using when the fruits are tangy. It is a good neutralizer along with the sugar. The salt taste minimizes the sugar required for making the excellent juice.
Lemon juice. This is optional too. Add lemon juice if the strawberry is ripened and sweet. Lemon juice adds a kick and balances well the sugar and the salt.
The Direction
Add 2 cups of strawberries and 4 cups of water to the blender. And pulse until the fruit crushed finely.
In a mixing bowl, rest a strainer over it. Pour the fruit mixer.
Press the fruits over the strainer using a ladle to extract the juice to the maximum.
Remove the strainer.
Add salt, honey, to the juice.
Pour it to the tall glasses filled with ice cubes and serve.
Strawberry juice over smoothie
I often see the western world leans towards smoothie than the juice. Whereas Juices are the popular drinks in Eastern countries.
Smoothie has retained the fibers. But the fiber loss in this strawberry juice recipe is minimal than you think of. Since we are crushing to the maximum, and the residue that you discard after extracting is less. And the good part is that you can use the leftover for making chutney or jam.
Moreover, a smoothie is a meal and this juice is a healthy fun drink. this juice is adorable when serving at the party.
Strawberry juice recipe Variations
Strawberry blueberry juice. Add equal portions of strawberry and blueberry. They complement well each other in taste and flavor. The color is intense and great for parties and get-togethers.
Strawberry carrot juice. For this combo, peel and slice the carrots for effective extraction. The color and taste compliment well. A healthy drink to start the day actively. You may check this on how to make carrot juice for making the carrot juice alone.
Strawberry cucumber juice. Another hydrating, flavorful combo, that is so addictive. For this variation, I would suggest to cut down the sugar and enjoy the natural refreshing flavor of cucumber in this juice.
Strawberry kiwi juice. A winning combination, both have a citrusy taste and definitely you need to increase the quantity of the sugar in here. You may also check this kiwi juice recipe.
The sky is the limit for variations, so convert to choose your preference. Other variations that are worth mentioning are-strawberry juice with acai, orange, grape, apple, and banana are to some name. You try your variant and let us know the results.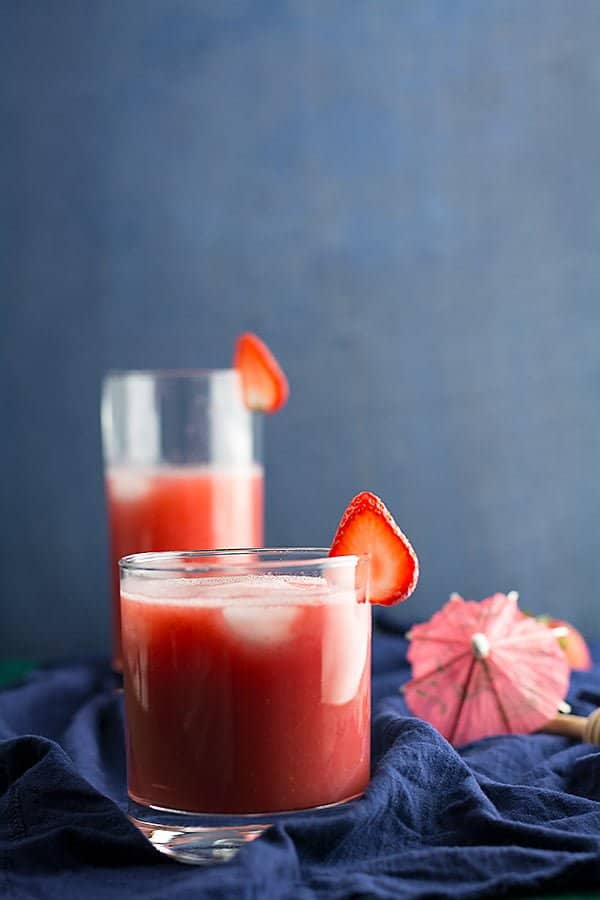 Make ahead and storing ideas
Make-Ahead Ideas. Clean, remove the core and the leaves. And store in airtight containers in the refrigerator or freezer. And blend whenever needed. You can also cook the strawberry pulp with salt and sugar for 15 minutes in medium flame. And this stays for a month in the refrigerator.
Storing. You may store the strawberry juice or the pulp in the refrigerator in an airtight container for a day.
On the other hand, you may also freeze them to use upto 3 months.
Other Strawberry recipes you may like
This fresh strawberry juice recipe is a simple everyday recipe to enhance the mood and energy. Very refreshing taste that everyone will observe in each sip. Learn how to make strawberry juice effortlessly when fruits are abundant.
Printable recipe card
Strawberry juice recipe
This fresh strawberry juice recipe is a simple everyday recipe to enhance the mood and energy. Very refreshing taste that everyone will observe in each sip. Learn how to make strawberry juice effortlessly.

Print
Pin
Rate
Ingredients
1

cup

strawberry

2

cups

water

2

tablespoon

honey

/ sugar

1

pinch

salt

1

cup

ice cubes
Instructions
In a blender add strawberry, a cup of water. Reserve one cup of water to dilute the mix later.

Pulse until strawberries are crushed well.

In a big mixing bowl, place a strainer.

Pour the pulp, and use a ladle and press to extract the juice.

Add honey, salt, and water.

Stir well until all the ingredients blend well together.

Pour over to tall serving glasses and top it with ice cubes.
Video
Notes
You may substitute honey with plant based sugar like maple syrup.
Or you may also use the refined sugar which is more convenient.
Nutrition
Calories:
87
kcal
|
Carbohydrates:
23
g
|
Protein:
1
g
|
Fat:
1
g
|
Saturated Fat:
1
g
|
Sodium:
34
mg
|
Potassium:
110
mg
|
Fiber:
1
g
|
Sugar:
21
g
|
Vitamin C:
42
mg
|
Calcium:
19
mg
|
Iron:
1
mg