strawberry pineapple smoothie with yogurt is a perfect blend of delicious strawberries and pineapple. It is rich and creamy best to be served for breakfast. Now, All you can make healthy breakfast in less than 15 minutes.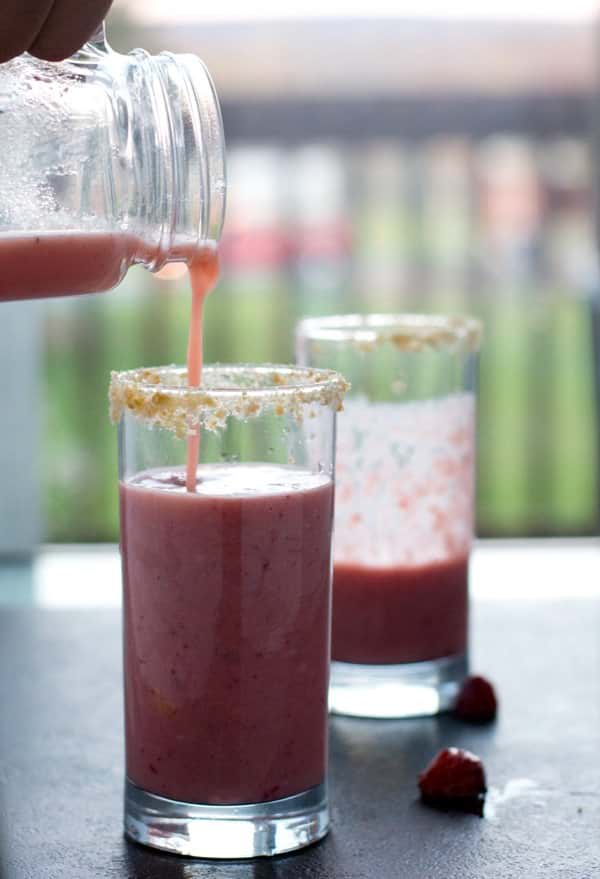 I always feel happy whenever I come up these types of guilt-free recipes. It helps both myself and as well as the readers.
First of all, we need to accept that, It is not a great idea to skip our breakfast for the sake of dieting. Instead, can choose healthily and filling drink like strawberry pineapple smoothie with yogurt. Adding a couple of tablespoons of oats will make it complete healthy breakfast to go.
My local grocery store carried fresh pineapples, but I want to infuse strawberries into the smoothie for not only the color but also fresh flavor. Since I could not find fresh strawberries(need to blame the season here :)) I have added frozen strawberries.
The pineapple was sweet enough and does not require any artificial sugar. I just added a pinch of salt and taste yummy, those who are sweet toothed like me join me. Others add 2 tbsp of honey or any form of sugar.
Another good reason for adding frozen strawberries, no need to add extra ice cubes. But if you have fresh strawberries add them along with ice cubes.
If you are searching for milkshake recipes, then look into Kiwi Milkshake, Mango Milkshake, Papaya Milkshake, Dragon Fruit Milkshake.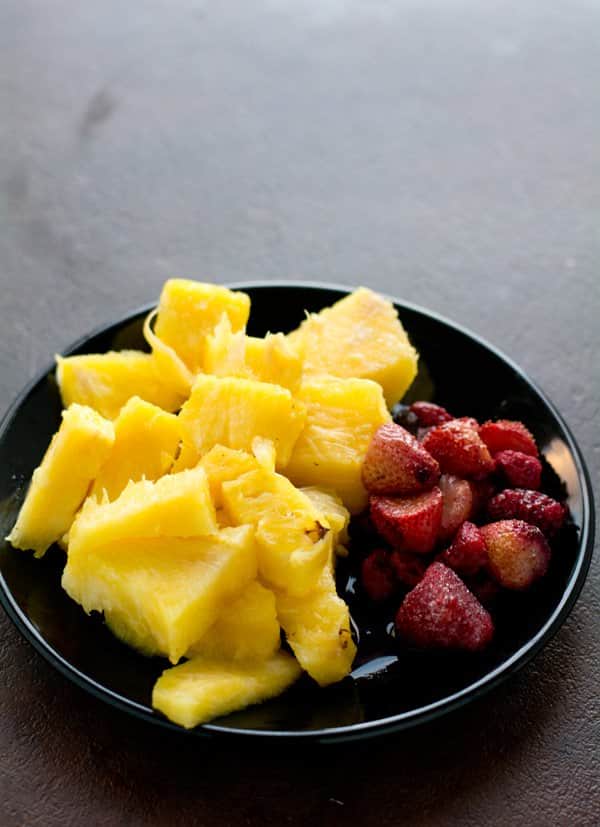 Look at the color of the fruit in this image. I can just sprinkle some seasoning salt and pepper. With this salad in one hand and with my favorite book, on the other hand, I can sit and for reading for the entire evening. But now I have got my own responsibilities, I do not afford to sit with my book for hours together. So this strawberry pineapple smoothie with yogurt is the best option for me at this time. Still, it gives me the same relaxed feeling, and I was just enjoying every sip of this Strawberry Pineapple Smoothie. Dunno why, but it just brought back my nostalgic feelings.
Coming back to this recipe, for making 1 huge jar of strawberry pineapple smoothie with yogurt required 3 Cups of pineapple chunks and 1 cup of strawberries. Just the proportion as per the availability of the fruit.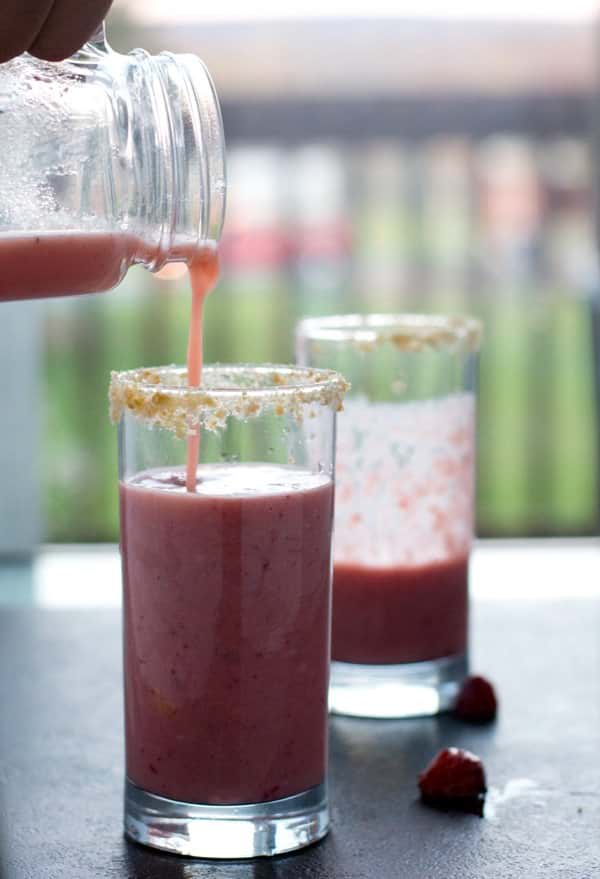 strawberry pineapple smoothie with yogurt
Strawberry pineapple smoothie recipe is easy and healthy. Made with yogurt, fresh strawberries, pineapple and no banana. Perfect no cook breakfast for single servings. This delicious gluten free diet is perfect for kids and for families. Can also use frozen fruits.
Ingredients
3

Cups

Pineapple Chunks

1

Cup

Strawberry

.5

Cup

Yogurt

1

Cup

Water

or orange juice as required

1

pinch

Salt

optional

3

tbsp

Honey

or sugar / optional

.5

Cup

Ice Cubes
Directions
Add all the ingredients to the blender.

Run the machine until all the ingredients combines well and becomes silky and smooth.

Transfer to glasses and serve strawberry pineapple smoothie with yogurt immediately.
Nutrition Facts
strawberry pineapple smoothie with yogurt
Amount Per Serving
Calories 722
Calories from Fat 27
% Daily Value*
Total Fat 3g 5%
Cholesterol 7mg 2%
Sodium 67mg 3%
Potassium 1391mg 40%
Total Carbohydrates 180g 60%
Protein 8g 16%
* Percent Daily Values are based on a 2000 calorie diet.
Liked this strawberry pineapple smoothie with yogurt? Do not miss latest recipes and its tips, Follow us on Facebook, Pinterest, Instagram