Not all the 'Veg Biryani Recipe' are the same in India. They are unique in every home, restaurant, and even every state in which they differ. The biryani takes a new avatar according to the cuisine and the locally available ingredients.
For instance, Malabar biryani and Chettinad Biryani use coconut milk as the main ingredient, while Calcutta Biryani uses Rosewater.
Looking for other Biryani recipes? check into Mint Biryani, Methi Biryani, Soya Chunck Biryani.
Biryani Origination and History: The Original Biryani(meat version) has various theories associated with its origination. To sum them up here,
It was created in the Mughal kitchen, incorporating Persian Pilaf with Indian spices.
It arrived in India from Persian states from various routes.
The internal trade between these two regions created this unique recipe.
The next theory claims that King Timur brought this recipe to India after his invasion.
But another theory says that Biryani was in India before the Mughal kingdom.
A similar version of Biryani, 'Oon Sour,' was mentioned in Tamil Literature in the second century.
What is Veg Biryani? Veg Biryani Recipe / Vegetable Biryani is a one-pot rice made with exclusive spices and vegetables. Herbs and other ingredients vary according to the region it originated from and according to the complete ingredients added to the recipe.
Veg Biryani Recipe Origination and History: 40% of the Indian population are vegetarians. So, the people discovered and customized the Biryani to the vegetarian version. It is prepared by following the same procedure as the original meat version of Biryani. But vegetables will be substituted with the meat.
The Verities of Veg Biryani Recipe:
The varieties vary.
According to the region, they are made:
Hyderabadi Biryani, Chettinad Biryani, Ambur Biryani, Lucknowi Biryani, Calcutta Biryani, Bombay Biryani, Punjabi Biryani.
According to the ingredients added to it
Mushroom Biryani, Potato Biryani, Methi Biryani, Paneer Biryani, Chole Biryani, Soya Biryani...
The Processing method

Dum Biryani: The pot is sealed and can cook on low heat.
Pakka: In this method, the masala is cooked separately and added to the rice.
Kaccha: In this method, they add all the raw ingredients.
To classify them according to the region, there are many like: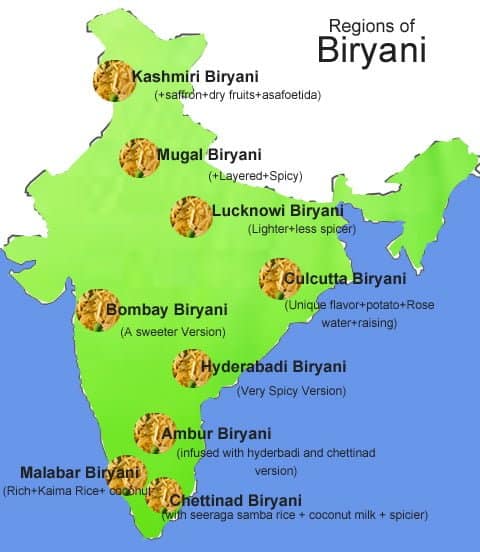 Along with every type of Biryani, We see some essential tips for making each Biryani.
Hyderabadi Biryani Recipe: The special about Hyderabadi Biryani is the cooking method. They make layers of semi-cooked rice and the vegetable masala. Generally, not more than 4 layers. It uses fried onions a lot in creating and as well as in garnishing.
They also do dum; when the rice is 90% done, the pot will be sealed and allowed to cook further with the insulated steam. It mainly uses Basmati rice. The most famous side dish for this dish is Mirchi Ka salan(Green Chili Gravy) and Onion ka Salan(Onion Gravy).
Chettinad Biryani: Chettinad Veg Biryani Recipe is known for its spiciness. Mostly cooked with coconut milk, with Jeera rice(locally called Seeraga Samba rice ). Tomatoes are added for sourness.
The coconut milk in this recipe, adds rich flavor and texture to Biryani. Another unique ingredient added to Biryani is curry leaves. It is generally served along with onion raitha.
Ambur Biryani: Ambur Biryani is served with Dalcha, Brinjal gravy, and raitha. Usually made with Basmati rice/seeraga samba rice. The uniqueness of Ambur Biryani is that it uses curd for making and also inherits the methods of both Hyderabadi and Chettinad Biryani.
Mughlai Biryani: These are most popular in northern states like Delhi. It combines beautiful flavor and spicier and perfectly cooked rice perfectly.
Lucknowi Biryani: It is also called Awadhi Biryani, primarily known for its less spicy but aromatic. Usually made with Basmati rice. It's a lighter version of Mughlai Biryani. They follow the layering method for making Biryani.
Calcutta Biryani: They are unique and include potatoes, rose water, and raisins. Served with raita.
Bombay Biryani: Bombay Biryani is the sweeter version of Mughlai Biryani.
Malabar Biryani: Made with coconut milk, and less spicy and very flavorful. Specially made with karma rice(jeeraka sala). Which is more petite than Basmati rice but has a unique flavor.
Ingredients-based Veg Biryani Recipe:
The ingredient-based biryanis can be cooked following any of the region-based types of biryani. Mushroom Biryani can be made with Hyderabadi, Chettinad, or Punjabi versions. Everything tastes exceptionally well, so try experimenting with different cuisines and vegetables. Which makes it unique and different every time you drive and serve.
Mushroom Biryani...The mushroom is the delegate; wash it multiple times to remove any impurities. Washing in running water would help more. Do not soak in water for a longer time. Marinate with the masalas for about 15-20 minutes, allowing them to absorb more spices and flavors.
Potato Biryani. It is another versatile ingredient that does not fit any rules and regulations. It tastes good if boiled and fried before adding to the rice. I would advise avoiding adding boiled potatoes, which may make the Biryani bland. However, you may add it if you prefer less spicy versions.
Paneer Biryani. Marinating paneer for 15-20 minutes would make it more tasty and flavorful. Then, shallow fry it in the oil until it turns golden brown. And add it to the Biryani at the final stages of processing. The marination need not be fancy ingredients but could be as simple as salt, chili powder, and lemon juice.
Chole Biryani. Soak the chole/chickpea overnight. Then, cook it in a medium heat to make it cook entirely and retain its shape and texture. Add salt while cooking, as adding salt in the later stages would not help much. Use a pressure cooker or slow cooker for cooking.
Rajma Biryani. Tips for making Rajma Biryani could be the same as Chole Biryani.
Peas Biryani. Either frozen peas or fresh peas can be used. Peas tend to cook very quickly, so add it to the recipe while adding rice or just before.
Selecting Vegetables for Biryani: Any vegetable would work for Biryani except watery vegetables. Vegetables like cauliflower, peas, beans, carrots, potato, chickpeas, mushrooms, paneer. You can add any of these or any combinations of these vegetables.
Selecting the Spices: Cloves, Cinnamon, Bay leaves, Star Anise, Nutmeg, Cardamom, Black Cardamom, and Fennel seeds are the essential spices added to Biryani. Each of these ingredients has a unique flavor and taste.
Refer to your recipe for using these ingredients. If you are a beginner and do not want to take much risk, use only Clove and cinnamon; these ingredients can bring beautiful flavors.
Alternatively, you can also use Readymade Biryani masala available in the stores.
Expert Tips for Veg Biryani Recipe:
For perfect long-grained Biryani:
Basmati rice is suitable for making any Biryani.
Buying good quality basmati rice always ensures long-grained Biryani.
Wash 2-3 times the rice.
Make sure to wash the rice before soaking it. Tip: Washing after soaking the rice will take away the rice's unique flavor.
Soak the rice for 20-25 minutes.
Add water in the proportion of a 1:2 ratio. (If 1 Cup of rice, then 2 cups of water)
Add the rice once the water starts boiling.
Allow cooking until 80% of the water evaporates; at this stage, the rice should have doubled its size and cooked to 80%
Simmer the flame, cover the lid, and cook it for 10 mins / Seal it 'dum' it for 10 mins.
Let it cool down for 15 minutes, then open the lid and Serve very hot.
Selecting the cooking method: You can use the stovetop, pressure cooker, or 'Dum' methods. The process and procedure are the same until 90% of the cooking.
For the Stovetop method:
Close it with the lid once 80% of the rice is done(and with 20% of the remaining water). Simmer the flame allow it to cook for 10 mins.
Leave it untouched for about another 10 minutes
And serve hot.
For Pressure Cooker Method:
Assuming that you are using a pressure cooker from the first stage of Biryani.
Close the pressure cooker's lid once 80% of the rice is done(and with 20% of the remaining water).
Simmer the flame.
Cook it for 10 mins or until it gives out a long whistle.
Could you remove it from the fire?
Allow it to cool down for around 10 minutes.
Open pressure cooker lid and Serve hot.
For Easier 'Dum' Method:
Use the dough to seal the edges.
Or Use aluminum foil for sealing.
Use an iron skillet/pan in between the pan and the fire for Dum(the period of last 10 minutes in simmer flame)
Use the oven for dum. Keep it in the preheated oven at 350°F for 10 minutes.
Adjusting the taste.
Add salt when the rice is getting cooked halfway through. This way, you can very well judge the amount of salt.
If you feel it is a little saltier, then add raw potato cubes. It could take away little saltiness.
Add salt to the raitha, after tasting cooked Biryani. (If the Biryani is little saltier, add lesser salt to the raitha and vice versa)
Serve lemon slices.
Veg Biryani Recipe, simple and super quick version(best suitable for bachelors and the students):
I have tried to minimize the ingredient list, and I tried to minimize the process as little as possible.
Other rice recipes,
Printable recipe card
Veg Biryani Recipes - A complete Guide with Expert Tips
Super simple and easy Veg Biryani recipe, made with minimal ingredients and with minimal efforts. Explained well with step by step pictures and with wonderful tips.
Print
Pin
Rate
Ingredients
1

cup

rice

5

tablespoon

vegetable oil

2

teaspoon

ghee

/clarified butter

1

inch

cinnamon

4

cloves

1

onion

1

teaspoon

ginger garlic paste

1

tomato

1

cup

mixed vegetable

frozen cut vegetables would also work fine

1

teaspoon

red chili powder

⅙

teaspoon

turmeric powder

¼

teaspoon

garam masala

2

cups

water

1

teaspoon

salt

2

cilantro
Instructions
Soak rice for 20 minutes, rinse, drain, and keep aside

Over the medium heat, in a pan add hee, vegetable oil followed by cloves, cinnamon stick.

Once it starts slightly changing its color, add sliced onion and saute until it becomes soft and translucent.

Add ginger garlic paste and saute for a for few seconds.

Add chopped tomato, continue to saute it until tomatoes turns mushy.

Add chopped mixed vegetables, saute for a minute.

Add red chili powder, turmeric powder, garam masala and saute for a minute.

Add water and salt. Bring it to rolling boil.

Add rinsed and drained rice.

In the medium flame cook the rice. Once the rice doubles and 85% of the water evaporates like in this picture.

Seal it with aluminium foil. Simmer the flame completely, and cook it further for 8-10 minutes.

Wait for 10 minutes, open the foil and serve hot.
Nutrition
Calories:
396
kcal
|
Carbohydrates:
47
g
|
Protein:
5
g
|
Fat:
20
g
|
Saturated Fat:
3
g
|
Cholesterol:
6
mg
|
Sodium:
38
mg
|
Potassium:
275
mg
|
Fiber:
3
g
|
Sugar:
2
g
|
Vitamin A:
2835
IU
|
Vitamin C:
11.2
mg
|
Calcium:
34
mg
|
Iron:
1.1
mg
**Disclaimer: The nutritional information provided is an approximate estimate only.
Sources: http://www.thehindu.com/todays-paper/tp-national/tp-andhrapradesh/biryani-food-fest-begins/article531201.ece
http://www.thehindu.com/todays-paper/tp-national/tp-tamilnadu/a-taste-of-sangam-age/article1840899.ece
http://www.thehindu.com/features/metroplus/Food/food-safari-in-search-of-ambur-biryani/article3452311.ece