Zesty vegetables meet with spicy onion and tomato gravy to make an absolute luscious Indian side dish called Vegetable Jalfrezi. This recipe is simple. And absolutely, ready to serve in less than 30 minutes. Learn how to make this Indian-style mixed vegetable stir fry in a rich tomato curry.
Thinking of making this dish for the party? This side dish is the first to vanish in the middle of the crowd — a naturally guilt-free side dish that everyone will appreciate. Once you taste a bite, I'm sure you'll love this forever.
This is fabulously easy to make. If you have cooked Indian food before, trust me, making this vegetable jalfrezi is like a breeze. It is ideal to make any time, from busy weeknight dinners to hassle-free weekend dinners.
The new year has started but I'm still in the crazy holiday mood. Holidays are not only for meeting family and friends but also for relishing them with lots of food.
Since everyone is in the holiday mood and my family is after me to make a creamy and delicious side dish. However, I wanted to make something healthy. This Vegetable Jalfrezi, the side dish, is acknowledged by both of us since it is super-rich, tasty gravy simultaneously, and loaded with vegetables and protein-rich Paneer.
This vegetable sidekick is deliciously creamy and healthy. Cannot think of any other delightful food with heaps of veggies that taste extremely good. Seriously, I cannot stop myself from gobbling them.
There is more room for customization to enhance your requirements. Let's combine to make Splendid and appealing vegetable and paneer jalfrezi together.
What is vegetable jalfrezi?
Jalfrezi is believed to have originated from Eastern India. And the word Jalfrezi refers to the spicy food. This dish is usually made with leftover vegetables and rich gravy. It can be made with any combination of veggies and one main protein-rich ingredient.
Other curry recipes you may like,
How to make Vegetable Jalfrezi?
The Ingredients
Let's prepare the elements with a simple list of vegetables. Feel free to add or adjust your favorite vegetables and explore other dimensions of this side dish.
Paneer. This is the protein-rich ingredient in this recipe. Another name for paneer is cottage cheese, a most common component of India. If the paneer is not available to you, then you may substitute it with Farmer's cheese or Ricotta Salata, which are the closest substitutes for Paneer available in the United States. Unlike other cheeses, Paneer does retain its shape even after it gets cooked.
Veggies. I used a mix of colored bell peppers like green, red, and yellow. How to cut vegetables? Well, slice to the pinky finger size; this is the authentic chopping style for making Vegetable Jalfrezi curry. You may add veggies like broccoli, green beans, beets, carrots, and potatoes.
Onion. Onion thickens the gravy and gives an excellent texture to the side dish. You may use red, yellow, or white onion. I mostly use yellow onions as I feel a hint of sweetness, making the gravy delicious. This is my personal choice, and you can use any variety of onions.
Tomato puree. I used plum tomatoes as they give a neutral taste and, at the same time, thicken the Vegetable Jalfrezi curry nicely. Roma tomatoes add a little bit more sourness. I always make tomato puree with fresh tomatoes. This step is not time-consuming, but you may still use canned diced tomatoes if needed.
Kitchen King Masala. I suggest using this store-bought masala available in Indian stores with different brands. This gives a whole new twist to the dish. Without this, I feel, this dish cannot be completed. If you don't have it handy, you may substitute it with Kasuri methi.
Otherwise, you may substitute with garam masala, but the product will differ entirely. But this one, too, still tastes good.
The spice powders. We need red chili powder, coriander powder, and turmeric powder for making this recipe. Though you may find these are a long list of ingredients, these are the staple in every other Indian home. These ingredients are essential and give an authentic taste to this Vegetable Jalfrezi.
Some of you find red chili powder super-hot; you may substitute it with cayenne pepper or paprika, depending on your preferred spice level.
The recipe directions
Roast the vegetables. Heat a tablespoon of cooking oil and add cauliflower florets, red peppers, green and yellow pepper.
Roast them until they change their color slightly. And keep aside.
The veggies need not be cooked thoroughly. Half done tastes excellent and adds crisp texture to the Vegetable Jalfrezi.
Adding spices. Heat 4 tablespoon of cooking oil in a pan and stir in ginger garlic paste. Sauté in simmering flame for 2 minutes or until it changes its color slightly.
Then, have finely chopped onion and Sautee until the onions become soft and tender. Then add freshly pureed tomato. And sauté until the oil separates.
Then add red chili powder, coriander powder, turmeric powder, salt, and sauté mild flame for a minute.
Make the gravy. Do not burn; otherwise, the sauce will be bitter. Then, add a cup of water and bring it to a boil. Cook until the gravy thickens.
Add paneer. Now add the paneer and combine gently. Finally, add a tablespoon of Kitchen King masala and stir for a minute.
Remove it from the flame and serve hot with Indian flatbreads or rice.
What does this taste like?
The sauce is rich, with the mild flavors of onion, tomatoes, and garam masala. Furthermore, it's a bundle of the taste of vegetables with the creamy paneer.
What do you serve?
This is best served with rice or Indian flatbreads like roti, naan bread, and kulcha.
Naan bread, vegetable jalfrezi, and a simple garden salad would make an excellent menu. Each one of these dishes complements well in this list. Trust me; this is a beautiful, heartwarming Indian dinner wholesome for the family and friends.
The pairing dishes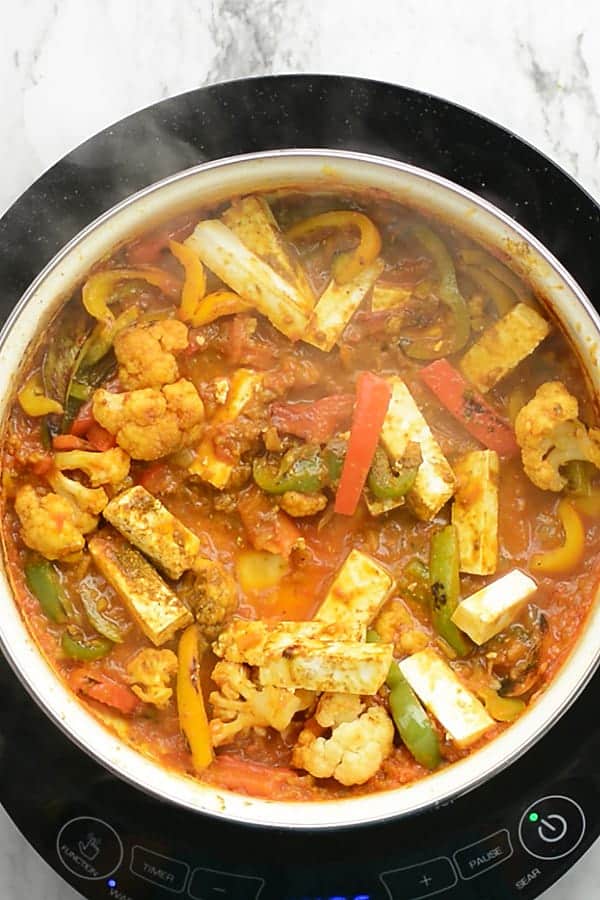 Vegetable Jalfrezi variations
Running out of time or planning to make this recipe at the last minute? No worries, and cool! Here are some tips that can cut down the cooking time instantaneously.
Use canned diced tomatoes instead of fresh, pureed tomatoes.
You may make the gravy ahead of time and mix the vegetables at once needed.
Make the gravy and sauté the vegetables simultaneously.
Adopting the diets
If you are vegan, skip the paneer. Instead, you may add tofu or chickpea for the protein content in this Vegetable Jalfrezi recipe.
This is naturally gluten-free and a nutritious vegetarian dish.
Meat lovers, You may use this recipe to make a meat version of jalfrezi. Substitute paneer with chicken, shrimp, or lamb.
Printable recipe card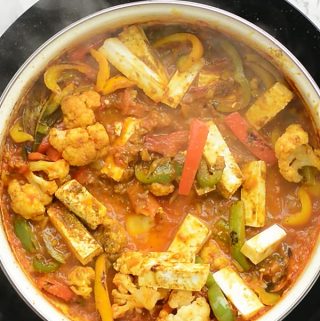 Vegetable jalfrezi
Vegetable Jalfrezi is a luscious Indian side dish with vegetables in a spicy Indian gravy. This is a simple, straightforward recipe ready under 30 minutes.
Print
Pin
Rate
Ingredients
For roasting the vegetables
1

teaspoon

vegetable oil

½

cup

cauliflower florets

¼

cup

red peppers

sliced

¼

cup

green peppers

sliced

¼

cup

yellow peppers

sliced
For cooking
2

cup

water

1

cup

paneer

sliced lengthwise

1

tablespoon

kitchen King masala

/Garam masala
Instructions
For roasting the vegetables
Over medium heat, in a pan add vegetable oil, cauliflower florets, red bell pepper, green bell pepper, and yellow bell pepper.

And pan roast for 4-5 minutes in medium flame or until the veggies are half cooked.

And keep aside.
For seasoning
In the pan add 3 tablespoon of vegetable oil and finely chopped onion.

In medium heat, sauté until the onions changes turns soft and pink.

Add ginger-garlic paste and saute until fragrant but without burning them.

Add tomato puree and sauté until the oil separates.

Now add red chili powder, coriander powder, turmeric powder, and salt.

Now sauté for a minute in simmer flame.
For cooking
Add water and bring it to boil for 10 minutes in medium flame or until the gravy thickens.

Add paneer, roasted vegetables, and kitchen King masala and combine them until paneer is coated well with the masala.

Serve hot with Naan or rice.
Nutrition
Calories:
354
kcal
|
Carbohydrates:
7
g
|
Protein:
9
g
|
Fat:
32
g
|
Saturated Fat:
9
g
|
Cholesterol:
37
mg
|
Sodium:
636
mg
|
Potassium:
205
mg
|
Fiber:
2
g
|
Sugar:
2
g
|
Vitamin A:
1095
IU
|
Vitamin C:
46.5
mg
|
Calcium:
287
mg
|
Iron:
0.6
mg
**Disclaimer: The nutritional information provided is an approximate estimate only.