Vegetable Sodhi is very easy to make. The taste and the texture of this traditional recipe are unique and would be loved by everyone. A healthy Idiyappam side dish or any other Tamil style food.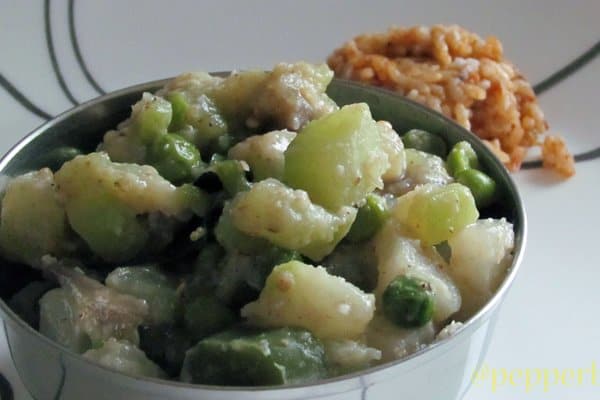 Vegetable Sodhi is the very famous dish in southern Tamil Nadu, may be unfamiliar to the rest of it. My mom prepares this very often. The original Sodhi is watery and it is a Kuzhambu. But my Mom prepares like this. The taste and texture are somewhat related to Avial.
It will be a perfect combination for Tamarind Kuzhambu, Tomato Rice.
What is sodhi?
Sodhi is the vegetable is a stew made with coconut. This is a popular, authentic side dish recipe from the Tirunelveli district of Tamil Nadu. This kuzhambu recipe is a mild, creamy and delicious vegan dish. Best side dish for Idiyappam or appam. Where Idiappam and appam are the traditional South Indian breakfast recipes.
This Tirunelveli sodhi kuzhambu is similar to the taste and flavor of Kerala's vegetable stew.
How do this tastes like?
This side dish tastes mild with the flavor. This tastes similar to the creamy vegetable soup of western countries. If you have never tasted any Indian dishes before, you might be skeptical about the taste of curry. I challenge you, If you taste this creamy dish once, your whole perspective towards the Indian dishes would change.
In India, not all curry are hot and spicy. This is so humble and aromatic that would be perfect for all the taste buds.
The Key ingredients for Sodhi Recipe
Moong dal-This is split yellow mung bean, is wholesome and light when cooked. This adds a nice creamy texture, increases the quantity, thickness of the dish. A small amount of moong dal is sufficient to make a breakfast side dish for the entire family or to include in the lunch menu.
Moong dal/mung bean is easily found in Indian stores, Asian stores and online stores like Amazon. The small package can cost around 4-5 dollars in the United States, which you can last for about a year if you make Indian food even on a regular basis. It is a value for your money.
Coconut Milk-The homemade coconut milk is great for making this gravy. As some of the brand's coconut milk has a strong nutty flavor, which is not good for this recipe. To make coconut milk at home. The coconuts you get here in the USA, is not the most reliables source, it is always a hit or miss situation.
I always make coconut milk with the store bought frozen grated coconut, which is really good. The grated coconut made with the rightly matured coconut, which provides creamy, mild and thin coconut milk, which you will fell love with. Making coconut milk at home is not a tedious job as you think. After you try for a couple of times, it is like a breezy work.
Mixed vegetables-Carrots, drumstick, eggplant, green peas, green beans are some of the vegetables that are great to make with. But you may also choose the vegetables according to the season and availability.
How to prepare Vegetable sodhi?
Wash and clean the vegetables. And cut them into small sized cubes.
Soak moong dal for about 10-15 minutes.
Crush the green chilies gently with the seeds on.
Peel ginger, garlic and mince it.
Chop the onion finely.
How to make Vegetable Sodhi?
Cook moong dal-Pressure cook the moong dal. You can also use your Instant for this task.
Saute-In a pan, add the cooking oil, followed chopped onion, ginger and garlic. Saute until the onion becomes soft and translucent.
Cook the vegetables-Add the cut vegetables, water, and salt. Cook until the vegetables becomes soft inside.
Prep cooked moong dal-Gently smash the cooked moong dal by using a whisk or a ladle. Whisking 3-4 times is good, it should have the texture and not should not be smooth.
Combine-Now, add moong dal, coconut milk. Close the lid and cook for about 10 minutes.
Serve-Garnish with cilantro. And serve with rice, idiyappam or appam.
Vegetable Sodhi
Vegetable Sodhi is very easy to make. The taste and the texture of this traditional recipe are unique and would be loved by everyone.
Print
Pin
Rate
Ingredients
2

cups

Mixed vegetables

Vegetable of your choice

1

cup

Coconut milk

1

Clove

Garlic

1

tsp

Cumin seeds

2

Green Chilies

8

Curry Leaves

3/4

tsp

Salt

or as required
Instructions
Take any 4-5 vegetables of your choice. Here I went with Turnip, Brinjal, Chayote(chow chow), and Peas. Wash, clean and cut them into small bite size cubes.

Grind coconut slices, garlic and cumin into the fine paste in the mixer grinder.

Cook all the chopped vegetables in 1 cup of water for about 5 min or until 3/4 th is done.

At this stage add green chilies, here I have added Jalapenos to get more chili flavor. Chilies can be added before if we want it to be 'hot'. Deseed the chilies if you wish to have sodhi as mild.

Add the ground coconut paste and curry leaves. Cook it for another 2-3 min.

Serve Vegetable Sodhi with any spicy rice.
Notes
Authentically Tirunelveli Sodhi is made with both thin and thick coconut milk. The vegetables will be cooked in the thick coconut milk. And finally, thin coconut milk is added to the curry along with the dal.
Nutrition
Calories:
101
kcal
|
Carbohydrates:
15
g
|
Protein:
3
g
|
Fat:
3
g
|
Saturated Fat:
2
g
|
Sodium:
556
mg
|
Potassium:
229
mg
|
Fiber:
5
g
|
Sugar:
1
g
|
Vitamin A:
4695
IU
|
Vitamin C:
52.4
mg
|
Calcium:
36
mg
|
Iron:
1.4
mg
Serving Suggestions:
1. Serve as a side dish for rice, if made thicker.
2. The thinner version as kuzhmabu for rice.
3. It can also be served like a stew for Idiyappam and appams.
Tips and Variations:
1. Grind chutney dal along with coconut for the thicker consistency.
Do not miss latest recipes and its tips, Follow us on Facebook, Pinterest, Instagram