Spicy tortellini soup is a delicious Italian-American soup made with Instant Pot. This soup does taste amazing with the tender tortellini which just melts in your mouth. This healthy soup is made with loads of fresh vegetables, with smoky roasted green and red peppers.
Get ready, let's look into this easy and delicious Instant pot recipe for the Spicy Vegetable Tortellini soup.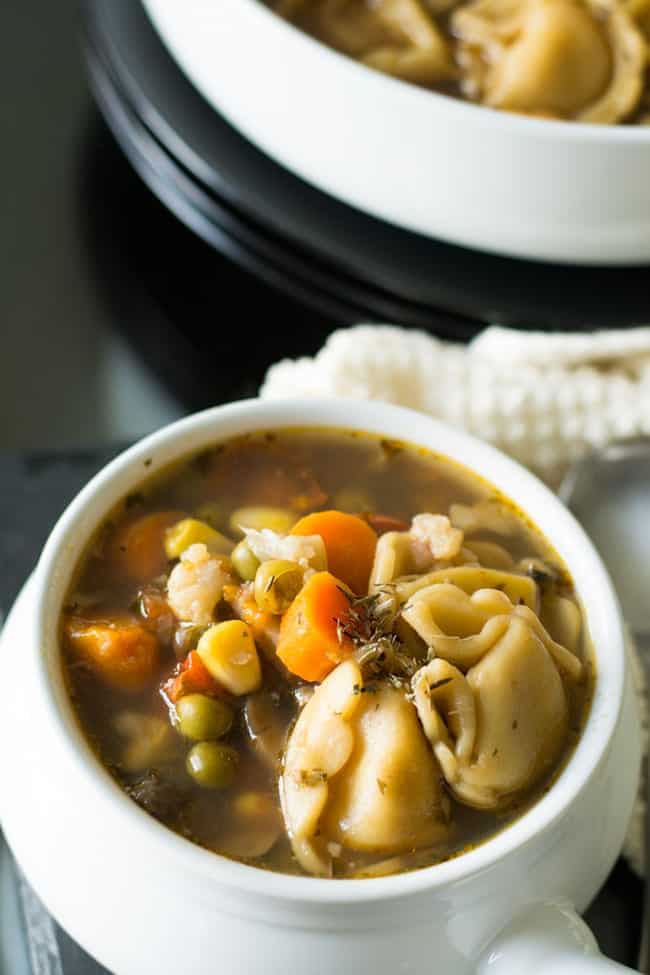 If you want a hot appetizer for the party or need a comforting meal for busy weeknights. This soup is perfect for you. A wholesome meal made ready in less than 30 minutes.
This month I'm heavily focusing on bringing down my weight and started concentrating more on healthy food. This is an easy attempt to make satisfy both my craving sense and healthy sense.
I hope you might have seen my soup and salad recipes before. If you have missed them, have a look at Fresco salad, Greek yogurt chicken salad.
This is the instant pot version of making spicy tortellini soup. But you can use the pressure cooker or stovetop method.
What is tortellini?
This is a classic Italian ingredient made with the cheese filling. This is a unique variety of pasta where cheese is wrapped beautifully in the pasta sheet. Available as frozen or refrigerated or as dried.
They're bite-sized about 2 inches long. This is great for making exotic dishes for parties or even good for making hearty food for the busy weeknight dinners like this spicy tortellini soup.
The types of tortellini:
There are varieties of tortellini available in the market with different flavors. Though all of them will be good to make this soup, I would prefer to go over the cheese tortellini.
This spicy tortellini soup is loaded with flavors, so just the plain cheese tortellini would be a perfect addition. This complements well with all the beautiful flavors of the vegetables. Three cheese tortellini or cheese tortellini would be perfect for making this spicy soup.
Can you refrigerate tortellini soup?
Yes, you may store the leftover tortellini soup in the refrigerator in an airtight container. I would not advise storing in the refrigerator for more than a day. Since we have added all the fresh vegetables in here. As a result, it is better to consume the soup within a day after refrigeration.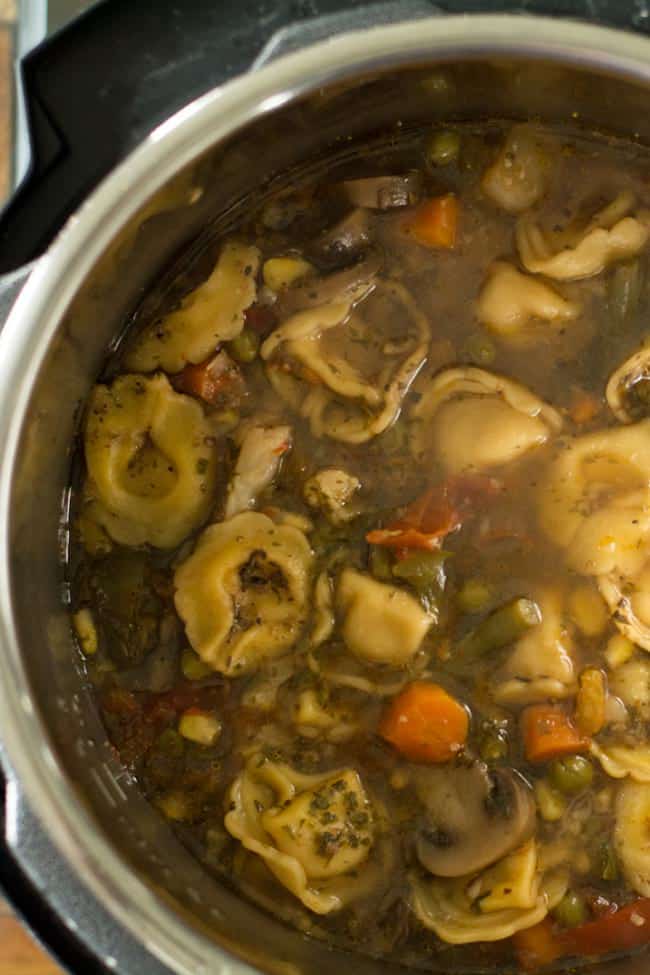 How long will this soup last?
It stays good for a day when it is refrigerated and stays good for about 2 months when it is frozen.
Is it possible to make vegan tortellini soup?
Are you looking out to make this recipe in a vegan way? Then substitute tortellini with vegan tortellini. Stores do carry vegan tortellini, where is pasta is filled with vegan cheese.
Key ingredients for spicy tortellini soup:
Tortellini. There are many varieties of tortellini available in the market, like chicken tortellini, beef tortellini, or cheese tortellini. You may use any of its kind. Today I made this recipe with three-cheese tortellini.
I find cheese tortellini is great for making this vegetable soup. So, it is up to you to decide on the variety depending on your requisition.
The stores do carry fresh, refrigerated, frozen, or dried forms. Using fresh tortellini is always welcome. But getting them is really hard.
Frozen or refrigerated are equally good. Not only for this recipe but for any other recipes as well. I used to get the Frozen tortellini from Walmart it cost about $3.
Where I can make two batches of soup for my entire family dinner. This great for the price and good for the comforting Vegetable Tortellini soup.
Red and green peppers. Adding red pepper gives a full flavor and the color to the soap. I have added green peppers as I had it from my garden. Using both the peppers or any one of them will do its job.
Vegetables. You may add any vegetables to the soup according to its seasonal availability. Since this is the harvesting season, we get a good quality of vegetables from the nearby farmers market in abundance. This made me threw all the vegetables to make the soup healthy.
Using fresh vegetables is always good, but in its absence, you may use frozen vegetables as well for making this spicy tortellini soup.
Seasonings. I have added time dried thyme, oregano, and basil. I find this combo gives me a great wholesome flavor. But I'm instead of adding these three ingredients separately, you may just add Italian seasoning.
The vegetable broth. If you are looking to make your own, look into the Homemade vegetable broth. The store-bought vegetable broth is also good for making this tortellini vegetable soup.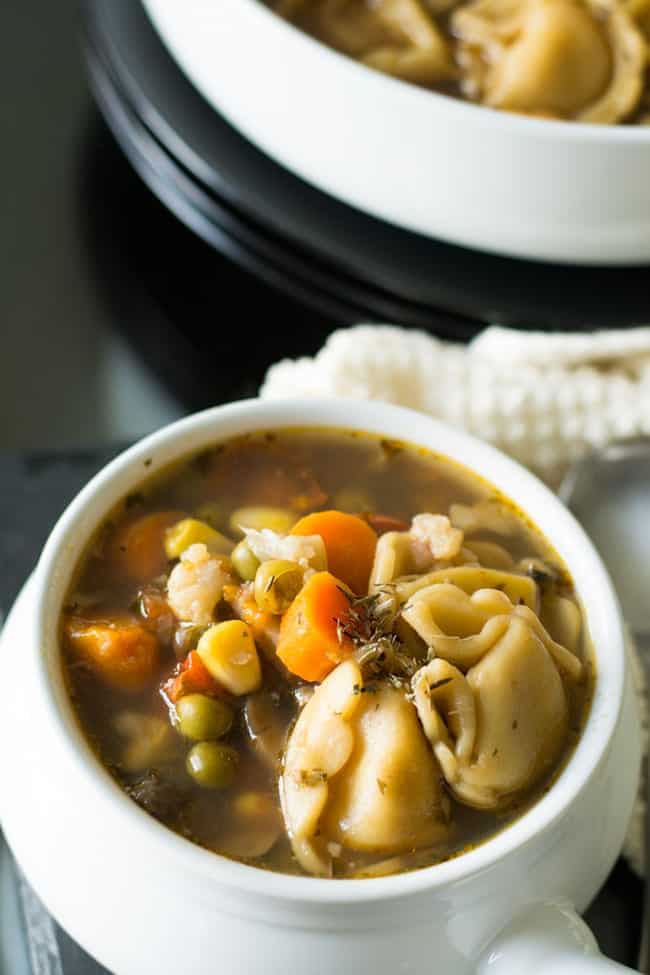 Variations for spicy tortellini soup
Add chicken sausages or turkey sausage or meatballs to give her an all-new dimension to the soup.
Add cream cheese to the soup to make this creamy and cheesy.
Add double that quantity of the tomatoes. This makes soup tangy.
Add two cups of spinach to make spinach tortellini soup and which is also good for health adding little more nutrients to consume.
Add fresh basil leaves just before serving gives you a beautiful aroma and enhance the taste of the soup.
How to make spicy tortellini soup:
Preparing. Wash and rinse the vegetables under running water. Chop carrots, mushroom, green beans, cauliflower. Thinly slice green and red pepper. Mince garlic finely.
Sauteing. Keep the Instant pot in sauteing mode. Add olive oil, garlic, red pepper, and green pepper. Saute until garlic leaves out the aroma and the edges of the peppers become golden brown.
Cooking. Add water, vegetables, vegetable broth, and salt. Set the Instant pot to 10 minutes. Allow the steam to release by itself. Then add tortellini and close the lid. Set the timing manually for 3 minutes.
When the cooking cycle time ends, quick release the pressure in small intervals. Which means, manually releasing the steam for a couple of seconds in regular intervals. This will avoid soup to spew out with steam.
Seasoning. When the Instant pot pressure gets released, add dried oregano, thyme, and basil. Adjust salt and serve. Sprinkle cheese on the top if desired.
Other soups,
Spicy tortellini soup
Spicy tortellini soup is a tasty Italian-American soup made with Instant Pot. This tastes amazing with the tender tortellini and with rich vegetable soup. This healthy soup is made with loads of fresh vegetables, with smoky roasted green and red peppers.
Print
Pin
Rate
Ingredients
1

tablespoon

olive oil

1

tablespoon

garlic

minced

¼

cup

red bell pepper

¼

cup

green bell pepper

¼

cup

sweet corn

¼

cup

green peas

½

cup

carrot

chopped

½

cup

mushrooms

sliced

½

cup

cauliflower florets

1

cup

green beans

1

cup

tomato

chopped

1

cup

water

2

cup

vegetable broth

1

salt

or as required

1

cup

tortellini

frozen

⅙

teaspoon

oregano

dried

⅙

teaspoon

thyme

dried

⅙

teaspoon

basil

dried

½

teaspoon

red chili flakes

/or as per your choice
Instructions
Set instant pot in saute mode.

Add olive oil, minced garlic, red bell pepper slices, green bell peppers slices.

Saute until the peppers shrink down from its original shape or garlic discolors slightly.

Now corn, peas, carrots, mushroom, cauliflower, green beans, tomato, vegetable broth, and water.

Close the lid and set the timer for 10 minutes manually.

Once cooked, then allow the instant pot to release the pressure naturally(normally it would take 10-12 minutes).

Open the lid and add salt and tortellini.

Now set the timer for 3 minutes manually by using +,- buttons.

Once the cooking cycle ends, quick release the pressure manually for a couple of seconds at regular intervals.

Once the Instant pot completely released the pressure. Open the lid and add dried oregano, thyme, basil, and red pepper flakes. Adjust the salt.

Transfer the soup to the serving bowls and serve hot.
Notes
Adjust the qunatity of red pepper flakes to suit your individual needs.
Nutrition
Calories:
422
kcal
|
Carbohydrates:
67
g
|
Protein:
15
g
|
Fat:
12
g
|
Saturated Fat:
2
g
|
Cholesterol:
20
mg
|
Sodium:
1414
mg
|
Potassium:
1001
mg
|
Fiber:
12
g
|
Sugar:
18
g
|
Vitamin A:
7275
IU
|
Vitamin C:
81
mg
|
Calcium:
160
mg
|
Iron:
5.2
mg
For stovetop:
Cook the vegetable in soup pot by adding 2 cups more water than what the recipe says. Cover the lid and cook in medium flame by stirring occasionally.