This Korean Zucchini pancake recipe is super easy and the ingredients are universal. If you have read the title and are thinking about the hard to find ingredients? I can hear you.
This Korean vegetable pancake requires easy to find pantry ready ingredients. Which you might already have in the kitchen.
And the process of cooking is super easy. If you are thinking of taking a break from your regular pancake mornings, this recipe just fits you in the best way.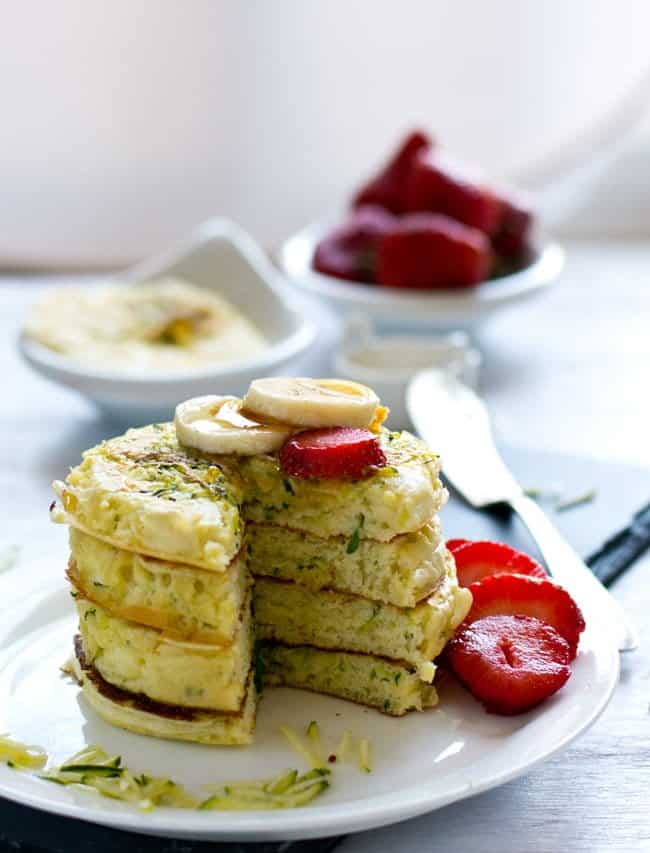 Here's an excellent savory breakfast, that gives a zing to kick start the day. This is naturally a vegan and a vegetarian breakfast.
For some food, you do not have really to taste it say "GOOD". By hearing the name and its ingredients, you can absolutely guess that. These zucchini pancakes are one such recipe, that is loved by everyone, with regular ingredients.
Korean zucchini pancake is very easy to make, and just a healthy twist of regular breakfast pancakes.
With the same recipe, many variations can be made, with the same batter made for this recipe that can be used to make zucchini cake pops as well.
To have an idea, you may also check the Blueberry cake pop recipe, which was published on my blog sometime earlier.
What is Korean pancake?
Korean pancakes are the same type of pancakes in the United States. These are usually made with flour, eggs, and vegetables. American pancakes are generally fluffy whereas these are thin and crispy and usually served with savory dipping sauce.
It is made the exact same way as American pancakes are made, in spite of regular maple syrup the savory soy sauce dipping is served. But the dipping sauce makes all the difference.
You feel the difference in every bite. And gives the pleasure of seeing the other side of the globe on your plates. Am I exaggerating? No, I'm not.
Give it a try! You will relish this for sure!
How does this Korean Zucchini pancake taste like?
If you east just this pancake alone, it does taste similar to the western pancakes. But the dipping sauce is a beautiful blend of multiple layers of taste. The sauce does taste, hot, spicy and sweet with the hint of ginger.
What to serve with?
The soy dipping sauce is the authentic side dish to this veggie breakfast. But ideally, everything that goes along with American pancakes will suits this Korean version as well.
How to make Korean Zucchini pancake?
The zucchini added to these pancakes makes it tasty and soft, and crispy at the same time.
Here, I have added a just few drizzles of cooking oil to the pan, just to cut down calories from my breakfast. But it really tastes delicious when it gets cooked with a blob of butter. This is just my suggestion and go with your own choice.
If you are looking for other pancake recipes, then you may look into Oats n wheat pancake, Vegetable Pancake Balls, Instant Banana Pancake, and more Breakfast recipes.
Wash and clean zucchini and grate.
In a mixing bowl, add a cup of all-purpose flour, 3 tablespoons of corn starch, ½ cup of water.
Whisk it until everything blends together well.
Add grated zucchini.
Combine it as well with the batter.
Heat pan on lower to medium heat. Pour or scoop ¼th cup(approximately) of batter on to the griddle. Cook until it becomes golden brown on both sides.
Serve this zucchini pancake hot with Korean dipping sauce.
Pro tips
Add grated carrots instead of zucchini.
To make perfectly round Korean zucchini pancake, use cookie cutters. They come handy and easy to handle. But careful when taking it away from the pan, as they may be hot to handle.
To make these little more interesting, pour the batter over to cake pop molds and make zucchini cake pops.
Add a blob of butter while cooking to enhance the taste.
Recipe variations of Korean vegetable pancake
For Vegan. This is a vegan recipe by nature.
Keto Korean pancake. Swap all-purpose flour with almond flour, for protein-rich breakfast.
Storing and Reheating
Storing.
Let the pancakes to cool completely. And store them in air sealed containers.
Best to use for upto a week when refrigerated.
And great to use for upto 3 months when frozen.
The batter can also be refrigerated when stored in airtight containers.
To avoid the pancakes sticking each other when freezing, wrap them in individual zip lock covers.
To reheat.
Reheat in the microwave until warm.
Let thaw the frozen Korean pancakes at room temperature. And microwave until it's warm.
Serving Suggestion Korean zucchini pancake
Serve with Korean dipping sauce. And this is the authentic and traditional way of serving the vegetable pancake in Korea.
But serving with fresh fruits and honey or maple syrup also tastes good.
Serving hot makes pancakes more delightful.
Recipe FAQ
How many pancakes yields this recipe?
With the measurement described in the Korean zucchini pancake recipe below, we get approximately 4 normal size pancakes or 2 large size pancakes. The smaller size pancake turns crispy than the larger ones, as it has the more outer area covered with cooking oil.
To speed up the cooking time, make the larger pancake, and cut into small-sized portions before serving.
Can I make this savory pancake in advance?
Yes, this pancake is freezer friendly. Make and allow it to reach room temperature. Then cover each with a lining paper. And freeze to use for upto 3 months.
Can I prepare for zucchini in advance?
No, I would not advise grating this vegetable ahead of time. I know grating zucchini needs a noticeable amount of time. But another factor we should consider is the moisture content of the zucchini. It becomes watery and makes the pancake soggy when it is stored for a longer time.
But investing in good kitchen machines can save us time. A good food processor can finish this job in a flash of a second.
What is the recipe for easy Korean dipping sauce?
The easy dipping sauce to serve with this Asian pancake is by combining soy sauce, red pepper flakes, brown sugar, chili paste, green onion. The recipe is simple and straightforward and makes under 5 minutes from scratch.
Can I add other vegetables along with zucchini?
Yes, the carrot, pumpkin, butternut squash, acorn squash are some of the vegetables that goes along with this Korean zucchini pancake.
Korean Zucchini pancake
This Korean Zucchini pancake recipe is super easy and the ingredients are universal, which you might already have in the kitchen. A tasty, spicy breakfast on special days.
Print
Pin
Rate
Ingredients
For pancake
1

cup

all-purpose flour

3

tbsp

corn starch

½

cup

water

1

cup

zucchini

Grated

1

tbsp

vegetable oil

for drizzling

½

tsp

salt
For dipping sauce
1

tbsp

sesame oil

2

tbsp

soy sauce

1

tbsp

rice vinegar

1

tbsp

green chili pepper

chopped/green bell pepper/

1

tbsp

garlic

minced

1

tbsp

scallion

minced
Instructions
For dipping sauce
In a small mixing bowl, add sesame oil, soy sauce, rice vinegar, chopped green chili pepper, minced garlic, and scallion.

Stir until all the ingredients are combined well. And set aside.
For pancake
Wash and clean zucchini and grate.

In a mixing bowl, add all-purpose flour, corn starch, water, and salt.

Whisk it until everything blends together well.

Add grated zucchini.

Combine it as well with the batter.

Heat pan in lower-medium heat. Pour or scoop the batter on to the griddle. Cook until it becomes golden brown on both the sides.

Serve hot with the dipping sauce.
Notes
To make this Korean pancake more authentic, drizzle few drops of sesame oil while cooking over the pan.
Korean dipping sauce tastes more original, but if maple syrup also suits to serve.
Nutrition
Calories:
346
kcal
|
Carbohydrates:
61
g
|
Protein:
7
g
|
Fat:
8
g
|
Saturated Fat:
1
g
|
Sodium:
592
mg
|
Potassium:
229
mg
|
Fiber:
2
g
|
Sugar:
2
g
|
Vitamin A:
124
IU
|
Vitamin C:
11
mg
|
Calcium:
19
mg
|
Iron:
3
mg
Liked Korean Zucchini pancake recipe? Follow us on Facebook, Instagram, Pinterest.