Today our weeknight dinner becomes more interesting with flavorsome capsicum curry or green pepper curry however you call it.
This is very simple and brings home the Indian restaurant with simple ingredients available in your pantry. This capsicum masala curry is good to serve with rice or roti or naan bread.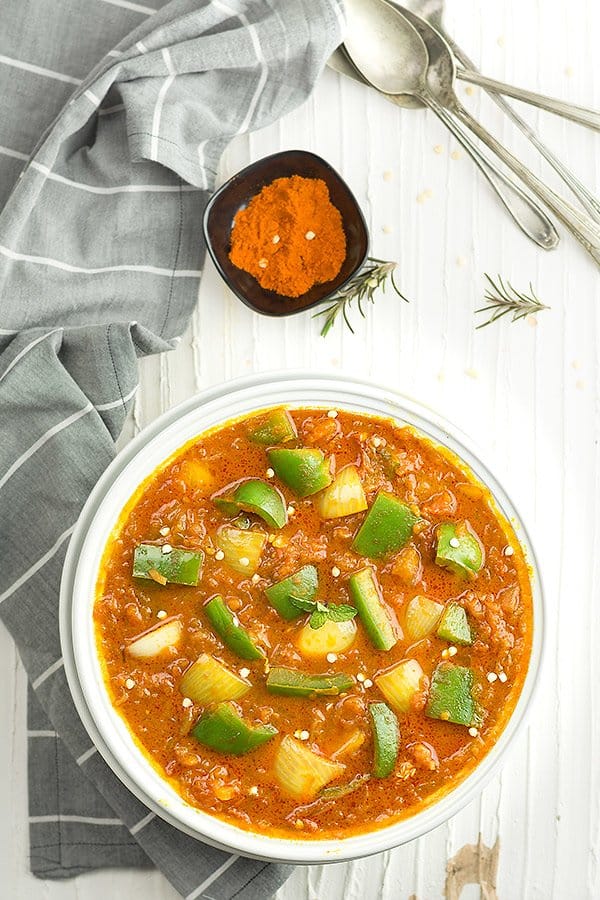 Jump to:
This is one of the authentic bell pepper recipes of Indian style. The peppers are naturally loaded with flavors already, so there is no need to add in extra flavors or masala.
In this post, let us see how to make capsicum curry with simple procedures and with minimal ingredients. And let us also see how to customize to suit your preference and also the popular variations, when you think to explore the next level of cooking.
About this recipe
Fresh capsicum is slathered to the rich onion, tomato gravy, which indeed makes the regular weeknight meal to an extravaganza dinner meal. Surprising everything comes together effortlessly in no time.
The capsicum curry recipe looks very subtle and simple, but the flavors and the taste will just explode in your mouth for every bite.
I know for many of us, including me interested in recreating the restaurant-style food at home. But the sad part is that the copycat restaurant recipes attached with long-listed ingredients and lengthy process of making.
That makes everyone to stay away from the Indian copy cat recipes. But this Indian bell pepper curry does not involve any of these and these types of small surprises make our life easy and satisfying.
If you are new to Indian cooking, you should start from the simple recipes likes this Indian masala curry. Which will give you enough confidence to step on the next level of exploration.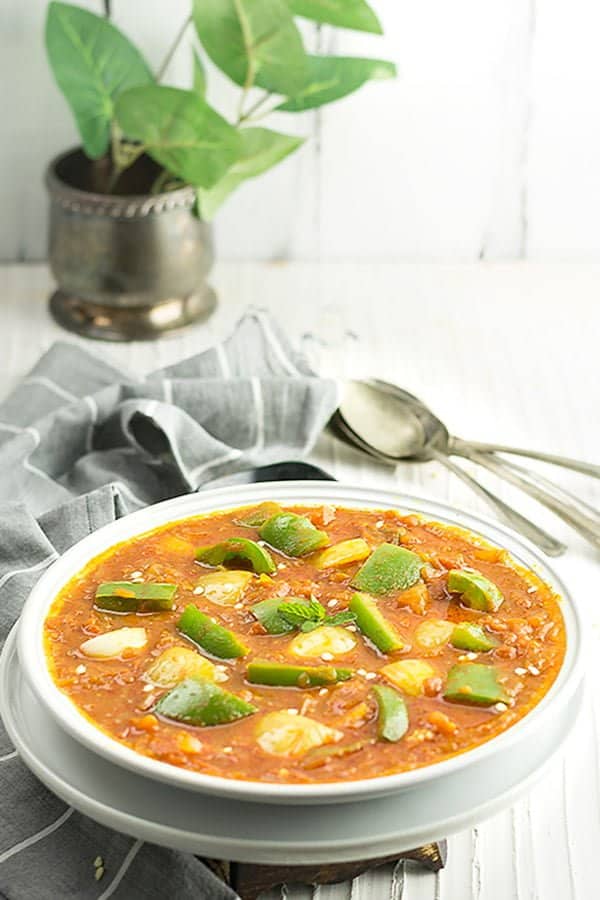 But let me not stop here, I have shared a tip that I have learned so far from my cooking. With this crucial tip, you can make this capsicum curry to the authentic restaurant-style dish and additionally, you can master almost all the Indian recipes.
Sauteing onion is a key to any Indian recipe and the same rule applies here in this capsicum masala curry as well.
The onion creates a lusciously silky texture and density to the curry. If we can complete this step properly, half of our work done already.
All the recipes talk about sauteing onion, but if we are beginners in the kitchen it is been super clueless when to stop sauteing the onion or in what heat level.
Each and everything is important in the initial level of learning. After that, it is just like a breeze.
The other Indian curry recipes you may like
How to make capsicum curry
This is a versatile recipe of all Indian curry recipes made with minimal ingredients but with a high impact on flavors and the taste.
The key ingredients
Capsicum/Green bell pepper. Both are the same and called in different names according to where we live. While it is called green bell peppers in the United States and the other side of the globe calls it as capsicum. This vegetable is rich in Vitamin A and C. And a good source of dietary fiber. It has got naturally a sweet taste and an intense aroma make a good combination with the spicy curry.
Onion. The universal ingredient, you may use red, yellow or white onion. I like to use yellow onion available here on the Northeast coast of North America. The mild flavors and sweetness are great for making capsicum curry recipes. Personally I find, red onion are hotter and makes the curry to be hot and bold.
Tomato. Fresh Roma tomato is my favorite choice for making curry. It is the closest alternative to the Indian tomato. It brings nice rich tanginess and thickness to the capsicum masala curry. But you may also use plum tomato instead. Canned diced tomato or crushed tomato is also the closest easy choice. I tried making with these options and happy with the results.
Red chili powder. It is one of the primary ingredients in the Indian holders. But in its absence, you may substitute 1 teaspoon of red chili powder with a half teaspoon of cayenne powder and half teaspoon of paprika. If you find red chili powder is too hot for you, you may directly swap with paprika alone.
Coriander powder. This adds a mild aroma and binds all the ingredients together. And also one of the primary Indian ingredients. In case you do not have it, you may skip using it, as it will not ruin the recipe.
Turmeric powder. Now it is globally getting its popularity, and available in all the leading stores. It is loaded with medicinal benefits of its own. It is usually added for its perks and brings rich color to the Indian bell pepper curry.
Butter. This is the optional ingredient and I would suggest for those who are new to Indian cooking. The butter blends well together and neutralizes all the sharp tastes and flavor. Additionally, it gives a rich finish to the capsicum gravy.
The directions
Saute onion. Heat a pan over medium heat, add the cooking oil and finely chopped onion. And saute until it becomes soft and tender.
The pro tip. Saute for 2 minutes, and add a dash of salt. This will speed up the cooking time and also helps the onion to cook evenly. Adding salt while cooking onion may sound simple, but it makes all the difference. If you find onion is sticking to the bottom, simmer the flame. And you may increase it after a couple of minutes.
Our main objective is to cook onion soft, tender and mushy without getting it burnt. Too much cooking oil can ruin the texture, so drizzle little oil at a time, if needed.
Add tomato. Add finely chopped tomato and cook until it becomes mushy.
The pro tip. Add a quarter teaspoon of salt. Same as the above, the salt helps to minimize the cooking time and cook evenly. Adjust the temperature to medium and low when tomato starts getting stuck to the pan. Adjusting the temperature and with the dash of salt is vital in any Indian curry recipe.
Add spice powders. Once the tomato thickens, add red chili powder, coriander powder, and turmeric powder. Saute in medium heat for a minute without burning them.
Thickening the curry. Now add water, and bring it to boil. Once all the ingredients combine together and the gravy thickens, add in capsicum and onion cubes. Allow it to cook for a minute, and remove from the heat.
Pro-tip. Onion slices complement the green bell pepper's taste and texture. And also gives a contrast color to the curry. To make the onion slices, first cut them into cubes and remove the layers.
Garnish. Garnish with fresh cilantro and a tablespoon of butter if desired.
How to store and reheat capsicum curry
Store the capsicum masala in an airtight container, and you refrigerate it to use for upto 5 days. And you may freeze it store for a maximum of three months.
To thaw frozen curry, you can leave in the refrigerator for a day before using it. This way of thawing is the best without getting contaminated or changes in the taste.
For reheating, you may use the pans in low to medium flame. Reheat until it boils for a minute. And serve immediately.
How to serve capsicum curry
This is best to serve with simple rice, roti, naan bread or chapathi.
Rice. This spicy Indian gravy is best to match with rice. With Indian egg fried rice, Indian coconut rice, Coriander rice are all-time super hit combos.
Parathas. This is awesome to pair with Indian flatbread called parathas like Aloo paratha, Avocado paratha, Gobi paratha, cabbage paratha, Onion kulcha.
Drink. When serving with mango lassi, it makes it a wholesome restaurant-style Indian dinner.
Aloo capsicum recipe. Potato. Otherwise also called as 'aloo' in Hindi. The best and popular variation. Whether it is a party or potluck, make this combo and the guest will applaud you for sure. Add boiled potatoes while adding capsicum in this recipe.
Other capsicum recipes you may like,
We love this capsicum curry the more aa making our mealtime effortless and the quality reminds us of our favorite restaurant. Hopefully, the tips we have shared here help you. We will be glad if you become successful in making this capsicum curry.
Printable recipe card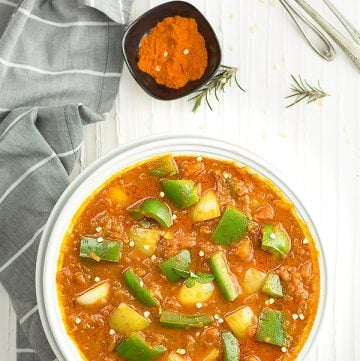 capsicum curry
This flavorsome capsicum curry or green pepper curry is great for Indian style weeknight dinner. Made with simple ingredients effortlessly, masala curry is good to serve with rice or roti or naan bread.


Print
Pin
Rate
Ingredients
2

tablespoon

vegetable oil

1

cup

onion

finely chopped

1

cup

tomato

finely chopped

1

teaspoon

red chili powder

½

teaspoon

coriander powder

11/2

cup

water

1

cup

capsicum

cubes

½

cup

onion

cubes

1

tsp

salt
Instructions
Heat pan in medium heat. Add vegetable oil and finely chopped onion.

Saute until onion becomes soft and translucent.

Add finely chopped tomato and cook until it becomes mushy.

Add red chili powder, coriander powder and stir for couple of seconds without burning them.

Add water and allow to cook until it reaches desired consistency.

Add half a teaspoon of salt. Taste and adjust.

Cook further for another 3 minutes or until capsicum is half cooked.

Remove it from the heat and serve with rice or roti.
Notes
Sprinkle salt while cooking both onion and tomato. This helps us to get the smooth texture of the curry. But while adding salt finaly, keep in mind we have added salt while sauteing.
Nutrition
Calories:
141.72
kcal
|
Carbohydrates:
12.91
g
|
Protein:
1.94
g
|
Fat:
9.82
g
|
Saturated Fat:
0.77
g
|
Sodium:
816.8
mg
|
Potassium:
352.31
mg
|
Fiber:
3.37
g
|
Sugar:
6.83
g
|
Vitamin A:
2166.45
IU
|
Vitamin C:
76.15
mg
|
Calcium:
40.59
mg
|
Iron:
0.58
mg