This fennel tea recipe provides warmth and a cozy feeling that you expect from a classic tea. With just three simple ingredients, make a refreshing and soothing drink that everyone enjoys in this weather.
Learn how to make fennel tea very quickly as soon as you think of drinking this healthy beverage.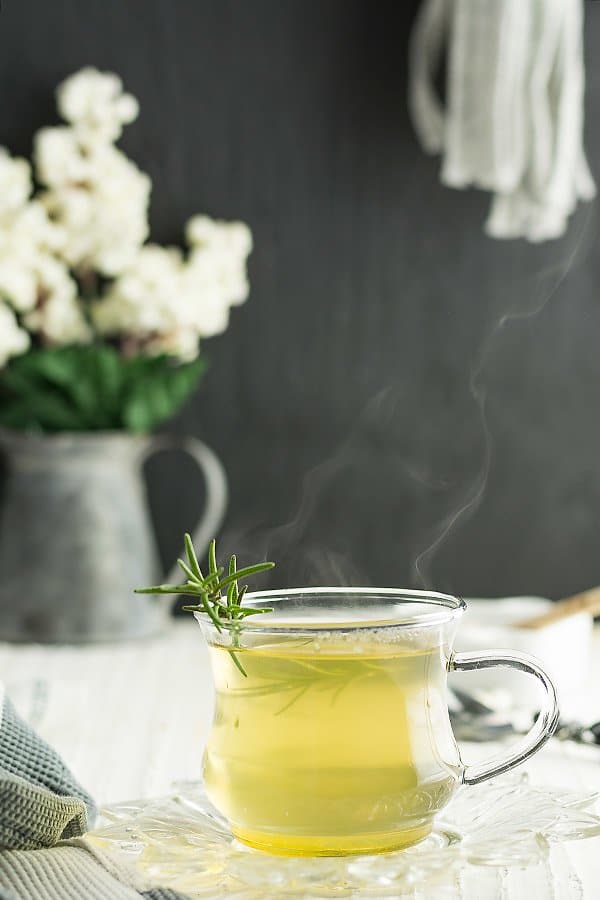 Here, we learn more options and variations of fennel tea recipes. This herbal tea is low-carb and not bloated with calories.
It is a simple tea that is delicious and medicated as well. Made with honey and fennel seeds, which complement well together, they can become one of your favorite drinks.
In our childhood days, whenever we felt congestion after a heavy meal, we were asked to sip ginger fennel tea.
That is how I'm familiar with fennel tea, and now I insist on my son
whenever he feels uncomfortable. The time may change, but the problem is persistent, and the solution also gets carried forward.
Other recipes you may like
What is fennel seed tea?
It is a hot tea made using fennel seeds, which is very soothing.
Fennel seeds have a sweet taste and look similar to cumin seeds. But has a bright green color than cumin seeds. It is a flavorful ingredient that tastes slightly sweeter, an excellent component for this fennel tea recipe.
Fennel seeds are one of the top 10 spices in India used for everyday cooking. Apart from using them for cooking purposes, Indians used to chew them after a heavy meal.
These fennel seeds are also used as mouth refreshers in India for centuries. In India, after a heavy meal, most importantly, when the meal includes meat, these fennel seeds will be served as a refreshment. It may be served raw or with sugar or chocolates, another fancy chewing method.
Thus, this condiment is part and parcel of Indian cooking and Indian culture.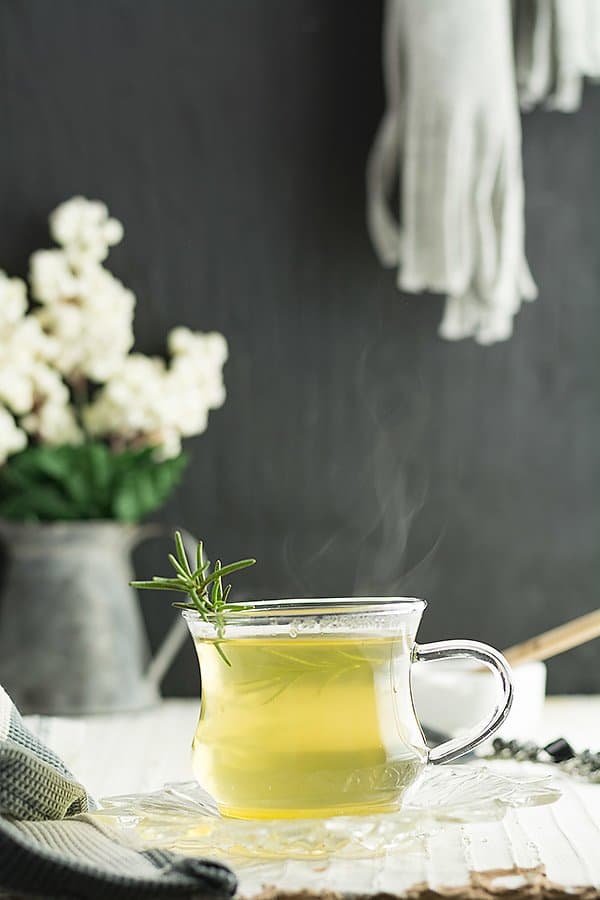 Health benefits of fennel seed tea
I'm not a certified dietitian to talk about the health benefits of fennel tea recipes in medical terminology. But I want to share my knowledge and experience with you. For generations, fennel seed has been used as a home remedy.
Where can I buy fennel seeds?
Unlike cumin seeds, I did not see fennel seeds in the regular grocery store in the United States. You may get it in Indian stores or online stores. With a couple of dollars, you can get it, and that is good to store for about a year at room temperature. The good part is that, apart from making fennel tea recipes, you may also use it for other dishes.
You may also extend the shelf time of fennel seeds by freezing them or keeping them at room temperature and sundry occasionally.
How to sweeten the tea without sugar?
First of all, this tea need not necessarily be sweetened. I like to drink tea with its natural flavor and without sugar. Depending on your choice, you may add honey, agave nectar, or maple syrup.
You are blessed if you have access to palm sugar or coconut sugar. Try making it with this raw sugar and feel the difference.
However adding refined sugar will not spoil this seed's taste or medicinal properties. Add or skip using it.
We enjoy the way that this warm fennel tea slides into our mouths. It feels like it clears the way as they flow.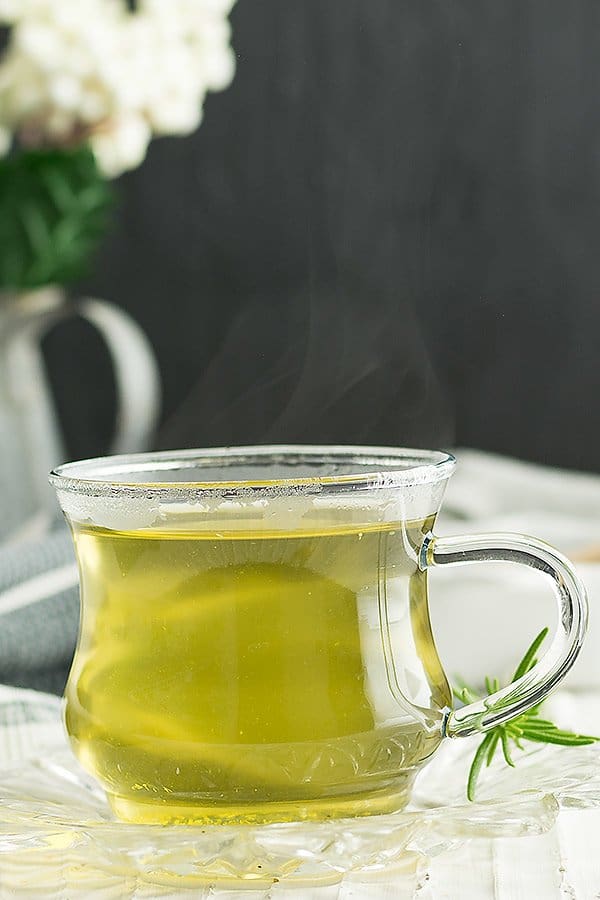 The Variations
Ginger fennel tea. I usually make fennel tea with ginger. This is the most common and popular variation. To make this, allow the ginger to boil in the water for about 5 minutes on medium-low heat. And add this ginger-infused water to fennel seeds. Cooking ginger helps to extract ginger juice with a rich aroma.
You may also use dry ginger powder instead of fresh ginger, but the taste and flavor of dry ginger and fresh ginger are entirely different. But have the same remedial advantages.
Peppermint fennel tea. This is a flavorful variation you may also combine with ginger fennel tea. Add fresh mint leaves as the garnish. Allowing the mint leaves to soak in the hot water for a minute makes it flavorsome. If you use dried peppermint, add it to the fennel seeds.
Cumin coriander fennel tea. This is the age-old practice of drinking tea. My grandparents and the villagers used to drink this tea regularly. Here, periodically means drinking it every other day. The other tea they use to have daily is dry ginger coriander tea made with palm sugar.
The sugar variations. Instead of white sugar, you may try using coconut sugar, palm sugar, or honey, which have unique values in ancient Indian medicine. And each addition has its taste and flavor; in spite, it has its benefits. Try each of these sugars and enjoy it.
The key ingredient
Fennel seeds. Use this fennel tea recipe according to your choice; add a whole if you want mild and rich flavors. Or you may crush gently for intense flavor. Both smell great, and we love both ways.
Ginger. I have added extra flavor, but this is optional. You may make this tea with fennel seeds alone. You should combine this while the water is boiling. If you add ginger as crushed or thinly sliced, add it with the fennel seeds.
Honey. You may substitute with sugar or natural sugar like agave nectar, palm sugar, or coconut sugar.
When to drink fennel tea?
There is no strict timing for enjoying this tea. You may have it whenever you feel like having it. However, it is good to drink after a meal or during midday. It could be a good substitution for your coffee time, also. Alternatively, I would better say to try it by yourself and find a better time.
How to make fennel tea
Crush fennel seeds in the mortar and pestle gently. Gently tap ginger into one or two pieces.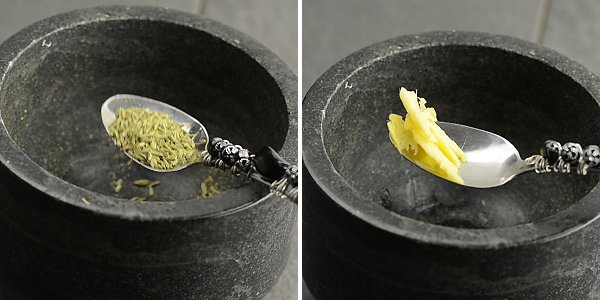 In a saucepan, add water.
Bring the mixture to a rolling boil.
Add crushed fennel seeds and remove from the heat.
Strain and stir in honey.
And serve hot, warm, or cold.
Other snacks to suit fennel tea
Printable recipe card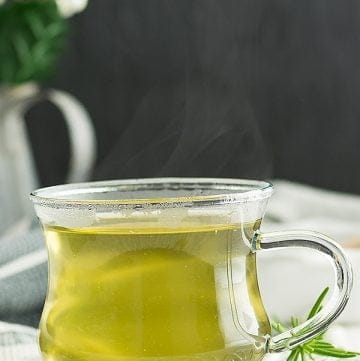 Fennel tea recipe
Fennel tea recipe is simple and made with fennel seeds, ginger, and honey. Very warm, soothing, the flavorsome drink. Learn how to make fennel tea with simple instructions.
Print
Pin
Rate
Instructions
For prepping
Using pestle and mortar, crush fennel seeds gently until it is fragrant.
For making
Over medium heat, bring two cups of water rolling boil.

Add crushed ginger and fennel seeds.

Remove from the heat and strain in serving cup.

Add honey and mix thoroughly.
Notes
You may also add, cumin seeds, coriander seeds.
Mint leaves, lemon juice, basil are the other option ingredients which tastes delicious as well.
Nutrition
Calories:
44.78
kcal
|
Carbohydrates:
9.53
g
|
Protein:
1.03
g
|
Fat:
0.92
g
|
Saturated Fat:
0.04
g
|
Sodium:
31.02
mg
|
Potassium:
101.64
mg
|
Fiber:
2.39
g
|
Sugar:
5.81
g
|
Vitamin C:
1.26
mg
|
Calcium:
86.76
mg
|
Iron:
1.11
mg
**Disclaimer: The nutritional information provided is an approximate estimate only.
Sources: Medical new today