Do you have some extra jalapenos? How about whipping up special spicy jalapeno mustard? It's better than any store-bought ready-made sauces and unbelievably best for sandwiches, hot dogs, sausage, and much more.
This satisfying, delicious, hot, and 10-minute mustard sauce. This is good to store for up to 6 months. Does this sound amazing? Follow me and continue reading the post for a detailed recipe, the ideas for using it, and possible variations.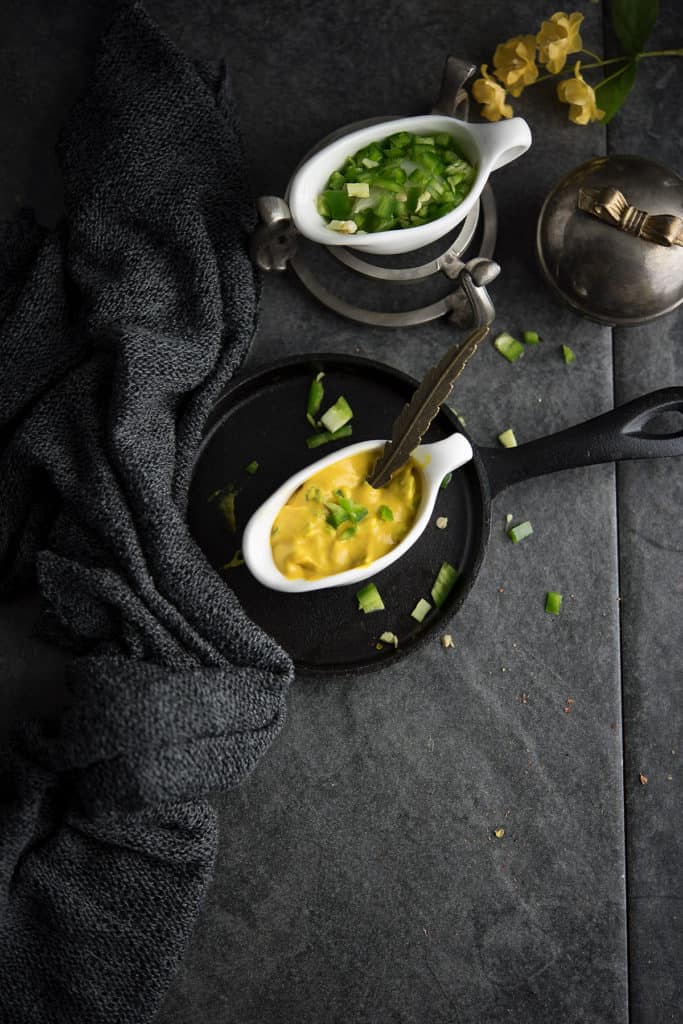 About jalapeno mustard
Think of from dips to deviled eggs; this is our favorite spicy sauce forever. And still exploring more options to use them more often than usual.
Jalapeno mustard is the best way to use the jalapenos that can be stored for the rest of the months that require advanced kitchen skills.
Searching for ways to preserve the jalapenos? This roasted jalapeno is an excellent source to start ahead.
Why's it special?
It's a delicious hot and spicy sauce better than store-bought.
Easy to make with low effort.
It saves your pocket from buying the readymade.
You can customize it to suit your preferences.
Other jalapeno recipes,
How to make jalapeno mustard
I will walk through this recipe with pictures and instructions here. Bet you will find your printable recipe card at the end of the post.
The ingredients
First, let's see what ingredients make the sauce extraordinary.
Dijon Mustard: Ah, the French touch! Dijon elevates the flavor profile, adding a smooth, sophisticated tang.
Yellow Mustard: The classic store-bought ingredient! This provides a delicious mustard bite and balances the creaminess of the mayo. Swap with spicy brown mustard for a deeper, more robust flavor.
Jalapeños: The star of the show! They bring the heat, the zing, and a splash of color. Serrano peppers, habanero, or Carolina Reaper for a hotter kick.
Mayonnaise. It brings in a creamy, rich texture. Substitute with Greek yogurt for a lighter, tangier version.
Apple Cider Vinegar: This ingredient brightens the sauce, adding a dash of acidity that lifts all the other flavors.
Garlic powder. The flavoring bomb gives a robust flavor.
The recipe directions
Start by chopping your jalapeños finely. Keep the seeds in for a spicier kick, or remove them for a milder experience.
In a medium-sized bowl, whisk together the mayonnaise, Dijon mustard, and yellow mustard until smooth.
Add the minced jalapeno, apple cider vinegar, salt, and garlic powder.
Mix everything in a good mix until well incorporated.
Cover the bowl and let it chill in the fridge for at least 1-2 hours. This melding time makes all the difference!
Serve as a dip or dressing, and ENJOY!!!
Ideas to use the spicy sauce
The advantage of this spicy jalapeno mustard sauce is that it can be replaced in any recipe that calls for the mustard sauce.
Hot dogs. Squeeze it over the hot dogs to make every bite a wonderful moment.
Sandwiches. Slather in the sandwiches, like this phili sandwich.
Deviled eggs. These taste exceptionally well with that spicy twist. And turns out to be the show-stopper at a party table.
Sausages. I would say the sauces were perfectly made for the links. Try basting them with the salsa and feel the difference.
Dips. Add a tablespoon to your regular dip.
Dressings. It turns out to be the best component in a salad dressing.
Grilled meat.
How to store?
I make them in small quantity that is good to last for a month, and I usually refrigerate them. Generally, I store them in two containers, one that I regularly use and the next for future usage.
Refrigerate. Refrigerate in a sealed container for up to 3 months in the refrigerator.
Freezing. You may store the jalapeno mustard sauce in two containers. Refrigerate the first for immediate use and freeze the second container for later use. Freezing is good to store for up to 6 months.
The variations
Jalapeno honey mustard. If you prefer to be on the sweeter side, add 2 tablespoons of honey and the mustard mixture.
Spicy jalapeno mustard. Those who feel this sauce is not spicy enough should add cayenne pepper.
Sweet and spicy. Add sugar according to your taste for the vegan sweet and spicy version.
The recipe FAQ
Does the jalapeno mustard turn too thick?
No worries. Stir in distilled white vinegar to the consistency you prefer.
Can I swap jalapeno with any other pepper?
Yes, you may any spicy pepper variety is good to make.
Can I use this recipe for canning?
Yes, the same recipe can be used.
Other spicy condiments you may like
Printable recipe card
Jalapeno mustard
This spicy jalapeno mustard is unbelievably delicious with sandwiches, hot dog, sausage, and much more. This hot sauce is it good to store up to 6 months.
Print
Pin
Rate
Ingredients
1

jalapeños

or 2 finely chopped (seeds and membranes removed for less heat)

¼

cup

Dijon mustard

¼

cup

yellow mustard

½

cup

mayonnaise

1

teaspoon

apple cider vinegar

¼

teaspoon

salt

⅛

teaspoon

garlic powder
Instructions
Finely mince the jalapeño pepper. Remove the seeds and membranes for a milder flavor, if desired.

In a medium mixing bowl, combine the mayonnaise, Dijon mustard, yellow mustard, minced jalapeno, apple cider vinegar, salt, and garlic powder.

Whisk until the mixture is well blended.

Cover the bowl with plastic wrap and refrigerate for 1-2 hours to allow the flavors to meld together.

Serve as a spread for sandwiches, a dip for fries, or as a salad dressing.
Notes
Always be cautious when working with jalapeno. Wear gloves when mincing this pepper to avoid any skin irritations.
Nutrition
Calories:
84
kcal
|
Carbohydrates:
1
g
|
Protein:
1
g
|
Fat:
9
g
|
Saturated Fat:
1
g
|
Polyunsaturated Fat:
5
g
|
Monounsaturated Fat:
2
g
|
Trans Fat:
0.02
g
|
Cholesterol:
5
mg
|
Sodium:
266
mg
|
Potassium:
25
mg
|
Fiber:
1
g
|
Sugar:
0.3
g
|
Vitamin A:
31
IU
|
Vitamin C:
2
mg
|
Calcium:
9
mg
|
Iron:
0.2
mg
**Disclaimer: The nutritional information provided is an approximate estimate only.