Jalapeno tuna salad is a must-have classic recipe at a family dinner, a summer party, or a holiday buffet. The jalapeno's spice features the salad with robust flavors and a kick. It makes every bite refreshing, addictive, and incredible.
This spicy tuna fish salad is made with pantry-ready ingredients. This versatile dish can be a standalone salad or fused with pasta, burger, or sandwich.
About this recipe
This delicious salad goes anywhere you like. We enjoy exploring more ways to use them, as we love them a lot.
You may top it with the burger or sandwich, toss it in the pasta salad, or serve it in the pinch bowl with chips.
Made with mayonnaise, chopped cilantro, lime juice, jalapeno pepper, onion, cucumber, and tomato. And the choices of variation are limitless.
Try combining your own to turn this into your best tuna salad. Furthermore, if you have preserved the roasted jalapeno from your garden, you may also use them.
This recipe for spicy tuna salad is excellent to toss in the pasta. Get yourself ready to dig in.
How spicy is Jalapeno tuna salad?
The recipe I shared here tastes mildly spicy. I removed the seeds and the membrane entirely and added just the jalapeno's skin. So, the salad inherits all the bright flavors of the pepper but not the heat.
However, you are making it. Hence, you also have complete control over the ingredients and the heat. Add some seeds for the hot version, and leave the membrane for moderate spice.
The key ingredients facts.
Every one of us may not have all the ingredients available when we plan for. Therefore, we ordered the list of elements according to their priority.
Canned tuna. This is an affordable and pantry staple option. We stock this in the kitchen; it is handy for quick dinners. Furthermore, the description on its package says it contains 42% protein. This is excellent news for those who are searching for a protein-rich diet.
Jalapeno. Jalapeno brings a brilliant aroma that covers up the seafood's unique smell. And makes the salad loved by all including the people who do not like seafood.
Mayo. Coats all the other ingredients well in this jalapeno tuna salad. And gives a creamy texture and taste. Use light, olive oil, or regular may. I used light mayo in here.
Cilantro. To me, the cilantro and the jalapeno are inseparable. Not in this recipe, toss minced cilantro wherever you use jalapeno. The results are the perfect winner. A small amount can bring in a lot more fragrance.
Hot sauce. I used the regular hot sauce. You may swap it with sriracha sauce or any other nonsweet hot sauce.
Lime juice. Added for its zing factor. Yet, it may be substituted with lemon juice or white wine vinegar.
Onion. I have used a yellow onion. Sweet onion and red onion are also equally good in this jalapeno tuna salad recipe.
Cucumber. Throw in other vegetables like shredded carrots or beet.
How to make it?
Prepping. Drain the tuna well. Mince the cilantro. Chop the jalapeno and remove the seeds and the pith. And set other ingredients ready.
Mix. In a wide mixing bowl, add all the ingredients. Gently toss until combined.
Serve. And toss jalapeno tuna salad with pasta or top with a sandwich.
Pro Tips
Wear gloves while chopping jalapenos. When jalapenos come in contact with the skin, it irritates and leaves a burning sensation for a long time. And never touch your face or eyes after handling the jalapenos.
Reserve some seeds and the membrane. You may add it later to the salad, a little at a time, to meet your requirements.
Canned tuna has brine sitting along with tuna meat. It is always a good idea to drain the liquid before adding to the salad.
Onion and cucumber release liquid when sits in the counter for a long time. Hence it is good to practice to chop them just before making.
How to serve
This fusion recipe gets paired up greatly same as the original classic version.
Pasta recipes. The recipe I make today for spicing up my pasta. This jalapeno tuna pasta salad turned out as our family's recent favorite.
Burger. How burgers can be left out when listing about jalapeno tuna salad recipe. Keep a generous amount as a final topping in the burger.
Sandwich. Another excellent way of enjoying. 4 slices of crisply toasted bread, is perfect for the amount mentions in this recipe.
Wrap. Make a spicy jalapeno tuna wrap, with the store-bought tortillas.
Dip. Use a fork to gently breakdown the clusters of tuna and serve a dip for chips or crackers.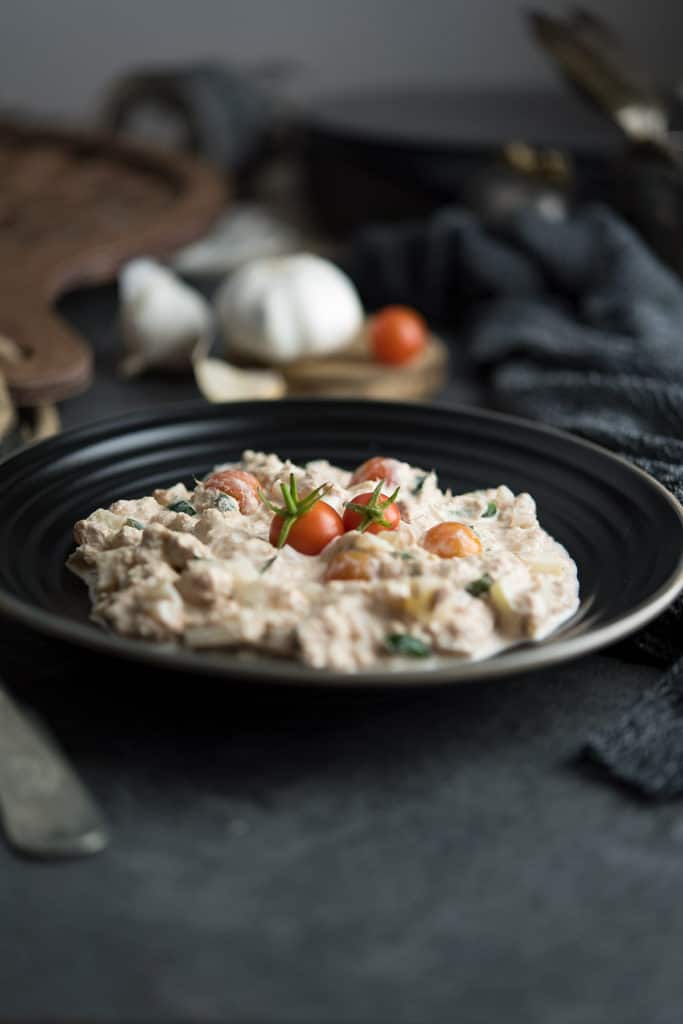 Storing idea
Store the leftovers in the airtight container and use it within 2-3 hours of making. The salad has onion and cucumber. These start oozing out its moisture and make the salad runny.
Immediately refrigerate for the best results.
I would not recommend this jalapeno tuna salad for freezing. The cucumber, onion can spoil the dish when frozen.
Make-ahead
When planning for a party or for a summer barbeque gathering. Prep all the ingredients by chopping.
Combine all the liquid ingredients and the cilantro together. And save it a sealed container. And the vegetables and the tuna in a separate container.
The ideal way is to combine everything just before serving.
However, it stays good up to 1 hour in a moderate climate. So, plan accordingly.
Variations
Shrimp. Add in some cooked shrimp to make a pleasing platter for the party.
Buffalo sauce. Swap hot sauce with buffalo wing sauce to make buffalo tuna salad.
Green onions. Garnish the salad with green onion for the rich taste.
Ground black pepper. Gives an extra kick and gels with the jalapeno.
Lettuce. Add some roughly chopped lettuce for the hot tuna salad sandwich.
Cheddar cheese. Cheddar tops when talking about the cheese variations. Gives an extra flavor and intense taste.
Habenero. Swap jalapeno with habanero for hot and spicy tuna salad.
Cilantro. Increase the quantity of the cilantro in this recipe. This small variation results in whole new hot tuna salad with cilantro.
Spices. Add in the Caribbean or cajun dry spice mix. A half a teaspoon any one of these spice would be an ideal measure in this recipe.
FAQ
My salad is too spicy?
Removing the seeds and the membrane decides the spice level. But if you find it spicy once made the salad, add in more mayo. This could reduce the heat to a certain extent.
How to spice up tuna salad?
Contrarily to the above question, some may find the salad not spicy. So it is always a better practice to reserve the seeds of the jalapeno while cutting for adding the heat.
The salad became runny?
If the salad sits in the kitchen counter for a long time it can turn runny. For this, you may discard the excess liquid and add some croutons.
Other Jalapeno recipes you may like,
Printable recipe card
Jalapeno tuna salad
Jalapeno tuna salad is a must-have classic recipe at a family dinner or a summer party. This a delicious, spicy and very versatile to enjoy.
Print
Pin
Rate
Ingredients
3

oz

canned tuna

drained

1

jalapeno

seeded and finely chopped

¼

cup

cucumber

finely chopped/ salad vegetables

½

onion

finely chopped

2

tablespoon

chopped cilantro

1

teaspoon

hot sauce

¼

cup

mayo

1

tablespoon

lime juice
Instructions
Drain the tuna and set it to ready.

Cut the jalapeno and remove the seeds and the membrane. Chop them finely.

Chop cucumber, onion, cilantro finly.

In a mixing bowl, add drained tuna meat, jalapeno, cucumber, onion, cilantro, hot sauce, mayo, lime juice.

Mix them gently to combine the ingredients well with each other.

Transfer to a serving bowl and serve with pasta or as you prefer.
Notes
Wear gloves while chopping the hot jalapeno.
Nutrition
Calories:
488
kcal
|
Carbohydrates:
8
g
|
Protein:
18
g
|
Fat:
43
g
|
Saturated Fat:
7
g
|
Cholesterol:
54
mg
|
Sodium:
694
mg
|
Potassium:
278
mg
|
Fiber:
1
g
|
Sugar:
5
g
|
Vitamin A:
205
IU
|
Vitamin C:
30
mg
|
Calcium:
27
mg
|
Iron:
1
mg
**Disclaimer: The nutritional information provided is an approximate estimate only.