Jalapeno peanut brittle, delicious recipe with the perfect combination of flavors and taste that makes mouth lingering with water. This quick and lighting fast holiday gift that you can make for anyone you love effortlessly.
This mildly spiced peanut brittle is a surprise twist to the classic comfort dish that will be enjoyed by the entire family. Light, crispy confectionary loaded with peanuts with the hint of heat and hint of jalapeno flavors.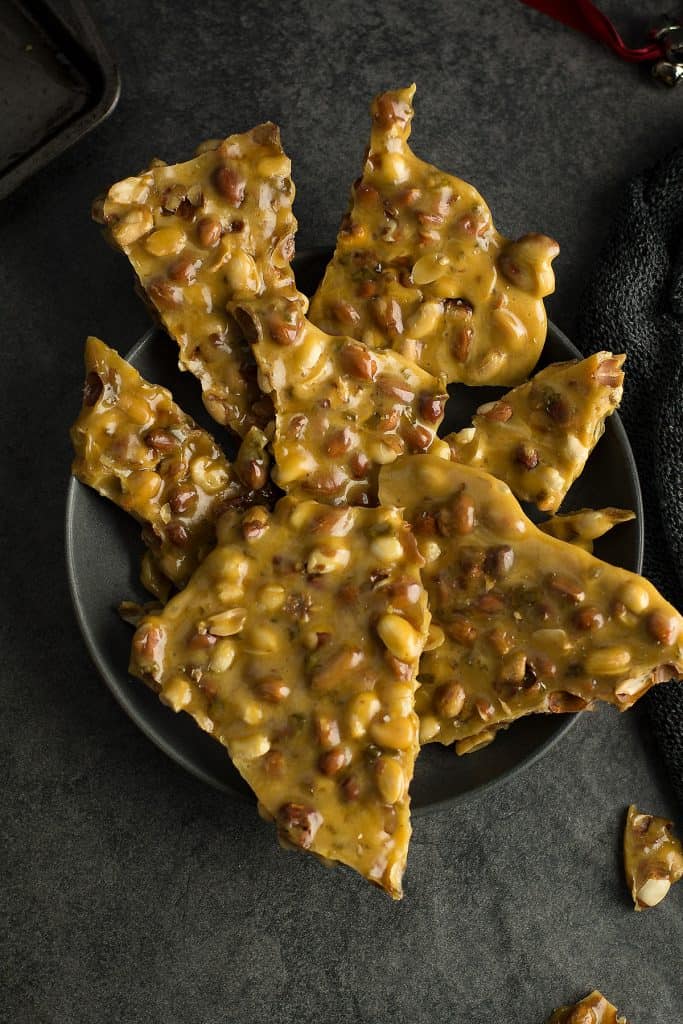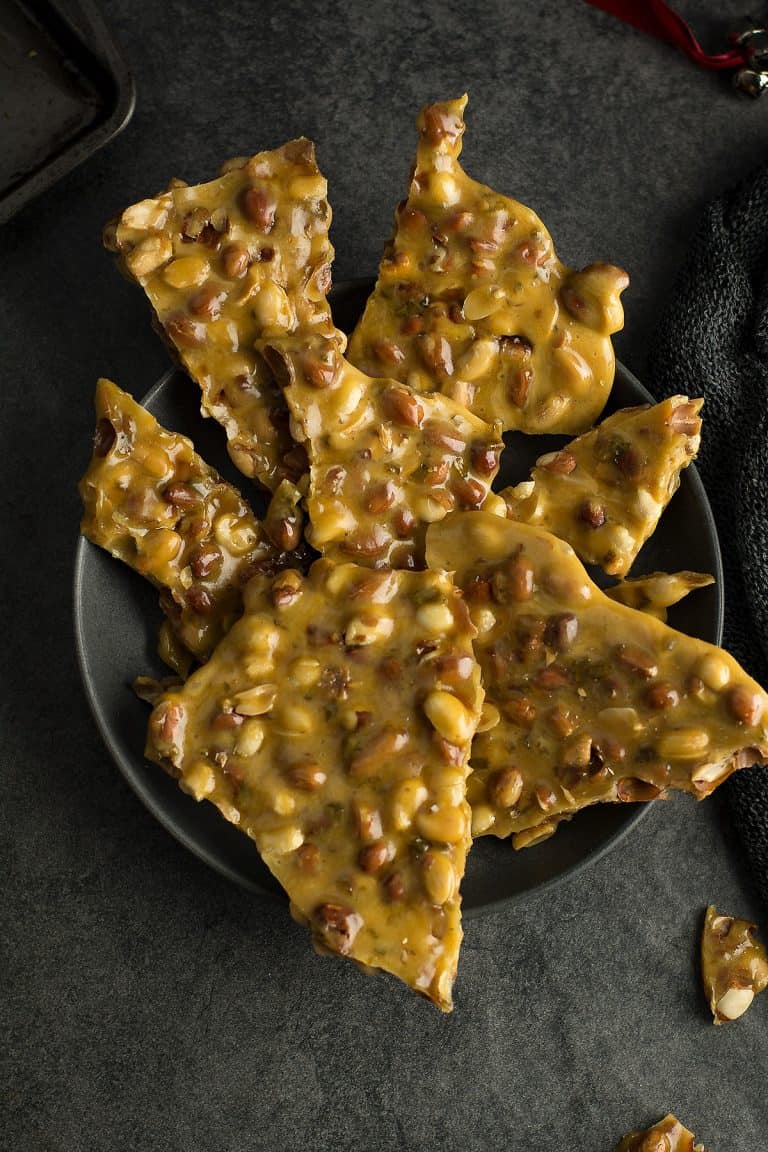 Jump to:
About this recipe
The flavors and the heat of the jalapeno are not overpowering here. It is mild, delightful and the heat will not hit your back of the throat.
Relish them as a snack or break to bite-size pieces to enjoy with your satisfying dessert. Nothing is better than the homemade, and this jalapeno peanut brittle is more delicious than anything you get from outside.
Want to make it vegan? just swap in the butter with the vegan butter or canola oil. It tastes still as great as the original one. Do you like peanut brittle and thinking for a while to get into the reliable recipe? You have landed on the right page.
These simple steps and the procedures never fail to make a crispy, sweet, with the hint of jalapeno flavors.
Want to learn more about jalapeno cooking? this roasting jalapeno in 4 ways may provide you great ideas.
How spicy is this jalapeno peanut brittle?
This confectionery is sweet, crunchy, crispy, balanced with the peanuts, and the jalapeno flavors. Jalapeno is added here for a minimal heat for its unique refreshing flavors.
Our aim in this recipe is to make peanut brittle with jalapeno flavors. Hence the kept the heat minimized as far as possible. However, you are making it so, add in the jalapeno with the seeds according to the heat you prefer.
The color and the taste of the jalapeno in this peanut brittle intensifies after two days.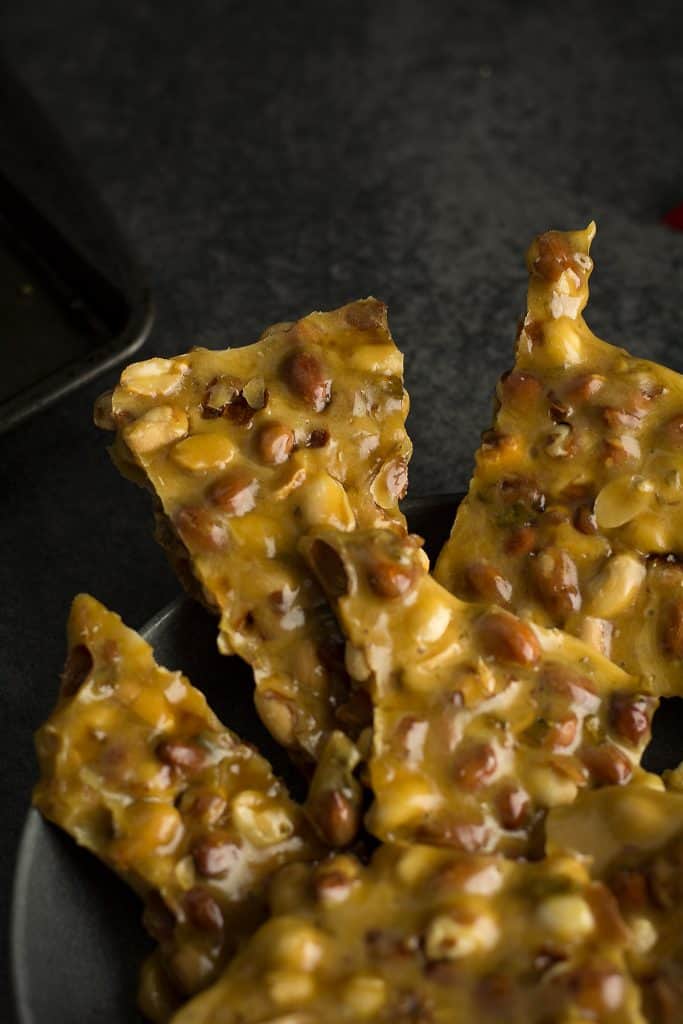 Other jalapeno recipes you may like
How to make jalapeno peanut brittle
The ingredients
Jalapeno. Fresh jalapeno is the one we needed to make jalapeno peanut brittle recipe. However, you may use the frozen, oven-roasted jalapeno. Do not use the pickled jalapeno, as it will alter the taste of the sugar. If you want to make a soothing brittle, remove the white membrane and the seeds.
Roasted peanuts. I used the homemade roasted peanuts with skin on. But you may use the store-bought roasted peanuts as well. Our family is a big fan of peanuts and always have them stocked as raw in my pantry. Storing raw peanuts is handy for me as I can toss into any recipe that I like.
Corn syrup. Corn syrup is added to avoid crystallization. This is an easy and fail-proof method for making perfect, crisp brittles.
Baking soda. An important ingredient that makes the brittle light and airy.
Sugar. I have used regular granulated sugar. Light or dark brown sugar are also other close substitutes that deliver delicious candy.
Butter. To make the dish vegan, swap with canola oil, or other neutral-flavored cooking oil.
The equipment
This jalapeno peanut brittle needs a hard crack stage, which is the final stage in making the syrup. And testing it is easy when comparing other sugar syrup stages.
But I highly recommend a candy thermometer, if you are making the sugar syrup for the first time.
The recipe directions
Prepping. Grease a tray and a spatula. And set it ready.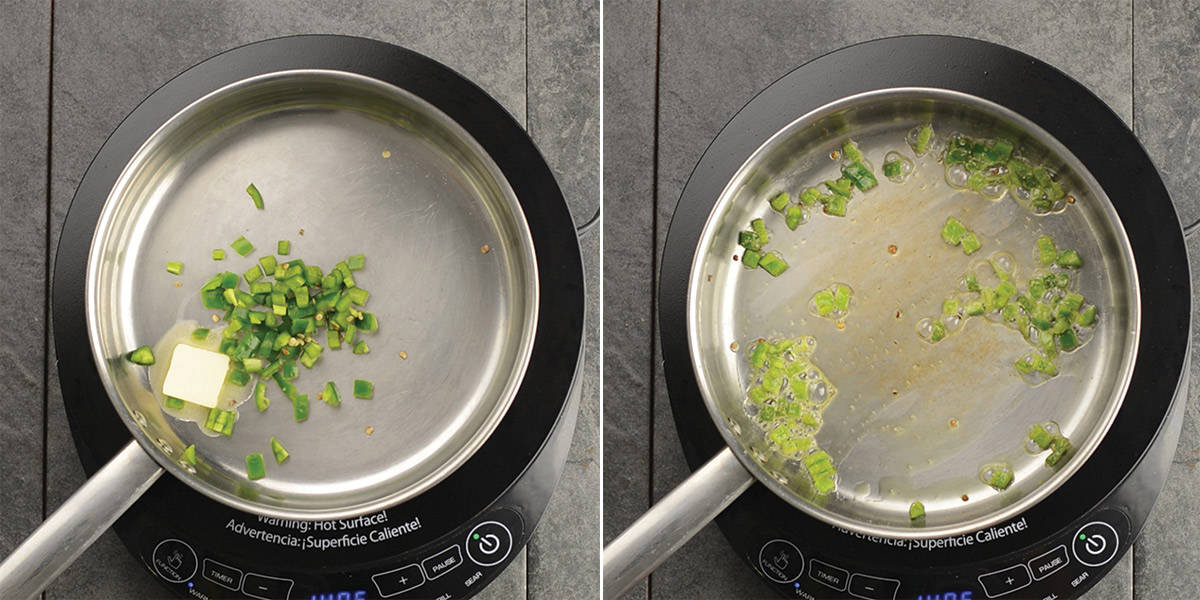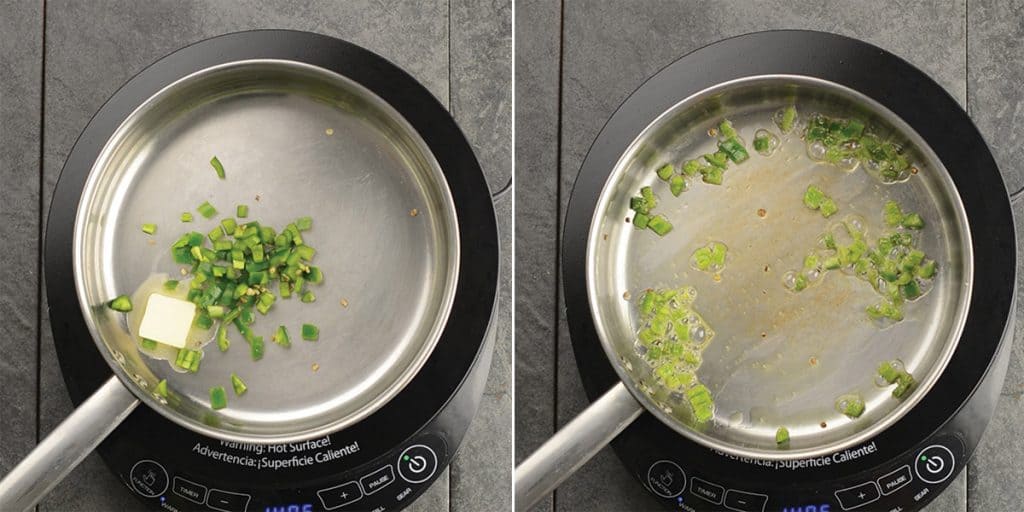 The flavoring. In a heavy-bottomed pan, add butter and chopped jalapeno. Toss until jalapeno becomes soft.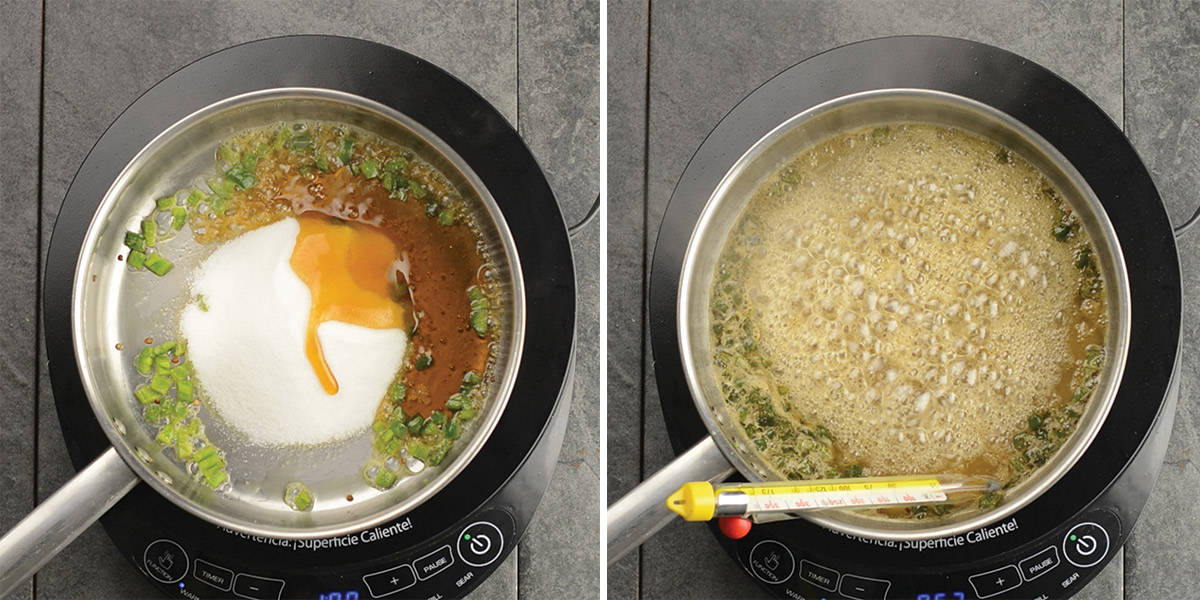 Making the syrup. Then add sugar, corn syrup, water. And bring it rolling boil.
And turn to low-medium heat, stir until it reaches 300 degrees Fahrenheit or until it reaches hard crack ball consistency. It took 18 minutes for me to reach this consistency.
If you are making the jalapeno peanut brittle's syrup without a candy thermometer or if you are not comfortable in using the thermometer. Have a small bowl with water next to the pan. To test add a drop of syrup right from the pan to the bowl.
If the droplet of the sugar turns to balls that are hard to touch(unable to squeeze or break) as soon as it is dropped. It is the hard crack stage that is needed for making them brittle.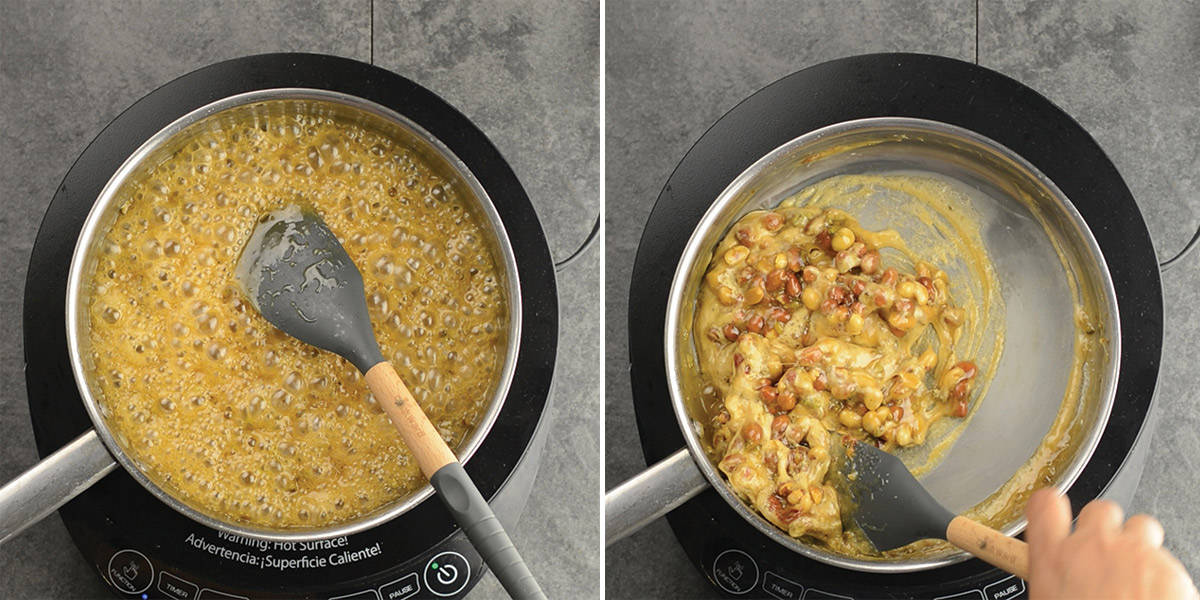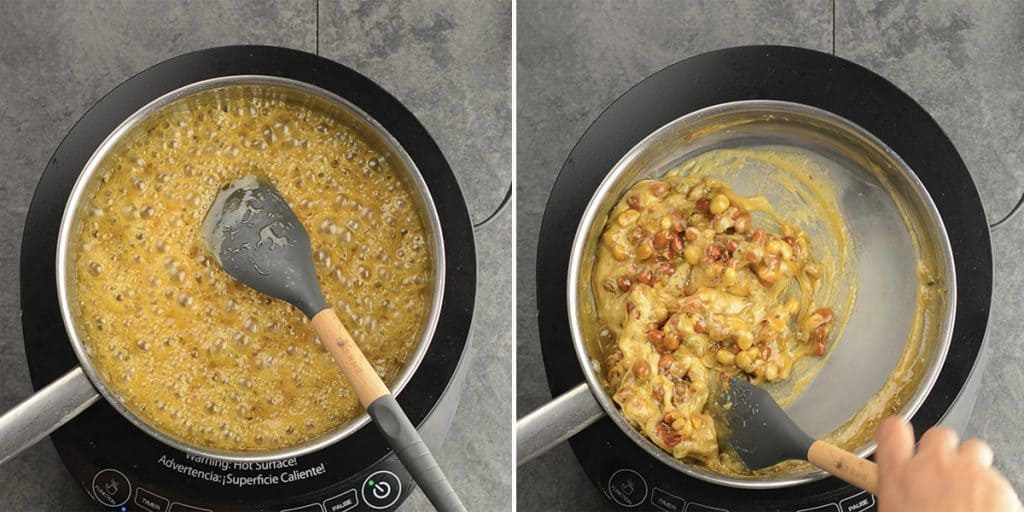 Be quick. Stir in the roasted peanuts and the baking soda quickly until combined.
Pour. Pour over the greased tray, and spread with the spatula.
Cool. Allow it to cool down for about 20 minutes. And break into smaller pieces and store them in an airtight container.
Pro tips.
Both, skin-on or skinless peanut is excellent here. But I prefer to choose the skin for its dramatic final look of jalapeno peanut brittle.
Make sure you make the syrup without burning on the sides.
Use a silicone spatula scrape the sides to avoid crystalization.
The sugar syrup gets crystallized as soon as it pours over the tray. So act quickly to spread them. And if you find it is forming thin sugar thread, sprinkle a couple of drops of water to smoothen it out.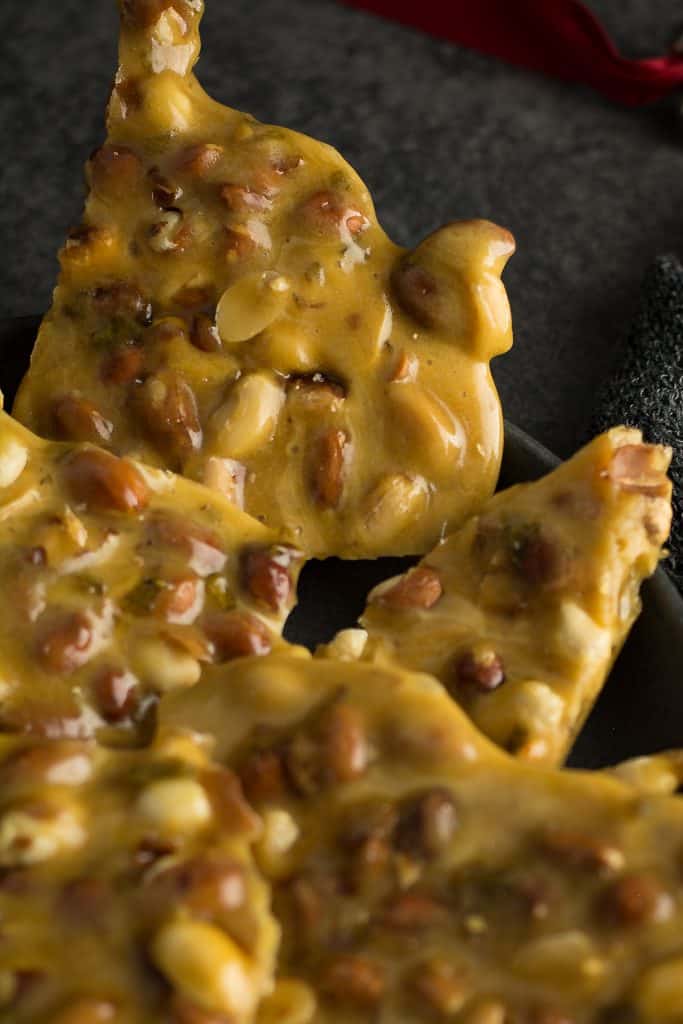 Variations
Use the same jalapeno peanut brittle recipe, and substitute peanuts with almonds or pecans.
Substitute jalapeno with green bell pepper for mild-flavored peanut brittle.
Substitute jalapeno with habanero for the spicy version.
Add bacon along with peanuts for the crunch and the punch.
Sprinkle cajun seasoning for the aroma.
FAQ
How to increase the heat of the peanut brittle?
We have removed the pith and the seeds in this recipe, Hence this jalapeno peanut brittle is mildly hot. But if you are planning to make a peanut brittle with a punch, add in the jalapeno half of the seeds on and add a quarter teaspoon of cayenne pepper for deep color.
How to check the hard crack consistency?
Pro tip 1. Checking the consistency manually is also easy work here. If I can do it, you can also do it as well. We are not sweet-toothed and I hardly make desserts and candy at home. If I can achieve this result, you can also make it.
Pro tip 2. The hard crack consistency is the easier one to identify. To test it, have a small bowl of water next to you cooking station. Add a droplet of sugar syrup into it, initial stages, it gets dissolved in the water, later it appears like jelly.
Pro tip 3. When the hot sugar syrup turns to balls as soon as they added to the water, and test it by touching it. if the ball is hard to crack or break. It is the correct stage for our brittle.
Pro tip 4. The sugar syrup turns to each stage quickly and always cook in low-medium heat to avoid any disappointment.
How and how long to store?
Always store in an airtight container. It stays good for one week at room temperature. Refrigerate or freeze it to increase the using time.
Printable recipe card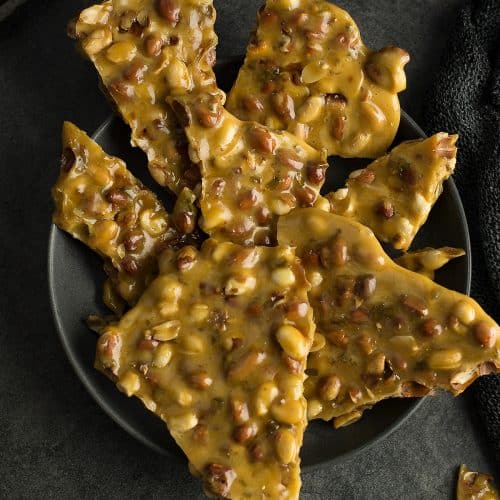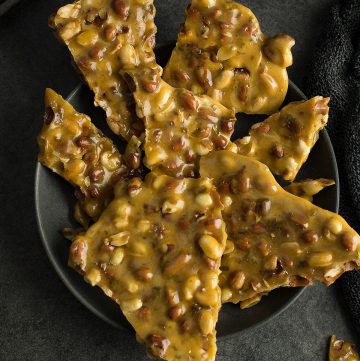 Jalapeno peanut brittle
Jalapeno peanut brittle is a spicy twist to the classic snack. Light, crispy, loaded with peanuts with a hint of heat and with mild jalapeno flavors.
Print
Pin
Rate
Ingredients
1

tablespoon

butter

¼

cup

jalapenos

remove pith and seeds-finely chopped

1

cup

granulated sugar

½

cup

water

¼

cup

corn syrup

1

cup

roasted peanuts

unsalted and shelled/red skin or blanched

1

teaspoon

baking soda
Instructions
Grease a sheet pan, and a spatula. And set aside.

Over medium heat in a sauce pan add butter and chopped jalapeno.

Saute until jalapeno becomes soft and tender.

Then stir in sugar, corn syrup, and water. And bring to rolling boil.

Then reduce the heat to medium-low. And cook till it reaches 300 degree Farenheit in candy thermameter or 'hard crack' stage(the stage when the sugar droplets turn to hard balls when dropped into a bowl of water).

Add peanuts, baking soda.

Whisk fast until peanuts combined with the syrup and quickly pour over the greased pan.

Spread the mixture over ½ inch thickness using the spatula.

Allow it to cool down for 20 minutes. And break into small pieces.

Enjoy them as snack or with other desserts.
Notes
If you have raw peanuts, roast it prior to making this recipe.
Replace peanuts with almonds or pecans for the variations.
Or use peanuts along with other nuts.
Nutrition
Calories:
211
kcal
|
Carbohydrates:
33
g
|
Protein:
4
g
|
Fat:
8
g
|
Saturated Fat:
2
g
|
Cholesterol:
3
mg
|
Sodium:
205
mg
|
Potassium:
119
mg
|
Fiber:
1
g
|
Sugar:
30
g
|
Vitamin A:
60
IU
|
Vitamin C:
3
mg
|
Calcium:
16
mg
|
Iron:
1
mg