This delicious stuffed cherry peppers recipe is a delightful example to show that a colorful and flavorful appetizer's recipe need not to be complex or labor intensive. These red stuffed peppers are low carb, hot, mildly spiced.
This stuffed cherry peppers are perfect to serve as an appetizer in the party or to serve the family. This cherry stuffed recipe is simple and straightforward that gets ready to serve at the table in less than 30 minutes.
These hot stuffed cherry peppers are baked with cream cheese and with amazing garlic flavors with a hint of heat from the cherry peppers similar to tofu stuffed peppers, lentil stuffed peppers.
Furthermore, any spicy food lover will be drooling over this creamy, garlicky, crunchy hot finger food for sure.
Anyone can try out this delicious recipe irrespective of their kitchen skills.
One of the must try recipes among other hot and spicy appetizers, when you have cherry pepper harvest is in abundance from your backyard plant or when the stores are loaded with fresh red hot cherry peppers.
Similarly, if you bought a bag of cherry peppers and searching for the delicious recipes for your family, this recipe is stellar. Your family will love this undoubtedly.
The highlight of this stuffed cherry peppers recipe is that you have an option to choose pickled cherry peppers as the base ingredient. So, if you want to enjoy these cute little things, you do not really need to wait for the fresh peppers to arrive in the market(how about trying this turkey stuffed bell peppers).
About this recipe
Simple and straightforward recipe.
Made with few ingredients.
Highly customizable.
Very versatile, excellent to serve as an appetizer or a great add-on for a salad.
You will enjoy its taste and the texture.
The ingredients and the customization
Cherry peppers. One of delicious chili peppers, you may use either the fresh cherry peppers or pickled cherry peppers depending on the seasons and availability. I have used red hot chili pepper, you may follow this cherry stuffed peppers recipe to use other types like sweet cherry pepper or the tender green cherry pepper as well.
Pine nuts. Rich in protein and minerals. Adds a great crunchiness to the stuffed cherry pepper. However you may swap it with breadcrumbs for its texture.
Cream cheese. When choosing a cream cheese for this dish, I have selected low-fat cream cheese. Although, you may choose vegan cream cheese or full fat cream cheese depending on your diet.
Parmesan cheese. For rich cheesy flavored stuffed cherry peppers, parmesan cheese is a must. For the better flavors choose for a block of parmesan and grate it manually before adding.
Parsley. Provides the freshness to the dish and highlights the other co-ingredients. Use fresh parsley leaves for luscious flavors.
Garlic. An humble ingredient but turned out to be an awesome flavor booster.
How to make stuffed cherry peppers
Preheat the oven to 450 degrees Fahrenheit.
Cut the cherry peppers lengthwise.
Using a melon baller or with the tip of the spoon scoop out the seeds and the pith. Unlike cubanelle peppers, cherry peppers holds seeds occupies most of its body. So be gentle in removing the seeds.
Place them over a tray by having the hallowed side facing upwards. And keep aside.
In a mixing bowl, add all the ingredients listed below except the cherry peppers.
Combine them well to a thick mixture.
Use a spoon to scoop the cream cheese mixture and fill the cherry pepper.
Place them in the middle rack in the oven.
Bake it for about 18-20 minutes or until the filling's surface starts to turn golden brown.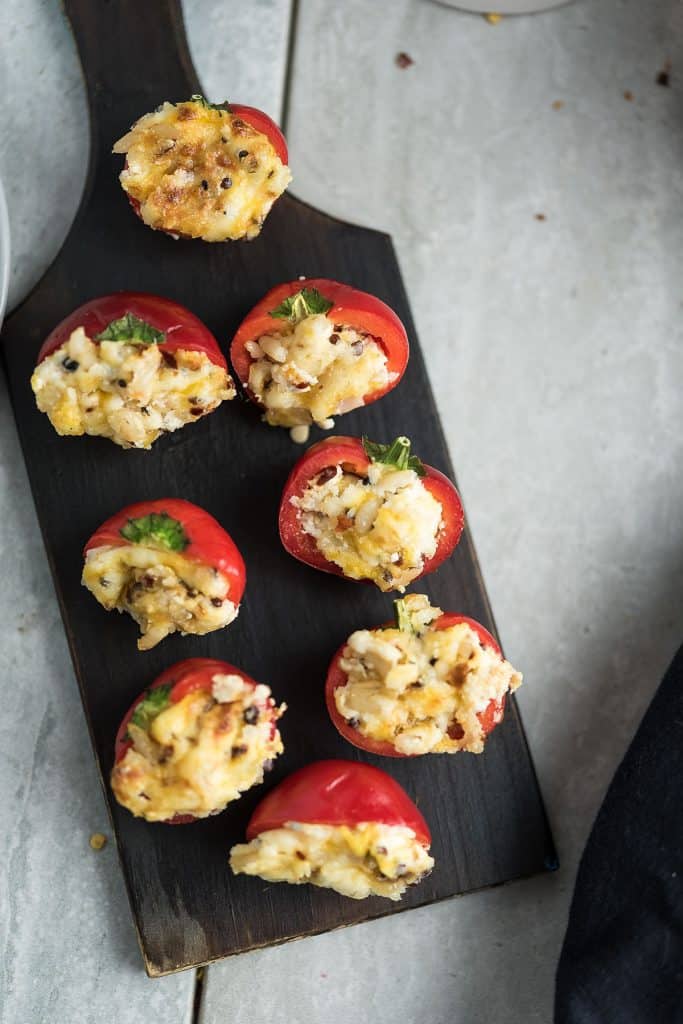 What to serve with?
Dips. The creamy dips like, Cajun aioli, spiced peanut butter, Boom Boom sauce, jalapeno Mustard great to come in with
Drinks. Mildly spiced cocktails and mocktails are my favorite like, Jalapeno Lemonade, watermelon mojito, or this jalapeno mojito.
Main course. This plays a perfect role with any main dish like Spicy penne pasta, vegan alfredo pasta.
Salad. Combining with salad like, spiced kale salad, mango cucumber salad, yogurt cucumber salad are real fun.
How to serve?
As an appetizer. Show stopper when served as an appetizer in the party or potluck. The glossy skin of this chili pepper makes this stuffed cherry pepper as a great finger food, that has wholesome flavors and tastes delicious.
As a topping. Spice up your taco or sandwiches as a special topping.
As an add-on. Toss the salad with this add on, and see the flavor pop ups.
How to store?
Store it in air sealed container. And refrigerate it to use up to 5 days.
To reheat, pop them in the microwave or reheat it in the oven gently until it turns warm.
Can I make it vegan?
Yes of courser, substitute cream cheese with vegan cream cheese like almond milk or soy milk cream cheese.
And swap parmesan cheese with vegan cheese or you may completely omit adding it.
Can I make it with air fryer?
Yes, this is air fryer friendly recipe. Add the prepped cherry peppers to the air fryer. And cook it for 12-15 at 350 degree Fahrenheit or until the cheese turns golden.
Variations to try
Olive oil. Drizzle olive oil while baking for more robust Italian flavors.
Sausage. Add sausage to make this recipe wholesome with added protein. For this variation, add it to the the filling after sautéing.
Bread crumbs. Gives a volume, texture, gives a crispy top for stuffed cherry peppers.
Mozzarella. Toss in for cheesy and addictive aroma.
Suggested tools for making this recipe
Baking sheet. I have this, and works very well for me till now.
Knife. I always look out for the comfortability of holding a knife. And you will love this for that reason.
Measuring tools. A basic tool that every kitchen needs.
Printable recipe card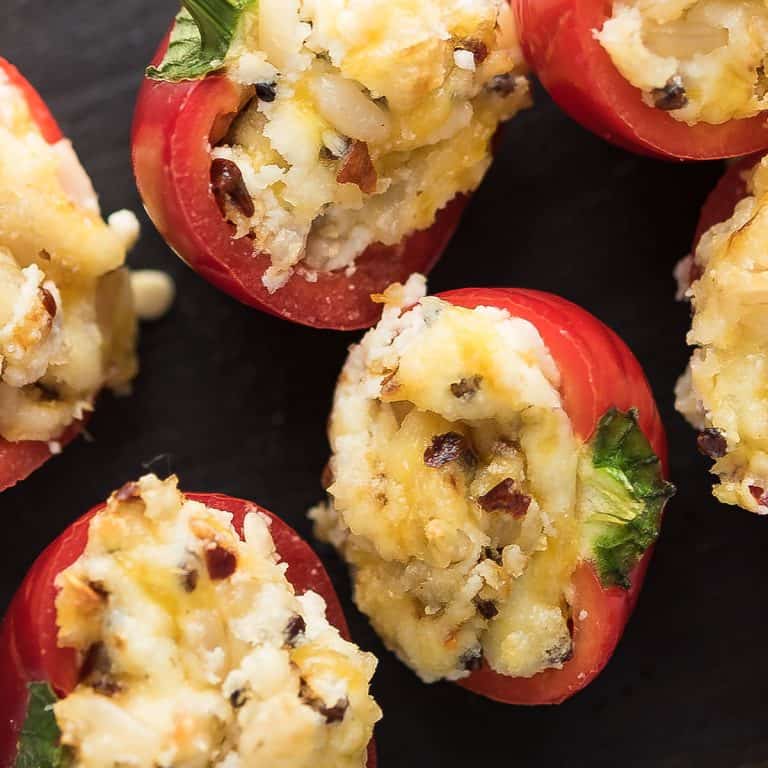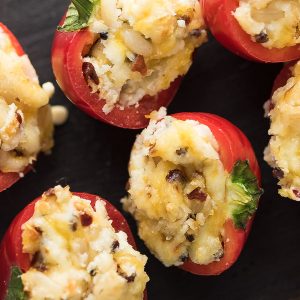 Stuffed cherry peppers
This stuffed cherry pepper, perfect to serve as an appetizer in the party or to serve the family. This cherry stuffed recipe is simple and ready in less than 30 minutes.
Print
Pin
Rate
Ingredients
12

hot cherry peppers

fresh or pickled

4

oz

cream cheese

at room temperature

¼

cup

parmesan cheese

¼

cup

pine nuts

½

teaspoon

red pepper flakes

3

tablespoon

parsley

minced

1

tablespoon

garlic

minced
Instructions
Preheat the oven to 450 degrees Fahrenheit.

Slice the cherry peppers into two halves lengthwise.

Scoop out the seeds and the white membrane using a spoon or a melon baller.

And in a tray arrange the cherry peppers by having the hallowed side facing upwards. And set aside.

In a small mixing bowl, add all the ingredients. Combine together to form a thick filling.

Using a spoon, fill the cherry pepper with the filling.

Bake it for about 18-20 minutes or until the filling's surface starts to turn golden brown.
Notes
These stuffed cherry peppers are creamy and mild.
For more heat, add in the scooped out seeds to the filling.
Refrigerate the left over to use up to 5 days.
Nutrition
Calories:
205
kcal
|
Carbohydrates:
8
g
|
Protein:
5
g
|
Fat:
17
g
|
Saturated Fat:
7
g
|
Polyunsaturated Fat:
3
g
|
Monounsaturated Fat:
5
g
|
Cholesterol:
35
mg
|
Sodium:
970
mg
|
Potassium:
120
mg
|
Fiber:
3
g
|
Sugar:
1
g
|
Vitamin A:
685
IU
|
Vitamin C:
5
mg
|
Calcium:
111
mg
|
Iron:
1
mg