This is a delicious recipe for tomato soup from tomato paste. It is smooth, filling, super easy and finally, it is very delicious. This family-friendly dish requires just four easily available pantry-ready ingredients, that most of your kitchen have it already.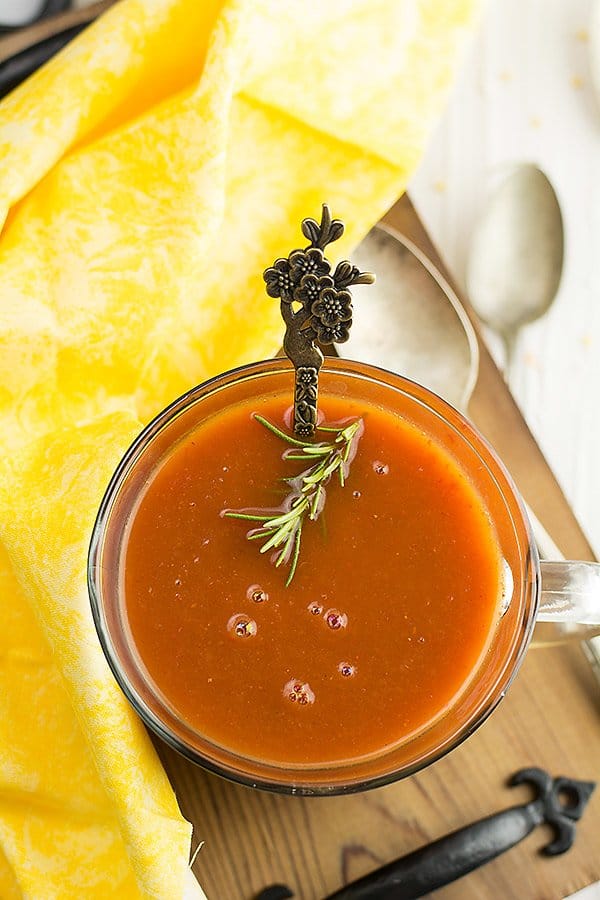 This homemade Tomato soup from tomato paste is ultimate and convenient. You can make this quick, and it will be on your hands when you have a temptation for a warm soup. This dish is that speedy when it meets the imagination.
Here in Pennsylvania, it is raining almost every other day now. Now you know the reason for coming up with this luscious, tasty soup. This quick genius recipe I always rely on, and this does not disappoint me whenever I make it.
When you stand next to the window, all you see is the rain. Are you looking to have a sip of warm, cozy soup and do not have time to spend cooking? this effortless tomato soup is helpful(try this spicy garlic noodles).
Grab large wedges of buttery bread and a bowl of this soup and feel the heaven. I'm not exaggerating, and I'm sharing what I have experienced.
It is made with very few ingredients, precisely to say 3 main ingredients. So, getting the wrong results with this Tomato soup recipe is impossible because of its minimal process and ingredients.
Some might wonder, will tomato soup with tomato paste taste good? And yes, of course, It is. There are many products available in the market, as the tomato substitute.
This tomato paste is an essential and close substitute for tomatoes for making tomato soup. Furthermore, it makes the soup silky.
Other soups you may like,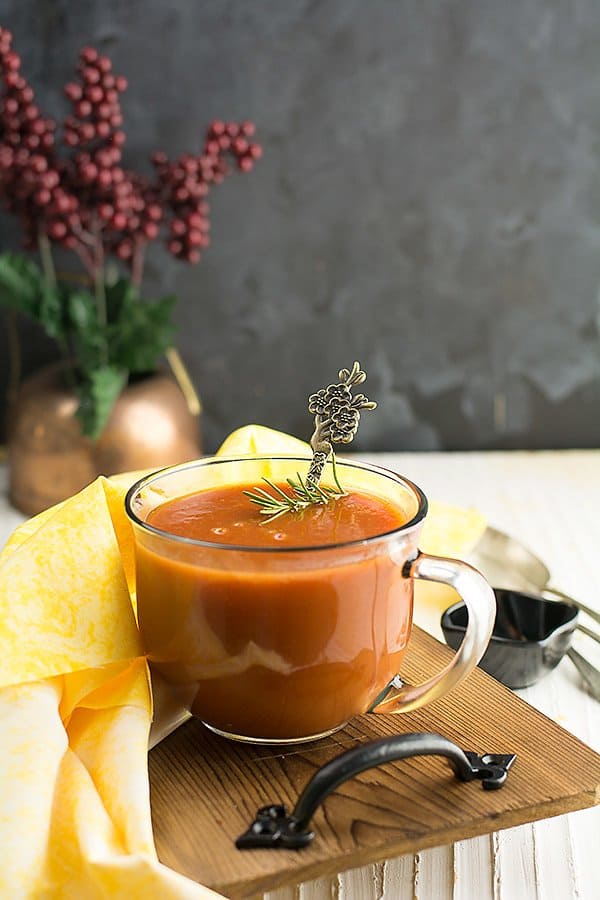 Making tomato soup from tomato paste on this rainy day is perfect — no formal dining rituals are the ultimate atmosphere to relish this. I want to mention that I'm not a beautiful writer to explain in words. I am still trying to bring out the goodness of this soup.
Like my earlier Tomato rasam, this Tomato paste soup is one of my family's favorites, which they keep nagging me to make all the time.
How does this tomato soup from Tomato paste tastes like?
This tastes creamy with the beautiful flavor of tomato and a hint of garlic's flavor. The tartness of the tomato paste is balanced well with the almond milk. And the basil and olive oil enhance the soup's aroma and taste.
Serving Ideas.
This is a standalone filling dish. It can be served as a starter, mid-day snack, or light dinner. This basic recipe can be customized or developed according to an individual's preference.
• Serve with buttery bread slices.
• Serve with soup biscuits.
• Serve with tortilla chips
Make ahead and Storing Ideas
This tomato soup from the paste is made from store-bought cans. The idea behind this recipe is to cut down the cooking and preparation time. So, there are no make-ahead ideas to describe. But all you need to do is ensure you have canned tomato paste in your pantry.
The leftovers can be refrigerated or frozen. Reheat it by microwave or stovetop method. Both turn out good and taste the same even after the reheating.
Can you make tomato soup out of tomato paste
After reading the above, you might know how delicious it would be. You can make either with store-bought tomato paste or homemade tomato paste. When the tomato is in season and when available in abundance, you may process and make homemade tomato paste and store it for months.
Which brand of tomato paste?
Tomato soup recipe can be made with any brand of tomato paste. And did not have a restriction to a single brand. I generally use Costco-brand organic tomato paste. And I'm always successful. I have tried a couple of times with Walmart's available significant brands and I did not have any complaints against them as well.
Can I substitute Almond milk with whole milk?
No, I strongly recommend not to use whole milk as the milk gets cuddled because of the acidity in the tomato. Almond milk in this recipe is used to mellow down the sourness of tomatoes. If you are not using almond milk to make tomato soup from tomato paste, add 1 tablespoon of butter to neutralize the taste.
Can I use tomato sauce as a substitute?
No, not in this recipe. Because tomato paste and tomato sauce are two different products. Tomato paste is plain, and tomato sauce is savory with added spices. Tomato sauce taste varies from brand to brand. So, I cannot guarantee how tomato sauce would turn in this recipe.
Possible variation of various diet
This tomato soup- tomato paste here refers to the store-bought canned version. But can be adapted to various diets with some altering to the main recipe.
This is naturally a Vegan, vegetarian, Whole 30,
Substitute tomato paste with the homemade tomato puree for a Paleo, Keto, or Healthy diet.
Variations for cooking
Basic recipes can be altered to many exciting variations. The same rule applies to this homemade tomato soup using tomato paste.
Add vegetables like carrots and peas.
Are you planning for a last-minute dinner? This recipe is yours. Add cooked pasta to make a quick, wholesome, instant dinner.
Throw in leftover chicken or rotisserie chicken. It is an excellent way to add a protein source.
Spice up-add slit serrano peppers while cooking. But remove them before serving. The essence of serrano peppers gets blended beautifully and adds a nice kick to the soup.
Try each time with different herbs like mint, cilantro, sage, lemongrass, and oregano. Each brings out different tastes and flavors. It makes everyone feel like you are serving them other dishes each time, but you repeat the same recipe. This is fun, right?
Other Easy recipes you may like,
Key ingredients and their substitutions
To make tomato soup from tomato paste, we need,
Tomato paste. This is store-bought, readymade tomato paste. You can use any of your favorite brands. This tomato paste can be substituted with homemade tomato puree.
Almond milk- I have added almond milk to defuse the bold taste of the tomato. Ideally, this tomato soup tastes creamy and rich when butter is added. But almond milk does the exact role of butter and gives an aspect to the soup.
Basil. This is the flavoring agent here. You can substitute with cilantro, sage, mint, etc.
Printable recipe card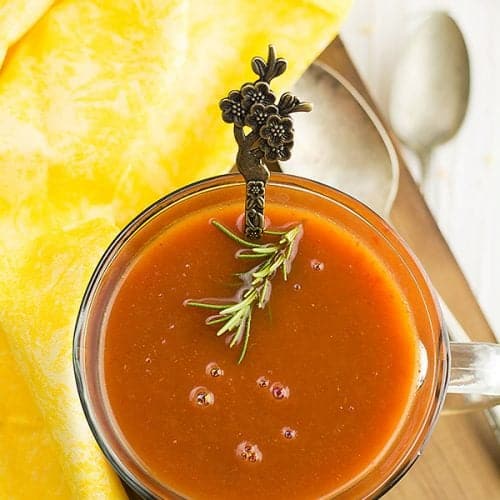 How to cook tomato soup made with tomato paste
an outstanding recipe of tomato soup from tomato paste. It is smooth, filling, dead easy and finally, it is very delicious. Made with minimal ingredients and minimal process.
Print
Pin
Rate
Ingredients
½

teaspoon

vegetable oil

1

clove

garlic

gently crushed

6

oz

tomato paste

/canned tomato paste

2

cups

almond milk

1

cup

water

¾

teaspoon

salt

or as required

1

teaspoon

whole black pepper

¼

teaspoon

dried basil

½

teaspoon

olive oil

optional
Instructions
Over medium heat, in a big pot, add vegetable oil and gently crushed garlic.

Allow it to sizzle in medium flame until it is fragrant.

Then add tomato paste, almond milk and water. Bring it to boil.

Then simmer the flame for 10 minutes.

Discard the garlic chunk.

Now stir in salt, crushed black pepper, dried basil and drizzle in olive oil.

And transfer to serving bowl and enjoy!
Notes
Drizzling olive oil is optional. But it can also be substituted with butter.
Adjust the consistency with water.
If the soup is thick add water and adjusts the thickness.
If it thin, allow it to cook further until it reached preferred thickness.
Nutrition
Calories:
129
kcal
|
Carbohydrates:
18
g
|
Protein:
5
g
|
Fat:
5
g
|
Sodium:
1875
mg
|
Potassium:
861
mg
|
Fiber:
4
g
|
Sugar:
10
g
|
Vitamin A:
1295
IU
|
Vitamin C:
19.1
mg
|
Calcium:
331
mg
|
Iron:
2.6
mg
**Disclaimer: The nutritional information provided is an approximate estimate only.