Thanks for stopping by to know about the author, chef, the photographer of 'pepperbowl.com', it's me, Sujatha Muralidhar. I'm holding a degree in Master of Commerce and Master of Philosophy. I live in Pennsylvania, United States.
My hubby Muralidhar is a great supporter and a critic for Pepper Bowl. And I'm a proud mom of my only son, who is a Freshmen in College. He is perusing a degree in Computer Engineering. Every day he opens us a happier world and brings us lots of interesting stories. Sometimes I really need a few more ears to grab all those from him.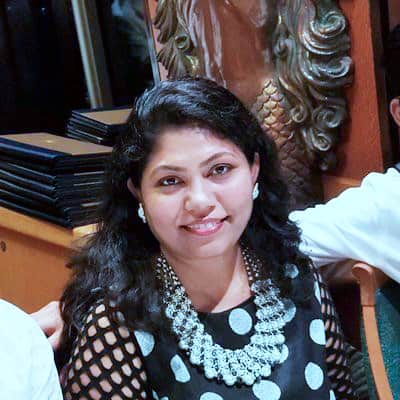 The Story
I'm kind of person, who enters the kitchen in the last minute of cooking to decide that day's menu. I need to scratch my tiny brain a lot to decide on the menu, with the available vegetables in the refrigerator. To be more organized, I made a list of dishes in the blog spot, with some pictures. I was jumping in joy when I saw the first 100 visitors on my site, the 'blogger stats' showed sparkling green visitors in almost all the countries, around the world.
The Blogging World
'I was like "Alice in the wonderland" in the blogging world with the same enthusiasm n surprise, entering and uncovering the beautiful new world.' These words are written some 5 years before when my blog was a brand new one. But after half a decade, I feel the same thing. And my learning process does not stop. Very interesting and challenging, still enjoying every moment of learning.
The reason behind the name 'Pepper Bowl'
I wanted to include the word 'pepper' in the name of my website. Not only for the fact that is one of the important ingredients in South Indian Cuisine. But also, which many of you does not know that it is originated in South India.
The name 'pepper' derived from the Tamil word. And now one of the important universal ingredient, which becomes a must ingredient on every dining table across the world.
Furthermore, my son is a great football fan and he is super crazy about the 'super bowl' games. And he always wanted to name this website as 'super bowl'. I liked his idea as well.
Thus, the 'pepper bowl' has evolved. Which depicts the culinary connection between South India and the United States of America.
The Photography
Coming to my photographs, Initially, I was using my Canon 30sx IS for shooting. Then my husband gifted me Nikon D5200, after seeing my involvement with Pepper Bowl. 5 years have added a couple of new lenses and new lighting equipment added to my small studio setup.
My cooking
I have been cooking from my school days. And these long years of experience gave me a better idea about the ingredients, the process and the result of a recipe. So, for your convenience, I try to minimize the process and the ingredients for a recipe. And I also substitute healthy ingredients instead of unhealthy ones. Like this coconut milk Alfredo sauce. I hope this would help others to cook quickly effortlessly and more deliciously.
What you can find in PepperBowl.com?
All you can find here, are quick, simple, clean eating, real food, and healthy recipes. The regular everyday recipes with spices infused. I also share spicy, hot variations for popular recipes.
I love cooking clean eating, real food recipes, mostly from scratch. I find this is more healthy and moreover, it gives me full satisfaction that I made everything by myself. I do share most of the recipe that speaks about making from the beginning.
You can visit my list of recipes in the 'Recipe Index'. Please pass on your valuable comments for improvisations, suggestions. you can also contact me through the 'Contact Us' tab in the menu bar.
Maintaining a blog involves heavy hard work: choosing the recipe, taking photographs, researching and writing, so please get prior permission in case of using my work.
For any queries and information, please feel free to contact me directly on [email protected].
Thanks, and please continue to provide me the same support and help.
Do not miss the latest recipes and tips. Click here for More Recipes