Introducing Curried Almonds! – a super tasty snack is about to become your new favorite. These are a bit spicy, a bit sweet, and incredibly simple to make.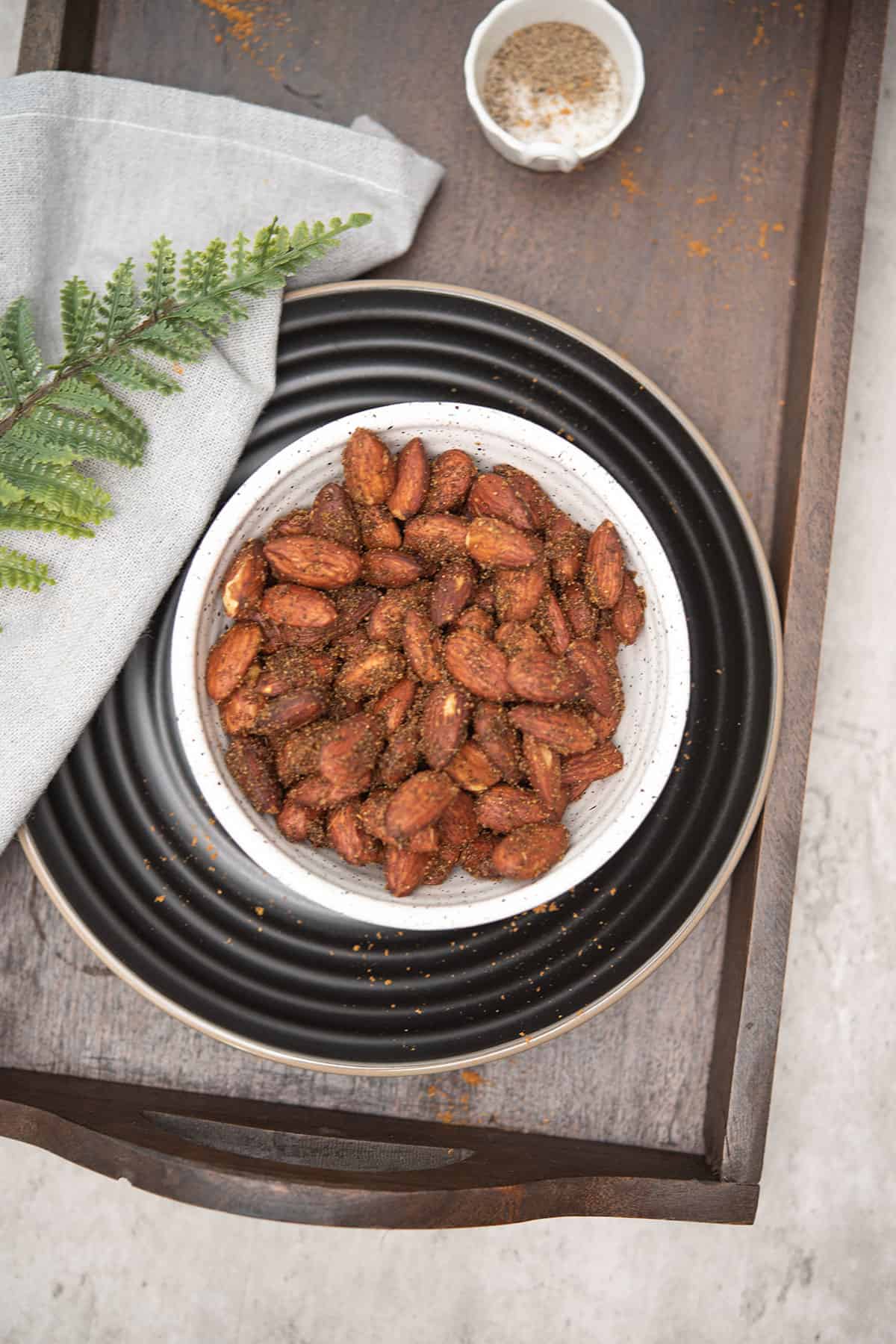 These delicious curry almonds have a beautiful golden color, which reminds us of exotic spices from the South Eastern world.
We finally saw the light and switched to this easy-to-make treat when we wanted something full of flavor without spending too much time in the kitchen.
These are the perfect way to add some spice to your life while enjoying a simple, fuss-free treat!
Why do I love this recipe?
Here are 4 awesome reasons why my family loves these curried almonds and why I keep making them often.
Super simple. Making these Curried Almonds is a breeze, and I love easy snacks and I keep sharing them here.
Bold flavor. They're a perfect blend of spicy and sweet, making my taste buds happy. With tropical flavors.
Fun to share. Curried Almonds are a great treat to enjoy with friends and family, adding some zest to any gathering.
Ingredients needed to make this curried almonds
Almonds. Crunchy nuts play a key role in this spicy nut snack. And added bonus, these have a satisfying texture. You are most welcome to replace it with cashews, peccans as alternatives.
Curry powder. A blend of spices that gives our almonds their exotic, golden color and vibrant flavor. Garam masala can be used for a slightly different taste.
Butter. This helps the spices stick to the almonds and gives a hint of richness. You can use coconut oil for a tropical twist.
Honey. A touch of natural sweetness that balances the spice. Swap it with maple syrup or agave nectar if you prefer.
How to make
Prep the ingredients
Measure out all the ingredients for this curried almonds-almonds, curry powder, butter, and honey. This will make the process go smoothly and ensure you don't miss anything.
Mix and coat
In a large mixing bowl, combine the curry powder, melted butter, and honey. Stir well to create a uniform mixture. Make a note that adding too much honey can make the almonds result in the sweeter note.
Add the almonds to the mixing bowl and toss them gently until they're evenly coated with the curry mixture.
Bake to perfection
Preheat your oven to 350°F (175°C). Line a baking sheet with parchment paper(or grease the tray) to prevent the almonds from sticking and make cleanup a breeze.
Spread the coated almonds evenly on the prepared baking sheet. Make sure they're in a single layer, with space between each almond, for even baking.
Bake the almonds for 10-15 minutes, or until they're golden brown and fragrant. Keep an eye on them to avoid burning, and give them a gentle stir halfway through for cooking them evenly.
Cool and enjoy
Remove the almonds from the oven and let them cool completely on the baking sheet(processing similar to this paneer tikka). They will become crunchier as they cool.
Once cooled, store your Curried Almonds in an airtight container to maintain freshness. Enjoy them as a flavorful, easy-to-make snack any time you want!
How to store?
Refrigerate. To store your Curried Almonds for a longer time, keep them in an airtight container and place them in the refrigerator. The cool temperature will help maintain their freshness and crunchiness.
Freezer. There's no need to freeze or thaw them, as they can be enjoyed straight from the fridge.
Reheat. If you prefer your almonds warm, reheat them in a dry pan over low heat for a few minutes, shaking the pan occasionally until they're gently warmed through.
Be careful not to overheat, as this may cause the almonds to lose their crunch or become too hard.
Variations
Sweet and Spicy Almonds. Add a pinch of cayenne pepper to the curry mixture for an extra kick of heat. Mix in 1-2 teaspoons of brown sugar to balance the spice and create a sweet and spicy flavor profile. Follow the rest of the recipe as usual.
Minty curried almonds. Add 2 tablespoons of finely chopped fresh mint or cilantro to the curry mixture for a refreshing, herbaceous twist. The fresh mint leaves will complement the spices in the curry powder.
Coconut Curry Almonds. Replace butter with melted coconut oil for robust flavors. You can also add 1-2 tablespoons of unsweetened shredded coconut to the curry mixture for added texture and aroma. Proceed with the original recipe for a delicious coconut-infused treat.
Thai-Inspired Curry Almonds. Swap the curry powder with Thai red or green curry paste for a different flavor experience. You may need to slightly increase the amount of honey(like this hot honey sauce would be awesome) or add a splash of soy sauce to balance the flavors. Follow the main recipe instructions for a taste of Thailand in every bite.
Nutty Medley. Combine almonds with other nuts like cashews, pecans, or walnuts for a varied texture and taste.
Tools recommend for making curried almonds
Mixing bowl. A large mixing bowl like this one is essential for combining the curry mixture and almonds, ensuring every nut is evenly coated with flavor.
Baking sheet. A flat baking sheet allows the almonds to spread out in a single layer for even baking and a perfectly crispy result.
Parchment paper. Lining the baking sheet with parchment paper prevents the almonds from sticking, making for easy cleanup and perfectly roasted almonds.
Frequently asked questions and answers
Can I use a different type of nut?
Yes, you can substitute almonds with other nuts like cashews, pecans, or walnuts. Just make sure to adjust the amount of curry mixture to ensure all the nuts are well-coated.
How long can I store Curried Almonds?
When stored in an airtight container in the refrigerator, Curried Almonds should remain fresh and crunchy for up to 3 weeks.
Can I make this recipe spicier or sweeter?
Printable recipe card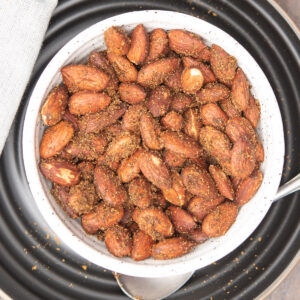 Ingredients
1

cup

almonds

uncooked

½

tablespoon

butter

melted

1

tablespoon

curry powder

½

teaspoon

ground cumin

½

teaspoon

salt

or to taste

¼

teaspoon

black pepper

or to taste
Instructions
Prepare
Preheat the oven to 350°F (175°C).

Prepare a baking sheet by lining it with parchment paper or a silicone baking mat.
Mix
In a mixing bowl, combine the almonds, butter, curry powder, ground cumin, salt, and pepper.

Toss until the almonds well coated with added spices.
Bake
Spread the almonds out on your prepared baking sheet in a single layer. Bake in the preheated oven for about 10-12 minutes or until the almonds are golden and fragrant. Be sure to stir or shake the tray every 5 minutes to prevent the almonds from burning.
Notes
Once cooled, serve them as a snack or as a topping for salads or dishes.
Remember, almonds can burn quickly, so keep a close eye on them during the baking process.
Nutrition
Calories:
226
kcal
|
Carbohydrates:
9
g
|
Protein:
8
g
|
Fat:
20
g
|
Saturated Fat:
2
g
|
Polyunsaturated Fat:
4
g
|
Monounsaturated Fat:
12
g
|
Trans Fat:
0.1
g
|
Cholesterol:
4
mg
|
Sodium:
304
mg
|
Potassium:
292
mg
|
Fiber:
5
g
|
Sugar:
2
g
|
Vitamin A:
63
IU
|
Vitamin C:
0.2
mg
|
Calcium:
107
mg
|
Iron:
2
mg