A teaspoon of Madras curry powder adds tremendous flavors to any recipe. Besides, making this hot madras curry powder at home could save your money. Furthermore, customize it to suit your personal preference. Making this Indian style curry powder is simple and straightforward.
You would not believe how easy is to make the best madras curry powder unless you watch the video of making. And you are going to love how comfortable is to prepare this wonderful multi-purpose masala.
This spice curry powder gives all the flavors you expect from an authentic Indian style food.
Whether you grill or cook, you always need a secret ingredient that enhances your food. What if that secret ingredient is so easy to make. For me, this spice powder is so special that is close to my heart and feel it is so much better than the store-bought Indian spice blends.
In this recipe, I enjoy the privilege of adjusting the heat level according to my choice. Which makes it incomparable with the readymade ones, where you do not have any control over anything.
Moreover, with the cost of spice powder, you can make your own Madras curry powder for the entire year. And the good part is that you can store the whole spices for a couple of years. And grind hot curry powder whenever necessary. Furthermore, the satisfaction you get by making the store-bought version at home is incredible.
Usually, the recipe takes only 15 minutes of your time for prepping and grinding. Then why wait, assemble all the ingredients and get ready to pat yourself back for your outstanding work.
If you are cooking Indian food for a while, you might already have the ingredients in your pantry. If not make a visit to your local Indian store to make this special Madras spice mix. You might need only a small portion of the whole spices, the rest you can save to make other Indian recipes or Indian spice mix.
What is Madras curry powder?
Its name arrived after the South Indian city Madras, now it is being called as Chennai. South India is known for its original pepper, coriander, cumin, and fenugreek. If you have noticed most of the South Indian recipes call for these spices.
In fact, everyone has their own recipe for this spice mix, but in general, it is made with red chili, coriander seeds, fenugreek seeds, peppercorns, and cumin seeds. This looks reddish-orange in color which transforms our food more pleasing and appetitive.
This spicy curry powder has the rich, earthy, robust flavors that enhance the food than you imagine-like this curry aioli. You can use in meat, fish, shrimp, or vegetables for a nick kick and zing.
Recipes that you can use this spice blend
The key ingredients
All the ingredients listed here have unique flavor and taste. So what is in Madras curry powder?
Red chili pepper. The sole ingredient for the color and the heat in this recipe. You may increase or decrease the quantity of red chili according to your level of heat. When you want to retain the color and to reduce the heat, substitute with Kashmiri red chili.
Coriander seeds. Red chili and coriander seeds go hand in hand. They are inseparable in South Indian cooking. It is the flavor enhancer and gives a thick consistency. Also subtle down the heat of the red chili.
Peppercorns. Every one of us knows how the black pepper gives a gentle heat and flavor. Freshly ground peppercorns have got unique fresh flavors and it will get lost in due coarse. I would advise to use the whole black pepper and never be substituted with the pepper powder that available in the stores.
Cumin seeds. Like red chili and coriander seeds are inseparable, peppercorns and cumin seeds also work the same way.
Fenugreek seeds. Another flavor enhancer and has its own nutritional benefits. Which has got a bitter taste, do not go overboard as too much can spoil the taste.
Other seasonings you may like,
How to make Madras curry powder
Roasting the spices. Firstly, dry roast all the spices except the red chili peppers, in a pan. Dry roasting them in simmer flame brings out all its aroma and it will also get cooked even in the center. My advice is to stir continously until it is done. Otherwise, you may end up in uncooked red chili and burnt cumin seeds.
Once the spices splutter and aromatic, remove from the heat and transfer to a plate and keep aside.
In the same pan, add a quarter teaspoon of cooking oil and red chili pepper. Saute until the skin of the red chili pepper changes its color. Transfer to a plate and bring it down to room temperature.
If you are making in large quantities than in this recipe, then dry roast them individually, as each ingredient has different cooking time.
Grind. Grind to a fine powder by using your high powder blender or spice jar.
Store. Transfer to an airtight container and store for using later. This Madras curry powder is good to use for upto 3 months at room temperature.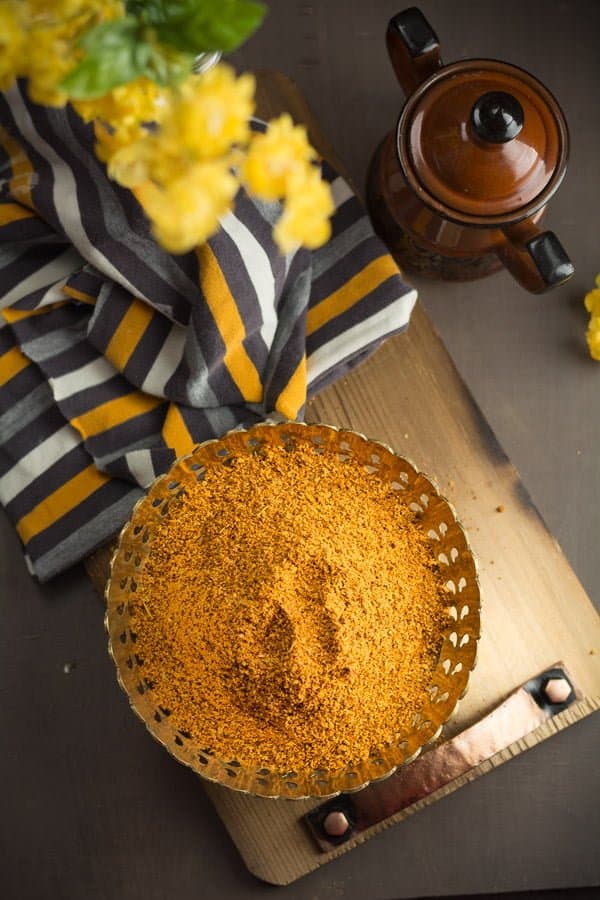 Curry powder Vs Madras curry powder
Many of you possibly have the question like, Is curry powder and Madras curry powder are the same?
No, it is definitely not. They are different to some extent.
Madras curry powder's flavors are mainly from the ingredients peppercorns and fenugreek.
Naturally, the Curry powder has intense flavor since it is made with cinnamon, cloves, bay leaves, nutmeg, and more.
Garam masala is usually used as a flavoring agent made with cardamom, cinnamon, and cloves.
To put it in a simpler way, Madras curry powder and Garam masala are whole two distinct elements. When both combined together it can transform as curry powder.
Making this spice mix as hot or mild
Hotness and mildness of this spice mix are determined by the red chili. Increase the quantity of red chili in this Madras curry powder recipe to make hot.
On the other hand, you may substitute Kashmiri red chili for the red chili. Kashmiri red chili gives a deep red color to the food without making it hot.
You may also adjust the heat with yogurt or butter when you find the Madras spice mix too hot to handle.
When you are using this Madras spice powder for the first time, and you find the heat in the throat. Add a tablespoon of butter, saute and coat the dish with butter. The result, the dish is furthermore richly enhanced but without the heat. You may apply this secret for any recipe that you made with the hot spices.
How to use in a recipe
This spice mix is primarily a wholesome mix, it goes in anywhere and adds in heat and spice to the food.
I keep using it as a rub for fish, shrimp, and chicken. And appreciate yourself for making a succulent dinner effortlessly.
I use this homemade Madras curry powder as a marinating sauce, by adding minced garlic, yogurt, and lemon juice. This marinade is ready in minutes and weeknight dinner is ready in minutes.
This is a great addition when cooking lentils or chilies. And feel the Indian restaurant at home.
While you are cooking vegetables, sprinkle this Madras mix according to your preference. With minimum time and work, the regular veggies can turn into a super drooling dish.
Printable recipe card
Madras curry powder recipe
Madras curry powder adds aroma to fish, shrimp or chicken recipe. This homemade hot Madras curry powder saves and made to suit your preference.
Print
Pin
Rate
Instructions
In low heat and to the pan, add black mustard seeds, fenugreek seeds, cumin seeds, black pepper, coriander seeds, bay leaf, and cinnamon.

Dry roast them until they shrink slightly and turn to a golden brown.

Transfer to a plate and set aside.

In the same pan, drizzle vegetable oil, and add red chili peppers.

In the low heat, roast until it changes its color.

Transfer to a plate and allow it to cool to room temperature.

Grind using a heavy-duty blender or a spice grinder.

Store in a airtight container for future use.
Video
Notes
Watch careful, as the mustard and cumin seeds may splutter.
Always roast the spices in the low flame and possible, as our point is to remove the moisture content present in the spices. This helps the madras curry powder to be aromatic that lasts for a longer time.
You may also add half a teaspoon of turmeric powder to this recipe while grinding.
Nutrition
Calories:
7
kcal
|
Carbohydrates:
1
g
|
Protein:
1
g
|
Fat:
1
g
|
Saturated Fat:
1
g
|
Sodium:
1
mg
|
Potassium:
35
mg
|
Fiber:
1
g
|
Sugar:
1
g
|
Vitamin A:
59
IU
|
Vitamin C:
9
mg
|
Calcium:
8
mg
|
Iron:
1
mg