This jalapeño marinade is a game-changer for your grilling game, infusing your meats and veggies with a spicy, tangy kick. But don't worry; you can adjust the heat level easily.
It's a simple yet versatile marinade that complements a variety of proteins and even plant-based options. I used to shy away from making my marinades, often settling for store-bought versions that were good but could have been better. That all changed when I whipped up this simple jalapeño marinade in my kitchen(same as this buffalo chicken marinade).
Why we all love this recipe
Perfect Pairing for Summer Gatherings: Its vibrant and zesty profile brings a refreshing flavor to the outdoor feasts, providing a great experience with delicious food(special mention to this blackened Mahi Mahi and cedar plank salmon).
Effortless Prep Work: This easy Jalapeno Marinade recipe is surprisingly hassle-free. With simple steps under 5 minutes, make a fabulous marinade.
Customizable Heat Levels: Make your food as spicy or mild as possible by changing how many jalapeños you use. You can also control the heat by choosing how much the seeds and white membrane you add in.
Hit with the Crowd: This recipe is super flexible, allowing you to make more marinade easily. Its rich and flavorful profile makes it a perfect choice for a party or potluck(this jalapeno lemonade and jalapeno cheese sticks are excellent add-ons, too).
How to make Jalapeño Marinade?
The Ingredients
Jalapeños: For spicy kick and jalapeños, provide the body to the marinade. The skin and the flesh have robust flavors. At the same time, the seeds and pith have most of the heat. So, remove the seeds and the center if you prefer the sauce with rich flavors and mild heat.
Garlic: The fresh garlic pairs well with the jalapeño, adding extra layers of flavor and making the marinade even more enjoyable.
Cilantro: This herb brings refreshing and citrusy notes to the marinade. You can substitute with fresh parsley or even basil.
Olive Oil: Helps bind all the ingredients together and makes this Jalapeno Marinade with a smooth and silky texture. It contributes richness and a hint of fruity flavor that nurtures all the other components of the marinade.
Lime Juice: Use lemon juice or lime juice. Bottled lemon juice is also acceptable to use here. Add a tablespoon of lime zest if you want a more robust flavor.
Sweetener: I prefer a sweet touch to balance the spiciness. I have added honey, but feel free to use agave syrup or light brown sugar.
Cumin (Optional): Cumin gives the mix an extra layer of aromatic richness. Store-bought ground cumin works.
The directions
Prepare the Jalapeños: Slice open the jalapeno and remove the seeds and the white membrane. Depending on your heat tolerance, reserve them and add them to the blender,
Blend the Ingredients: Add the jalapeños, garlic, cilantro, olive oil, lime juice, honey, salt, and ground cumin to a blender jar.
Pulse the Ingredients: Blend everything until all the ingredients are well-blended into a smooth paste.
Taste and Adjust: Taste and tweak the seasoning if necessary. If you want more heat, toss another jalapeño or some extra seeds. And if you find the consistency too thick, you can quickly thin it out by adding olive oil or lime juice.
Marinate: Combine chicken or steak with the jalapeno marinade to coat evenly. Allow it to sit in the refrigerator for at least 2 hours.
Cook: Now you can grill, bake, roast, or sauté the meat or veggies according to your recipe or preference.
What to serve with?
Mexican Rice: This flavorful side dish perfectly complements the spicy marinade. You can add corn and diced tomatoes to make it even more delicious.
Grilled Vegetables: Serve with grilled bell peppers, zucchini, and onions with your marinated meat for delicious charred and smoky flavors(grilled veggie salad and spicy roasted vegetables are our favorite).
Coleslaw: A refreshing coleslaw(Cajun coleslaw and Jalapeno coleslaw) is a great side to serve with spicy marinades. Add some shredded carrots and cabbage for extra crunch and flavor.
Tortilla Chips and Salsa: For a simple and quick side, serve some tortilla chips(try spicy tortilla chips or spicy plantain chips) with a tasty salsa. You can make your salsa or use store-bought for convenience.
How to store?
In the Refrigerator: Store the leftover jalapeno marinade in the refrigerator for up to 3 days for optimal quality.
In the Freezer: If you want to freeze the leftovers, transfer the marinade within 2 hours of making it for the best results. It stays good in the freezer for up to 3 months.
Thawing: Place the frozen marinade in the refrigerator overnight. Or if you're in a hurry, you can use the microwave's defrost setting, but be cautious to avoid overcooking.
Variations
Jalapeno Chicken Marinade: Add a teaspoon of garlic powder and two tablespoons of honey(instead of 1 tablespoon, add more if you prefer) to our base jalapeno marinade recipe.
Jalapeno Steak Marinade: For those who love a good steak, explore the flavors by adding a Worcestershire sauce(1 tablespoon) and ground black pepper(1 teaspoon) to the original marinade. This will give your steak a rich, umami flavor that pairs wonderfully with the jalapeno heat.
Pineapple Jalapeno Marinade: Add half a cup of pineapple chunks instead of honey for a tropical twist. This combo perfectly balances the spiciness of the jalapeno, making it perfect for grilled shrimp or pork(like this pineapple jalapeno sauce).
Jalapeno Soy Sauce Marinade: If you're looking for an Asian-inspired variation, add 2 tablespoons of soy sauce and swap the olive oil for the sesame oil in this recipe. This version is excellent for marinating tofu or even for a stir-fry.
Frequently Asked Questions
How spicy is the marinade?
The spiciness of the Jalapeno Marinade depends on how many jalapeño seeds you leave in. Removing all the seeds will result in a milder marinade, while leaving some will make it spicier.
Can I use other chili peppers instead of jalapeños?
If you prefer a different level of spiciness or have difficulty finding jalapeños, you can substitute them with other chili peppers. However, remember that it may alter the overall flavor of the marinade.
How long should I marinate the meat or vegetables?
Marinate your meat, chicken, or steak for at least 2 hours for the best flavor. However, if you want more intense flavors, you can marinate them for up to 24 hours.
Can I use dried instead of fresh cilantro?
While fresh cilantro leaves provide the best flavor, you can substitute them with dried cilantro if needed. Use about half the amount of dried parsley or cilantro.
Tools recommended for this jalapeno marinade recipe
Cutting Board: A sharp knife is efficient for chopping the ingredients.
Measuring Utensils: Essential for the perfectly seasoned and not overpowering marinade.
Printable recipe card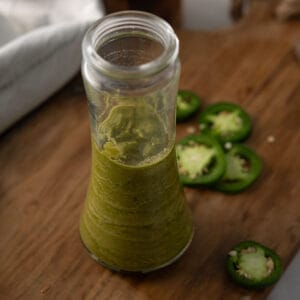 Jalapeño Marinade
Spice up your grilling game with this Jalapeño Marinade. Enhance the flavors of your grilled chicken or steak with a rich taste(Easy recipe).
Print
Pin
Rate
Ingredients
3

jalapeños

seeded and chopped

1

tablespoon

garlic

roughly chopped

½

cup

cilantro leaves

¼

cup

olive oil

2

tablespoon

lime juice

1

tablespoon

honey

optional

1

teaspoon

salt

1

teaspoon

red pepper flakes

½

teaspoon

cumin

optional
Instructions
Preparation:
Slice open the jalapeno and remove the seeds(you can leave some or all for a spicier version).
Blend Ingredients:
In a blender or food processor, combine the jalapeños, garlic, cilantro, olive oil, lime juice, honey (if using), salt, red pepper flakes, and cumin (if using).
Pulse:
Pulse until all the ingredients are well-blended into a coarse texture.
Taste and Adjust:
Taste the marinade and adjust the seasoning if necessary.
Marinate:
Combine the meat and the marinade and refrigerate for 2 to 24 hours for more flavor.
Cook:
Once marinated, cook your meat or vegetables as desired, like grilling or stir-frying.
Notes
Add another jalapeño or some of its seeds if you want it spicier. If it's too thick, add more olive oil or lime juice to thin it out.
Fridge: Keep leftover jalapeno marinade in the refrigerator for up to 3 days.
Freezer: Freeze it within 2 hours of making and it'll last up to 3 months.
Thawing: Thaw it in the fridge overnight or use the microwave's defrost setting carefully.
Nutrition
Calories:
146
kcal
|
Carbohydrates:
7
g
|
Protein:
0.4
g
|
Fat:
14
g
|
Saturated Fat:
2
g
|
Polyunsaturated Fat:
1
g
|
Monounsaturated Fat:
10
g
|
Sodium:
592
mg
|
Potassium:
70
mg
|
Fiber:
1
g
|
Sugar:
5
g
|
Vitamin A:
404
IU
|
Vitamin C:
16
mg
|
Calcium:
12
mg
|
Iron:
0.5
mg
**Disclaimer: The nutritional information provided is an approximate estimate only.