Absolutely delicious and loaded with flavors, this Cuban seasoning recipe will enhance your meals to the next level!
With the right choices of ingredients, this Cuban spice blend turns out as the fabulous companion for your grilled meats, veggies, and even rice dishes.
Along with its tempting flavors, this Cuban seasoning recipe is incredibly versatile. Making it perfect for the purpose of adding a burst of excitement to any dish(like this garlic chicken, broccoli stuffed chicken).
You'll love how it transforms your meals, offering a taste of Cuba in your own kitchen.
Why do I love this recipe?
It's unbelievably easy to make, with simple ingredients you might already have in your pantry.
This homemade Cuban seasoning blend provides freshness and control over the flavor intensity to suit your personal preference(same as this Madras curry powder).
It's adaptable and vibrant-making it an all-time favorite for jazzing up a variety of meals.
Ingredients
Cumin. Cumin adds depth and warmness to the Cuban seasoning blend. It creates a robust base flavor that is essential in Cuban cuisine.
Oregano. This aromatic herb brings a touch of Mediterranean essence to the blend. In its absence you can use thyme.
Paprika. A vibrant red spice, lends a gentle smokiness and subtle heat to the seasoning. It enhances the overall color and flavor profile. For a spicier kick, you can use cayenne pepper or hot smoked paprika.
Garlic powder. It adds a savory punch to the blend. It complements the other spices and helps create that authentic Cuban taste.
Onion powder. A subtle flavor booster, onion powder pairs wonderfully with the other ingredients(works well in this red ranch sauce as well), offering a savory depth to this Cuban seasoning. As an alternative, you can use granulated onion or even a bit more garlic powder.
Salt and pepper. These two classic seasonings provide the perfect balance to the blend, allowing the flavors to meld together evenly. Feel free to adjust the quantities according to your taste preferences.
How to make?
Follow these simple steps to make your very own Cuban seasoning blend, and you'll be ready to add a delightful zing to your dishes in no time!
Gather. Make sure you have all the spices mentioned earlier, along with salt and pepper, ready to go. If you do not have certain ingredients, check out for its possible substitutions as well.
Measure. Use a set of measuring spoons to get the right amount of each spice. This ensures a balanced and flavorful blend.
Combine. In a small mixing bowl, add the cumin, oregano, paprika, garlic powder, onion powder, salt, and pepper. Mix everything together thoroughly.
Check. Look out for any lumps or clumps in the blend. If you find any, break them up with a fork or sift the mixture through a fine-mesh sieve. This guarantees a smooth and even seasoning.
Taste test. Take a tiny pinch of the blend and taste it. Adjust the salt, pepper, or any other spice if needed.
Store. Once you're satisfied with the taste, transfer the seasoning blend to an airtight container or a small glass jar with a tight-fitting lid.
Keep it in a cool, dry, and dark place to maintain its freshness and potency.
How to store
Store. Place the Cuban seasoning blend in an airtight container or a small glass jar with a tight-fitting lid. Keep it in a cool, dry, and dark place to maintain freshness and flavor for up to 4 months.
Refrigeration. Although not required for dry seasoning blends, you can refrigerate the blend in an airtight container to preserve its delegate flavors.
Freezing. Freezing isn't necessary for dry blends, but if preferred, use a freezer-safe, airtight container and label it with the date.
Thawing. If frozen, let the seasoning sit at room temperature for a few minutes before use, as this Cuban seasoning quickly regains its texture when added to a dish.
Reheating. Since it's a dry mix, simply add the seasoning blend directly to your dish during cooking—no reheating needed.
Variations
Hotter. To make spicy Cuban seasoning, include cayenne pepper or increase the amount of paprika. Adjust the spice level to your preference.
Citrusy twist. Add a zesty element with dried orange or lime zest, creating a vibrant and tangy variation.
Smoky. For an extra depth of smoky flavor in this cuban spice blend-swap paprika with smoked paprika.
With herbs. Enhance the herbal notes by incorporating dried basil or cilantro.
Frequently asked questions
Can I adjust the spice level to my preference?

Absolutely! Feel free to adjust the spice level in this Cuban seasoning recipe to suit your preference by adding more or less of a paprika. To make it more spicy, try experimenting with cayenne powder or chili powder.
How much seasoning blend should I use per dish?

The amount of seasoning blend to use per dish varies depending on your individual choice and the dish itself. A good starting point is 1-2 teaspoons per pound of meat or vegetables, but adjust according to your taste.
Can I make a larger batch of the seasoning blend?
Yes, you can easily make a larger batch of the Cuban seasoning blend by doubling or tripling the recipe.
Can I make a salt-free version of the seasoning blend?
Yes, you can omit the salt or use a reduced-sodium salt substitute to make a salt-free version of the Cuban seasoning blend.
Recommended Tools
Mixing bowl. Essential to combine all the spices evenly in this Cuban seasoning. And this one has got good customer reviews online.
Measuring spoons. Needed for accurate measurement of each spice, for a perfectly balanced blend. And these are magnetic-hence easy to handle and store.
Airtight container. Perfect to store this Cuban spice blend, keeping it fresh and potent for future use.
Printable recipe card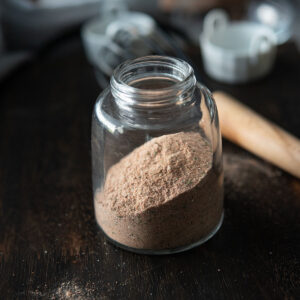 Instructions
In a small bowl, add garlic powder, onion powder, smoked paprika, cayenne pepper, ground cumin, oregano, black pepper, and salt.

Mix well until everything all the ingredients are evenly distributed.

Store the spice blend in an airtight container in a cool, dry place.

Rub it on your meat before grilling, or sprinkle and Enjoy!
Notes
This Cuban spice blend is perfect for adding flavor to pork, chicken, beef, or vegetables.
Store in a air tight container at a cool, dry place.
Nutrition
Calories:
14
kcal
|
Carbohydrates:
3
g
|
Protein:
1
g
|
Fat:
0.4
g
|
Saturated Fat:
0.1
g
|
Polyunsaturated Fat:
0.1
g
|
Monounsaturated Fat:
0.1
g
|
Sodium:
875
mg
|
Potassium:
68
mg
|
Fiber:
1
g
|
Sugar:
0.2
g
|
Vitamin A:
505
IU
|
Vitamin C:
0.4
mg
|
Calcium:
25
mg
|
Iron:
1
mg