Need a basic recipe that can transform into multiple dishes? No problem, these spicy roasted vegetables are just the thing that solves your request. This dish can irresistibly make your soup, pasta, or mac and cheese.
These spicy roasted vegetables are mildly spicy and crunchy and satisfy the whole family. The natural tastes of the veggies and the coated spice create an ultimate snack or dinner!
Even better, it's low-carb, low in sugar, low-fat, and dairy-free. So it won't hurt your plans to follow the popular diets.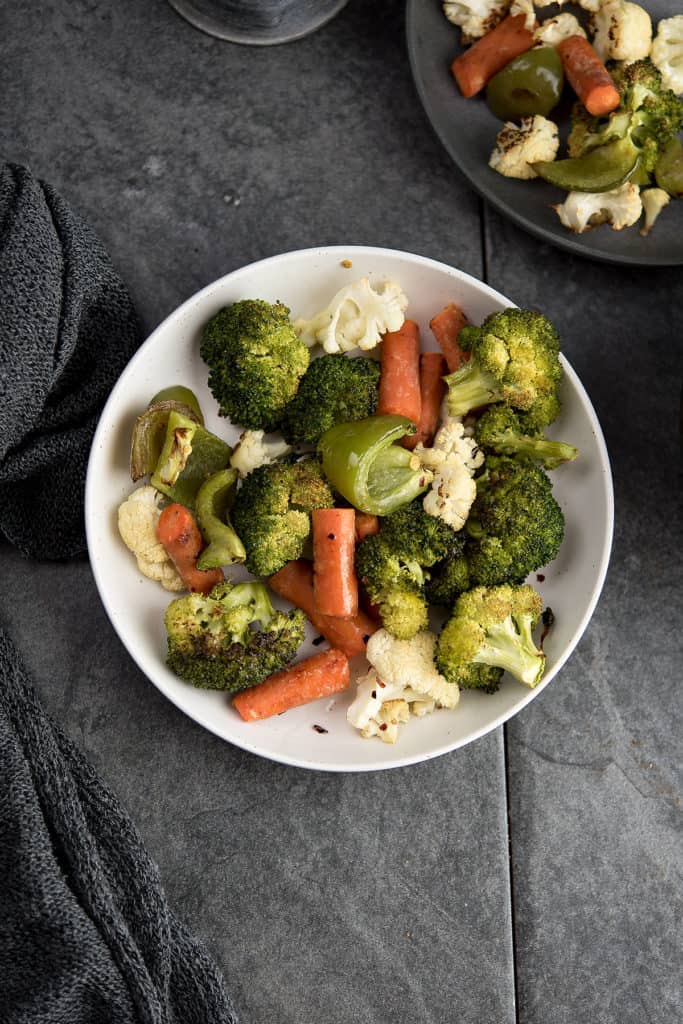 Thinking of making a light dinner tonight? This spicy roasted vegetable is a delicious choice. Have you ever thought fresh produce could become a most sought-after dish in a family dinner? these crunchy spice-coated vegetables prove that they can be anyone's favorite.
With just a few minutes of preparation, your dinner is made. Furthermore, add them to your soups, toss them in pasta, or serve them along with the main protein.
If you are new to the world of spices, you could check out this spicy appetizers post, giving you a whole new perspective on hot and spicy recipes.
How to make spicy roasted vegetables
The prepping and the making process are simplified for our convenience. Will discuss the storing, the variations, and the pro tips later in the post. This recipe is an effort to balance our fiber intake in a day.
The key ingredients
Carrots. Despite its color and taste, it's packed with Vitamin A and fiber(see more health benefits here).
Broccoli. It's a good source of fiber that's crunchy. When these are perfectly roasted and coated with the rich spices. It tastes divine. To know more about its goodness, you may check here).
Cauliflower. It's the same as broccoli and melts in the mouth. If you prefer making these spicy roasted vegetables super quick, you may buy the frozen cut veggies from the stores. It saves the prepping time, and your dinner gets ready moments before your eyes.
Bell pepper. Adds a beautiful aroma and a critical component that compliments all the other ingredients. Feel free to use green, red, or yellow bell peppers according to the availability.
Red pepper flakes. Think of this as an instant enhancer for the heat. The flavors and the heat from this ingredient are rich and complex.
Grapeseed oil. Coats the ingredients well and gives a nutty flavor that magnifies the whole dish. But you may also use olive oil in this spicy roasted vegetable recipe.
Cajun seasoning. My secret addiction to the spiciness and the heat. It's a flavorful and spicy combination that gives the roasted veggies an irresistible taste. Some of the store-bought cajun seasonings come along with salt. So, adjust the amount according to your preference.
The recipe direction
The prepping. The spicy roasted vegetables taste great when cut into an even size. Chop all the veggies into bite-size pieces. Preheat the oven to 450°F.
Mix. Add all the chopped ones, red pepper flakes, grapeseed oil, and cajun seasoning in a mixing bowl. Toss well until they are evenly coated.
Arrange. In a baking tray, place and spread them without crowding one over the other.
Bake. Place the tray on the top rack and bake for 15 minutes or until tender. Stir occasionally in between the baking time to avoid any burnings.
Serve. Remove it from the oven, and serve. Sprinkle crushed black pepper and salt if needed.
Best to serve with
Soup. Add these spicy roasted vegetables to the soup. These clear tomato soup tomato soups from the tomato paste are my picks for a filling dinner.
Pasta or rice. This spicy penne pasta, buttermilk pasta, or Indian coconut rice would be fantastic to pair with. It's fabulous to enjoy with spinach risotto.
Mac and cheese. Toss them into the vegan butternut squash mac n cheese to serve the family with loads of veggies.
As a side dish. This spicy dish is excellent for serving as a side with grilled meat like cedar plank grilled salmon or cedar grilled lemon chicken.
As appetizer. Thinking of a party? these crunchy, spicy roasted vegetables are the right to take place in the center of the table.
Storing idea
To store. Once the spicy vegetables are roasted, allow them to cool and refrigerate to use within two days. Or freeze them to use up to a month. Always prefer air-sealed containers or bags for the best results.
Thaw. The frozen dish has to be thawed before reheating. You may keep them in the refrigerator overnight for thawing.
To reheat. Spread them in the baking tray and heat them in the preheated oven at 350°F until the vegetables are warm.
Variations
Mediterranean roasted vegetables. Replace cajun seasoning and use harissa sauce for the spicy roasted vegetables with the Mediterranean flavors.
Indian spiced roasted vegetables. Add a teaspoon of curry powder along with cajun seasoning. This combo extensively works with this recipe.
Italian version. Remove the cajun seasoning, double the red pepper flakes, and add thyme, fresh basil, and balsamic vinegar for robust flavors.
Mexican style. Substitute the original seasoning with fiesta seasoning for the rich Mexican properties.
The recipe FAQ
Can I substitute the vegetables?
Yes, you can substitute them according to the seasonal availability of these fabulous spicy roasted vegetables.
What fall produce can I add in?
Squashes, sweet potatoes, Brussels sprouts, beets, and potatoes taste fantastic in these recipes.
How to plan for a party?
It is a tough job to maintain the vegetable's crispiness throughout the party time without being soggy. The idea is to reheat it and place it over the party table without covering it.
Other recipes
Other related recipes that use loads of vegetables are,
Printable recipe card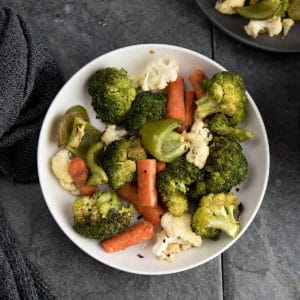 Spicy roasted vegetables
These spicy roasted vegetables are mildly spicy, crunchy. The veggies and its spice coatings together create an ultimate snack or dinner.
Print
Pin
Rate
Ingredients
1

cup

broccoli florets

1

cup

cauliflower florets

1

cup

carrots

bite-size pieces

1

cup

green bell pepper

1

teaspoon

grapeseed oil

/any cooking oil

1

teaspoon

red chili flakes

1

teaspoon

Cajun seasoning
Instructions
Preheat the oven to 450°F.

Chop all the vegetables into small size cubes.

In a mixing bowl all the vegetables, grapeseed oil, red pepper flakes, Cajun seasoning.

Combine until the spices coats the vegetables well.

Arrange them in a baking tray.

Place them in the middle rack, and bake for about 10 minutes or until tender.

Remove it from the oven, allow it to cool and set to serve.
Notes
Feel free to substitute the vegetables with the available seasonal vegetables.
Adding fresh herbs boosts up the flavors and the tastes.
Nutrition
Calories:
46
kcal
|
Carbohydrates:
8
g
|
Protein:
2
g
|
Fat:
1
g
|
Saturated Fat:
1
g
|
Sodium:
47
mg
|
Potassium:
337
mg
|
Fiber:
3
g
|
Sugar:
3
g
|
Vitamin A:
6057
IU
|
Vitamin C:
64
mg
|
Calcium:
30
mg
|
Iron:
1
mg
**Disclaimer: The nutritional information provided is an approximate estimate only.