Are you searching for healthy a weeknight dinner with veggies? This vegan butternut squash mac and cheese would be the best choice for you to make tonight. Best to serve for the families and kids as well.
Made with nutritional yeast, cashew and coconut milk. One of the most comfortable and simple comfort foods which I would recommend you to make in this season.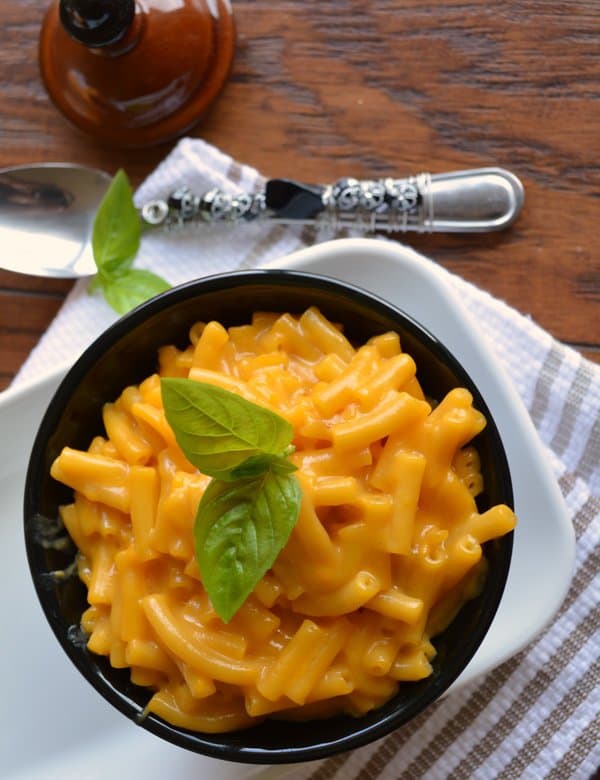 This vegan butternut squash mac and cheese recipe is a healthier tweak to the regular version. The sauce made with butternut squash, which makes the dish not only creamy but also tastes better than the ready-made ones.
This easy vegan butternut squash mac and cheese healthy, dairy-free and one of the most important of comfort food in my priority dishes list. The sauce is silky and creamy, which is made achievable with cashews, all-purpose flour.
It officially falls here, and I could see nearby stores are loaded with the squashes of various types and colors.
We are little carried away by seeing the fresh and bright butternut squashes. The array of veggies tempts me to buy them and use it before the season ends.
So, we grab them more than the usual requirement. Which made me search for trusted and tried recipes to use this vegetable.
After a couple of phone calls, I got this vegan butternut squash mac and cheese recipe from one of my friends who is also a chef in New York. And since then this recipe became one of our favorites.
After this, I'm making it repeatedly. And, every time the pan will get emptied within no time.
Pasta is the easiest dish when you choose the correct sauce for the right pasta type. This butternut squash sauce complements well with elbow macaroni which makes a delicious dinner. And you can hear the appreciations from all the corners without a doubt.
Creamy butternut squash sauce will be loved by everyone including those who are grown up eating mac and cheese all the time.
The Vegan mac and cheese pasta sauce
The name says it is vegan butternut squash mac and cheese, but it is not made with real cheese. However, the texture of cheese arrived with the help of nutritional yeast.
Nutritional yeast is a great substitute for cheese. But, if you prefer you may add vegan cheese instead.
This pasta tastes savory with a hint of sweetness from the squash. The sauce is a lighter, brighter and refreshing dinner for the whole family.
The butternut squash is the hero ingredient, and I wanted to have its dominant flavor and the taste. And is the reason for not adding tomatoes to make it sour and dilute its original character.
Instead, if you prefer you may add chopped sun-dried tomatoes or lemon juice while making vegan butternut squash mac and cheese.
The coconut milk, nutritional yeast, and cashews give the creamy, silky texture to the dish. These ingredients act as a thickening agent and make the meal to reach their desired consistency.
Macaroni Pasta
The next step is choosing the right pasta for vegan butternut squash mac and cheese. In the market, you have plenty of options to select macaroni pasta ranging from regular, multigrain to gluten-free, whole wheat. Choose according to your individual preference.
For this healthy vegetable sauce, I want to pair with another healthy ingredient-multigrain macaroni pasta. Multigrain pasta has gorgeous flavor and texture.
The process and cooking time vary according to the type and size the macaroni pasta. So, it is advisable to cook according to the directions in that package.
The pasta should be felt firm while eating and should not melt in your mouth. So, remember to cook it to a firm texture.
This vegan butternut squash mac and cheese recipe is great for fresh pasta as well. But I always go with the hard pasta as it easier for me to store, which also cuts down huge cooking time.
Furthermore, on weeknights, this makes the cooking the dinner like as a breeze.
The seasonings
I wanted to have the herbs and spices as simple as possible to retain the favor of the butternut squash in this vegan butternut squash mac and cheese.
Here, I have added black pepper and garlic to boosts the flavors of the squash without distracting it.
In the end, I have added the fresh basil because I had it in my garden and wanted to use it desperately. But it's optional you may add or skip this ingredient.
It's a healthy vegan butternut squash mac and cheese for the kids; I'm sure the kids would love this. Mom's does feel heartful feeding the children with good food.
Once I keep avoiding to make mac and cheese at home for my son until I found this veggie sauce. And now this dish became a staple here.
Moreover, a must try the recipe when squashes are available abundant in the stores. To tell you the truth, they are cheaper and fresh this season.
If you are looking for other easy to make kids friendly recipes, then you may see into 5 step French Crepe, Baked Egg Bread, Vegetarian Lasagna Roll-ups.
I went with small-sized whole butternut squash maybe around 3 cups of butternut cubes. If you feel like having more creamy, saucy mac and cheese, then go ahead and add more.
Other simple dinner recipes you may like,
vegan butternut squash mac and cheese
This vegan butternut squash mac and cheese is healthy, dairy free comfort food. Best for weeknight dinners for kids and for families. Made with cashew, coconut milk, and nutritional yeast.
Print
Pin
Rate
Ingredients
For the sauce
3

tablespoon

cashew nuts

soaked

¼

cup

warm water

for soaking cashew nuts

2

cup

butternut squash

cubes

2

cups

water

for cooking butternut squash

1

tablespoon

olive oil

¼

cup

yellow onion

chopped

½

teaspoon

salt
For the mac and cheese
1

cup

multi-grain macaroni

1

tablespoon

olive oil

1

tablespoon

garlic

minced

2

tablespoon

all-purpose flour

⅓

cup

coconut milk

11/2

tablespoon

nutritional yeast

1

teaspoon

salt

or as required

1

teaspoon

whole black pepper

crushed

1

tablespoon

basil leaves

fresh or dried
Instructions
For the sauce
Soak cashew nuts for 20 minutes in ¼ cup warm water.

Remove the skin of the butternut squash and cut them into small cubes.

In a pan, add a tablespoon of olive oil. Then add chopped yellow onion.

In low heat, saute until it turns golden brown.

Now add butternut squash cubes, salt and two cups of water.

Cook until it turns soft and tender.

Drain and set aside to cool down to the room temperature.

In a blender add this mixture and soaked cashews.

Puree until it becomes silky in texture. And set aside.
For the mac and cheese
Cook multi-grain elbow pasta as per the package instructions. Drain and set aside.

In the same pan, add a tablespoon of olive oil, minced garlic, and all-purpose flour.

Whisk for a minute, in medium flame.

Stir in the puree. And cook it until it thickens.

Then coconut milk, cooked pasta, nutritional yeast, and salt.

Cook it until it reaches desired consistency. Adjust the thickness with coconut milk if needed.

Sprinkle crushed pepper and fresh basil. And serve hot.
Notes
Add 1 tablespoon of lemon juice if you prefer.
Nutrition
Calories:
381
kcal
|
Carbohydrates:
42
g
|
Protein:
14
g
|
Fat:
20
g
|
Saturated Fat:
6
g
|
Sodium:
786
mg
|
Potassium:
806
mg
|
Fiber:
6
g
|
Sugar:
3
g
|
Vitamin A:
9970
IU
|
Vitamin C:
21.5
mg
|
Calcium:
72
mg
|
Iron:
4.1
mg
Do not miss the latest recipes and its tips, Follow us on Facebook, Pinterest, Instagram