This creamy, spicy mac and cheese recipe was inspired by a cheesy pasta we had at a restaurant last week. Best of all, this hot mac and cheese turned out to be even more ultimate and delicious.
Spicy mac and cheese is made with easily accessible ingredients. And this flavorful dish has a creamy texture that you're sure to love. What's more? This spicy twist on a classic recipe is simply delightful.
Why I Love This Spicy Mac & Cheese Recipe
For its bold flavors. The cayenne pepper and paprika combined with creamy cheese result in an incredibly delicious dish(like in this spicy chicken pasta, spicy rigatoni).
It's time-efficient. Prepare this spicy mac and cheese in less than 40 minutes! If you're using a cast-iron skillet(look how its helpful in this jalapeno corn dip), you're in luck. It'll be a one-pot wonder, minimizing clean-up time and maximizing your time out of the kitchen.
Simple Ingredients. Made with easy-to-find staple ingredients for quick and simple preparation(similar to this spicy penne pasta, spicy shrimp pasta).
Adaptable. Much like traditional mac and cheese, this recipe is highly adaptable(same as this spicy yogurt sauce, spicy alfredo sauce, and spicy peanut butter) . Also it's easy to adjust the heat level according to your personal preference.
The Ingredients
Macaroni. Elbow pasta is the classic choice in this spicy mac and cheese. But feel free to use multigrain or gluten-free pasta. You could also experiment with penne, ziti, or your favorite noodle shape.
Butter and Olive Oil. We have used both these-butter lends a rich flavor to the sauce, while olive oil adds a classic touch. Added to that, butter is used in this recipe to make the sauce, while olive oil is used to make the crumbles top.
Cayenne Pepper and Paprika. I've used ¾ teaspoon of paprika and ¼ teaspoon of cayenne pepper for moderate heat. To give you an idea, cayenne pepper is hotter than paprika. Adjust the quantities of these peppers according to your preference. If you prefer a milder mac and cheese, omit the cayenne pepper altogether. It will still taste great!
Onion Powder and Garlic Powder. Both are the flavor boosters that meld beautifully with each bite of this spicy mac and cheese.
Flour. Used to thicken the sauce. Also binds the milk and cheese well into a rich, creamy sauce that coats every piece of pasta(like this pumpkin pasta sauce) perfectly. This can be substituted with almond flour or rice flour.
How to Make Spicy Mac and Cheese
Cook the Macaroni. Over medium-high heat, bring a large pot of salted water to a boil and cook until it is al dente (which means it's cooked but still has a bit of a bite to it) since it'll finish cooking in the sauce. Set aside.
Make the Base. Meanwhile, over medium heat, place a pan. Add the butter and allow it to melt. Then sprinkle the flour while continuously whisking (this combination is called a roux).
Continue to cook for 1-2 minutes or until it turns a golden brown color.
Stir in Spices. Pour in the milk and whisk constantly to prevent lumps. Bring it to a boil.
Gradually add shredded pepper jack and Parmesan cheese.
And stir in onion powder, garlic powder, paprika, cayenne pepper, salt, and pepper.
Continue to whisk and then reduce the heat to low and let it cook for about 2-3 minutes, or until the mixture thickens.
Stir constantly until you have a smooth and creamy sauce.
Combine.
Quickly add the macaroni and fold it into the sauce until every piece of macaroni is covered in the delicious, spicy cheese sauce.
The spicy mac and cheese tastes excellent at this point. If you want a crunchy top, follow the instructions below.
Bake (optional). Mix breadcrumbs with olive oil and set aside.
Transfer your mac and cheese into a baking dish. Sprinkle the breadcrumb mixture on the top and broil on high heat.
Watch it closely and remove from the oven in 2-3 minutes or until the breadcrumbs turn a golden brown.
Enjoy this delicious spicy mac and cheese.
How to Store
Good news is this is a freezer-friendly recipe and also stays well in the refrigerator. For the best results, follow these tips.
Refrigerate. This spicy mac and cheese stays good for up to 3-5 days. Before storing, allow this dish to cool down to room temperature and opt for an airtight container.
Storing in an airtight container helps prevent the mac and cheese from drying out.
Freezer. First of all, allow the dish to cool to room temperature. Transfer it to an airtight, freezer-safe container or bag. This way, mac and cheese stays safe for about 2 to 3 months.
Reheating. When you're ready to eat your spicy mac and cheese, if it's been refrigerated, you can gently microwave it for a few minutes or until it's heated through.
Stir midway to ensure even heating. If it's frozen, it's best to let it thaw in the refrigerator overnight before reheating.
You can then reheat it in the microwave, or for a crispier top, place it in an oven-safe dish and bake at 350°F (175°C) until bubbly and heated through.
Best Side Dishes to Pair With
Feel free to get creative and enjoy your spicy mac and cheese with your favorite side dish.
Barbecued/Grilled Meat. The combination of smoky, grilled meat with the creamy, spicy kick of our mac and cheese is comfort food at its finest.
Vegetables. Roasted/steamed veggies and this hot macaroni dish are a match made in heaven. The natural crunch from the roasted vegetables tastes delicious when paired with creamy mac and cheese.
Baked Chicken/Seafood. Whether it's crispy chicken (like these chicken wings) or juicy baked chicken breast, chicken pairs beautifully with our hot mac n cheese. It's a hearty and satisfying meal combo.
Grilled Corn. Slightly charred, sweet, and smoky grilled corn complements the creamy spiciness of the mac and cheese. It's a summertime favorite.
Green Salad. For a lighter pairing, a fresh green salad with a tangy vinaigrette dressing pairs wonderfully with spicy mac and cheese. It helps cleanse the palate and adds a burst of freshness.
Variations
Try with sauces. Amp up the heat with buffalo sauce and shredded chicken. Top with blue cheese. Instead of cayenne pepper and paprika blend, try adding hot sauce, Sriracha honey sauce, or Cajun spices.
With Fresh Peppers. Add chopped jalapenos/habanero for a spicy crunch. Or bell peppers for a rich aroma.
Vegetables. Try combining it with broccoli, or zucchini to make it satisfying.
Each variation offers a different twist on the classic mac and cheese, turning up the spice and adding an unexpected flavor. Spice lovers rejoice!
Tools used for making
Colander. A good quality colander lasts longer and this helps draining the pasta easily.
Cheese Grater. If you're using block cheese, a grater is necessary for melting cheese evenly. Not to mention, block cheese provides a silky texture to this spicy mac and cheese.
Measuring spoons. These are important for accurate amounts of ingredients. And these magnetic ones are easy to store.
Printable recipe card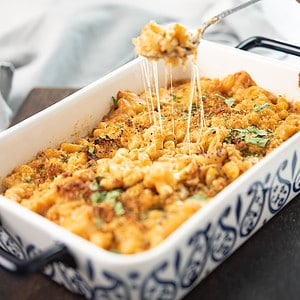 Spicy mac and cheese
Spicy mac and cheese, effortless to make. And the perfect blend of flavors-the spices and the cheese make this dish even more irresistible.
Print
Pin
Rate
Ingredients
½

pound

elbow macaroni

2

tablespoon

butter

2

tablespoon

flour

1 ½

cups

milk

1

cup

cheddar cheese

shredded

½

cup

pepper jack cheese

shredded

½

teaspoon

garlic powder

½

teaspoon

onion powder

½

teaspoon

smoked paprika

¼

teaspoon

cayenne pepper

¼

teaspoon

salt

¼

teaspoon

pepper

2

tablespoon

panko breadcrumbs

½

tablespoon

olive oil

fresh parsley

Chopped for garnish
Instructions
Preheat the oven to 375°F (190°C) and butter a 9x13 inch baking dish.

Cook the elbow macaroni according to package instructions in salted water until al dente.

Drain the macaroni and set aside.

In a saucepan, melt the butter over medium heat.

Whisk in the flour and cook for 1-2 minutes, until the mixture is smooth.

Gradually whisk in the milk and cook for 5-7 minutes, whisking constantly, until the mixture has thickened.

Add the shredded cheddar cheese and shredded pepper jack cheese, garlic powder, onion powder, smoked paprika, cayenne pepper, salt, and pepper, and stir until the cheese has melted and the mixture is smooth.

Add the cooked macaroni to the cheese sauce and stir to combine.

Pour the mac and cheese mixture into the prepared baking dish.

In a small bowl, mix together the panko breadcrumbs and olive oil, and sprinkle the mixture over the mac and cheese.

Bake for 20-25 minutes, until the breadcrumbs are golden brown and the cheese is bubbly.

Garnish with chopped fresh parsley and serve hot.
Notes
Adjust the spice levels by increasing or decreasing the amount of cayenne pepper according to your preference.
And baking with bread crumbs is optional.
Storing Ideas
Refrigerate. This spicy mac and cheese stays good for up to 3-5 days.
Freezer. Transfer it to an airtight, freezer-safe container or bag. This way, mac and cheese stays safe for about 2 to 3 months.
Reheating. You can gently microwave it for a few minutes or until it's heated through.
Nutrition
Calories:
536
kcal
|
Carbohydrates:
55
g
|
Protein:
22
g
|
Fat:
25
g
|
Saturated Fat:
14
g
|
Polyunsaturated Fat:
1
g
|
Monounsaturated Fat:
7
g
|
Trans Fat:
0.2
g
|
Cholesterol:
67
mg
|
Sodium:
535
mg
|
Potassium:
329
mg
|
Fiber:
2
g
|
Sugar:
6
g
|
Vitamin A:
891
IU
|
Vitamin C:
0.2
mg
|
Calcium:
444
mg
|
Iron:
1
mg
**Disclaimer: The nutritional information provided is an approximate estimate only.
Frequently Asked Questions
What's the best cheese for spicy mac and cheese?
Pepper jack, parmesan, mozzarella, sharp cheddar are some classic choices. But Gouda, Monterey jack, or a blend of cheeses also work well.
How can I spice up my mac and cheese?
Try swapping paprika with cayenne pepper. Or add fresh chili peppers like chopped jalapeno, habanero, or other hot chili peppers.
Does hot sauce go with mac and cheese?
Yes, absolutely. Pairing up dishes depends on individual choices. If you love hot sauce and mac n cheese. Go ahead, and enjoy yours. In fact, drizzle over while making the sauce and serve as buffalo mac and cheese.
Can I make this dish vegan?
Absolutely! Use vegan cheese, dairy-free milk, and vegan-friendly pasta.
Why is my mac and cheese dry?
If your dish is dry, you may need more liquid milk. Add a splash of water to dilute the consistency.