Easy, spicy roasted sweet potatoes are delicious. It's spicy, sweet, and vibrant; this simple sweet potato recipe is a twist on your classic grandma's recipe.
This spiced sweet potatoes turned out to be my go-to recipe to make a quick dish with just a few ingredients. These sweet potatoes are roasted to perfection that are coated evenly with a delicious spice blend.
One of my trust worthy-healthy recipes for potlucks and parties.
What does this dish taste like?
These hot and spicy roasted sweet potatoes are highly adaptable to meet your personal heat tolerance. So, the term Spicy in here is exactly the same spiciness you look out for.
Each bite of this spicy roasted sweet potato's outside is hot and salty, while the interior is moist and sweet. This right combination makes them more appealing same as this oven roasted peppers and onions.
The ingredients
Sweet potato. This spicy roasted sweet potatoes are deliciously soft. They are rich in fiber and have a mild sweet that perfectly works with the spices we are in.
Onion powder and garlic powder. The onion powder provides a flavor that pairs perfect with garlic powder. These combo provide us a robust aroma and a unique taste that lingers in the mouth.
Cayenne pepper. The cayenne pepper provides intense heat that hits the palate. If you worry about its spice level-you may completely swap it over the paprika or you may substitute with the portion that matches up your preference.
Red chili flakes. Red pepper flakes adds up most of the flavors and yes you definitely need it along with the cayenne paper
Olive oil. It's a binding agent you may swap with grapeseed oil or any other cooking oil of your choice.
How to make
Preheat the oven. Set the oven to 375°F.
Prep the sweet potatoes. Cut the sweet potatoes into 1 inch thick cubes cubes. And set aside.
Make the seasoning. In a large mixing bowl, add olive oil, onion powder, garlic powder, cayenne pepper, chili flakes, and salt. Give a gentle stir until all the ingredients combine together.
Coat with seasoning. Now add cubed potatoes and toss until each cube is evenly coated with the seasoning.
Arrange. In the baking tray arrange the sweet potatoes without crowding.
Bake. Bake for about 15 minutes or until the sweet potatoes center turns soft.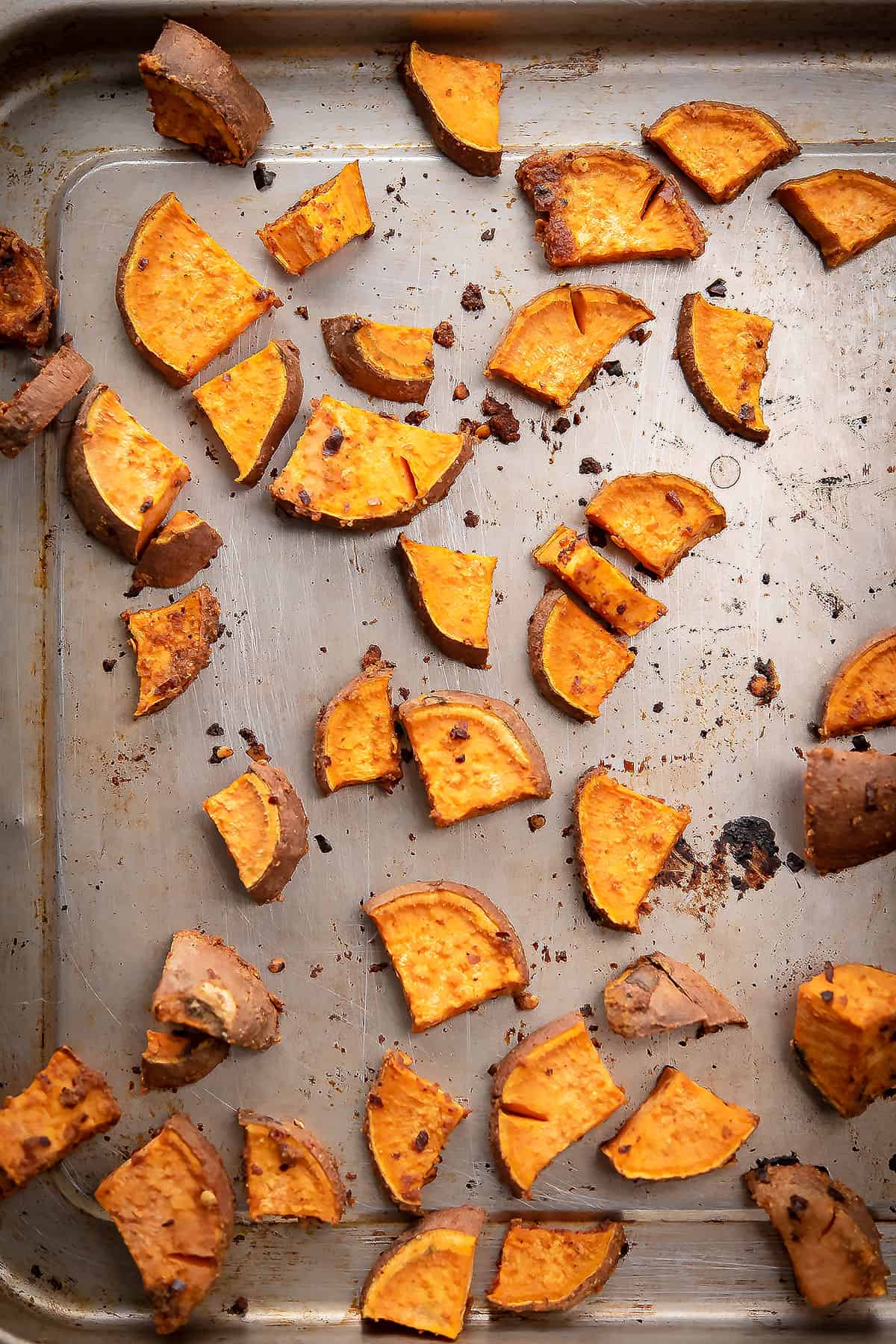 Enjoy!. Transfer it to a serving plate and serve hot.
Make ahead tips
This spicy sweet potato takes about 20 minutes to make. And the prepping work and making seasoning are so simple that you can make it in the flash of a moment effortlessly.
Make the seasoning in advance. And still if you are thinking of making ahead of time, make the seasoning mix in advance. As this spice mix is versatile. Not to mention here, that this spice mix is not only fabulous to make the sweet potatoes but also versatile to serve as a vinaigrette or as a dip.
Leftover storage ideas
Here are some tips for making a head and storage.
Refrigerate upto 3 days. The leftover dish is good to store for up to three days in the refrigerator. Always store them in the air sealed containers or with aluminum foil.
These are freezer friendly. Frozen spiced sweet potatoes play as a quick add-on for the salad or any other recipe that requires sweet potatoes. Transfer the leftovers to a freezer safe container and freeze them to use for up to three months. To thaw. Leave them in the refrigerator overnight, or gently microwave in small intervals.
To reheat. And reheat gently reheat in the oven, airfryer, or in the microwave until it turns warm.
What to serve with
This is a standalone snacking recipe, however the following are excellent options to serve along with her spicy baked sweet potatoes.
Dips. Boom Boom sauce, Pineapple jalapeno sauce, Sriracha Aioli Sauce.
Salads. Fiesta salad, Spicy Kale salad, Indian Carrot Salad, Fresco Salad recipe.
Soup. Tomato paste soup, oven roasted tomato soup, Spicy tortellini soup.
Fish. Grilled salmon, peppers stuffed with salmon.
Meat. Garlic chicken, cedar grilled chicken
Recipe variations
Increase the spice. If you prefer this spiced sweet potato to be hot and spicy, add in cayenne pepper more upto your satisfaction.
Cut down the space. Do you want to keep the spice level at bay, no worries, reduce the cayenne pepper or substitute with paprika.
Hot and sweet. Another must try variations is this awesome sweet and spicy combination. by adding a tablespoon of brown sugar. This is another favorite of a family.
Olive oil. This can be substituted for butter or with the clarified butter.
FAQs
Can I use the air fryer for making this spicy sweet potato?
Of course yes this recipe is perfect to make with the air fryer as well. For this set the temperature to 375°F for 15 minutes. And cook by tossing them occasionally.
Can I add potatoes to this recipe?
Yes this is an absolute new variation that can be done. For this, cut the potatoes of the same size similar to the sweet potato. And follow the same instructions as per the recipe.
Is this dish just a snacking recipe?
This spicy sweet potato is not just a healthy snacking dish, but also tastes great when it is added to the salad, soup, or baked beans.
More hearty snacks to try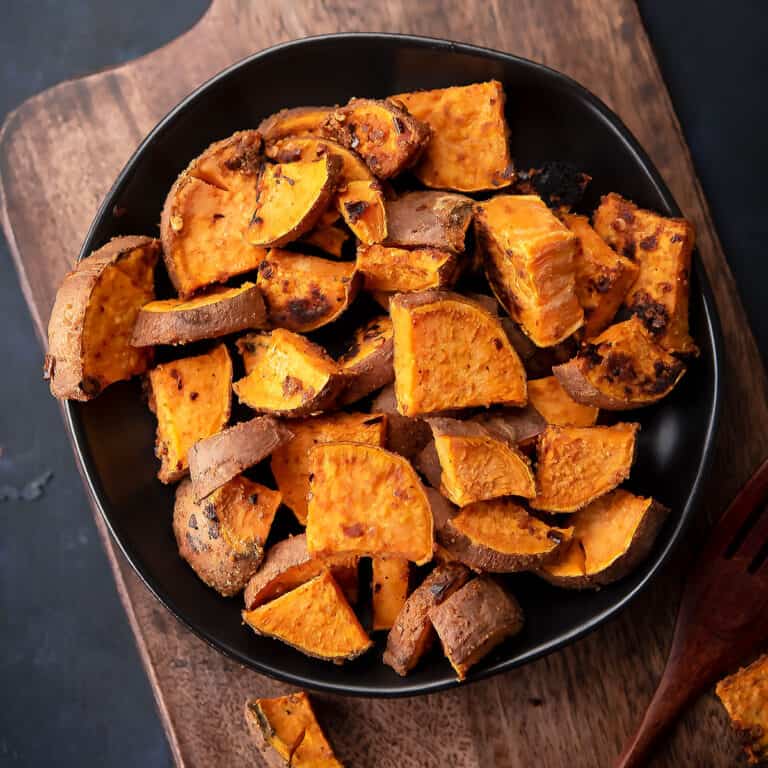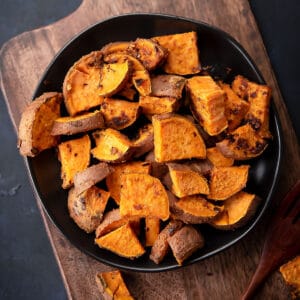 Spicy roasted sweet potato
This spicy roasted sweet potatoes recipe is easy and delicious. It's sweet and spicy-twist to the classic recipe.
Print
Pin
Rate
Ingredients
2

pounds

sweet potato

1

teaspoon

cayenne pepper

1

teaspoon

onion powder

1

teaspoon

garlic powder

1

teaspoon

red chili flakes

½

teaspoon

salt

1

teaspoon

olive oil
Instructions
Preheat the oven to 375°F.

Wash and clean the sweet potato and cut into cubes of 1 inch thickness. And set aside.

In a large mixing bowl add olive oil onion powder garlic powder red chili powder cayenne pepper red pepper flakes salt and olive oil.

In the baking sheet, without crowding-spread the spice coated sweet potato cubes evenly.

And bake it for 20 minutes or until the center is cooked.

Remove the sweet potatoes from the oven and serve hot.
Notes
Increase or decrease the heat level by adjusting the quantity of cayenne pepper.
Nutrition
Calories:
211
kcal
|
Carbohydrates:
47
g
|
Protein:
4
g
|
Fat:
1
g
|
Saturated Fat:
0.2
g
|
Polyunsaturated Fat:
0.2
g
|
Monounsaturated Fat:
1
g
|
Sodium:
425
mg
|
Potassium:
798
mg
|
Fiber:
7
g
|
Sugar:
10
g
|
Vitamin A:
32532
IU
|
Vitamin C:
6
mg
|
Calcium:
73
mg
|
Iron:
2
mg