I am so much fascinated with the peppers, today it turned as stuffed Shishito peppers. This snack is a perfect blend of rich pepper flavors, cool and calming cream cheese, with garlic flavors.
It's ultra delicious, not so hot and not so sweet, a succulent finger food for a game day or for a party crowd.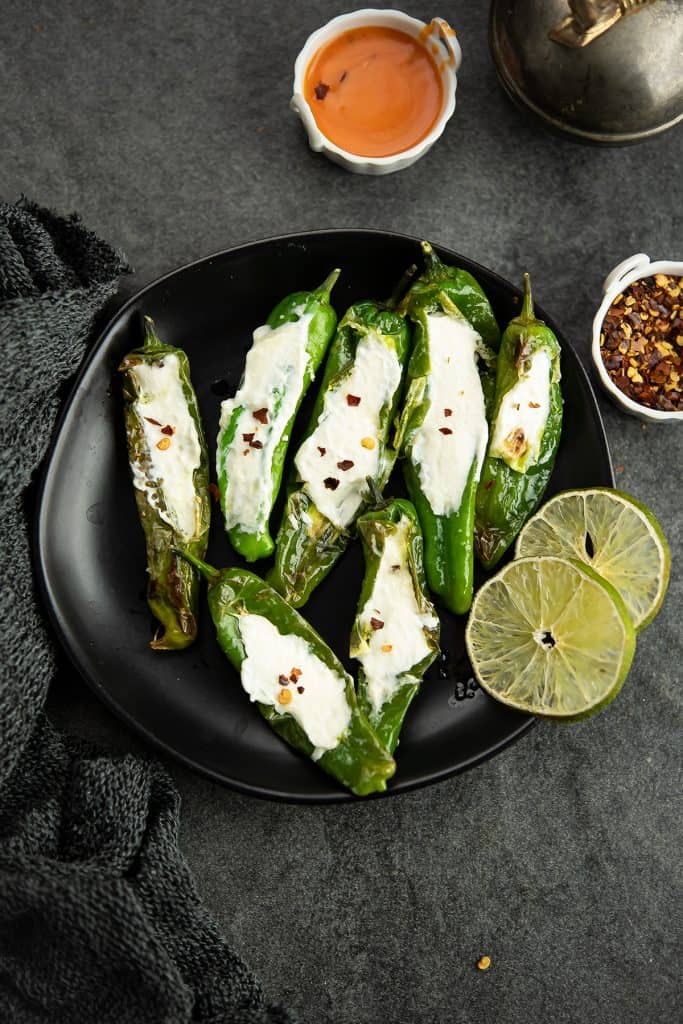 Cream cheese and peppers, a world renowned combination that works excellent here in this stuffed Shishito peppers recipe as well. This is an effortless recipe that satisfies both you and your friends.
Stuff the peppers with the pantry staple ingredients, pop them in the oven. That's it, a super quick party appetizer is ready to serve in the flash of moments.
Each bite of stuffed Shishito peppers gives you a delectable experience(like this peanut butter stuffed jalapenos). Firstly, rich peppery flavors hit the palate and then the cool cream cheese takes over, to soothe down the palate.
To put it all together, you can resist yourself to take off your hands after the first bite.
How hot is stuffed Shishito pepper?
Shishito pepper is considered as one of the mild peppers. Unlike jalapeño, this these will not hurt with its heat(A disclaimer, in rare cases some Shishito peppers may turn as hot. As the heat level in any pepper depends on the environment they have grown in).
You may be wondering, how hot are these? Well, generally speaking these stuffed Shishito peppers are perfect to serve for the entire family that tastes similar to bell peppers.
However if you still worry about its heat, taste test the Shishito peppers seeds before the prepping. Remove the seeds and the ribs if you find it hard.
The ingredients
Shishito pepper. Easy to find in specialty grocery stores or in the farmers markets during the summer time. My local Wegmans store carries these peppers throughout the year.
Cream cheese. Perfect combination with any peppers. And you find it works great in this recipe as well. If you prefer you may cut down a few calories of stuffed Shishito peppers, choose low-fat cream cheese. Vegan cream cheese is the closest substitute for a vegan diet.
Garlic powder. Provides a robust flavor and extra punch.
Red pepper flakes. Added to include spice kick. An optional ingredient, but I would highly suggest including.
How to make stuffed Shishito pepper?
Shishito pepper has more hollow space inside, which makes it great for stuffing.
Prepping. Preheat the oven to 450 degrees Fahrenheit. Wash and clean the peppers. Make a slit lengthwise by leaving a quarter inch at top and bottom of each pepper.
Mixing. In a small mixing bowl, add cream cheese, garlic powder, and red pepper flakes. And whip until it becomes fluffy.
Stuffing. Using a teaspoon, stuff the cream cheese mix inside the pepper. And arrange them in a baking tray.
Baking. Bake for about 7 minutes or until the peppers start blistering.
Serving. Serve stuffed Shishito pepper as soon as it's made(since, its skin is tender and hence gets flatten after 10 minutes).
How to serve?
As an appetizer. Think of game day or a party gathering, this stuffed Shishito pepper would turn out to be a perfect bite size snack. Serve them as a platter or along with a dip. These, jalapeno sour cream dip, Cajun aioli, Sriracha aioli.
As a side. It's awesome to pair up with steak, try cedar plank grilled salmon, cedar grilled lemon chicken.
How to store?
One of the main properties of Shishito pepper is to swell when roasting and deflate when cooled down. It loses its firmness while reheating, however you may use the leftover as a salad topping or to make a casserole.
Tool suggestions
Mixing bowl. A must tool for every kitchen and that works in here as well.
Baking tray. I love this baking sheets, perfect for making this stuffed Shishito peppers.