Do you ever think of your combining your favorite jalapeno and peanut butter? And wonder how this turns out in a recipe format? This peanut butter stuffed jalapenos recipe is the one place destinations for your quest.
This distinctive jalapeno, peanut butter combo is unbelievably delicious. It's slightly spicy and spectacular with the taste of peanut butter that melts in your mouth.
Jump to:
Jalapeno butter stuffed jalapenos is a quick dish that requires least to minimal preparation. Can be your last-minute additions for the game day or party. Additionally, loads of modifications and variations are possible to suit your family or the guest.
What's good about this recipe?
Since the prepping work is easy, there is more room to personalize each jalapeno bite to suit each individual. Make a batch of jalapeno halves spicy for the spicy food lovers. And another batch of mild peanut butter stuffed jalapenos for those whose palate is sensitive.
Plus, the ingredients required are simple and easy to find. Get into your pantry, you may have those already.
Our purpose in sharing recipes is to make everyone get into cooking with simple ingredients and easy procedures. And this stuffed peanut butter jalapeno recipe is the one we are all quite satisfied with and extremely happy to share with you.
Does this recipe needs any pro tips to get it perfect? or does it requires any special skills to be applied? Not at all.
If you know how to cut the jalapeno without hurting yourself, this recipe is like a breeze. All you are required is, divide the jalapeno, stuff the peanut butter, and bake it. That's it. But it has some modifications and enhancement are done to make it tastes excellent. We will see the possible variations and customizations below.
The ingredients
Peanut butter. I used the store-bought peanut butter, this is convenient and pleasing taste. It's rich in protein and low in carb makes this peanut butter stuffed jalapenos as a wonderful recipe to serve as a snack for the family or for the guest on game day.
Jalapeno. This decides the spice level of the poppers. The more you leave the seeds-on, the spicier the food is. And remove the seeds and the rib for mild versions of stuffed jalapeno. For the mild heat, you may swap with Cubanelle peppers.
Parika. Added to give a depth of flavor. And make the peanut butter glow with colors. And to mention here, paprika does not impact much on the heat. But the intense aroma that brings in more genuine.
How to make peanut butter stuffed jalapenos?
Preheat the oven to 350 degrees Fahrenheit.
Prepping the jalapeno. If you have sensitive skin wear gloves to avoid skin burn. Divide the jalapeno lengthwise into two.
Using a spoon remove the white membrane and the seeds completely. Reserve the seeds.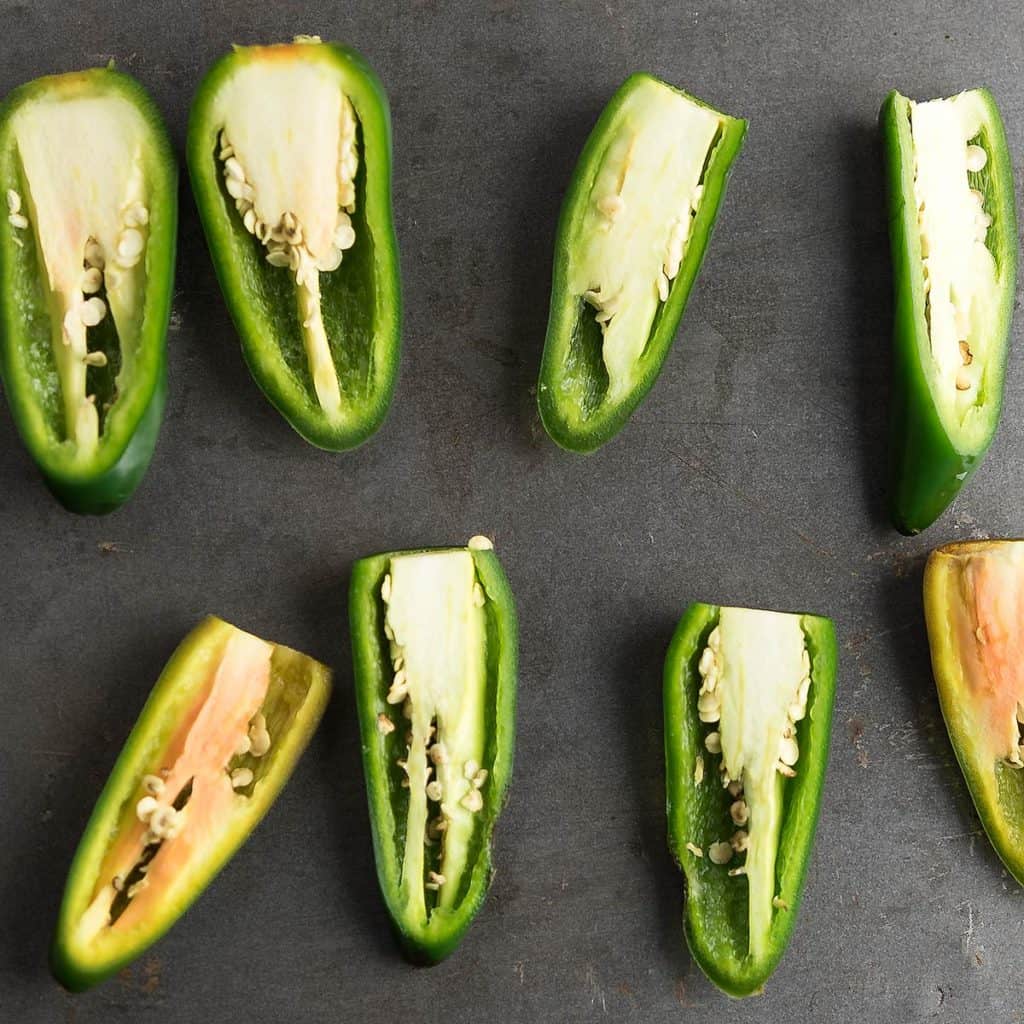 Prepping the stuffing. In a mixing bowl, add peanut butter and paprika. You may add in the reserved jalapeno seeds to increase the heat of peanut butter jalapeno poppers tremendously.
As a side note to add, we eat spice food a lot and feel the peanut butter with just paprika alone has the right amount of heat.
Bake. Arrange them on the baking sheet without crowding. And bake for about 20 minutes or until the jalapenos turns soft.
Serve. Enjoy as finger food or with the dipping sauce.
Best pairing ideas
This peanut butter poppers are wonderful to hold as a stand-alone finger food appetizer. However, it is great when served with
Dipping sauce. A cool, soothing dipping sauce like mayo, ranch works fine.
Spicy sauce. If you prefer something more spice, serve with sriracha mayo, boom boom sauce, jalapeno aioli.
Salad. A simple salad like fresco salad, greek yogurt cucumber salad, or cucumber mango salad tastes delicious.
Spicy side. When looking out for more spicy sides, serve with sides like spicy kale salad.
Storing ideas
To store. Transfer the leftover peanut butter stuffed jalapenos to an air-sealed container. Refrigerate to use up to 5 days.
To reheat. Rewarm in the preheated oven for 350 degrees Fahrenheit for up to 10 minutes or until it is warm. Or gently rewarm in the microwave for about 30 seconds or in increments until it is warm.
Freeze. Freeze the poppers in the freezer-safe airtight containers or bags to use for about 2 months. To thaw, refrigerate the frozen jalapeno overnight.
Pro tips-Make for a party
This section specially dedicated to the party planners. This peanut butter stuffed jalapeno is a delicious party-friendly recipe that never disappoints you. You may make ahead of the prepping work ahead of a day to avoid last minutes fusses and messes. To make ahead,
Cut the jalapeno and core the seeds, as we do for roasting jalapeno. And store them in the zip lock covers in the refrigerator.
Blend the peanut butter and the paprika in the zip lock bags ahead of a day.
When needed, arrange them in the tray, snip the spiced peanut butter bag in the corner. And squeeze over the hallow of the jalapeno.
And pop them in the over when needed.
It stays good and fresh up to 2-3 hours at room temperature. So, plan accordingly.
Ideas for using the leftovers peanut butter jalapeno poppers
Jalapeno peanut burger. Use them the burger as the second layer over the protein patty.
Sandwich. Same as burgers, sandwich stuffed with these spicy poppers tastes fabulous.
Casserole. Slice and sprinkle over a casserole. Breakfast or dinner casserole turns our great with this add on.
Tools required
Measuring spoons and cups. To achieve the same good results every time we make.
Airtight containers. This is essential when storing the leftovers, or prepping ingredients.
Freezer friendly storage bags. Investing in good quality is durable.
Baking sheet. A good quality baking sheet that holds the heat evenly works not only here, but great for all the recipes.
Melon corer. Spoon does a good job of removing the jalapeno seeds. But these are wonderful.
Other jalapeno recipes,
Printable recipe card
Peanut butter stuffed jalapenos
This peanut butter stuffed jalapenos are unbelievably delicious. A party friendly, easy recipe with perfect heat and melts in your mouth.
Print
Pin
Rate
Ingredients
½

cup

peanut butter

½

teaspoon

paprika

6

jalapeno
Instructions
Preheat the oven to 350 degrees Farenheit.

Cut the jalapenos into halves.

Remove the seeds and the rib with a spoon.

And arrange them in a baking sheet without crowding. And set aside.

In a small mixing bowl, add the peanut buttter and paprika.

Mix until they combined well.

Scoop and fill the set aside jalapeno's cavity.

Repeat the process for the remaining jalapeno halves.

Bake it for 20 minutes or until the jalapenos are soft.

Enjoy as it as or with a dip
Notes
The filling quantity varies with the size of the jalapeno,
Whip the peanut butter mix according to the size of the jalapeno cavity.
You may add in the jalapeno seeds to the peanut butter filling to increase the heat.
Nutrition
Calories:
262
kcal
|
Carbohydrates:
10
g
|
Protein:
11
g
|
Fat:
22
g
|
Saturated Fat:
5
g
|
Sodium:
198
mg
|
Potassium:
349
mg
|
Fiber:
3
g
|
Sugar:
5
g
|
Vitamin A:
491
IU
|
Vitamin C:
33
mg
|
Calcium:
22
mg
|
Iron:
1
mg
Recommended tools for making this recipe
Paring Knife. This small and sharp tool is optional, helps for hollowing out the jalapenos, making them ready to be stuffed with delicious peanut butter.
Piping Bag. This one is optional, but gives you the control needed to perfectly stuff each jalapeno in this peanut butter stuffed jalapenos.
Baking Tray. A solid baking tray is a must for evenly roasting these flavor-packed bites.