This flexible spicy peanut butter recipe is unique, bring the heat to enhance your regular dishes in a more interesting way. It has an intense depth of flavors with the warm spice blends, that are a pantry staple.
This spicy peanut butter is a no-cook recipe that is excellent to modify the classic peanut butter sandwich. A copy cat recipe of the hot peanut butter on the stores.
An one spot wonder to prove that a few simple ingredients make a tremendous change in the resulting product.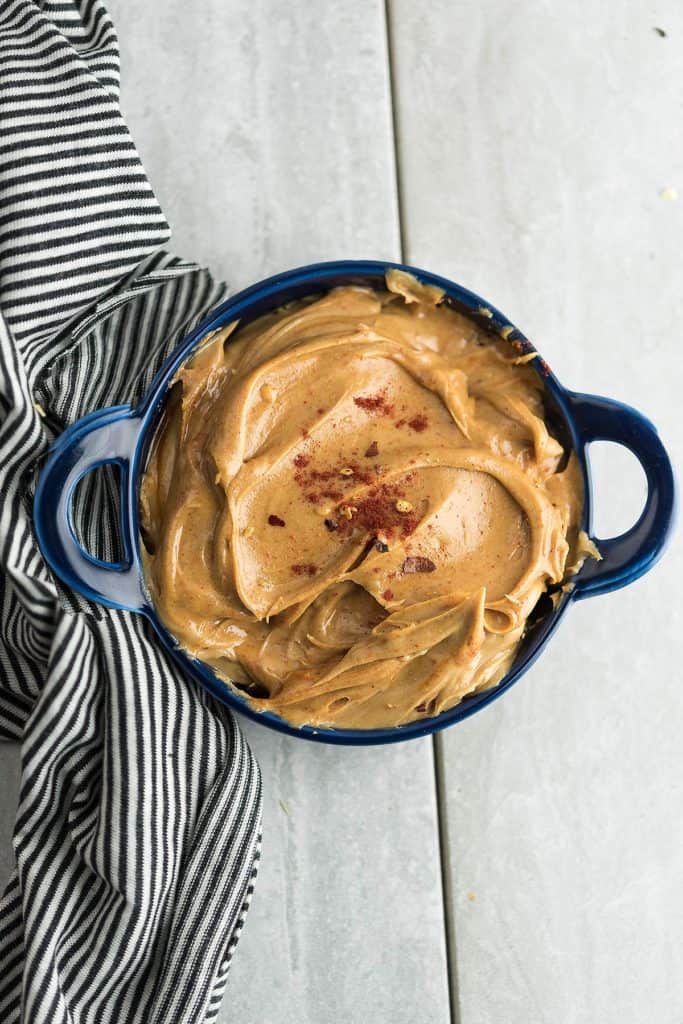 Jump to:
We really wanted to recreate this hot and spicy variation after we encounter a spicy dip offered in the restaurant. It resulted in intense flavors and the heat it provides is subtle. Get the taste of the butter along with the heat, with tiny tweaks.
I'm sure everyone has peanut butter in your pantry. However, have you ever thought of making it hot? If not, this spicy peanut butter is a must-try recipe.
Even if you are thinking of making it a huge batch, try making with 4 tablespoons and explore the world of delicious. Furthermore, it has a limitless option to incorporate into the meals.
Why you would love it?
This is delicious with the right amount of heat and the depth of flavors. The heat is highly customizable to suit personal heat tolerance. Tastes better than the store-bought and costs a fraction of it.
The spicy peanut butter recipe is effortless and no cooking is involved. The using options are limitless, you can simply use this in any recipe that calls for peanut butter.
Made with inexpensive pantry staple ingredients and with longer shelf life. These features make it possible to enjoy anytime whenever the craving strikes.
Could turn as your best spicy condiments for sure.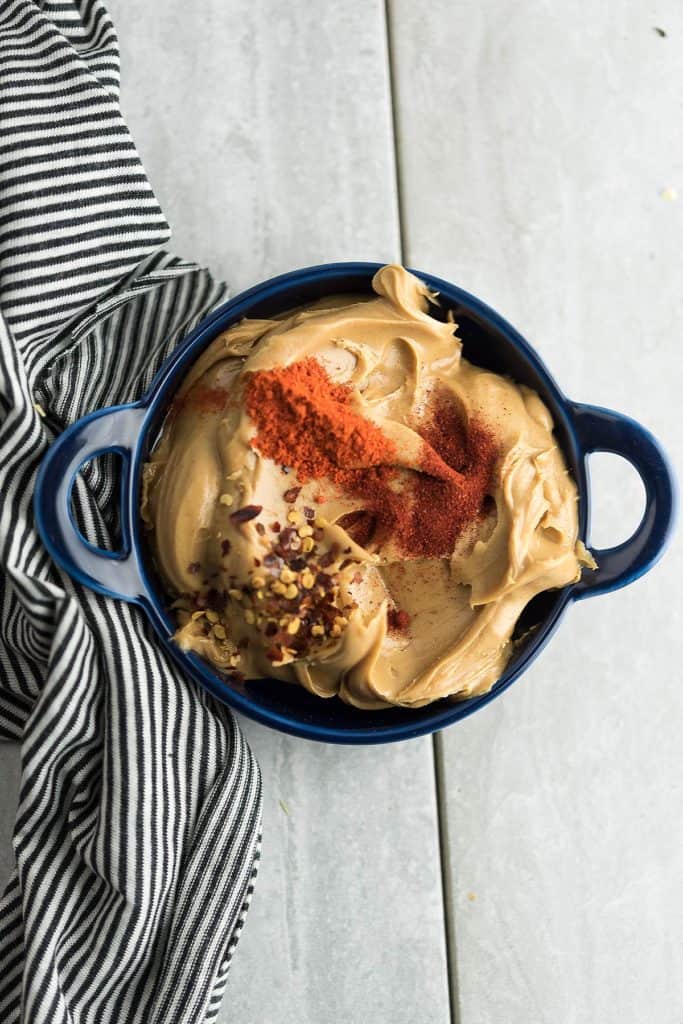 The ingredients
Peanut butter. The brand? anything you have already used and comfortable with. The brand does not come into the picture. You may opt-in for silky or crumbled texture, however, you like it. Feel free to use if you have homemade peanut butter as well. It's a good source of protein and vitamin B6.
Cayenne pepper. Responsible for the real heat and the umami of spicy peanut butter. Once combined, it is unbelievably flavorful and plays subtle. Adjust the quantity as per your personal preference.
Paprika. Added for its rich color and the intense aroma. It does not alter the heat much however a must ingredient.
How to make?
Sprinkle. In a mixing bowl, add peanut butter, cayenne pepper, and paprika.
Combine. Using a fork or a whisk, mix vigorously until the spices blends evenly.
Resting time. Allow it to sit overnight for the vibrant kick. And relish.
How to serve?
Use this spicy peanut butter same like the classic peanut butter.
Sandwich. How come ever skip this when talking on this topic. The most favorite of my taste testers, and mine as well. Spread lavishly over the bread slices and enjoy. Could be a protein-rich breakfast or an instant snack.
Dipping sauce. Combine with hot water or honey to serve as an instant dipping sauce.
Cookies. Replace the original peanut butter with our spiced version. And to mention especially-let the guests ask you for the secret behind it.
Spiced ice cream. Blend with frozen banana, voila! This spiced ice cream is ready with a bundle of excellent tastes.
And more. Incredible for stuffing the crepe or dressing for salad, for marinating the meat, and more.
Storing Ideas.
Cabinets. Store spicy peanut butter in an air-sealed container in the kitchen cabinet for up to 1 month.
Refrigerate. To use up to 2 months.
Freeze. To use for a maximum of 6 months. To thaw, refrigerate it overnight. And stir well with a fork to fluff up and serving.
The variations.
Chili powder. Substitute cayenne pepper with chili powder or any other pepper blend that suits your heat tolerance.
Use Haitian seasoning or cajun seasoning. Each addition brings new dimensions to spicy peanut butter. That makes the main dish so much delectable.
Curry powder. Over to the top aroma, one of the easiest methods to make the food curried instantaneously.
Hot sauce. Swirl hot sauce, but does not have the shelf like. Best to be made and served immediately.
Why both cayenne pepper and paprika?
Both are added for different purposes. The first one is for the heat and the latter is responsible for the color and adds a depth of flavor.
Does it really need a resting time?
Yes, the resting time is suggested. This makes the spices get blends and gels with the hot peanut butter. Makes spicy peanut butter-rich and proficient.
Equipment.
Mixing bowl. A mixing bowl like this helps not only in this recipe but in other dishes extremely.
Whisk. A right sturdy whisk makes the work easy.
Measuring cups. One of the must in any kitchen.
Measuring spoons. Can anyone skip this when building up the kitchen gadgets?
Other easy spicy recipes you may like,
Printable recipe card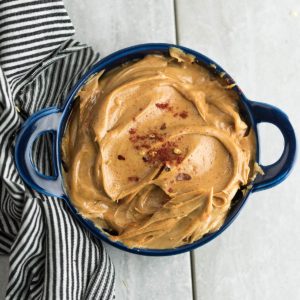 Spicy peanut butter
This flexible spicy peanut butter recipe is unique with an intense depth of flavors. A no-cook recipe with the pantry staple ingrediets.
Print
Pin
Rate
Instructions
In a mixing bowl, add peanut butter, cayenne pepper, and paprika.

Whisk vigroursly until all the ingredients combined together.

Allow it to rest it for 8 hours until the butters blends with the spice mix.
Notes
Serve as a spread or as a dip or as a base for salad dressing.
Store.
Store in the kitchen cabinet for up to 1 month in an airtight container.
Refrigerate to use up to 2 months.
Freese to use for a maximum of 6 months. To thaw, refrigerate it overnight. And stir well with a fork to fluff up and serving.
Nutrition
Calories:
191
kcal
|
Carbohydrates:
7
g
|
Protein:
8
g
|
Fat:
16
g
|
Saturated Fat:
3
g
|
Sodium:
148
mg
|
Potassium:
216
mg
|
Fiber:
2
g
|
Sugar:
3
g
|
Vitamin A:
188
IU
|
Calcium:
14
mg
|
Iron:
1
mg
Recommended tools for making this recipe
Whisk. This is one of the secret to the smoothest, creamiest spicy peanut butter. Add a touch of spice, and you're in peanut butter heaven.
Silicon Spatula. It'll make sure not a bit of your spicy peanut butter is wasted.
Glass jar. Store your homemade spicy peanut butter in a charming glass jar. Remember, presentation is everything!