Hot and creamy jalapeno cream cheese made easy with a handful of ingredients. A must try spicy condiment that tastes like jalapeno poppers in a dip version. One of the best tailor-made recipes for a party or potluck.
Additionally, great for prepping ahead of time. The fun part is-it tastes delicious when served chilled.
Whip up this delicious jalapeno spread in under 10 minutes. Use a food processor, or a blender and witness a party appetizer dish ready in a flash of a moment.
This jalapeno cream cheese is versatile, serving them as a dip, or as an ingredient in making jalapeno popper, or as a spread.
Then why wait? make this easy to put together spicy cream cheese and thank yourself for trying this recipe.
Coming back to the context, this Jalapeño cream cheese is one of my favorite dips similar to our cranberry jalapeno dip, jalapeno artichoke dip, jalapeno sour cream dip.
Serve it with the fresh cut vegetables like pepper, carrot, broccoli, celery, cracker, sour bread, baguettes, pretzels, or even simply pour over pasta and make an effortless weeknight meal.
Highlights of jalapeño cream cheese
This hot cream cheese dip is thick, velvety, has a hint of heat but abundant flavors of jalapeños.
Are you searching for a recipe when the jalapeños are in season? This jalapeno cream cheese is one for the best find.
A simple and straightforward recipe that is a great fit for everyone who wants to try and serve the guests with homemade food.
Plus, a cost effective, refreshing substitute for the store-bought flavored cream cheese packages.
Ingredients
Cream cheese.The main ingredient, I have used the store bought one. If you prefer adopting this jalapeno cream cheeserecipe the vegan way, opt for vegan cream cheese.
Onion powder and garlic powder. The flavor enhancers, and bridging ingredients for the cream cheese and jalapeno. I would highly suggest using both together.
Jalapeño peppers. Jalapeños pepper has its heat in its ribs, add in the seeds. You may leave them or remove them completely depending on your tolerance towards heat.
For this recipe I have discarded about 70% of the seeds. As I wanted to have the cheese sauce to be mildly hot but with bold jalapeno flavors. If you want your cheese sauce to be hot, add in more seeds.
If you're unsure how much heat you want, while chopping the jalapeños, reserve the seeds. When done, taste jalapeno cream cheese and add the seeds with a little quantity at a time until it matches your heat preference.
I always mention in each post to avoid any miss handling jalapeño mistakes and links. Always wear a pair of gloves while handling jalapeno to avoid any skin irritations.
How to make jalapeno cream cheese
In a food processor, toss in all the ingredients like, cream cheese, deseeded jalapeno, onion powder, and garlic powder.
Pulse until all the ingredients are combined together.
Transfer to a dipping bowl, and serve with crackers, chips, sour bread, or fresh cut vegetables.
How to store and make-ahead ideas
Make ahead. This jalapeno cream cheese dip is excellent to store in the refrigerator and you may prep and store this spicy dip 5 days ahead. Furthermore, the flavors infuse well with cream cheese after a day of making.
Refrigerator. You may store the leftover cream cheese for about a week in the refrigerator in an airtight container.
Freeze. Transfer the cream cheese to a freezer friendly container or a freezer bag and you may freeze for up to six months. And to thaw, refrigerate them overnight.
How to use Jalapeno cream cheese
As a spread. A classic way is using this spiced cream cheese as a spread. Slather over a slice of bread, bagel. And would be best with this spicy french toast.
As a dip. The first choice of enjoying this jalapeno cream cheese dip. It's creamy, silky with a little punch. Cracker, pita chips, vegetable cuts, spicy tortilla chips are some to mention. Dunkin a broccoli floret, or a celery, and enjoy its creaminess.
As a sauce. Toss this creaminess in the mac and cheese, or with the cooked pasta. And make a quick dinner.
As stuffing. In wonton, jalapeno poppers,stuffed shells, stuffed chicken breast,
As a star ingredient. Adds a touch of richness and spiciness to any recipe that calls for cream cheese. Think of chowder recipes or soup recipes. Stir in oat meals or toss in mashed potato and feel the magic.
Tools suggestion
Food processor. This is what I use, very convenient to make even small quantity dipping mix.
Knife. Precession and convince are the prime requisite, and its met here!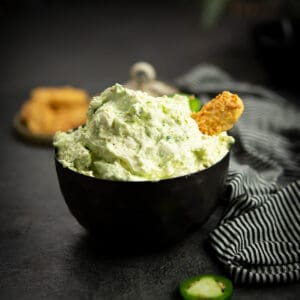 Jalapeno cream cheese
Creamy jalapeno cream cheese dip recipe is simple and easy. This delicious, spicy condiment that's versatile to serve as a dip or as a spread.
Print
Pin
Rate
Ingredients
8

oz

cream cheese

1

tablespoon

garlic powder

1

teaspoon

onion powder

1

jalapeno
Instructions
Cut the jalapeno into half. Remove the seeds and the white membrane and reserve them to add later according to our personal preference.

In a food processor jar, add cream cheese, garlic powder, onion powder, deseeded jalapeno.

Pulse until all the texture becomes smooth.

Taste and check the heat, if you want to increase the spice level, you may add in more seeds(that you have reserved already).

And serve with chips or crackers.
Notes
Wear gloves while handling jalapeno, of you have sensitive skin.
Nutrition
Calories:
136
kcal
|
Carbohydrates:
3
g
|
Protein:
3
g
|
Fat:
13
g
|
Saturated Fat:
7
g
|
Polyunsaturated Fat:
1
g
|
Monounsaturated Fat:
3
g
|
Cholesterol:
42
mg
|
Sodium:
123
mg
|
Potassium:
83
mg
|
Fiber:
1
g
|
Sugar:
1
g
|
Vitamin A:
558
IU
|
Vitamin C:
6
mg
|
Calcium:
40
mg
|
Iron:
1
mg