A smooth and creamy dipping sauce-this Boom Boom sauce is versatile and will never break. Contrarily it tastes fabulous than your expectation. It's sweet, spicy with an amazing blend that satisfies your taste buds.
It is so easy to put it together. And you'll find yourself making this special Sriracha sauce at least once a week to spice up your food.
Jump to:
About this recipe
With just a few minutes whipping up, an boom boom sauce is ready that the whole family loves. Potential to serve with anything, it instantly boosts up the flavors of the fries, the burgers, chicken, hot dogs, and much more.
Initially, I made this to serve with shrimp tacos, Later this excellent dip turned out as our most preferred dip.
What is boom boom sauce?
If you have had any takeouts from the Sheets or the Bonefish grills you will not be asking this question. It is a versatile dipping sauce that is slowly getting popular because of its unique taste. And this recipe is the homemade version of the Sheet's popular sauce.
What does this sauce taste like?
It's creamy, hot, and sweet with a zing. An excellent flavorful sauce to enjoy as a dip with the fries or as a topping for burger or hotdog.
How to make Boom boom sauce?
The ingredients are pantry staple and easy to find in the stores. Moreover, all the ingredients except the mayo have longer storage time so you can enjoy it whenever you think of it. Surprisingly in less than 5 minutes.
The ingredients
Mayo. You may use any brand off mayonnaise, the homemade or the olive oil mayo also works better. I prefer using light mayo in this spicy sauce recipe.
Sriracha sauce. It's an Asian style hot sauce, And most of the leading store carries, you may find it in their international aisle. If you like Asian recipes, I would suggest grabbing a bottle. And perfect hot sauce and goes in with any recipes like Sriracha shrimp pasta, spicy garlic edamame.
Sweet chili sauce. An Asian style hot and sweet sauce. I would strongly recommend using the sauce however you may substitute with half a teaspoon of refined sugar.
Tomato ketchup. Provides a classic touch to the boom boom sauce and complements the sriracha's heat as well. Also, give a mildly sweet and glassy texture.
Garlic powder. Aroma enhancer, swap it with fresh minced garlic if you prefer. Garlic powder and the onion powder requires at least half an hour for setting down. The sauce tastes great if it sits down for an hour.
Onion powder. Balances the garlic flavor, and brings all the other ingredients together. You may skip using it but I would not recommend swapping with fresh onion, as it can turn runny because of its moisture content.
Dijon mustard. Adding Dijon mustard is my personal choice, gives a toasty flavor. You may substitute with yellow mustard sauce as well.
The recipe direction
for the boom boom sauce, place a small mixing bowl, add mayo, sriracha sauce, sweet chili sauce, tomato ketchup, garlic powder, onion powder, dijon mustard.
Whisk until all the ingredients combine.
And serve with fries or hot dogs.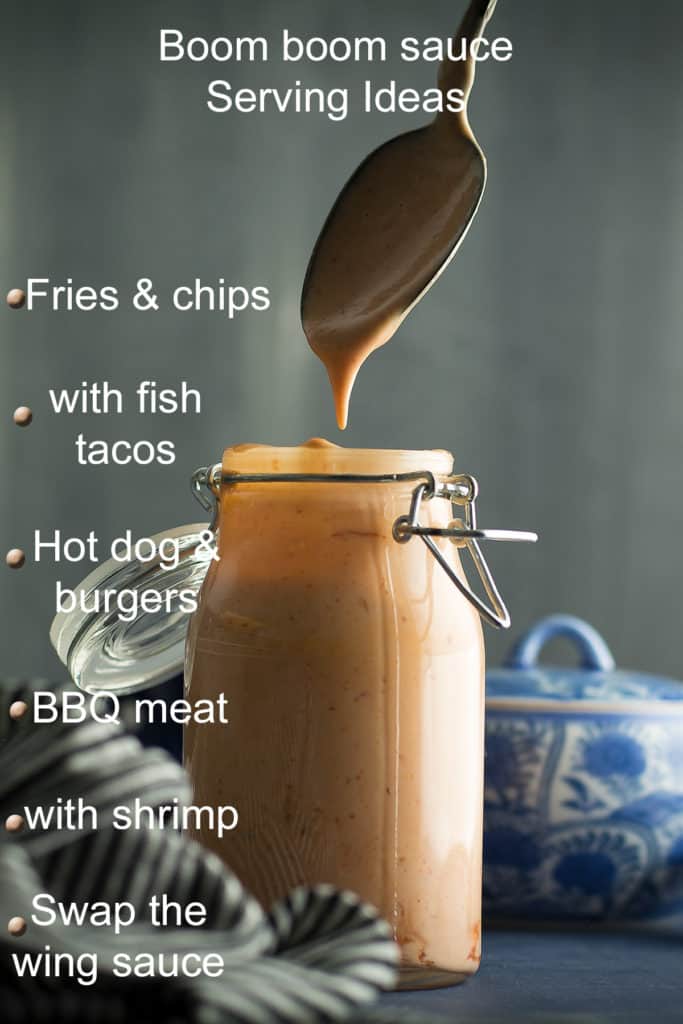 Serving ideas.
Tacos. I find this is the best sauce to serve with tacos, and shrimp tacos have the special mention here.
Shrimp. Got some grilled shrimp, or sauteed shrimp, drizzle lemon juice over the shrimp and dip the boom boom sauce, feel the heaven before you.
Wing sauce. Swap your wing sauce with this spicy sauce, and you will not be disappointed.
French fries and bbq. This dip makes the grilled, barbequed meat a finger-licking good.
Hot dogs and burgers. Serve as a topping and add a layer of flavors.
Storing ideas
Make-ahead. Make the boom boom sauce upto a day in advance, it tastes better when made 2-3 hours prior. Store in an ait tight container in the refrigerator.
To store. Transfer the leftover to an air-sealed container and refrigerate it upto 3 days.
Recipe adaptions
Vegetarian. This is naturally a vegetarian recipe.
Vegan. Omit mayonnaise and use eggs-free vegan mayo instead.
Spice up. Increase in the quantity of sriracha sauce for more heat.
Flavors. Try adding horseradish, old bay seasoning, or cajun seasoning.
The recipe FAQ
How to minimize the spice level once made?
You know to minimize the heat by reducing the sriracha in this recipe. But if you feel the sauce too spicy to handle once made, just add a blob of mayo or butter little at a time. And whisk vigorously until combined.
Is boom boom sauce spicy?
Yes, this sauce is mildly hot.
Does this sauce have dairy products?
This recipe is dairy-free and does not call for milk or milk products.
Looking for more dipping sauces?
Printable recipe card
Boom boom sauce
A smooth and creamy dipping sauce-this Boom Boom sauce is versatile and will never break. Plus, it tastes fabulous than your expectation.
Print
Pin
Rate
Ingredients
1

cup

mayonnaise

light or regular

2

tablespoon

Sriracha sauce

/add more for more heat

2

tablespoon

sweet chili sauce

1

tablespoon

tomato ketchup

1

teaspoon

garlic powder

1

teaspoon

onion powder

1

teaspoon

dijon mustard

optional
Instructions
In a mixing bowl, add mayonnaise, Sriracha sauce, sweet chili sauce, tomato ketchup, garlic powder, onion powder, and dijon mustard.

Whisk until all the ingredients combined together.

Transfer to a serving bowl and enjoy with fries or meat.
Notes
Adjust the quantity of Sriracha sauce to suit your heat tolerance.
You may add horseradish sauce or cajun seasoning for different variations.
Nutrition
Calories:
408
kcal
|
Carbohydrates:
7
g
|
Protein:
1
g
|
Fat:
42
g
|
Saturated Fat:
7
g
|
Cholesterol:
24
mg
|
Sodium:
661
mg
|
Potassium:
42
mg
|
Fiber:
1
g
|
Sugar:
6
g
|
Vitamin A:
56
IU
|
Vitamin C:
5
mg
|
Calcium:
4
mg
|
Iron:
1
mg