Introducing fish taco sauce recipe, a condiment that makes fish and seafood tacos fabulous. This Sriracha-infused fish taco sauce tastes delicious with a creamy texture and medium heat. Plus, it's easy to whip up, enhancing the fish taco's overall flavor profile.
Why do all of you love this creamy chipotle sauce so much?
Easy to make: An effortless homemade fish taco sauce is ready with pantry staples. Mix mayonnaise, spicy Sriracha sauce, lime juice, and garlic powder; that's it(did you try this jalapeno cilantro sauce).
Crowd pleaser: Hosting a taco Tuesday? Double this recipe and watch your guests enjoy every bite of their best fish tacos topped with this creamy fish taco sauce(like this Sriracha aioli sauce or this honey Sriracha sauce).
Versatile: Not just for fish tacos, this sauce is perfect as a vegetable dip, on salmon tacos, or even as a tangy sauce(another suggestion is green taco sauce) for breakfast tacos.
Adjustable spice level: Sriracha sauce is the only heat source in this fish taco sauce. If you prefer a spicier kick, alter the amount of sriracha sauce(refer to this for more details, boom boom sauce or spicy yogurt sauce). No worries, it won't compromise its creamy texture or thickness. So, go ahead and use as much as you desire!
The ingredients
Mayonnaise: Provides the sauce with a rich creaminess. Feel free to choose light mayo or olive oil-based mayonnaise. If you do not like mayo, swap it with sour cream or Greek yogurt for a different twist. However, remember that these variations have different flavors and textures but will still be delicious.
Sriracha sauce: Adds a spicy kick and mild sweetness. If you're seeking an alternative, hot sauce can also be substituted.
Lime juice: A squeeze of lime juice brings freshness. Lemon juice works great, too.
Garlic powder: This sauce can use fresh garlic or garlic powder. Both are great!
How to make it?
Combine the ingredients: In a small bowl, add mayonnaise, sriracha sauce, lime juice, garlic powder, salt, and pepper. Combine them well with a whisk or a spoon until all the ingredients are thoroughly combined and until the sauce turns to smooth textures without any lumps.
Taste and Adjust: Add more sriracha sauce to your heat tolerance if you want it spicier. And whisk again to blend this well with the base sauce.
Serve: Drizzle it over your favorite fish tacos recipe, crunchy slaw, or even tortilla chips.
How should I store this?
Refrigerator: Transfer the fish taco sauce to an airtight container and store it in the fridge for 3 to 4 days.
Freezer: If you have this fish taco sauce that you want to keep for a more extended period, transfer it to a freezer-safe container or individual freezer bags(for your convenience, them with dates) and store spicy sriracha fish taco sauce in the freezer for up to three months.
Thawing: When ready to use the sauce, take it out of the freezer and place it in the refrigerator overnight. This process helps retain the texture and flavor of the sauce.
Reheat: The mayonnaise won't maintain consistency and cuddles once heated, so it is best to serve it cold straight from the refrigerator.
Best to serve with
Fish Tacos: Perfect topping shrimp taco or for any taco, especially seafood tacos(and this spicy black bean taco).
Grilled meat: It's not just for fish tacos. Try it on grilled shrimp, salmon(this cedar plank grilled salmon), chicken, or other meat. It adds a nice, spicy touch.
Rice Bowls: Drizzle some over a bowl of rice with veggies and your choice of protein for a quick and tasty meal.
Eggs: Believe it or not, some of this sauce can jazz up scrambled eggs or an omelet.
Burgers and Hot Dogs: Swap out traditional condiments for a bit of this sauce to add a new twist to your BBQ favorites.
Salad Dressings: Mix it into your cabbage slaw or salad for a spicy and tangy flavor.
Variations
Sweet and Spicy: Mix honey or brown sugar for a sweeter sauce. This can help balance the spiciness.
Asian-Inspired: Mix in hoisin or soy sauce for an Asian flair. This combo works well if you use the spice in stir-fries or rice bowls.
Extra Spicy: Add extra sriracha sauce, crushed chili peppers, or chili powder if you love the heat.
Vegan Version: Use vegan mayonnaise or yogurt to make a plant-based version of the creamy sriracha sauce.
Bold flavors: Add any one of these extra ingredients like onion powder, green onion, or minced red onions,
Chipotle: Add chipotle peppers in adobo sauce for authentic Mexican flavors.
Cooking tips
Balancing the Heat: Sriracha sauce can vary in heat level depending on the brand. Start with a little less and then add more to match your expectations.
Let It Rest: If you have time, let the sauce sit in the refrigerator for an hour. This resting period allows the flavors to meld together and intensify.
Printable recipe card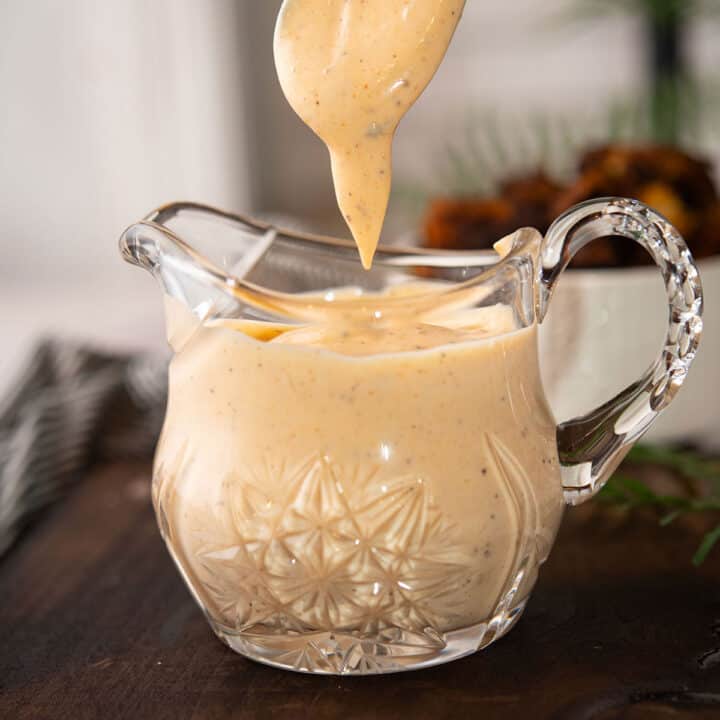 Sriracha Fish Taco Sauce
Discover the delicious fish taco sauce recipe! Creamy, with Sriracha's heat, this effortless sauce instantly enhances any seafood tacos.
Print
Pin
Rate
Instructions
combine mayonnaise, sriracha sauce, lime juice, garlic powder, salt, and pepper in a small bowl.

Stir well until all the ingredients are thoroughly combined and the sauce smooths.

Taste and adjust seasoning if needed.

Use immediately as a sauce for fish tacos or refrigerate for later use.

Serve alongside your favorite fish tacos and enjoy!