Inspired by our local Mexican restaurant's recipe, this green taco sauce is loaded with jalapeño and complimentary seasoning ingredients. The spicy jalapeno green taco sauce is an excellent taste enhancer, and one of my go to recipes on taco nights.
This spicy green taco sauce is packed with the punch. Technically speaking, the heat from the jalapeño and the sourness from the lime juice makes this recipe an incredible one.
The spicy green taco sauce is a mouth-watering delight that will make your taste buds tingling with excitement for sure.
The ingredients
This delicious light green taco sauce is something similar to the Taco Bell jalapeño sauce but it's not exactly the same. However, this sauce is also delicious in its own way - and it's such a simple, painless recipe that it's ready for the table in under 15 minutes! Plus, it's so effortless.
Jalapeños. Jalapeños are in season now, which means the local stores and the farmers market are loaded with these deliciously spicy peppers. Not to mention that, It's the perfect time to enjoy them, including this green taco sauce.
I've used fresh jalapeños for this recipe, but you could also use frozen or roasted jalapeños if you prefer.
Vegetable oil. Vegetable oil is a key ingredient in this sauce, lending both body and a smooth texture. It also helps to neutralize the sharp taste of jalapeño and lime juice. You can choose to use olive oil or canola oil as an alternative, depending on your preferences.
Red onion. Red onions have a slightly stronger flavor and that works great in this recipe. On the other hand, white or yellow onion can also be used in this spicy taco sauce.
Garlic powder. A teaspoon of garlic powder gives your green taco sauce the perfect amount of richness and flavor.
Lime juice. It is one of the important ingredients. Not only does it add a zing and a tangy taste, but it also provides the wholesome flavor that makes the sauce so irresistible. It brings up all the other flavors and provides a delicious tartness that is sure to please your palate.
As an alternative, lemon juice is also a good choice to use in this green spicy sauce.
Cilantro. This herb gives the dish a refreshing flavor and a beautiful green color, which is perfect for St. Patrick's Day! I have kept it to a minimum so that it doesn't dominate the flavors of jalapeño, but you can always add more if you love cilantro.
How to make Green taco sauce
Bring water to a rolling boil.
When boiling water, cut the jalapeños and add them to the pot. Boil for 5-7 minutes, or until they turn soft.
Using tongs, remove jalapenos from the boiling water. And place them in the blender jar.
Now add garlic powder, vegetable oil, chopped onion, lime juice, salt, and cilantro.
And pulse, until it becomes smooth.
Transfer it to a serving bowl. And enjoy by drizzling over the taco as a top layer.
Leftover storage ideas
Refrigerate. The leftovers are good to store in the refrigerator for up to three days. Store them in the air sealed container for the best results.
Freeze. If you want to store the sauce for a longer period of time-upto three months, transfer to a freezer safe container as soon as it is made. The freeze to use later. To thaw, leave them overnight in the refrigerator. As a quick option, gently microwave in intervals of 30 seconds.
FAQ
Can I reheat the green taco sauce once it is frozen?
You may reheat until it turns to room temperature/slightly warm. You need not cook it through as it may spoil the texture.
Can I use roasted jalapeños?
Yes, the roasted jalapeños give this green taco sauce a smoky flavor(And our family loves this variation as well). Furthermore, feel free to use the grilled jalapeños or the frozen jalapeños as well.
How to make this recipe less spicy?
If you worry about the heat, remove that white membrane and the seeds of the jalapeño before blending it.
What to serve with this spicy taco sauce?
Though, drizzling over the taco is the ultimate choice for making this spicy green sauce more enchanting. However, it also plays a versatile role other than serving tacos. Let's see a few of them below.
Burgers and sandwiches. Spread over the side of burger and sandwiches and wait for the delight it brings on, like these Bombay sandwich, Masala sandwich, grilled veggie sandwich.
Salads. Use as a dressing for the simple, plain salads like, spiced kale salad, mango cucumber salad, fresco salad.
Meat/seafood. Serve as a glaze or as a side for the dishes like Hawaiian garlic shrimp, shrimp appetizer, Trinidad pepper shrimp.
Drinks. Stir a teaspoon in lemonade or in your favorite cocktail, and make the evenings more hot. Jalapeno lemonade.
As a dip. This serves as a great dip for appetizers like, stuffed cherry peppers, mini peppers stuffed with cream cheese, stuffed Shishito peppers.
Recipe variations
Make it super spicy. Increase the quantity of jalapeno, or add in habanero to make your preference.
Make it mild. To make the sauce less heat, remove the seeds and the pith.
Add in more flavors. Add in fresh ginger, Cajun seasoning, and mint leaves. You may add any one of these or all them together. Make sure you adjust the quantity of these ingredients, as each of these have strong flavors of their own.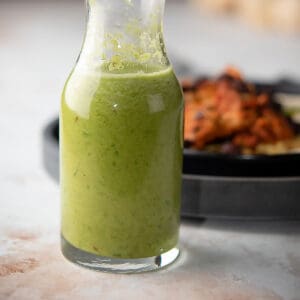 Green taco sauce
Inspired by our local Mexican restaurant's recipe, this green taco sauce is loaded with jalapeño and complimentary seasoning ingredients.
Print
Pin
Rate
Ingredients
4

jalapenos

1

teaspoon

garlic powder

2

tablespoon

vegetable oil

¼

cup

onion

chopped

¼

cup

lime juice

½

teaspoon

salt

1

tablespoon

cilantro
Instructions
Add water to a pot and bring it to rolling boil.

In medium heat, cook until they are for 5-7 minutes or until soft.

Remove the jalapenos from the water.

In the blender jar add cooked jalapeno, garlic powder, vegetable oil, chopped onion, lime juice, salt, and cilantro

Blend until the mixture turns smooth in texture.

Transfer to a serving bowl and serve as a drizzle or as dip.
Notes
Store the leftover in the refrigerator to store up to 2 days.
And freeze it to store up to 2 months.
Always store in air sealed containers for best results.
Nutrition
Calories:
29
kcal
|
Carbohydrates:
4
g
|
Protein:
0.4
g
|
Fat:
0.1
g
|
Saturated Fat:
0.02
g
|
Polyunsaturated Fat:
0.02
g
|
Monounsaturated Fat:
0.01
g
|
Sodium:
292
mg
|
Potassium:
77
mg
|
Fiber:
1
g
|
Sugar:
1
g
|
Vitamin A:
165
IU
|
Vitamin C:
22
mg
|
Calcium:
7
mg
|
Iron:
0.1
mg