I'm recently obsessed with shrimp and started making verities of the menu for the past couple of months like crazy, including this Hawaiian spicy garlic shrimp.
The paprika, the butter, and the bold garlic flavor with crispy shrimp is a 15-minute solution for a great appetizer or side dish.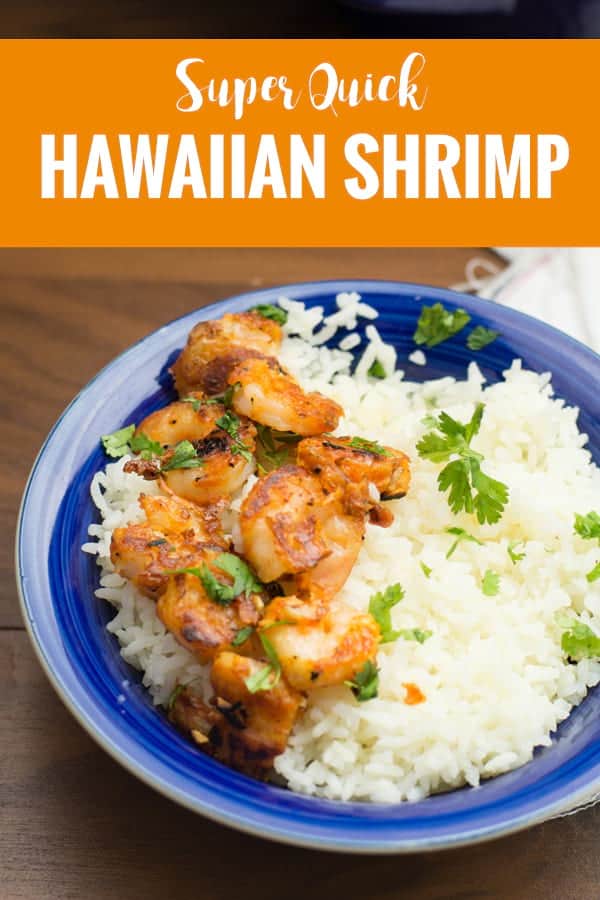 You may make it in a large quantity as you need not worry about the leftovers. You can create multiple dishes, like tacos, with this spicy Hawaiian garlic shrimp as the main ingredient.
Here is a quick video and step-by-step pictures of Hawaiian Shrimp with garlic butter sauce.
Shrimp gets blended with the recipe, so it's a great seafood ingredient to try out on various methods(similar to these garlic pepper shrimp or spicy sriracha shrimp).
It is also one of the seafood I often order in restaurants as it cannot go wrong with any dishes, making it a fail-proof menu item.
Tasting Hawaiian shrimp truck recipes from our favorite restaurant showed us a whole new idea about the shrimp we usually make in our kitchen. While having each bite, the chef in my mind was wondering about this dish and its ingredients.
This food amused me as it was not made with many ingredients but tasted incredibly delicious with all the universal and straightforward ingredients.
And I wanted to recreate the Hawaiian shrimp truck recipe in my kitchen, which is equally good with my customizations.
This Hawaiian Shrimp scampi is a healthy one-pan side dish made with simple ingredients that you might have in your pantry already.
Do you believe that? Within 15 minutes, you can make it if all the items are handy; that's party-friendly, too(Did you try this Shrimp with toothpick).
The good part is that it does not need fancy ingredients, and you may prepare it hassle-free whenever you think of making it.
So, whenever you feel lazy or want to make an exotic dinner at the last minute, please go ahead and make this, and I'm sure you will not regret it.
This is a hugely crowd-pleasing recipe that you can make at the last minute, as it has significantly less preparation time, and still, this will be the most apparent dish at a party.
Looking for more Spicy seafood recipes? You may look into,
The restaurant served this Hawaiian spicy garlic shrimp with the shells on. At first sight, I was reluctant to have a bite because I assumed that it would irritate my throat.
But to my surprise, the shrimp's shell did not make any difference and was also crispy. This made me attempt in my kitchen without thinking further(these never disappoint me: pasta with cilantro lime sauce and this Chettinad shrimp).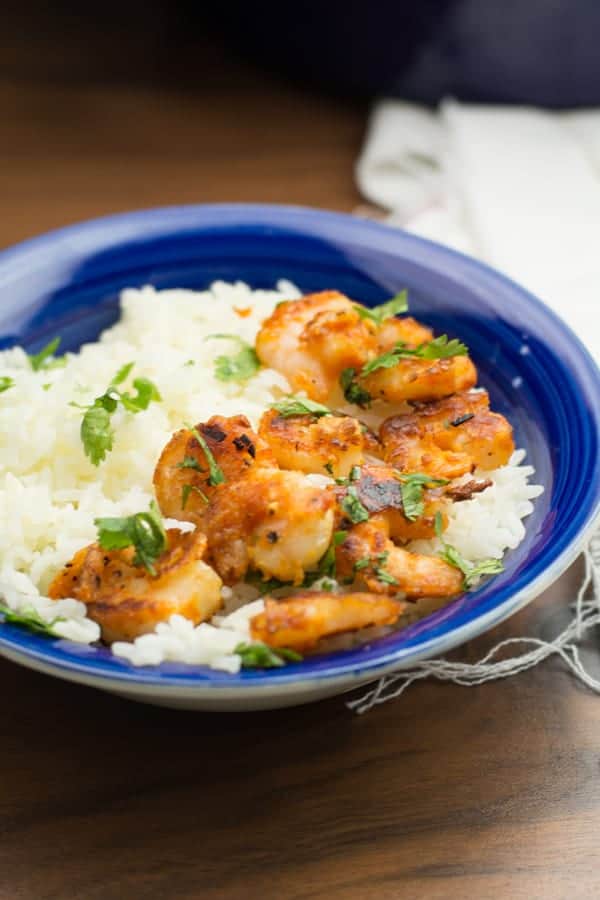 While searching for this dish's ingredients, I found this recipe. I modified it to suit my family, like cooking the shrimp with shells.
Also, I'm not confident in cooking shrimp and the shells. Furthermore, I do not know whether my son would like it.
So, I made Hawaiian spicy garlic shrimp without the shell but added more all-purpose flour to coat the shrimp to make it crispy. And this worked out well and the result was a grand success.
I can speak about the spicy Hawaiian shrimp for days if you ask. These are some of the thoughts that flashed my mind while sharing this content with you.
Possible variations
Want to deviate from the main dish and include other ingredients in your Hawaiian spicy garlic shrimp recipe? Please feel free to add,
Lemon juice. To add zing to the bowl, try adding lemon juice at the final stages of cooking. The lemon-garlic butter combination is a huge hit and never fails in any recipe.
Shell on Jumbo Shrimp. I used small shell-less because it is convenient for a small bite-sized appetizer. And the tiny shrimp can get coated with spices well, and the flavors will be evenly distributed. But if you are a seafood lover, you may use the jumbo shrimp with the shells on, which is also the traditional way of making this dish.
White wine. For an added flavor with enhanced acidity and slight sweetness to the shrimp.
Ginger. It may sound alien here. It gives an earthy flavor, but it also performs well.
Pineapple. Add pineapple wedges to make it more tropical. And this Hawaiian spicy pineapple shrimp version is for a sweet and sour kick to this seafood.
Cayenne pepper. Want to add more heat? then add a teaspoon of cayenne pepper or red chili powder.
Grill or bake. Instead of cooking on the skillet, you may grill or bake the shrimp.
What to serve with Hawaiian spicy garlic Shrimp?
This dish is best served as a side dish or as an appetizer. Serving with rice would be ideal for a complete meal.
If you want to make this healthier and skinnier, I suggest swapping butter for low-fat cooking oil. And substitute all-purpose flour with whole wheat flour.
You may freeze the leftovers in an airtight container for up to 3 months. Or refrigerate in a sealed container for storage for up to 2-3 days.
How about enjoying this Hawaiian spicy garlic shrimp with this delicious Hawaiian Margarita?
The key ingredients
Shrimp. It is better to get cleaned, and deveined shrimp than store-bought frozen shrimp, as it would cut the prepping time by 70%, which I would always do. Though getting fresh from the market makes it more flavorful, cleaning and deveining need a lot of work, which is impossible.
All-purpose flour. It acts as the binding agent that coats the shrimp well, making it super tasty with all the garlic, butter, and pepper in each bite. And you may substitute all-purpose flour with other healthy options like whole wheat flour.
Garlic. This is the flavor booster of this recipe, which stands alone and works well with shrimp. Never skip using garlic; this gives the dish a new flavor and elevates shrimp to the next level.
So, never skip this ingredient; without garlic, this Hawaiian hot and spicy shrimp cannot taste better. But if fresh garlic is not handy, you may substitute it with garlic powder, which I have not tried but would be a good option.
Grape seed oil and butter. I substituted half of the butter with the grapeseed oil. But you may replace grapeseed oil with any cooking oil.
Parsley. This herb brings all the freshness to the shrimp. And you may substitute with dried parsley or even fresh herbs like cilantro.
How to make a Hawaiian spicy garlic shrimp
Clean. Wash and rinse in the running water a couple of times.
Chop. Peel the skin and chop the garlic finely. Chop parsley and keep it aside; we need it when garnishing.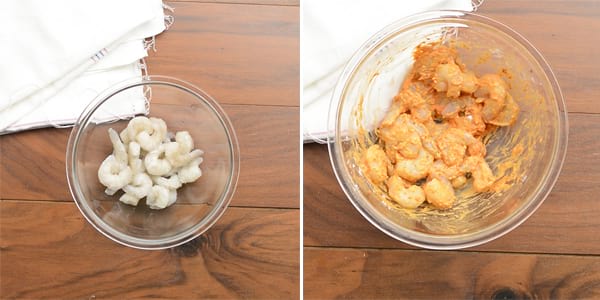 Combine. Add salt, paprika, pepper, all-purpose flour to shrimp. Combine well until each shrimp coats well with the margination. Keep aside for 5-10 minutes.
Toss. In a medium flame, heat butter and grape seed oil. Add garlic and toss for 2 minutes or until it discolors.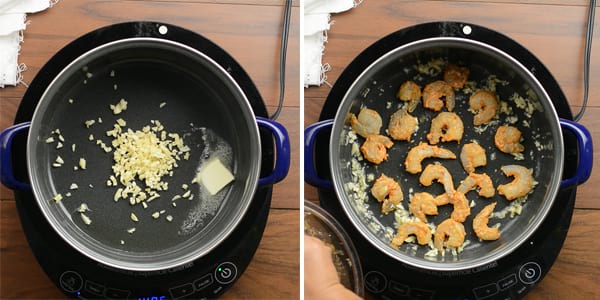 Cook. Now arrange the shrimp over the pan and cook for about 3 minutes in simmering flame or until it is prepared and becomes golden brown on all sides. Do not crowd the pan; cook them in batches if making a larger quantity.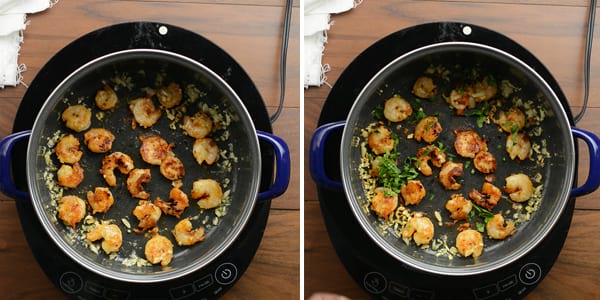 Garnish. Sprinkle a liberal amount of chopped parsley and serve hot.
How to store and reheat?
Refrigerate. Store the leftovers in an air-tight container refrigerated for about 3 days.
Freeze. Store in the air-sealed container or the zip lock bags; it's good to use for up to 2 months. To thaw, transfer them to the refrigerator a day prior.
Reheat. Sprinkle water and cook covered till it turns warm. There is a special post dedicated to reheating shrimp. Refer to gain more ideas.
Printable recipe card
Hawaiian spicy garlic shrimp
Hawaiian spicy garlic shrimp made with pantry-ready ingredients under 15 minutes-crispy in texture with grand flavors of garlic and butter.
Print
Pin
Rate
Ingredients
1

cup

shrimp

cleaned and deveined

½

teaspoon

salt

½

teaspoon

whole black pepper

½

teaspoon

cayenne pepper

/paprika

2

tablespoon

all-purpose flour

1

teaspoon

butter

2

tablespoon

grapeseed oil

2

tablespoon

garlic
Instructions
In a mixing bowl, add shrimp, salt, black pepper, cayenne pepper, all-purpose flour.

Combine them well until shrimp gets evenly coated. And keep aside.

In medium flame, add butter, grapeseed oil, and minced garlic.

Sauté until garlic changes its color slightly.

Add shrimp mixture.

Cook for 3 minutes on each side and until it turns to crispy and golden brown.

Transfer to serving bowl and serve hot.
Notes
Substitute cayenne pepper for paprika for the less spicy version.
Nutrition
Calories:
247
kcal
|
Carbohydrates:
9
g
|
Protein:
14
g
|
Fat:
17
g
|
Saturated Fat:
2
g
|
Cholesterol:
166
mg
|
Sodium:
1098
mg
|
Potassium:
83
mg
|
Vitamin A:
345
IU
|
Vitamin C:
5.1
mg
|
Calcium:
107
mg
|
Iron:
2
mg
**Disclaimer: The nutritional information provided is an approximate estimate only.
Like this recipe? Follow us on Facebook, Pinterest, Instagram.