The Trinidad pepper shrimp recipe can be made in 15 minutes with easily substitutable ingredients. Perfect for dinners and can also be served as appetizers. Everyone would love the very flavourful and tasty dish.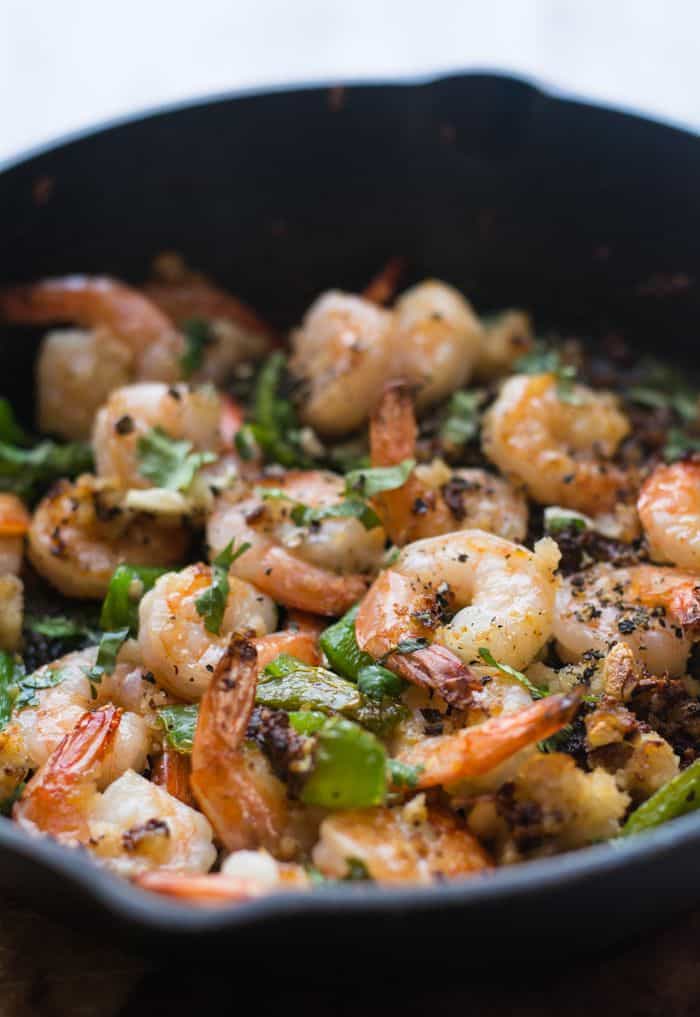 I know how the evenings are shorter for busy moms. Dropping the kids for the classes, assisting them with homework, and shopping. Do we ever have time to cook dinner in the evenings and dream about pepper shrimp Trini style?
It is not as difficult as you thought. The recipe is simple, like making simple shrimp stir fry. All you are required to do is collect the ingredients. The Trini cooking requires a few authentic ingredients to make them stand out.
Finding it difficult to locate the ingredients? you do not need to scarify your cravings. You can substitute the ingredients that are easy to see in the US stores.
Most of the time, we try to manage dinner with leftovers and simple food. Reheating the leftovers may save time, but would it be healthy? That's a million-dollar question.
So, I'm just wanted to make a restaurant-style dinner with less work and minimal ingredients. Everyone is talking about restaurant-style dinners. When we call it restaurant-style food, it should have visual appeal and be tastier than everyday food.
This Trinidad pepper shrimp is one such recipe, which looks good to the eyes and is tastier. It's great for moms that these can be made in under 15 minutes.
What is Trinidad pepper shrimp?
This is a popular recipe from the Trinidad and Tobago cuisine, in the Caribbean islands. The cuisine has influences of West African, Indian, Chinese, Native American, Arab, and other cuisines.
The best side dishes served with this recipe are Balsamic Green Bean, Cranberry Salad, and Strawberry Salad.
Pro Tips
Stores carry two varieties of shrimp, cooked and raw. Choose raw shrimp for this recipe.
The tail on or tail off shrimps? It's up to you to the individual's preference. Both do taste equally good. The tail-on shrimp looks appetizing while serving this Trinidad pepper shrimp.
Overcooked shrimps turn rubbery. Cook in low-medium flame for perfectly cooked shrimp.
To make it more colorful, add yellow peppers. And to make more healthy add broccoli and other vegetables.
The leftover shrimp can be used for making wraps or rolls. I make the shrimp with more quantity to use the leftovers for making Vietnamese spring rolls. So, the same appetizer goes into the main course as well.
Other seafood recipes you may like,
Printable recipe card
Trinidad pepper shrimp
Trinidad pepper shrimp recipe, made spicy with black and green pepper in 15 minutes. This stir-fry is best to serve with pasta or brown rice. Perfect dish for healthy weekday dinners.
Print
Pin
Rate
Ingredients
1

tablespoon

sesame oil

1

tablespoon

garlic

minced

1

tablespoon

ginger

grated

1

lb

shrimp

deveined

½

cup

green bell pepper

sliced

¼

cup

pimento peppers

sliced/substitute with red pepper

½

teaspoon

salt

¼

cup

culantro

chopped/substitute with fresh cilantro

2

tablespoon

thyme

fresh

1

tablespoon

lime juice

1

teaspoon

soy sauce

2

tablespoon

tomato ketchup

1

teaspoon

whole black pepper

crushed
Instructions
Over low-medium heat, place a pan. Add sesame oil, grated ginger, minced garlic, cleaned shrimp, sliced green bell pepper, pimento pepper, and salt.

Stir until all the ingredients combined together. Cover and cook it for about 10 minutes in simmer flame.

Remove the lid and in medium flame, cook until the moisture gets evoporated and shrimps are done perfectly.

Turn the heat to low, chopped Culantro, thyme, lime juice, soy sauce, tomato ketchup, and crushed black pepper.

Turn the heat to high and toss until all spices coats the shrimp well.
Notes
You may substitute the following items if it is difficult to locate them in your area.
Culantro can be substituted with the chopped cilantro.
Pimento peppers can be substituted with red pepper or any other mild, sweet peppers.
Sesame oil provides a unique flavor to the recipe, however, it can be substituted with canola or corn oil.
Nutrition
Calories:
333
kcal
|
Carbohydrates:
10
g
|
Protein:
48
g
|
Fat:
9
g
|
Saturated Fat:
4
g
|
Cholesterol:
586
mg
|
Sodium:
2178
mg
|
Potassium:
266
mg
|
Fiber:
1
g
|
Sugar:
1
g
|
Vitamin A:
315
IU
|
Vitamin C:
40.5
mg
|
Calcium:
354
mg
|
Iron:
5.5
mg
**Disclaimer: The nutritional information provided is an approximate estimate only.
Liked this Trinidad pepper shrimp recipe? Follow us on Facebook, Pinterest, Instagram