Obsessed with Asian take-outs? And looking to whip up delicious seafood for weekends? Make your own Honey Sriracha shrimp under 15 minutes without any marinade. The best part of the recipe is made with five easy to find ingredients.
Believe it or not, the entire dish is prepared in a flash of seconds like this Teriyaki sauce or Asian zing sauce. This Sriracha shrimp stir fry recipe is lip-smacking delicious and loved by everyone including the one who did not prefer seafood in the past.
About this recipe
This spicy shrimp sriracha recipe is better than your recent Asian takeout. It's quick and does not require any marinade.
Simply add the sauces straight into the skillet and feel the magic before your eyes.
Furthermore, using this spicy seafood dish as a base ingredient makes various dishes like an excellent taco or a dinner salad. The choices of relishing are endless. Explore and recreate your new recipes.
What does this honey Sriracha shrimp taste like?
It's sweet and spicy with the right combinations of honey and Sriracha sauce. And it is moderately hot. , have you ever making tried teriyaki sauce?
This Asian Sriracha sauce is the only source of heat here. You can adjust the heat by adjusting the quantity. Increasing the heat can be quickly done by adding more sauce.
If you are unsure, how much hot sauce is required to suit your palate. It's always a better idea to start with lowering the quantity and adding in increments.
The amount of Sriracha does not adversely affect the texture or base taste. So, feel free to discover your sweet spot.
Ingredients and their possible substitutions
Shrimp. Shrimp is versatile, easy to cook, low in calories, and rich in nutrients. I always rely on frozen, peeled, deveined, and raw shrimp for easy prepping. And this trick makes honey sriracha shrimp whip up instantly.
I live in central Pennsylvania and have only access to the frozen shrimp. When I do the shopping, I keep a practice to check the date of expiry and the preservatives they use. The minimal is the best.
The stores carry multiple varieties of shrimp. The tail on-off/ cooked-raw/small-medium-large. Everything works fine. However, I prefer using raw shrimp for its flavors. And tail-off for the cleanliness.
Sriracha Sauce. It's hot and flavored already, which minimizes half of our work. It has a long shelf time and lasts more months. It's a good investment if you like hot food. Apart from this sriracha shrimp recipe, you could use it in multiple ways.
Honey. The rich, sweet finishing touch brings all the ingredients together and brightens their flavors. In its absence, you may substitute with light brown sugar.
Rice wine vinegar. A liquid gives a depth of flavor. Plus, it helps the hot sauce to coat and enhance well. White wine vinegar is the replacement in this honey sriracha shrimp recipe.
How to make?
Place a cast-iron skillet over the kitchen counter add all the ingredients.
Use a spatula to combine everything. Make sure the shrimp are coated evenly with the sauce.
Place the pan over medium heat.
Cook the shrimp for about 3-4 minutes on each side or until it's done. Do stir occasionally to avoid burnings.
Transfer to a serving bowl and dig in.
Pro tips.
To thaw. Place the frozen shrimps in a strainer, and rinse in cold water for about 5 minutes. Toss them occasionally for even thawing.
For mild heat. Reduce the Sriracha sauce to half the quantity and add paprika. This counterpart well and give an intense color and punch. Or try another variation like this honey Sriracha sauce.
For more heat. Double up the Sriracha's quantity.
For a great look. The honey Sriracha shrimp has to be glazy. As soon the honey starts becoming thick, it gives a shiny look. That's the time to take the skillet out from the heat. Also, confirm the shrimp is done.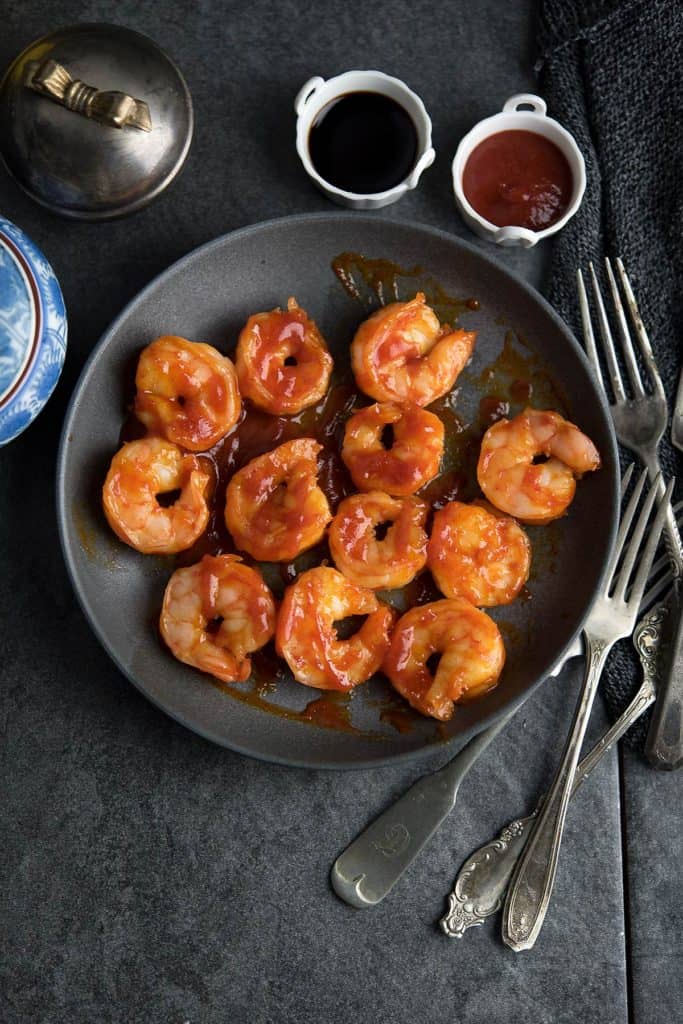 Best to eat along with
Rice. This honey Sriracha shrimp is good to enjoy with rice. Use brown or white rice and cook them according to the package's instruction.
Taco. And incredible seafood bite to toss in the taco filling.
Salad. Looking for a light and nutrient-packed dinner? Mix these in the salad bowl. This would turn into a delicious meal. This would turn out as a great topping with salads like, spicy kale salad, black bean corn salad, fresco salad.
Bread. Paired excellently with this type of shrimps. Crusty bread is best plays in here.
Make-ahead Tips and Storing idea
To make-ahead. Combine all the ingredients except the shrimp in air-sealed containers and refrigerate up to 5 days. Let the shrimps in the freezer till the time of cooking.
To store. Refrigerate the honey sriracha shrimp leftovers to use up to 3 days. The seafood gets contaminated easily, check the container the temperature in the refrigerate is perfect.
To freeze. You may stock for up to 2 months. Using the freezing option as a last resort, because the shrimp's texture changes when thawed. But still tastes good. To thaw, refrigerate it overnight.
To reheat. Gently reheat it in the skillet by sprinkling some water. Or microwave for 30 minutes until cooked. Stir and repeat until it's done completely. For detailed instructions, this how-to reheat shrimp can help you.
Variations
Lobster. Use the same recipe and swap shrimp with lobster.
Vegetables. Toss vegetables like, broccoli, zucchini, or edamame to convert into a nice and rich party dish.
Air fryer. Use an air fryer for crispy variations.
Grilled. Instead of stove top, you may grill by inserting the spice coated shrimp in the skewers. Make another new dish sriracha shrimp skewers with the same ingredients.
Lime/Garlic. Toss in lime juice or garlic for a flavorful variation. You may choose either one or both lime and garlic. Both modifications are fabulous options to try on.
Other shrimp recipes
Printable recipe card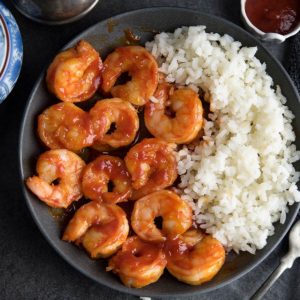 Honey Sriracha shrimp
This honey Sriracha shrimp is made under 15 minutes, with 5 ingredients. Plus, this hot and sweet shrimp is a crowd pleaser recipe as well.
Print
Pin
Rate
Instructions
In a skillet, add vegetable oil, shrimp, Sriracha sauce, honey, rice wine vinegar, and salt.

Over medium to low heat, cook the shrimp for 3-4 minutes on each sides until cooked.

Transfer to a serving bowl, and enjoy!
Notes
Adjust the heat and cook the shrimp without burning them.
Nutrition
Calories:
443
kcal
|
Carbohydrates:
26
g
|
Protein:
47
g
|
Fat:
17
g
|
Saturated Fat:
11
g
|
Cholesterol:
572
mg
|
Sodium:
2570
mg
|
Potassium:
210
mg
|
Sugar:
26
g
|
Vitamin A:
32
IU
|
Vitamin C:
24
mg
|
Calcium:
329
mg
|
Iron:
5
mg
**Disclaimer: The nutritional information provided is an approximate estimate only.