The Asian zing sauce is the easiest and the tastiest sauce that you can ever make in under 10 minutes. This sweet and spicy sauce serves as a satisfying dip or hearty glaze for the chicken or meatball.
You never expect how simple is this Asian Zing sauce. Perhaps more effortless, delicious, and vibrant of all the restaurant-style sauces.
This finger-licking tasty sauce proves that deliciousness does not need to be tied up with complicated cooking.
Jump to:
If you are looking for a light, easy to put together, that tastes gratifying, this Asian Zing recipe is perfect for you especially when you are trying to make a weekday dinner.
Not to mention, this is also highly accommodative when planning for a party or a special dinner.
Why this is the best recipe?
Flavorful. It's so aromatic that you can obviously expect from restaurant-style Chinese food
Quick. Does do not involve a lengthy process or long hours of preparation. When all the ingredients are kept ready, this delicious sauce is made in 5 minutes.
Minimal ingredients. Made with simple ingredients, if you have a basic Chinese pantry already in your kitchen, this recipe is like a breeze.
Party friendly. Since this Asian Zing sauce involves minimal processing and minimal cooking, makes this an excellent party-friendly recipe. Additionally, this comforting add on can be made ahead of time to reduce last-minute stress.
Other sauce recipes
The ingredients needed
Corn starch. It's a thicking agent and gives a glossy finish. Well, in its absence, It can be substituted with tapioca starch in this Asian zing recipe.
Rice vinegar. A key ingredient that converts the regular sauce to an Asian flavored one, it is easily available(at least here in Pennsylvania). I picked up mine in our local Walmart. I hope you will be successful in locating this in your stores as well.
Honey. The honey's mild sweetness bursts the flavors. But the vegans can swap with maple syrup or agave nectar. Alternatively, skip using honey and increase the quantity of sugar in this recipe. Skipping this ingredient will not break this homemade Asian zing sauce recipe.
Sugar. Light brown sugar is what I like the most just for its vibrant color. Why do we need sugar when we have honey already listed. Well, half the quantity of honey and half the quantity of sugar is the sweet spot. But substitute for each other if you prefer.
Water. A quarter cup of water is needed to cook up garlic and ginger.
Chilli garlic sauce. You don't need to rush to the stores just to get this jar. Have sriracha sauce? add two tablespoons instead of this chili sauce. Adjust the quantity to suit your potential of bearing the heat.
Soy sauce. I wanted my sauce to stay in red color, so I went with light soy sauce. But no harm in adding dark soy sauce too.
Lemon juice. This recipe for Asian zing sauce is with the correct mixture of sweet, spicy, and sour. Even the small quantity of lemon juice does wonders, makes the sauce fresh.
Ginger. Adds up a nice aroma, and every tiny bit boosts up the flavors. Grate finely for the best results. Please do not substitute with dry ginger or ginger paste, though these are theoretically identical.
Garlic. Same as ginger, garlic flakes or garlic salt cannot mimic the fresh garlic's fragrance.
Salt. When using dark soy sauce, taste, and test before adding salt. How do you say which soy sauce you are using? If the package instructions mention 'light soy sauce' then it is what it is. If the package instructions don't mention anything and simply it says 'soy sauce' then it's dark soy sauce, which is intense in color and taste.
How to make it?
Prepping. Mince ginger and garlic as finely as possible.
Combine. In a saucepan, add all the ingredients- add corn starch, rice vinegar, honey, sugar, water, chili garlic sauce, soy sauce, lemon juice, ginger, and salt.
Cook. Bring the mixture to a boil and reduce the heat to low. Cook till reaches the mixture turns glazy and thickens to flowing consistency.
Store. In an airtight container to use later.
How to use this homemade Asian Zing sauce?
Dipping sauce. Are you like me who loves to have Asian take-outs for the weekend dinners? If yes, you're going to use this dipping sauce for everything you munch on.
Chicken wings. Are you trying to recreate the Buffalo Wild Wings style Asian chicken wings? you will not be disappointed with its appealing taste. Toss the fried crispy chicken wings with this sauce, voila, And pat yourself for the wonderful effort for making Asian zing chicken wings at home.
Salad dressing. Instantly modify your regular salad to a classic Asian dish. that sweet and spicy sauce works really well than your expectations.
Glaze. Our family loves this variation of glazing the meatballs or the grilled chicken.
How different you can make this sauce?
Add on flavors. Add a pinch of crushed lemongrass for intense Thai flavors.
With texture. Throw in thinly sliced spring onions as a garnish, makes the Azian zing sauce presentable, and adds mild flavor.
Without sugar and Honey. Remove the sugar and honey from the ingredient list. And this no sugar variation of Asian wing sauce tastes amazing as well.
Spicy. Increase the heat by adding crushed red pepper flakes or with jalapeno slices.
Storage ideas
Refrigerate. Store this Asian zing sauce in an air-tight storage container for upto though 4 days in the refrigerator.
Freezer. Place the leftover sauce in a freezer-safe an airtight container for up to three months. Let the sauce thaw in the refrigerator overnight before serving.
Printable recipe card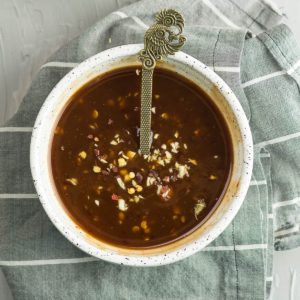 Asian zing sauce
The Asian zing sauce is the easiest and the tastiest sweet and spicy sauce that is ready in under 10 minutes. Great to serve as dip or dressing.
Print
Pin
Rate
Ingredients
11/2

tablespoon

corn starch

1

teaspoon

rice vinegar

1

tablespoon

honey

1

tablespoon

light brown sugar

½

cup

water

1

tablespoon

chili garlic sauce

1

tablespoon

light soy sauce

1

teaspoon

lemon juice

½

teaspoon

ginger

grated

¼

teaspoon

salt
Instructions
In a saucepan, add corn starch, rice vinegar, honey, sugar, water, chili garlic sauce, soy sauce, lemon juice, ginger, and salt.

Whisk until all the ingredients combined together.

Over medium heat, bring the mixture to a boil. And turn to low heat.

Cook till reaches the mixture turns glazy and thickens to flowing consistency.

Store in an airtight container to use later.
Nutrition
Calories:
78
kcal
|
Carbohydrates:
19
g
|
Protein:
1
g
|
Fat:
1
g
|
Sodium:
609
mg
|
Potassium:
10
mg
|
Fiber:
1
g
|
Sugar:
8
g
|
Vitamin C:
1
mg
|
Iron:
1
mg