How to make spicy teriyaki sauce? This recipe is easy and straightforward, best for easy vegan dinner with a mild spice kick. Use this sauce for stir fry and as the marinade.
The main ingredients for the heat in this spicy teriyaki sauce is red pepper flake. Use to choose your preference. This spice punch is an additional ingredient, hence adjusting the heat level will not affect the core taste of this Japanese style sauce.
There are a couple of things which you always make repeatedly in the kitchen. And this spicy teriyaki sauce is one of the recipes which I make almost every other week. Why? the simple reason my family loves it.
I keep changing the ingredients every time I make. This addition of new flavors makes my family feel that it is fresh and new Asian recipes all the time.
Why you should make?
If you never tasted this sauce before, let me tell you that this would become one of your favorite dishes.
This spicy Teriyaki sauce is versatile. When is sauce added to the main ingredient makes it all together like a whole new dish? Like if this sauce added to chicken or mushroom or beef or tofu or cauliflower or paneer. It becomes teriyaki chicken, teriyaki, mushroom, teriyaki, tofu, etc.
If you are planning to make a teriyaki side dish, then what could be the other dishes perfect to make it a whole meal?
Well, Wontons as an appetizer, Hibachi soup, and Szechuan noodles as the main dish. Check another sauce recipe which can also be used as a marinade, Instant pot marina.
This spicy teriyaki sauce recipe transforms into many forms according to the chief ingredient added to it. So, make this base sauce and add your favorite part to make a new dish.
The secret behind a true cook is making many dishes with the same basic recipe.
Making the base is as easy as counting the numbers from 1 to 3. Surprisingly you can make within 5 to 10 minutes. All you need is the proper, right ingredients handy.
Making spicy teriyaki sauce recipe and customizing it number of times made me an expert in handling. So get them guaranteed perfect every time you make. I try to explain as much as possible I can and I have also discussed various customizing options.
What makes this hot teriyaki sauce to stand out?
First, it is budget-friendly. A bottle of sauce may be available at 3$-5$ depending on the size and the brand. Whereas if you make at home it is much lesser, probably 10% of the market price. Moreover, you know what is in your dish.
Secondly, customization. you know, how to customize it to your preference. If you do not prefer ginger, then skip it. If you want to make this recipe with honey, You have an option to include it.
Thirdly, When you want to make, you do not need to rush to the store and you already know how to make it home. No need to worry about the expiry date of the store-bought bottles.
Key ingredients
Corn starch. Used for its consistency and the property for thickening the sauce. It has a neutral flavor, you may substitute arrowroot starch for cornstarch.
Brown sugar. Personally I prefer using brown sugar, for its mild flavor and its color. However, you may substitute brown sugar with refined sugar or honey.
Rice vinegar. You may skip rice vinegar if it is not available to nearer to you. Or you may also use chili garlic sauce to replace both rice vinegar and red pepper flakes.
Garlic. I would say a must ingredient for flavoring. If you do not have garlic cloves handy, please postpone the making this sauce until you get them. It gives such a bold, rich flavor.
Ginger. Minced ginger gives an earthy flavor but it's optional to use in this recipe.
Red pepper flakes. We have talked more about this above. In short, there is no strict rules, adjust to your individual preference.
How to make spicy teriyaki Sauce:
Combining the ingredients. In a mixing bowl, combine 1 cup of soy sauce, 1 cup of water, ¾ cup of brown sugar, 2 tablespoon of rice wine vinegar, a tablespoon of minced garlic, a tablespoon of minced ginger, and red pepper flakes.
Stir well until cornstarch combines with the wet ingredients.
Thickening the sauce. Heat a pan over medium flame, add this mixture. Stir continuously until the sauce looks glossy and starts thickens.
Watch out as the sauce thickens quickly. Make sure you are next to the sauce until it gets cooked.
Remove it from the flame. Allow it to cool down. Then transfer to the glass jars. And store in the refrigerator.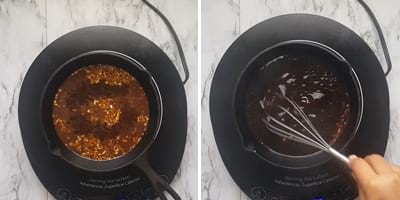 Pro tips
Red pepper flakes make the sauce hot and spicy, you may adjust the quantity of the sauce or you may completely skip using it. It is absolutely fine, this ingredient adds ups the spice level and will not alter the taste much.
You may also include roasted sesame seeds, pineapple chunks to make it more flavorful.
Every added ingredient makes it richer and wholesome.
Add or reduce brown sugar according to your preference.
Light Brown sugar gives a beautiful rich color to the sauce. Whereas dark brown sugar makes it look darker.
Other Asian recipes you may like,
FAQ spicy teriyaki sauce
What is teriyaki sauce used for?
It can be used as a marinade for meat and vegetables. It can be a base sauce for making dishes like teriyaki chicken or mushroom. And it can also be served as sides, dip for the main courses or appetizers.
How to make spicy teriyaki sauce thick?
Cornstarch in this recipe thickens the sauce. You may also use arrowroot starch instead of thickening.
Does teriyaki sauce need to be refrigerated?
Yes, it has to be refrigerated, because of the water and the fresh garlic and ginger we have added. It stays good for about 10 days in the refrigerator.
Can you use this as a marinade?
Yes, you can use this same hot teriyaki sauce as a marinade for the meat and veggies. For chicken allow it to marinate for about 30minutes to 1 hour. For seafood, least 15minutes will work better.
How much sauce needed to marinate chicken?
There is no stern measurement for the amount of marinade. The amount would be perfect as long as it can coat the chicken well.
How to make spicy teriyaki sauce with honey?
You may also add honey along with light brown sugar. About 2 tablespoon of honey would be perfect for this recipe.
Printable recipe card
Spicy teriyaki sauce
Spicy teriyaki sauce is easy and straightforward, best for healthy vegan dinner. Use this sauce for stir fry and as the marinade. The main ingredients are soy sauce, cornstarch, brown sugar.
Print
Pin
Rate
Ingredients
1

cup

soy sauce

1

cup

water

2

tablespoon

rice vinegar

¾

cup

light brown sugar

1

tablespoon

garlic

minced

1

tablespoon

ginger

minced

½

tablespoon

red pepper flakes

2

tablespoon

cornstarch
Instructions
In a mixing bowl, combine soy sauce, water, rice vinegar, light brown sugar, minced garlic, minced ginger, red pepper flakes, and cornstarch.

Stir well until cornstarch dilutes.

In simmer flame, add this mixture to a pan.

Stir continuously, and cook it until the sauce thickens to the desired consistency.
Notes
Adjust the red pepper flakes to your individual choice. Or you may completely omit using it.
Nutrition
Calories:
240
kcal
|
Carbohydrates:
55
g
|
Protein:
6
g
|
Sodium:
3257
mg
|
Potassium:
244
mg
|
Fiber:
1
g
|
Sugar:
42
g
|
Vitamin C:
1.3
mg
|
Calcium:
49
mg
|
Iron:
2.2
mg
**Disclaimer: The nutritional information provided is an approximate estimate only.
Do not miss any recipe! Follow us on Facebook, Pinterest, Instagram