This spicy garlic edamame is ready like a flash, perfect for your spicy cravings. It's a delectable munching that's addictive, and you cannot stop yourself until it's finished.
Made with few ingredients except edamame, most of you have them pantry-ready. More room to control the heat to suit your preference.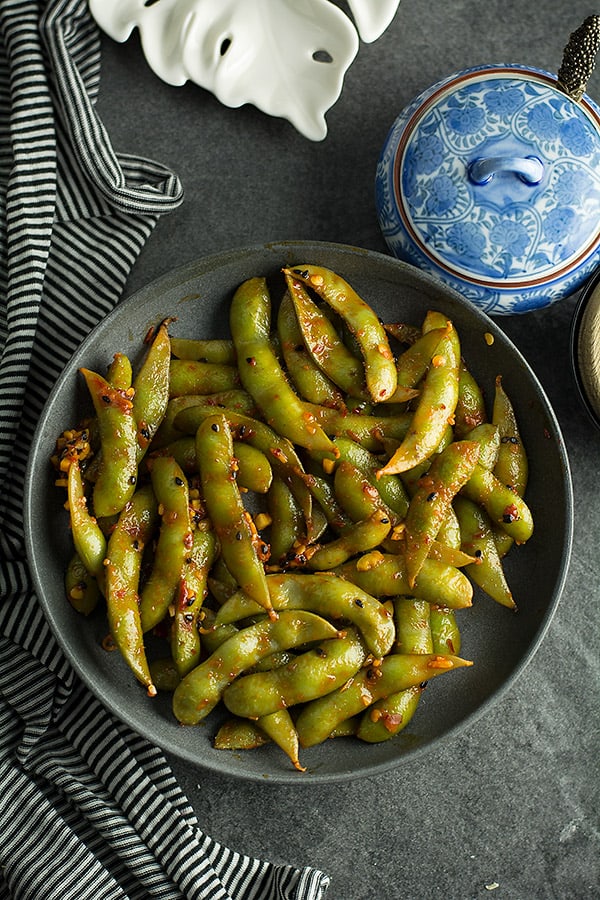 About this recipe
Have you visited Chinese restaurants and loved those warm, salty edamame that served as complementary? You hit the jackpot; this recipe is created exclusively for you.
You don't need to sit sad on boring evenings; try this spicy garlic edamame and feel the difference. The kick and the zing of this spicy finger food make you brisk and active.
Every time I make it, I leave with just the serving plate with the traces of fingerprints. The fabulous part is that everything can be put in under 10 minutes.
If you have been on our blog for some time, you could understand my love for Asian cooking.
Notably, Asian chili sauce spices up any food instantaneously and meets our expectations.
Do you accept or feel this edamame sauce is too spicy for you? Then sriracha aioli sauce could be your favorite.
Why Spicy garlic edamame
It's super easy to make and does not require any kitchen skills.
Edamame is protein-rich, low in fat, and rich in vitamins and minerals.
A vegan snack than munching on deep-fried or store-bought ones.
Needs less prepping work.
Use just a pan; there is no mess in the kitchen.
And finally, it is delicious.
How spicy is this Garlic edamame?
We add a teaspoon of chili sauce, but do not get into that too much. Since you are making it, you know the sweet spot for your family.
The beauty of this recipe is making the sauce according to our individual preferences (same as spicy garlic noodles).
How to eat this spicy edamame?
You do not need to work with your hands. Just hold the tip of the edamame with your fingers, bite, and open the other end.
And slowly slip the bean to the mouth. Enjoy the hint of sauce from the bite, and discard the shell.
Now, you have double-point spice control, the first at cooking and the last while eating.
The beans get into the mouth with the hint of sauce that coated the shells.
Furthermore, I am sharing the tips below to reduce the heat if you feel it is too hot to bear.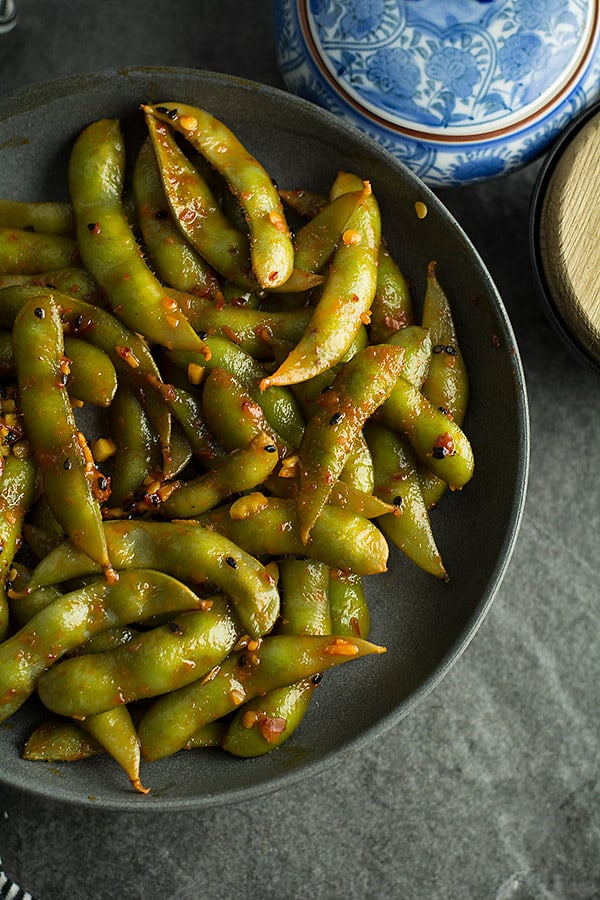 What to serve with?
This is great to serve with cocktails or mocktails. Or it is best to do as appetizers. Chatting with friends and this spicy garlic edamame is the most fabulous of anything in the world.
The following are my handpicked,
The recipe variations
Sweet and spicy. Another interesting combination. Add a teaspoon of brown sugar for the rich glaze and delectable taste.
Sesame oil. If you have sesame oil, use it despite the vegetable oil, which gives real authentic Asian flavors.
Red pepper flakes. On the other hand, some may find this recipe bland; if you feel you are in this category, sprinkle red pepper flakes for intense heat.
Chili paste. Substitute Chinese chili sauce to make chili garlic edamame. This is the less spicy version of chili edamame sauce.
Fresh edamame. If your stores carry edamame in season, you are most welcome to use it instead of the frozen.
Soy sauce. Sprinkle a teaspoon of soy sauce for extra depth in the punch.
How to make Spicy garlic edamame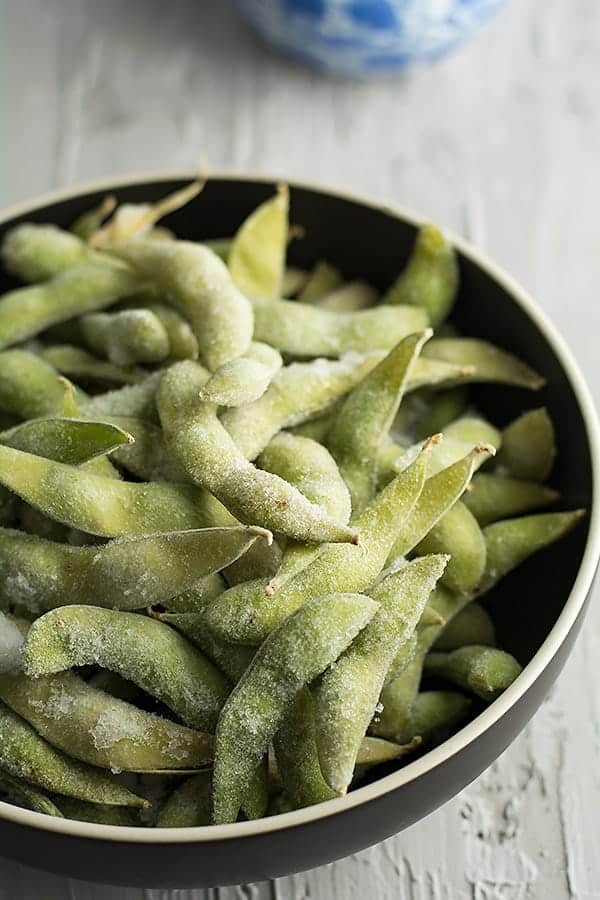 The ingredients and their facts
Vegetable oil. Substitute with sesame oil for pure Asian flavors or any cooking oil with a neutral taste.
Garlic. Use the garlic pods and mince them finely. The garlic flakes or the garlic salt are not recommended here.
Sesame seeds. Use either black sesame seeds or skinless sesame seeds. Add for the look and slightly roasted taste. But you may also skip.
Chili sauce. My most reliable ingredient for this spicy edamame sauce recipe. It's hot and spicy; use half the quantity to cut it down further to choose spice tolerance.
Edamame. This recipe is for frozen edamame with shells. You can get them in the frozen aisle in any leading grocery store.
The recipe directions
Steam. Set a pan over medium-high heat, add two cups of water, and bring it to a boil.
Add edamame shells and cook them for 2 minutes on medium to high heat. Strain the edamame and discard the water.
Saute. In the same pan, add vegetable oil and minced garlic.
In low heat, cook until garlic is fragrant. Garlic gets burned quickly, so always cook in low to medium heat.
Add sesame seeds, chili garlic sauce, and edamame. Chili garlic sauce is spicy. Add less if you are spice intolerant.
Combine. Toss until edamame is evenly coated with the sauce.
Serve immediately as an appetizer.
The recipe FAQ
How to store spicy garlic edamame and reheat it?
Store the leftovers in an airtight container or bags. Refrigerate the spicy edamame to use within five days. Or freeze it to use within 3 months.
Once I tested frozen spiced edamame after four months, the edamame pods were good, but the spices lost their freshness.
So I advise using it within three months from the time of storage.
To reheat from the frozen, thaw the edamame overnight in the refrigerator and reheat in the microwave. For the best results, sprinkle water over edamame and microwave it.
How to reduce the heat once cooked?
It can be done in two ways if it is too hot after preparing.
Add a teaspoon of brown sugar and toss it over the heat until the sugar coats the edamame evenly.
Take out half the quantity of spice-coated edamame and rinse in the water. Then add the same with the rest of the spiced edamame.
Toss again for an even coating. These are the best ways to reduce heat once cooked.
Can I make ahead?
This party-friendly recipe is made a day before the party to save you from last-minute stress and mess.
Other Asian food you may like,
Printable recipe card
Spicy garlic edamame
This spicy garlic edamame is ready like a flash perfect for your spicy cravings. It's a delectable munching, very addictive, vegan appetizer or snack.
Print
Pin
Rate
Instructions
In a pan add water and bring it to boil.

Add edamame and cook for about 2 minutes or it cooked completely.

Strain and discard the water.

In the same pan, add the vegetable oil and the minced garlic.

Saute until the garlic changes its color slightly.

Add chili garlic sauce, sesame seeds, and the steamed edamame.

Toss well and serve immediately.
Notes
Add brown sugar to make sweet and spicy edamame.
Nutrition
Calories:
131
kcal
|
Carbohydrates:
11
g
|
Protein:
9
g
|
Fat:
7
g
|
Saturated Fat:
2
g
|
Sodium:
118
mg
|
Potassium:
366
mg
|
Fiber:
4
g
|
Sugar:
3
g
|
Vitamin A:
51
IU
|
Vitamin C:
7
mg
|
Calcium:
73
mg
|
Iron:
2
mg
**Disclaimer: The nutritional information provided is an approximate estimate only.