Sriracha sauce is your ultimate recipe for an effortless, simple, straightforward dip. This homemade honey Sriracha sauce gives you the perfect combination of sweetness and spiciness with rich buttery flavors.
Popular restaurant's sauces taste complex with a bundle of flavors. Because of that, you may never have thought of recreating them at home. This homemade spicy honey Sriracha sauce is a perfect glaze for chicken wings, shrimp, or salmon.
But that's not anymore; this sweet and spicy Sriracha sauce is more than easy, ready in five minutes. On top of that, it uses the most common ingredients you can find in grocery stores. Or possibly you may have them already in your kitchen.
This honey Sriracha sauce has a creamy texture, well-balanced spiciness with the sweetness, and the right flavors. Spoon it over the chicken wings, shrimp, and meat, or use it as an enchanting dip with chopped vegetables.
Quick and versatile sauces are always a keeper, like this Cajun butter sauce.
So, What is Sriracha sauce?
If you like or are already into cooking spicy food, you might already know what Sriracha sauce is. For those who do not know, the sauce is a Thai-style condiment. It's moderately hot, with Scoville scale measures between 1000-2500 SHU units.
It is also known as rooster sauce and looks intensely red.
Also, it's one of the essential condiments becoming more popular in the United States. It's made with jalapeño peppers and other hot chili pepper varieties. It's charged with a great combination of garlic flavors and a hint of sweetness.
What does this Honey Sriracha sauce taste like?
The natural flavor of Sriracha sauce makes it a delicious stand-alone side dish. However, serving it as a dipping sauce or a marinade would be spicy for many of us here.
So we can incorporate this Thai-style hot sauce's rich flavor and taste with other ingredients to make them enjoyable as a whole entertainer. This signature sauce utilizes all the distinct features of the Sriracha sauce but with less heat.
This honey Sriracha sauce tastes mildly hot and sweet. And wrapped with the aroma of garlic.
The ingredients needed
Honey. The best ingredient in this sauce gives a lingering sweetness. It adds a beautiful glaze and provides a body to the sauce.
Sriracha sauce. This store-bought ready-made sauce already has an intense smoky flavor and punch. You may find them in the international aisle in a grocery store.
On the other hand, you may also find them in the Asian or Indian stores.
Apple cider vinegar. A bonus ingredient in this honey Sriracha sauce is a complex, bright flavor profile. You may substitute it with Worchester sauce or a tablespoon of lemon juice.
Butter. I used unsalted butter. This is one of the best ingredients that complements the honey.
Garlic powder. A flavor booster works as a binding agent between the liquid ingredients. This is good to substitute with minced garlic as well.
How to make?
Add Sriracha sauce, honey, melted butter, garlic powder, apple cider vinegar, and kosher salt in a mixing bowl.
Using a whisk, stir well until all the ingredients combine well.
Now, the honey Sriracha sauce is ready to drizzle over the taco, the burger, and the salad, or toss them with the chicken wings.
The ways to use this Sriracha honey sauce
Chicken wings. This spicy sauce is a go-to simple chicken wing glaze, when you want to serve the family with a restaurant-style food effortlessly.
As a salad dressing. Drizzle over the salad as a topping or toss for bold flavors(like Sriracha aioli).
Meat. And this honey Sriracha sauce is also an ideal choice of sauce to enhance the flavors of protein. And an appropriate recipe for the meat, whether it's seafood or chicken(like this honey Sriracha shrimp).
Vegetables. It's excellent with roasted vegetables or the vegetarian main dishes. Toss it or serve as a dip. Every spoonful goes a long way(like this Sriracha green beans).
Pasta. Toss it with pasta for a quick dinner like this spicy pasta.
How to store?
Refrigerator. Store that honey Sriracha sauce in the fridge for up to a week. For the best results, use a sealed container for storing.
Freeze. You may also freeze them to retain their fresh flavors for a long time, up to three months.
To thaw. Leave them in the refrigerator overnight or microwave in increments of 30 seconds, until the sauce melts and returns to room temperature.
Tools needed for making this Honey Sriracha sauce
Whisk. Perfect for whipping up the liquid ingredients quickly.
Measuring tools. It is ideal for measuring the ingredients perfectly with a good grip.
Printable recipe card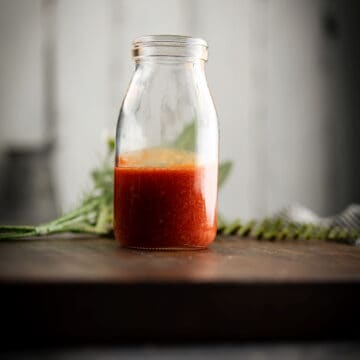 Honey Sriracha sauce
This homemade honey Sriracha sauce is the perfect combination of sweet and spiciness with rich buttery flavors-with easy to find ingredients.
Print
Pin
Rate
Instructions
In a mixing bowl, add Sriracha sauce, honey, melted butter, apple cider vinegar, garlic powder, and kosher salt.

And stir until all the ingredients are thoroughly combined.

And serve it with chicken wings, or drizzle over the salad.
Notes
Store the leftovers in the refrigerator for up to one week.
You may freeze to save up to 3 months.
Nutrition
Calories:
16
kcal
|
Carbohydrates:
1
g
|
Protein:
0.1
g
|
Fat:
1
g
|
Saturated Fat:
1
g
|
Polyunsaturated Fat:
0.1
g
|
Monounsaturated Fat:
0.4
g
|
Trans Fat:
0.1
g
|
Cholesterol:
4
mg
|
Sodium:
95
mg
|
Potassium:
8
mg
|
Fiber:
0.04
g
|
Sugar:
1
g
|
Vitamin A:
45
IU
|
Vitamin C:
1
mg
|
Calcium:
1
mg
|
Iron:
0.03
mg
**Disclaimer: The nutritional information provided is an approximate estimate only.