My blog mainly about skinny and easy recipes, so it is not a big surprise if I come with a simple vegan green recipe. Yes this, spicy kale salad is the latest find in my kitchen that I'm really proud of as its being skinny, vegan that really spice up the dinner.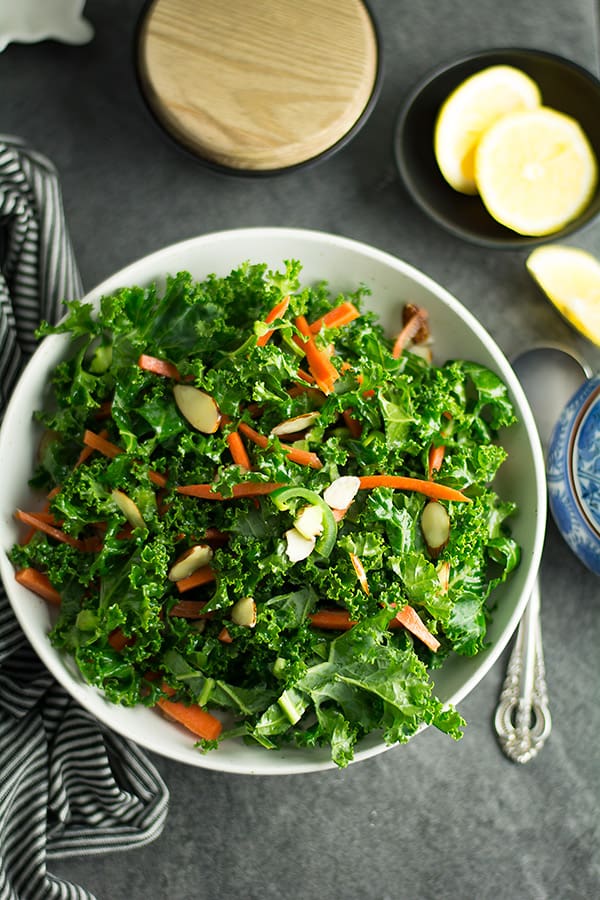 Jump to:
I always keep attempt different recipes to make my family love this kale green. And this spicy kale salad is the one which recently made them happy.
I really like this kale-green for its crunchy texture and the unique taste. But contrarily, it's the least preferred in my home. But I cannot skip and just like that get away from this green. As everyone from media to the press talks about the goodness of Kale greens.
About this recipe
This is mildly spicy, delicious, super easy to put it together. The almonds and the homemade lime vinaigrette are the show stoppers, every forkful would be fascinating that meets your expectation.
The prep time is less than ten minutes, the integral time-consuming part of this spicy salad recipe is chopping the kale leaves. Now you understand how simple it is to prepare the dinner.
The almond slices give a crunchy bite and the balsamic vinaigrette beautifully balances the flavors of jalapeno. The natural crispy texture of kale adds value and makes every bite memorable.
The one ingredient that makes this kale salad spicy, its no secret. The jalapeno adds up the heat as well as bright irresistible flavor, that keeps asking for more.
How spicy is this Vegan kale salad?
Are you reading this post with this question in your mind? I can hear you. Well, there is no definite everyday scale for measuring the spice level in the recipe. If someone says about a food that's 'really really hot' still can turn as 'bland' for others.
The one good advantage of making our own food, is we know what' in there. And we possess full control over the ingredients that go right into the pan.
Adopting this spicy kale salad recipe to suit your spice level is like a breeze. The jalapeno's seed is the only source of heat. Seed them according to your choice.
Remove all the seeds for the mild version, leave some seeds for the medium heat and add them as it as if you prefer a fiery hot salad.
But I prefer to seed them roughly with some seeds here and there.
Other fresh salads,
How to make the best tasting Spicy Kale salad?
This kale salad really stands out with its distinctive mixture of flavor and the feel.
Pro tips for ingredients
The Kale. Any verity of kale is good to use in here. It works fine anything from curly kale, dino kale, purple, to red Russian kale. Feel free to use any of them. Our goal to include the greens in our diet, so get the variety that is easily available.
Carrot. Carrots counteract its color with the kale's natural green color and balance the spice level from the Jalapeno. Chop them as thin as a matchstick, which makes it looks pleasing and gives the salad a good texture. Getting them as readymade can save you time.
Almond. Protein-rich and provides a crunch. Substitute with pine nuts or roasted sunflower seeds, if this is not in your pantry. This is optional but it remarkably makes the salad delicious.
Jalapeno. Core and seed them if you want a mild salad. Leaving the seeds intact will increase the heat. Adjust the number of seeds according to your spice level preference.
Olive oil. Add extra virgin olive oil for more flavors, Make the salad stay crisp than usual.
Lime vinaigrette. A homemade, super simple basic vinaigrette that makes the salad finger licking. Add lime juice, salt, olive oil, and shake. That's it!
The recipe direction.
Prepping work. Roughly chop the kale leaves to bite-size. Chop the carrots to match stick thin. Seed and chop jalapeno.
Lime vinaigrette. In a small jar, add olive oil, salt, and lime juice. Shake until salt and olive oil combines together. Olive oil and lime juice emulsifies and becomes a thick creamy sauce.
Add. To a large mixing bowl, add kale, carrot, jalapeno, roasted almonds, and lime vinaigrette.
Toss. Toss gently till the ingredients blend well with each other.
Transfer to a serving plate and enjoy.
What to serve with spicy kale salad
The recipe variations
Vegan. This spicy basic kale salad is naturally a vegan and vegetarian dish. If you prefer you may add nutritional yeast for more creamy aroma.
Kale Caesar salad. Substitute balsamic vinegar with Caesar dressing, another delicious alternative to the simple dressing.
Lime juice or apple cider vinegar. A good refreshing swap for balsamic vinegar. Each of these addition gives a whole new look, and all of these are delightful.
Cayenne pepper or red pepper flakes. Other spicy toppings in addition to jalapeno.
Red onion. Another complementary ingredient that is most popular in our home.
Storing and Make-ahead spicy kale salad
Spicy kale salad is one of the magical side salad recipe, that tastes sooner the better. However, it stays good upto a day when refrigerated in an air-sealed container.
If you are planning to make ahead, chop all the ingredients and refrigerate them individually prior to a day or two. When needed, toss and serve.
Printable recipe card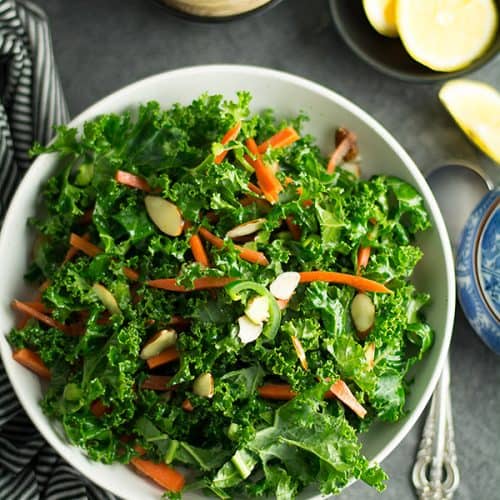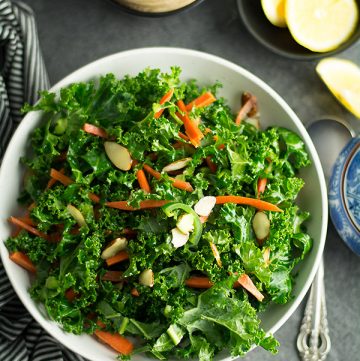 Spicy kale salad
Spicy kale salad with lime vinaigrette dressing-delicious crunchy salad with finger-licking homemade lime vinaigrette. This spicy kale is the best of all recipes.
Print
Pin
Rate
Ingredients
1

tablespoon

olive oil

1

tablespoon

lime juice

¼

teaspoon

salt

2

cups

kale

chopped

½

cup

carrot

chopped to match stick thin

3

tablespoon

almond

sliced

2

tablespoon

jalapeno

seeded
Instructions
In a small mixing jar, make the lime vinaigrette by adding olive oil, lime juice, and salt.

Shake until salt combines with olive oil. And keep aside.

In a large mixing bowl, add kale, carrot, almond, jalapeno, and lime vinaigrette.

Gently toss until all the ingredients combine together.
Notes
Seed the jalapeno to your choice.
Leaving few seeds, will make the salad spicy and tasty.
Nutrition
Calories:
401
kcal
|
Carbohydrates:
28
g
|
Protein:
13
g
|
Fat:
30
g
|
Saturated Fat:
3
g
|
Sodium:
678
mg
|
Potassium:
1149
mg
|
Fiber:
6
g
|
Sugar:
6
g
|
Vitamin A:
24402
IU
|
Vitamin C:
205
mg
|
Calcium:
301
mg
|
Iron:
3
mg