Have you ever had a spicy shrimp rolls at a restaurant or food court and wanted to recreate that pleasure at home?
Or have you tried and not been quite happy with the results? Here you go, this spicy shrimp sushi roll recipe is specially created to satisfy your craving for spicy sushi rolls.
These shrimp rolls are perfect to serve as appetizers or as the main course. They are filling and enjoyable, with flavors that bloom on your taste buds. This party-friendly recipe is easy to put together, and everyone will fall in love with it.
When I mention "spicy" here, the next question that arises is, how spicy is it? This shrimp sushi roll is mildly spicy; Everyone's spice tolerance level is different. However, you are making this spicy shrimp rolls, so adjust the spice level to suit your needs.
My family prefers to eat authentic sushi rolls with raw seafood ("Nigiri sushi"), while I am limited to the cooked version ("Futomaki"). Plus, finding sushi-grade tuna or seafood is quite difficult here in Pennsylvania.
Hence, I prefer to make sushi rolls with cooked seafood at home without compromising on its classic taste.
So, coming back to the recipe, this spicy shrimp roll is a true blessing. In fact, it might surprise you if you typically rely on Asian take-outs.
What are spicy shrimp rolls?
A fusion recipe. Let's break this title into three parts and start from the last.
The word 'roll' refers to the popular Japanese staple food called sushi rolls, also known as "Futomaki" in Japanese. Usually, it refers to a bed of cooked sticky rice with stuffings of cooked seafood or vegetables.
Spicy shrimp rolls are rolls made with shrimp and spicy sriracha sauce. This shrimp sushi recipe is delicious and offers a pleasing combination of sushi rice with hot and spicy shrimp.
Why do I love this spicy shrimp sushi roll?
It's super easy to make.
Also party-friendly food.
Pleasing to look at and great to be the centerpiece of a party table.
Can be made ahead of time to save you from last-minute hassles.
Fabulous finger food for any special occasion.
Easy-to-find ingredients.
What shrimp should I use?
Ideally, any type of shrimp is suitable for making spicy shrimp rolls; choose cooked or raw, jumbo, medium or small, shelled, or unshelled. Select the way you prefer to eat the shrimp; there are no restrictions at all.
However, I prefer wild-caught, shelled, deveined, raw jumbo shrimp, as they are versatile.
The Ingredients
Shrimp. Choose the shrimp you regularly use in spicy shrimp rolls. Any variety would work wonderfully. I used shelled, deveined, raw jumbo shrimp. My family likes jumbo shrimp for its rich meat. I prefer raw shrimp because I can use the leftovers of other recipes like this shrimp bruschetta pasta or this honey sriracha shrimp.
Sushi rice. This is a specific type of rice specially meant for making sushi. It is easy to find in stores labeled as 'sushi rice'.
Rice wine vinegar. This ingredient brings the Japanese flavor, and I would recommend using it. It is a good investment if you are interested in cooking Asian recipes at home(like this jalapeno Chinese chicken/Chinese stuffed peppers).
Sriracha. This is a flavorful sauce with a variety of flavors and tastes. It is hot and spicy, so add a little at a time to match your heat sensitivity(have you tried these hot recipes).
Mayo. It excellently balances the sriracha sauce and enhances the spicy shrimp roll like magic.
Lemon juice. Give this spicy shrimp roll a refreshing punch.
Roasted sesame seeds. These are optional, but I would suggest using them, as they make the sushi rolls more authentic.
Avocado, cucumber, and carrot. Whenever I make sushi, avocado, carrot, and cucumber are must-haves on my list. They both complement each other and simultaneously work well with the shrimp's texture. Slice it thinly like match sticks.
How to make spicy shrimp roll
Preparing sushi rice. Cook a cup of sushi rice with two cups of water. Allow it to cool down, then sprinkle rice wine vinegar, salt, and sugar. Set aside. For detailed instructions, refer to this Instant pot sushi rice recipe.
Shrimp filling. In a small mixing bowl, add cooked shrimp, mayo, lemon juice, and sriracha sauce. Mix thoroughly until the shrimp is well coated with sriracha mayo.
Assembling. On the sushi mat, place the nori sheet on the rough side facing upwards.
Then spread the sushi rice evenly over the nori sheet by leaving half an inch on all the sides.
Now place the thin cut avocado, cucumber, and carrot slices-on lengthwise.
Next, place the sriracha-coated shrimp about an inch away from one side. Then place avocado and cucumber strips over it.
Roll. Roll tightly by bringing the filled side to the center. Press gently to make a firm roll.
Cut. Then cut into slices and serve.
How to store?
These spicy shrimp rolls are great fit for refrigerating and freezing.
Refrigerate. Wrap the rolls tightly in plastic wrap or aluminum foil to keep them from drying out.
Then, place the wrapped rolls in an airtight container or sealable plastic bag and store them in the refrigerator for up to 24 hours.
When you're ready to eat the rolls, simply remove them from the refrigerator, unwrap them, and enjoy them cold or reheat them as needed.
Freezer. For storing for a longer time, wrap them tightly in ale aluminum foil or a cling wrap. And store spicy shrimp rolls in a air sealed container. Then store it in the freezer for up to 2 months. To enjoy them, simply thaw them in the refrigerator overnight before eating.
Reheating. Reheating the shrimp is delegate, as overcooking spoils its texture. To overcome this wrap them in damp paper towels and microwave on high for 15-20 seconds.
Alternatively, you can reheat them in the oven by wrapping them in aluminum foil and baking at 350°F (175°C) for 10-15 minutes, checking frequently to avoid overcooking.
Frequently asked questions
Can I make it ahead of time?
This recipe is make-ahead friendly; you can prepare the rolls a day before and refrigerate them. Store them in an airtight container to keep them fresh.
How to use the excess filling?
If you have excess shrimp filling that is unused, stir fry it in a pan with a teaspoon of cooking oil and serve as an appetizer. Alternatively, it can be used as a filling for a sandwich or mixed into a salad.
Recommended tools for making this recipe
Sushi mat. The mat is used to roll and shape the sushi, helping to keep all of the spicy shrimp roll's ingredients together and make it easier to cut into slices.
Chef's knife. A good, sharp knife will make clean, even cuts that don't damage the nori sheets and the filling.
Measuring spoons. A good quality grip and magnetic property make it easier in the kitchen.
Printable recipe card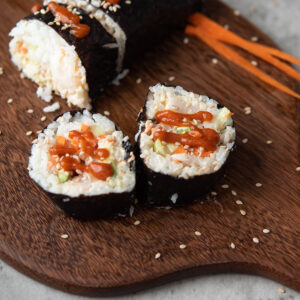 Ingredients
For making rice
1

cup

sushi rice

2

cups

water

3

tablespoon

rice wine vinegar

1

tablespoon

salt

1

tablespoon

sugar
For the shrimp
6-8

cooked shrimp

2

tablespoon

mayo

1

tablespoon

lemon juice

1

tablespoon

sriracha sauce
For the rolls
2

sheets nori

½

avocado

thinly sliced

½

cucumber

thinly sliced

½

carrot

thinly sliced
Instructions
Cook 1 cup of sushi rice with 2 cups of water, then let it cool down.

Mix 3 tablespoon rice wine vinegar, 1 tablespoon salt, and 1 tablespoon sugar into the rice and set it aside.

In a bowl, mix 6-8 cooked shrimp, 2 tablespoon mayo, 1 tablespoon lemon juice, and 1 tablespoon sriracha sauce together.

Put 1 sheet of nori on a sushi mat with the rough side facing up.

Spread the sushi rice over the nori sheet, leaving space on the sides.

Add avocado, cucumber, and carrot slices lengthwise on top of the rice.

Put the sriracha-coated shrimp about an inch away from one side of the rice, then add more avocado and cucumber strips.

Roll the sushi tightly by bringing the filled side to the center, and press gently to make it firm.

Cut the sushi into slices and serve.

Enjoy your delicious and spicy sushi rolls!
Nutrition
Calories:
585
kcal
|
Carbohydrates:
90
g
|
Protein:
12
g
|
Fat:
19
g
|
Saturated Fat:
3
g
|
Polyunsaturated Fat:
7
g
|
Monounsaturated Fat:
7
g
|
Trans Fat:
0.03
g
|
Cholesterol:
44
mg
|
Sodium:
3954
mg
|
Potassium:
530
mg
|
Fiber:
7
g
|
Sugar:
8
g
|
Vitamin A:
2879
IU
|
Vitamin C:
17
mg
|
Calcium:
63
mg
|
Iron:
2
mg