When it comes to planning for dinner, it is hard to find the easiest alternative than this spicy yogurt sauce. No mess, and no prepping work.
When planning for a party or a family dinner, this hot Greek yogurt sauce is the BEST you can rely on.
This delicious sauce is creamy, spicy, made with simple pantry friendly ingredients. Very versatile, and crowd friendly as well.
This Mediterranean cuisine inspired hot and spicy yogurt sauce, originally created as a topping for the falafel.
Are you thinking of this sauce for chicken alone? The brief answer is that, Chicken, steak, sandwich, or salad, ENJOY the fabulous sauce with your favorite main dish, any time and every time.
The ingredients required
Greek yogurt. The base ingredient gives the spicy yogurt sauce a luscious creamy texture, and a fabulous taste that makes them want more. For vegan options you may substitute with dairy free yogurt.
Sriracha sauce. When coming to instantly spice up a recipe, what else would pop up in your mind other than Sriracha sauce. This has all in them, the heat and the taste with the right hint of taniness. Apart from this, the close substitute that would work here for Sriracha is the hot sauce.
Garlic powder. Gives an extra depth of flavor.
Cayenne pepper. In addition to Sriracha sauce, cayenne pepper is added to increase the heat level one step above. However if you want to keep your sauce on the mildler note, opt for paprika instead.
Lemon juice. Brightens up the whole dish and in addition makes the sauce to a flowing consistency.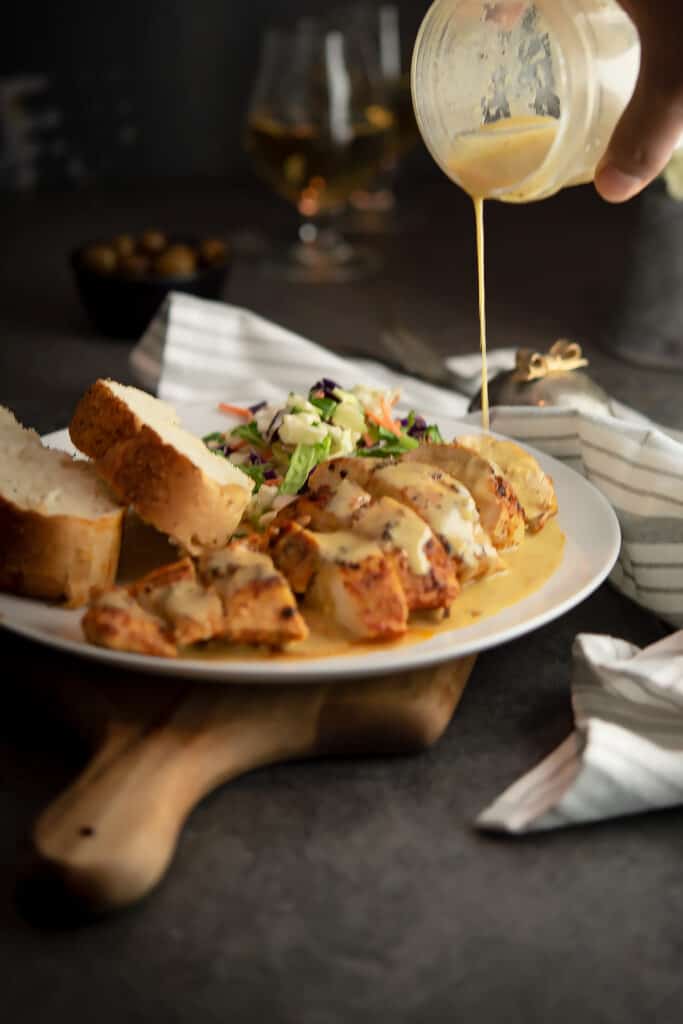 How to make spicy yogurt sauce
In a mixing bowl add Greek yogurt, Sriracha sauce, garlic powder, cayenne pepper, lemon juice, and salt.
And whisk until all the ingredients combine together and form a silky texture.
Serve over your preferred main dish like grilled chicken(like this, pan-fried garlic chicken) or the salad(like this, ). And enjoy.
Ways to serve this spicy yogurt sauce
Chicken. For the weeknight family dinner, serve over this pan-fried garlic chicken, cedar grilled chicken. What's more, the combo is great to surprise the family effortlessly.
Taco. Planning a taco night? Drizzle over the taco this yogurt sauce.
Salad. Toss and give an all new makeover to salad like this Greek yogurt chicken salad.
Whatever may be the dish you serve, this spicy yogurt sauce is sure to make them a big success among the family and friends.
Recipe tips and variations
Make ahead. This is a fabulous make ahead friendly recipe. For this, whisk up all the ingredients except the lemon juice. And store it in the refrigerator a day in advance. And whip again with lemon juice just before serving.
Storage. Store the leftover sauce in the refrigerator for about a day in advance.
Yield. This spicy yogurt recipe is good to make for about four servings.
Vegan dietary restriction. You may substitute the Greek yogurt with vegan friendly plant based yogurt.
Hot sauce. Substitute Sriracha sauce with red hot sauce, if that's what you have.
Fresh garlic. An equivalent replacement for the garlic powder. Add them as minced to the recipe.
Recommended tools to make this sauce
Mixing bowl. Medium sized mixing bowl is always what I prefer for making a sauce for this proportion.
Whisk. A good quality whisk works well to bring up all the ingredients together in this spicy yogurt sauce.
Measuring tools. Greatly needed for not going wrong anywhere in the recipe.
Ingredients
1

cup

Greek yogurt

3

tablespoons

Sriracha sauce

1

tablespoon

garlic powder

½

teaspoon

cayenne pepper

3

tablespoon

lemon juice

½

teaspoon

salt
Instructions
In a medium sized mixing bowl, add Greek yogurt, Sriracha sauce, garlic powder, cayenne pepper, lemon juice, and salt.

And whisk continuously until all the ingredients combine together and turn into a luscious silky texture.

And serve over the main dish, like salad or grilled meat. And enjoy.
Notes
Store the leftovers in the refrigerator to use within 24 hours.
If you prefer storing for a long time you may freeze it. And to thaw, leaving it in the refrigerator overnight.
Nutrition
Calories:
41
kcal
|
Carbohydrates:
4
g
|
Protein:
6
g
|
Fat:
1
g
|
Saturated Fat:
1
g
|
Polyunsaturated Fat:
1
g
|
Monounsaturated Fat:
1
g
|
Trans Fat:
1
g
|
Cholesterol:
3
mg
|
Sodium:
568
mg
|
Potassium:
125
mg
|
Fiber:
1
g
|
Sugar:
2
g
|
Vitamin A:
122
IU
|
Vitamin C:
12
mg
|
Calcium:
59
mg
|
Iron:
1
mg